We use affiliate links and may receive a small commission on purchases.
Learn more
When you want to stay in the wild for a few nights, you want a place to feel safe and protected. A tent is the last thing that stands between you and the wilderness of the outdoors. So you would need a good tent that can stand wear and tear outside and doesn't require you to look for other options if the weather changes. So a 4-season tent is an ideal choice that you can take everywhere without having to think twice about durability or wait for the right season to take your tent with you.
What makes a 4-season tent different from its 3-season competitors is that they contain less mesh but have more substantial covering. Their pole structures are stronger and they have a lot of features making them useful during winter. But such things aren't cheap, or are they?
The following list will guide you about the best 4-season budget tents available on the market that you can buy without considering emptying your wallet.
1. ALPS Mountaineering Tasmanian

Trail Weight: 7 lb 3 oz
Floor Area: 34.5 sq. ft.
Peak Height: 46 in
Number of Doors: 2 doors
If you are looking for the least expensive 4-season tent then the Tasmanian 2 is an option worth considering. It actually performs reasonably well in 4-seasons and is a great option for a tent on a budget. Although it's not a tent to be taken anywhere, It is still a good option for the type of trips most people will take their 4-season tents on.
The two pole structure that runs along the width and the length of the tent provide structural support and stability. The hubbed poles are assembled using plastic chips making the tent straight forward to pitch. It has two small doors with hooped vestibules, a prominent feature. They are large enough to store a good amount of gear while leaving enough space at the door.
It weighs 7lbs 7oz, not heavy for a double-walled tent. It provides 34.5 square feet of space. The longer length is nice for taller people. The weather resistance capabilities are good except for handling high-speed winds. Still, a better model than the rest in its price range.
Pros: Handles heavy snow loads well, double hooped vestibules are sweet
Cons: Heavy, bulky, and limited performance capabilities
See the Tasmanian 2 Person See the Tasmanian 3 Person
2. Black Diamond Mega Light Shelter

Trail Weight: 2 lb 5 oz
Floor Area: 51 sq. ft.
Peak Height: 66 in
Number of Doors: 1 door
The Black Diamond Mega Light Shelter is an ideal shelter for ultralight backpacking. It is a pyramid-shaped tent that uses a single central pole to stand. The design of the tent makes it very easy to set up.
It uses a SilNylon fiber which is good but has some drawbacks to it. SilNylon stretches when it gets wet. It is also not waterproof. The Mega Light has a large vent at the apex for ventilation and a hood to deal with rain and also a single large door. The seams need to be seam sealed. Black Diamond also offers a pre-sealed option. The tent lacks a floor so you would need a nylon trap or a piece of Tyvek as a floor.
The tent packs really tiny but still, the total weight combined can be 44 ounces which is heavy for a mega light category. It provides a generous 50 square feet of living space. Overall, a good choice with an adaptable pyramid design, especially for snow. All this for half the cost of its competitors.
Pros: Lightweight but large enough for 4 people, high ceiling
Cons: SilNylon absorbs water and stretches, you'll need to seam seal it yourself
See the Black Diamond Mega Light Shelter
3. Naturehike Cloud-Up

Trail Weight: 3 lb 12.8 oz
Floor Area: 28 sq. ft.
Peak Height: N/A
Number of Doors: 2 doors
The Naturehike Cloud-Up provides a complete range of tents. You can choose the tent in different sizes from one to four persons. It is a free-standing tent made of high-quality material with attention to small details.
The tent is available in two kinds of fabrics; the 210T Polyester with a waterproof rating of 3000mm and 20D SilNylon with a waterproof rating of 4000mm. The internal sheet is made of two parts. The upper part is made of anti-mosquito elastic and the lower part is made of the same material as the outer part. The tent is provided with a 20D 4000mm groundsheet for increased insolation.
The tent material has double waterproof sheets and uses snap buckles made of Duraflex. The Cloud-Up is easy to mount and can be mounted in three different configurations. This is durable with great value for money.
Pros: The tent is reasonably compact, very lightweight, well-made, and very inexpensive.
Cons: There's no vestibule that extends beyond the door. If you unzip the front door flap while it's raining, the rain is going to pour straight down into the tent, hitting a 1/3 of the tent interior.
4. Black Diamond Firstlight

Trail Weight: 2 lb 9 oz
Floor Area: 27.3 sq. ft.
Peak Height: 42 in
Number of Doors: 1 door
The Black Diamond Firstlight is a good option for fast and light trips. It only weighs 3lb 5oz when packed. You buy this tent for its small size and weight. It packs half the size of other single walled tents.
It provides 27 square feet of living space which is standard for most bivy style tents. But it doesn't feel as cramped as other bivy tents. It can fit 2 persons with ease. Weather resistance is the biggest payoff here. The fabric is not waterproof and saturates quickly and thoroughly. The fabric does remain water resistant for a decent amount of time.
This tent pitches from the inside. It can be harder to set up at first but gets easier with practice. The floor is made of fragile SilNylon that doesn't withstand sharp rocks and pine cones. The tent contains vents back and forth for ventilation and a bug screen mesh door.
Pros: Lightweight, super easy to pack, fits anywhere two people could lay down, along with the HiLight it is the lightest model to feature bug netting
Cons: Not waterproof, small interior living space
See the Black Diamond Firstlight
5. GeerTop 2-Person Tent

Trail Weight: 6 lb 2.72 oz
Floor Area: (83+39) x 47 in
Peak Height: 39.4 in
Number of Doors: 2 doors
This tent is made of high-quality and fully rain-proof material which is extremely lightweight. The tent is easy to set up. You can set it up in with a flysheet in a few minutes. This tent comes with a lightweight portable carrying bag that can be taken to anywhere.
The GeerTop tent has two using methods. Inner and outer tent superpose together as a windproof tent or use inner layer alone as a ventilated tent.
This tent also offers double stitched seams that are sealed perfectly to improve the waterproof ability and to keep dry well. This tent will accommodate 2 adults easily. It is small and compact enough to be carried in your backpack.
GeerTop 2-Person Tent is a compact, lightweight, and an affordable 4-season tent that is perfect for camping, hiking, climbing in all seasons and it will keep you warm and dry even in the strongest wind, the hardest rain, or the coldest snow.
Pros: Easy to set up and take down and can be done in minutes.
Cons: The zippers are not high-quality, heavy
6. Flytop Double Layer Backpacking Tent

Trail Weight: 5 lb 15.04 oz
Floor Area: 7 x 5 ft.
Peak Height: 45.28 in
Number of Doors: 2 doors
Flytop is a recognized brand among elite backpackers. The Flytop 3-4 season Double Layer Backpacking tent is one of their latest models designed for entry-level backpackers and campers. Setting up the tent doesn't require much effort. The two poles can be linked to achieving the required stability.
The fabric is a 210T polyester with an excellent breathability rating. The fabric also uses high-density nylon mesh for increased durability. The thermal technology enables a very good winter use but still, this tent cannot be considered as a primary choice for below zero temperatures.
The dome shape of the tent makes it low profile which handles winds well. There are two doors for comfortable entry. It also means that this tent provides good ventilation in the summer season. The tent is fairly durable and can withstand minor storm conditions.
Pros: The material is very nice and durable, the setup of this tent is easy and fast
Cons: Bulky and heavy
See the Flytop Double Layer Backpacking Tent
7. MoKo Waterproof 3-Person Camping Tent

Trail Weight: 6 lb 12.8 oz
Floor Area: 6.39 x 5.41 ft.
Peak Height: 49.2 in
Number of Doors: 1 door
The MoKo Waterproof Family Camping Tent is most suitable for beginners. It is easy to set up and handle. It has strong and durable 7.9mm fiberglass poles. The guy lines are durable and have metal pegs. It also comes with a roomy vestibule.
This tent has great weather protection capabilities. The flysheet is made of a 68D polyester fabric with 2500 mm water-resistant coating. The floor is made of 5000 mm waterproof polyethylene fabric. The tent is also fireproof from the inside as it uses a 190T fire protection US CPA I-84 6-grade standard fabric.
It doesn't have more space than a standard 3-person tent. But the interior space is designed for sleeping. It accommodates two adults and a child with ease. The vestibules are large enough to hold a good amount of gear. A large mesh window provides good ventilation.
Pros: Versatile, easy to set up, compact and durable
Cons: Bulky and heavy
8. Black Diamond Eldorado

Trail Weight: 4 lb 8 oz
Floor Area: 30.8 sq. ft.
Peak Height: 43 in
Number of Doors: 1 door
Durability, ability to withstand storms and interior space are the reasons to buy the Black Diamond Eldorado. A great alpine tent. A nice balance of lightweight, durability, and comfort. Durability is the strong point of Eldorado. It uses a three-layer construction which makes it very durable for a single walled tent.
The three-layer ToddTex ePTFE membrane is more durable than any other polyurethane coated fabrics in other single wall tents. This fabric also handles moisture and condensation very well. The small footprint of the Eldorado makes it easy to pitch anywhere. It pitches from the inside and is a bit harder than the tents which pitch from the outside.
Pitching the Eldorado is hard work but you will get used to it with practice. It provides a generous 31 square feet of interior space. The packed weight of the tent is 5lbs 1oz. You can go for more lighter options but this tent is more versatile, durable, and more comfortable to hang out in
Pros: Lighter than average weight, compact footprint, the fantastic overall balance of strength
Cons: Poor ventilation, insufficient guylines included, slightly tricky setup
See the Black Diamond Eldorado
9. Big Agnes Copper Spur HV Expedition

Trail Weight: 4 lb 10 oz
Floor Area: 29 sq. ft.
Peak Height: 39 in
Number of Doors: 2 doors
The Big Agnes Copper Spur HV Expedition is based on the great design of the ultralight Copper Spur series with some changes. It has two double-zipped doors, two vestibules, a top vent, and a 4-pole hubbed frame design. The Expedition uses rugged rip-stop nylon with randomized fabric and a breathable polyester body.
The poles are 96mm DAC Featherlight NSL aluminum. The build quality is impressive. The fabric is thick and robust allowing it to withstand tension. The 4 pole design doesn't let it deform after high winds. If properly pitched, the Expedition can withstand winds of up to 35 mph without an issue. The whole shelter, top, and bottom are coated with 1200mm waterproof coating.
The Expedition is spacious with a lot of pockets inside making it comfortably livable. Considering durability and space, it only weighs 5 pounds making it absolutely lightweight. However, the tent does become hot in the summer season.
Pros: True freestanding hubbed design, great floor waterproof rating
Cons: A little bulky and expensive
See the Big Agnes Copper Spur HV2 Expedition
10. North Face Assault 2

Trail Weight: 3 lb 4 oz
Floor Area: 27 sq. ft.
Peak Height: 40 in
Number of Doors: 1 door
It is termed as more-versatile-than-average for a reason and packs many sweet features. How many single wall tents offer a vestibule? This does. It is ideal for alpine climbing and backcountry skiing in lower temperatures. The design is identical to the previous version with changed fabric and pole material.
The Drywall 30 innovative fabric is breathable and prevents condensation. The DAC Featherlite NSL poles are more durable than the previous version. It is one of the easiest tents to set up with two external pole sleeves that guide the poles in position automatically.
Storm resistance is great for big snow loads but doesn't handle wet weather very well and becomes saturated quickly. It also handles high winds nearly as well as traditional double walled tents. The full pack weight is 4lb 50oz. It sacrifices a bit of durability to stay lightweight but impressive nevertheless. A nice balance of weight, comfort, and price.
Pros: It comes with a nice hooped vestibule, excellent ventilation, great headroom and compressible
Cons: Exterior fabric absorbs moisture and is not very breathable, guylines are light duty
Best Budget 4-Season Tents: Comparison Table
Critical 4-Season Tent Considerations
Camping tents matter because they affect our budget and the weight of our backpacks. They also matter regarding the comfort of our trip. But they come in a variety of designs. So choosing the right tent for your trip can be a bit complicated. Here are some tips to choose the right tent for your trip. These trips are generic but we hope they help you make the right choice.
Capacity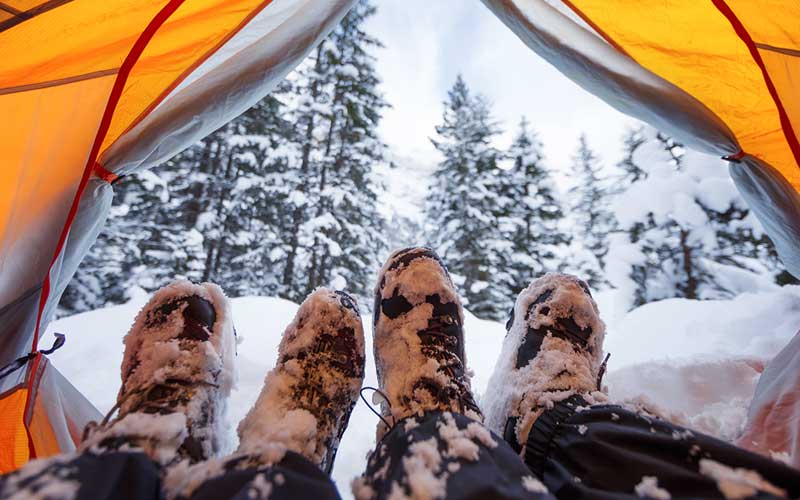 Tent capacity is the most important aspect of comfort in a tent. This is the space where you will be living in. It needs to have enough room to accommodate you and the people with you and how much headspace it gives you. Tents labeled with the number of persons give you a good idea of the capacity of the tent.
Seasons to Withstand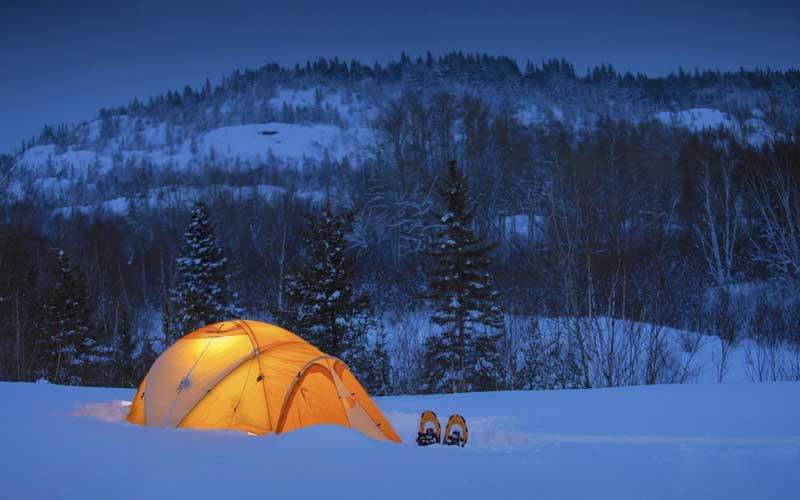 There are 3-season and 4-season tents available in the market. Newcomers usually go for a 3-season tent. Experienced hikers and backpacker have more than one tent to choose from. The differences between a 3-season and a 4-season tent are as follows.
3-Season Tents
3-season tents are usually used to withstand a wide variety of mild climate conditions that can be faced during spring, summer, and fall. Not a good option for violent storms. The fabric uses a generous amount of mesh panels for airflow. It provides you a good headspace and it has fewer poles to keep the weight low.
4-Season Tents
These tents can withstand fierce climate conditions like high winds, rainfall, snowfall, and low temperatures. They have more poles and more robust fabrics. They have fewer mesh panels. Often the mesh panels are zipped to let you control the airflow in freezing temperatures. Some tents also have rainfly that extend to the ground.
There are other tents that are extended 3-season tents which are used for trips where light snow can be encountered. They have more poles than a 3-season tent and may also have zipped mesh panels.
Weight to Carry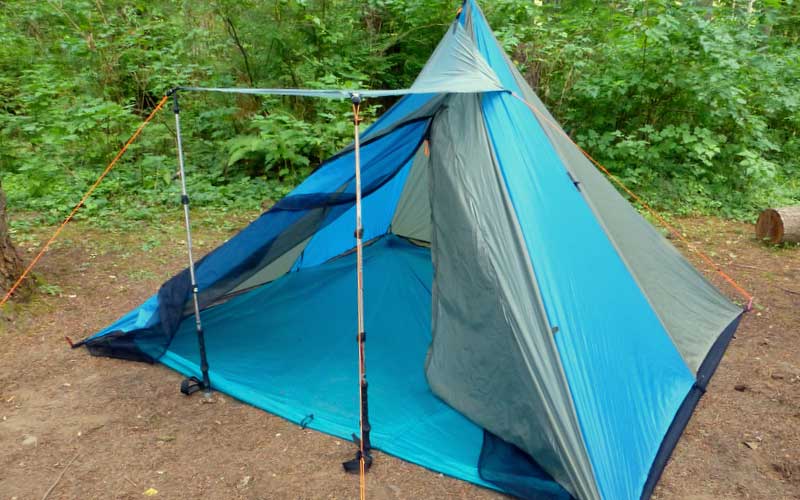 Weight is again, an important factor when it comes to the comfort of the trip. Manufacturers make a lot of effort to keep their tents as light as possible. A big tradeoff with weight is durability. LIghtweight tents are less durable and have fewer options. When choosing a tent, you have to find a balance between weight and comfort. The ultralight term is often used by the manufacturers to mislead so you better be careful. Do your research to find the lightest possible tent with the least packed size.