We use affiliate links and may receive a small commission on purchases.
Learn more
Bringing gear is essential to any adventure. Having a backpack that fits well will make carrying easier and more comfortable. There are tons of awesome options out there and choosing the one that fits all your needs is important because a backpack can make or break your backpacking trip. Below we have tested and reviewed the best budget backpacking packs to help you find the right pack for your needs and your debit card. Remember these packs are cheap and hold a ton of gear and are also cheap enough to not feel bad about treating them a little rough. But if you're looking for a high-quality backpack to take along the Appalachian Trail or PCT, check out the high-quality backpacks.
1. Osprey Volt

Material: 210-denier ripstop nylon
Capacity: 60L
Weight: 3 lb 14.7 oz
Dimensions: 32.9 x 13.6 x 13 in
Rain cover: Yes
The Osprey Volt is designed with the cost-conscious backpacker in mind yet it's a fully-featured pack. The great thing about it is got a wide range of adjustability. It is very easy to adjust on the fly so that you can get a very specific fit for your weekend adventure. One feature that makes the Volt so special is the wide range of adjustability in the hip-belt and in the shoulder harness. The torso length adjusts from a size 17 inches up to a size 22 inches torso. The hip-belt uses fit-on-the-fly technology designed by Osprey to make it very easy to adjust the hip-belt. The hip-belt adjusts from a size 28 inches up to a size 44 inches waist.
Osprey is using a nice mesh-covered airspace suspension system with this backpack. You've got the light wire aluminum peripheral frame to give it some support and an HDPE frame sheet for some additional rigidity and back protection. The really nice feature of this suspension system is how much it adjusts.
Designed for simplicity, the Osprey Volt gives ample storage capacity and just enough features for the long-haul on the trail. With a wide range of adjustability, this pack is built for many different users.
Pros: Fully featured budget-friendly, ergonomic shoulder straps, solid features
Cons: Average suspension system, the harness is not removable
View at Backcountry View at Amazon
2. Loowoko 50L

Material: Water-resistant, Ripstop Nylon
Capacity: 50L (45L+5L)
Weight: 2 lb 9.6 oz
Dimensions: 25.6 x 13.8 x 9.8 in
Rain cover: Yes
Loowoko is a comfortable backpack with a gear capacity of 50L. It has breathable mesh shoulder straps with a lot of sponge padding that will help you relieve the stress from your shoulders. There are 8 adjustable straps that will help you hang your sleeping bag, hammock and other gear. This pack is also equipped with mesh side pockets, to keep your stuff separate and organized. The pack also has a rain cover which works well in heavy rains and keeps your contents dry.
The pack is well-structured and excellent. It holds a lot of stuff neatly and efficiently. Since the design is rectangular, it does not create any wasted space. The bottom compartment can be used to store a pair of shoes or dirty clothes. The top section is good for items you need to grab during a hike. Comfy back padding and waist support. Overall, a great purchase for the price.
Pros: Very roomy, rain cover included, many pockets
Cons: The zipper quality is not very good.
3. WASING Adventure 50+5L

Material: Water-resistant, Ripstop Nylon
Capacity: 55L (50+5L)
Weight: 2 lb 14 oz
Dimensions: 27.1 x 12.5 x 9.8 in
Rain cover: Yes
This is an internal framed and water-resistant pack made of ripstop polyester. This pack comes with plenty of pockets of all sizes. There is a large pocket at the top and a few inner pockets. On the outside of the pack, there are two attachment points with gear loops at the bottom and heavy-duty velcro at the top where you can attach your trekking poles. Also on the sides, there are two roomy and secure mesh pockets with elastic collars that can be used to hold your water bottles.
Moving down to the bottom, there is a big compartment. You can stuff your sleeping bag here and this space is separated from the main compartment by a drawstring and toggle.
Overall, this is an excellent pack for a day hike as well as for weekend hikes (2-3 days long). Since this pack offers a variety of external attachments you can extend this period even longer. For the price, this pack is pretty hard to beat.
Pros: Very adjustable, plenty of pockets, rain cover, comfortable, well made
Cons: There are some unnecessary straps/buckles
4. TETON Sports Explorer 4000

Material: 600D Squared Ripstop / 600D PU
Capacity: 65L
Weight: 5 lb
Dimensions: 32 x 18 x 12 in
Torso Length Adjustment: 19 to 23 in
Integrated Rainfly: Included
Sleeping Bag Compartment Size: 13.5 x 10 x 7 in
TETON Sports Explorer 4000 is a rugged, internal-framed backpack that is thoughtfully designed with your comfort in mind. The back of the pack is padded and is channeled for airflow. The shoulder straps are adjustable and the pack is also adjustable in the torso, waist, chest, and shoulders.
The Explorer 4000 is high-quality and it offers features you'll see in most of the higher-priced backpacks such as pass-through side pockets for storing tent poles. This pack also offers features like a sleeping bag compartment, multi-directional compression straps, and multiple compartments and pockets for strategic packing.
The material of this pack seems to be good and sturdy. It has plenty of straps, loops, and pockets to carry everything you need. Remember the pockets are pass-through which allows you to slip items behind them. The pack is very comfortable and rests on your hips very well.
If you are looking for a rugged backpack at an affordable price that you can count on, look to Teton sports for quality at a reasonable price.
Pros: There are a lot of compartments and features. The side pockets on this bag allow you to put tent poles, hiking poles, axes or fishing pole behind the pocket and into the bottle holder.
Cons: No hip belt pockets for easy access to snacks or a camera.
5. OutdoorMaster 50L

Material: High-quality, lightweight and durable nylon
Capacity: 50L
Weight: 2 lb 6.4 oz
Dimensions: 23 x 15 x 8.6 in
Rain cover: Yes
OutdoorMaster 50L is a durable, spacious and multi-purpose hiking pack made of high-quality nylon. This backpack features many pockets and is great for hiking, backpacking, camping, traveling, both for men and women. The pack has a dedicated pocket for included rain cover and a padded laptop (15.6") compartment. This is very nice and it adds structure to an underloaded pack without the added weight of a frame.
This pack provides an excellent amount of storage space and it fits great. Shoulder straps offered by this backpack are some of the most comfortable straps. On top of the pack, there is a pocket that can be used to store a hoodie or light rain jacket. This top pocket is quick and easy access for a jacket.
Although the pack itself is water-resistant to a certain level, still this pack comes with a rain cover. If you are in a downpour or any lengthy rain stored items will eventually get wet. In that case, you have the rain cover so you and your items are literally covered.
Pros: Pretty light, spacious, strong material
Cons: The belt strap is a little thin.
6. TETON Sports Hiker 3700

Material: 420D 2MM Squared Double-Line Ripstop / 600D PU
Capacity: 60L
Weight: 4 lb
Dimensions: 33 x 15.5 x 12.5 in
Waist Belt: 28 to 51 in with Split Wishbone Construction
Torso Length: Adjustable 16 to 21.5 in
Hiker 3700 is a lightweight and comfortable pack with a lot of storage space and it works great for backpacking. The good thing about this pack is there are a lot of little compartments, straps, and places to hook carabiners. The bottom compartment is separated from the main compartment. This is where you store your sleeping bag. This place is also good to keep boots or food. On the front, there are two compartments on each side. This place is great for quick access gear like your water filter.
In the main compartment, there is a place for your water bladder. And also there's a little hook for the so you can hang your water bladder. You can also put the hose out. The back is very comfortable and padded. It allows air to pass easily so when you're sweating there is circulation getting through. Also on the back, there is nice lumbar support on the waistband. The straps have little pockets. You can put your chapstick or a little bud spray or whatever you need to get quickly.
Pros: The sleeping bag compartment is very roomy. It can fit your hammock, bug net, tarp, and a light blanket.
Cons: The front vertical zipper goes all the way down so it is hard to open without everything falling out.
7. G4Free 50L

Material: Water-resistant Nylon
Capacity: 50L
Dimensions: 22.8 x 13.7 x 9 x in
Hydration Bladder Compartment: Yes
Hydration Bladder: Not included
Rain cover: Included
G4Free is a 50L outdoor backpack perfect for hiking, camping, backpacking or other sports activities. This pack offers a lot of pockets and it's water-resistant. The pack features a zipped compartment on the outside. This compartment has a mesh zipped pocket and a couple of other small pockets. There's also a small zip mesh pocket on both sides of the belt. The pack is comfortable even without the hip belt. There is a sturdy carrying handle at the top which makes it very easy to hand carry. The pack offers a separate shoe locker that can also be unzipped to form one large opening.
G4Free 50L pack is very comfy to wear. The shoulder straps are nicely padded and there are water bottle holders on both sides.
Pros: The main compartment is very spacious, plenty of attachment points for trekking poles, sleeping bag etc.
Cons: The zippers can be annoying and are not as heavy-duty as they could be. If you are a smaller guy, you won't be able to cinch the hip strap tight enough.
8. TETON Sports Scout 3400

Material: 600D Diamond Ripstop / 600D PU
Capacity: 55L
Weight: 4 lb 8 oz
Dimensions: 30 x 17 x 12 in
Rain cover: Yes
TETON Sports Scout 3400 is a very budget-friendly backpack with tons of features. This is an internal-framed pack. You do have two aluminum stays on the back. They can be pulled out and adjusted if you need to but for most people, you will not need to make any adjustments. This pack is well-padded and comfortable.
The pack is also very well-designed no matter how full you get the inside of this pack, the size of the side pockets stays the exact same. Many packs when you stuff the inside the pockets on the outside get stretched.
This pack is perfect for a lot of people. For those who are just getting into backpacking, who want to start slow and with lesser expensive gear, this is a great option to consider.
Pros: The fabric feels sturdy, a lot of great features, good construction
Cons: Not the lightest option out there.
9. High Sierra Summit 45L

Material: Mini-Hex Ripstop, Mini-Weave Duralite, 1680D Ballistic
Capacity: 45L
Weight: 4 lb 9.6 oz
Dimensions: 27 x 14 x 7.5 in
Torso Fit Range: 15 to 19 in
Waist: 26 in and up
High Sierra Summit is made from durable 1680D ballistic nylon with an exclusive blend of nylon mini-hex ripstop that has mini-weave Duralite fabric within. The bag holds 45 liters of your stuff, perfect for any trip. There are two hook and tabs on the front. This makes it perfect for housing your trekking poles. Mesh pockets at either side are perfect for quick-grab and go items.
There are contoured shoulder straps and a waist strap with a sternum strap too with quick-release buckles which makes easier to keep your load securely in place. They're also fully adjustable for the perfect fit even the sternum strap can be a slid up and down to give you a great fit.
The back is nicely lined with an airflow system to help keep cool air moving between you and your pack. It is nicely cushioned too as is the contoured shoulder straps and waist strap. The top of the pack provides you with added storage with a zipper closure system and can be completely removed.
The front of the bag has a convenient roomy pocket for any items that you need to grab quickly. The bottom of the bag even has more storage. It opens up with two zipper pulls to reveal a spacious interior. They have even hooked you up with a sweet rain cover!
Pros: Fits a lot of stuff for the size, very ergonomic
Cons: The rain cover doesn't protect the bag fully. It only covers one side.
10. Mardingtop 50L/60L

Material: Water-resistant 600D polyester
Capacity: 50L or 60L
Weight: 4 lb 7.84 oz
Dimensions: 29.9 x 13 x 9.4 in
Rain cover: Included
Mardingtop is a solidly made backpack. It is made of a rugged material that is mid-level water-resistant. So the bag gives time to put on the rain cover or seek shelter. The main compartment of the bag can be accessed from the middle or the top. You can also attach MOLLE gear to it if you need more pockets. There are two main pockets, one hidden pocket and there is a laptop sleeve. Like other backpacks, there are plenty of straps and buckles and they are fully adjustable.
If you're looking for an affordable pack with not too many pockets, go for it. This pack is not too heavy, but it's not lightweight as compared to other packs in its class.
Pros: A lot of storage space available, good quality, adjustable and comfortable straps
Cons: The buckles sometimes slip and require constant adjustment. The pack does not feature many pockets. The plastic used for the buckles looks and feels cheap.
11. OUTLIFE 60L

Material: Water-resistant nylon
Capacity: 60L
Weight: 2 lb 3.2 oz
Dimensions: 29.53 x 13.78 x 9.84 in
If you're looking for an inexpensive and throw around bag without an internal frame for backpacking purposes, OUTLIFE 60L is a good option. This pack comes with a lot of pockets and compartments. The zippers are sturdy with string loops which make them very easy to use. There are varieties of buckles and compression straps available to tighten the compartments. The storage capability of this pack is great. All sizes of pockets available with tons of spaces. There is a pocket on the back that can be used for a hydration bladder. You can also modify the straps by adding length to them so as to account for my larger camping equipment.
Overall, this is a good backpack at a great price. It compares to some of the higher-end packs out there in size of storage compartments and quality. Since this is a frameless pack, still the backrest is well-padded and comfortable. If you're looking for an affordable and comfortable pack, go for it.
Pros: Plenty of pockets and compartments. The pack feels super comfy.
Cons: The straps at the bottom and top (tent straps) are a bit short.
12. CAMEL CROWN 45L

Material: High quality
Capacity: 45L
Weight: 3 lb 11.2 oz
Dimensions: 21.65 x 12.06 x 7.09 in
Rain cover: Included
CAMEL CROWN is a 45L backpack that is suitable for both men and women. Because this pack has a multi-position torso adjustment that fits a wide range of body sizes. This pack also offers durable open-cell foam lumbar pad and molded channels that provide maximum comfort and airflow. There is hydration access on the side of this pack with a water bladder sleeve in the main compartment. The hydration bladder compartment can accommodate hydration bladder (not included) up to 4 liters, keeping you hydrated for a day when you are in various sports activities.
Like other packs, this pack also offers plenty of pockets. There is one large front zipper pocket with a string bag, one large deep main pocket with string bag, one bottom rain cover pocket includes a rain cover, two hip-belt pockets two side pockets, one removable top pocket.
Although, this pack has a water-repellent exterior coating still there is a water-resistant rain cover included. Overall, the pack has good construction and it is lightweight, versatile, strong, and sturdy.
Pros: Many pockets, hydration system compatible, water-repellent exterior coating, rain cover included
Cons: The zippers are not very high quality.
13. Gonex 70L/80L

Material: 210-420D tear-resistant nylon & PU coating
Capacity: 70L/80L
Weight: 4 lb 13.28 oz
Dimensions: 32.3 x 13.3 x 11 in
Front Feature: Front upper U-shaped zipper pocket
Back Feature: Back panel with built-in aluminum rod support
If you're getting ready for a long hike with and an intention to take supplies for two weeks, this backpack is for you. The gear capacity of this backpack is 70L with an added 10L in a separate zippered compartment on the bottom. The construction is very well-made and the stitching is very carefully done. The pack is durable but the zippers are made of plastic, and the lashes are nylon strapping. The shoulder straps are adjustable and can be raised or lowered to fit your body size. The waist strap is also similarly adjustable, up or down to fit a tall or short person. These features make this backpack more comfortable for longer hikes.
This backpack also offers a rain cover that is hidden in the top hood of the main compartment. So you don't have to use rain poncho to cover your backpack. The bag also has 4 straps on the outside that can be used to snug the load up. This also includes the sleeping bag compartment.
Finally, this pack features two zippered compartments on the outside that are attached to the waist strap for easy access, and two open pockets to place water bottles.
Pros: Durability, convenience, and fit
Cons: The internal frame down at the bottom seems a bit bulky.
Best Budget Backpacking Backpacks: Comparison Table
| Pack | Material | Capacity | Weight | Dimensions |
| --- | --- | --- | --- | --- |
| Osprey Volt | 210D Ripstop Nylon | 60L | 3 lb 14.7 oz | 32.9 x 13.6 x 13 in |
| Loowoko | Ripstop Nylon | 50L | 2 lb 9.6 oz | 25.6 x 13.8 x 9.8 in |
| WASING | Ripstop Nylon | 55L | 2 lb 14 oz | 27.1 x 12.5 x 9.8 in |
| Explorer 4000 | Squared Ripstop | 65L | 5 lb | 32 x 18 x 12 in |
| OutdoorMaster | Nylon | 50L | 2 lb 6.4 oz | 23 x 15 x 8.6 in |
| Hiker 3700 | Squared Ripstop | 60L | 4 lb | 33 x 15.5 x 12.5 in |
| G4Free | Nylon | 50L | N/A | 22.8 x 13.7 x 9 x in |
| Scout 3400 | Diamond Ripstop | 55L | 4 lb 8 oz | 30 x 17 x 12 in |
| High Sierra Summit | Mini-Hex Ripstop | 45L | 4 lb 9.6 oz | 27 x 14 x 7.5 in |
| Mardingtop | 600D polyester | 50L/60L | 4 lb 7.84 oz | 29.9 x 13 x 9.4 in |
| OUTLIFE | Nylon | 60L | 2 lb 3.2 oz | 29.5 x 13.7 x 9.8 in |
| CAMEL CROWN | High quality | 45L | 3 lb 11.2 oz | 21.6 x 12 x 7 in |
| Gonex | Nylon & PU coating | 70L/80L | 4 lb 13.28 oz | 32.3 x 13.3 x 11 in |
What to Look while Purchasing a Backpacking Pack?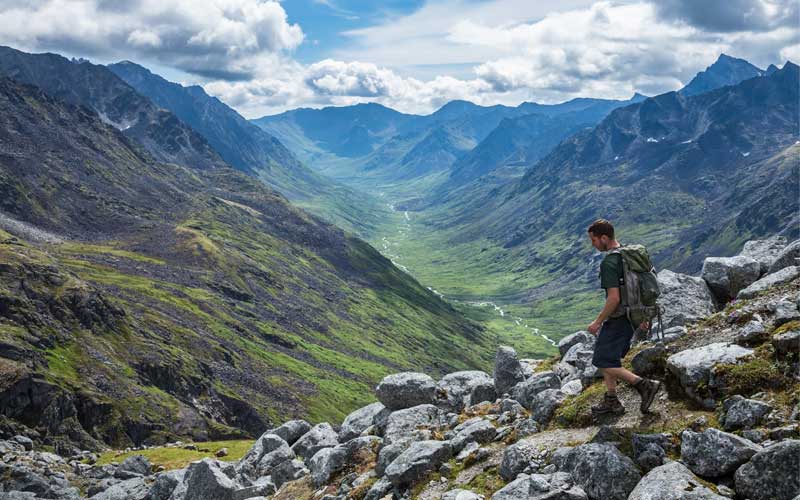 Below are some of the things to look before purchasing a backpacking backpack.
Capacity
One of the first things when choosing a backpack is to decide the capacity. It is largely going to depend on the type of backpacker you are. If you're an ultralight backpacker, you're probably carrying a lot less gear and you can get away with something much smaller. If you like to have some luxury then you're probably going to want a larger pack. Generally speaking, the backpacks around 30L to 50L are suitable for weekend and overnight trips. If you're looking for a multi-day pack, then the backpacks around 50L to 70L are great. If you're looking for an extended trip pack, then you're probably looking for a 70L+ backpack. These packs are designed to hold a ton of gear. So they're good for mountaineering and extended winter backpacking.
Frame Type
A pack's frame is designed to transfer weight from your shoulders onto your hips for a more comfortable carry. There are two main types of frames i.e. internal and external frames. Internal frame packs are common types of packs nowadays and they're lighter than external frame backpacks. Some ultralight backpackers will choose to use frameless backpacks. These packs don't do as good of a job of transferring the weight to your hips. You may not need that if you're carrying a lot less stuff.
Features
Keep in mind that any features that you add to your pack are also going to add weight. So you want to strike a balance between ease of use of the pack and additional weight that you're adding. When you're looking at packs you'll want to look for features that you believe will add value and avoid packs that have features that you don't think you want.
Fit
The most important thing about choosing a backpack is to find one that fits you comfortably. Packs come in a variety of frame sizes or torso lengths that relate to your back size. Once you have a pack that fits you, use the straps to adjust the fit. There are also women-specific packs and those are going to have slightly different fir to them and different features such as hip-belts that provide a little bit more cushion or a little bit larger.