We use affiliate links and may receive a small commission on purchases.
Learn more
Up in the mountains, in cold temperatures, the hands need proper protection against the cold winds as you ski down the slopes in speed. Improper protection of the hands can lead to pain in the hands and make it hard to grab things like ski poles. It goes without saying that in such a situation, your adventure trip has been ruined. Gloves are an essential accessory in such situations. But can you get a decent pair on a budget?
Whether you are looking for gloves to take to the slopes or just winter use, these warm and budget-friendly ski gloves have you covered.
1. Gordini GTX Storm Trooper II

Style: Gauntlet
Insulation: Megaloft synthetic
Palm material: Polyurethane
Waterproof: Gore-Tex
The Gordini GTX Storm Trooper II is an all-rounder at an affordable price that comes with a full set of features. For a small price, this pair performs almost as well as the high-end gloves. The price point and the features make it a perfect choice for the everyday resort skier. Storm Trooper II features synthetic insulation, especially in the fingers. These gloves will keep your hands and fingers warm in most of the cold season. However, they are not enough at a very cold temperature. But the gloves feature zippered pockets on the back to hold a handwarmer pouch.
The gloves feature a soft fleece lining inside which adds to warmth and comfort. However, the thicker insulation at the fingertips compromises dexterity even though it keeps the fingers warm. The gloves are dexterous enough for a casual resort skier. But they are not for those who have to handle gear. The Gore-Tex layer in the gloves keeps the water out. The gloves also feature along over a cuff design but with a low-profile design that can be tucked under the jacket should the need arise. But the hand warmer zippers are not waterproof. With tight seams and reinforced inserts, the gloves are impressively durable.
Pros: Great warmth and comfort at an affordable price.
Cons: Liner is not removable, slightly tight fit, poor dexterity
See the Gordini GTX Storm Trooper II
2. Flylow Ridge

Style: Undercuff
Insulation: Spaceloft Micropuff
Palm material: Pigskin leather
Waterproof: SnoSeal beeswax
Flylow Ridge is a choice that will get you through and get the job done. However, don't expect more from it. If you are looking for more features, look elsewhere. They are insulated enough to handle moderate temperatures. The Ridge is stylish but lacks some key features for skiing and needs improvement. The Ridge works well around 25-35°F. Above or below this mark, you will either be cold or hot. Flylow's pigskin leather is fairly waterproof. But the cuffs are not waterproof and will absorb water readily.
The gloves are stiff out of the box, to begin with, but they become relatively dexterous as they break in which takes a long time. The fingers feature bulky stitching which compromises dexterity to the extent that even simple tasks become cumbersome. The pigskin leather also makes these gloves fairly durable. However, the stitching on the fingers makes them susceptible to be caught by objects which can cause it to rip easier. The elastic gloves tend to lose elasticity over-time as well. Again, they will work fairly well in moderate conditions but don't expect exceptional performance.
Pros: Durable, fairly waterproof, does a good job
Cons: Not super warm, bulky stitching
3. Burton Gore-Tex Gloves

Style: Gauntlet
Insulation: Thermacore synthetic
Palm material: Nylon/leather
Waterproof: Gore-Tex insert
Burton Gore-Tex is one of those cool pairs which offer an attractive styling with several sweet features. The glove features above-average warmth, sports touchscreen sensitive fingers, includes a separate pair of liner gloves, and a wide range of fit. The included liner gloves not only make these gloves unique at this price point but also allows for more versatility as you can remove the outer gloves to gain more dexterity. The Gore-Tex insert provides above-average waterproofing ability.
The ergonomics of these gloves are impressive but the dexterity they provide is average which what you should expect for the price that it offers. These gloves offer touchscreen capable fingers on all five fingers which is a sweet feature, however, the inner liner is not touchscreen sensitive. The durability of these gloves is above average but nothing exceptional. Burton's Gnar Guard may start to show signs of premature wear after a couple of dozen days. The performance of the DWR layer also reduces in this period.
These gloves offer great value for the price they offer. The extra features that they offer along with separate inner liner gloves make it an attractive choice that can handle most ski climates with decent weather resistance.
Pros: A cheap option for resort skiers, included liner gloves, works for most people
Cons: Below average durability, not as precise fit, average weather resistance
See the Burton Gore-Tex Gloves
4. REI Co-op Guide Insulated

Style: Undercuff
Insulation: Polyester fibers
Palm material: Leather
Waterproof: No
The REI Co-op Guide Insulated features a softshell that is pre-broken making them dexterous out of the box. These gloves may remind you of hardware store leather gloves. These gloves are very comfortable to wear. The Guide holds up well in temperatures between 20-25°F but for temperatures below, they are not nearly as warm. The soft-shell also holds up decently to the winds but it is better if they are tucked under a ski jacket sleeve as the fingers can become cold while riding the lift.
The Guide makes up for its weaknesses in the dexterity department. The soft-shell construction that falls weak in warmth makes the Guide very dexterous. The stitching is sleek which makes doing tasks easier. You can even tie a knot with it. When it comes to durability, the soft-shell becomes an obvious red flag. The leather reinforced palms and thumbs do add to the durability along with good quality stitching in the fingers, but the soft leather starts to wear after a short time of use. They will get you through a single season at best.
Pros: Good breathability, great fit, very dexterous
Cons: Overall less durable, no wrist leash, wear out quickly
See the REI Co-op Guide Insulated
5. Black Diamond Legend

Style: Undercuff
Insulation: PrimaLoft synthetic
Palm material: Sheep leather
Waterproof: Gore-Tex
If you are looking for a decent performer that can serve as a lightweight and dexterous alternative to double gloves, then the Black Diamond Legend is an option worth considering. The Legend is warm, dexterous, and comfortable. The Legend features synthetic insulation along with soft fleece lining which makes it warm and comfortable to wear. They can be worn at temperature down to 10°F without feeling discomfort. What the Legend lacks in warmth and water-resistance, makes up in dexterity.
The dexterity of the Legend is best among its contenders and even exceeds those of the high-end gloves. The sheepskin leather is pre-broken makes them soft and comfortable. Common ski tasks can easily be accomplished with the Legend. The Legend uses a Gore-Tex insert which adds to its waterproofing ability. The Pertex soft-shell material on the back and cuff is also water-repellent. But the soft leather absorbs water even when treated with the best snow sealants.
The soft palm leather makes the Legend less durable and shows wear after heavy use in a short period. The leather feels significantly less durable when it becomes wet. Nevertheless, it is a great ski glove.
Pros: Great dexterity, lightweight, packable
Cons: Marginal water resistance, not the cheapest option
6. The North Face Montana Etip

Style: Gauntlet
Insulation: Heatseeker Eco
Palm material: Synthetic (polyurethane) leather
Waterproof: Gore-Tex insert
The North Face Montana Etip gloves provide superior warmth and comfort for extreme conditions. Montana has some nice features that make it an option worth considering. The comfort and the dexterity that Montana provide makes them worth buying. Montana consists of a Gore-Tex insert which has been replaced by North Face's HyVent technology that gives them solid waterproofing ability, breathability, and makes them less bulky. The less bulky shell at the fingers is a bit stretchy which gives a snug, comfortable fit.
The dexterity that Montana provides is high. This is because of the well-articulated design of the fingers and the thumb. You don't need to take them off for most tasks. The different material of the palm makes it easier to grip things. The water-resistance is also good and the gloves manage to keep the hands dry. The durability of Montana is average. There are several complaints from customers that it feels great initially but then falls apart. But the North Face customer service is great to cover you.
Pros: Extremely water-resistant, great value, dexterous
Cons: Not as warm as some other options
See the The North Face Montana Etip
7. Outdoor Research Highcamp

Style: Gauntlet
Insulation: Vertical X/RadiantFleece
Palm material: Goat leather
Waterproof: Ventia insert 100% nylon shell
The Outdoor Research Highcamp is a bargain for the price and features that it provides. A majority of skiers are not looking to spend a lot on gloves as they only get out for 50 days or less which is only one season. The Highcamp is a warm glove due to its heavy insulation combined with an extended length liner. Most of the insulation lies in the outer layer. Overall, the Highcamp is a warm glove that works even in single-digit temperatures.
Due to the low construction of the palms, the dexterity is compromised. However, Highcamp still manages to stay decently dexterous. The sperate inner liner and an easy to remove outer make it easy to carry out tasks. Having two separable layers also benefit the weather resistance capability of Highcamp, especially in multi-day ski scenarios. The thicker outer can be hard to dry out though. It doesn't require any leather treatment initially but the DWR layer on the back of the glove wears out with extended use.
The durability of the gloves is also average which contributes to the low cost. The Highcamp lacks reinforcements which make them more susceptible to wear. However, it still does a good job of holding up in its price range.
Pros: Comes with liners, great price, fairly dexterous
Cons: Average durability, comparatively lower end materials
See the Outdoor Research Highcamp
8. Outdoor Research Adrenaline

Style: Gauntlet
Insulation: EnduraLoft
Palm material: AlpenGrip LT
Waterproof: Ventia
Outdoor Research Adrenaline is a good choice if you are looking for a pair of gloves that is average, nothing fancy, and works fine on warm days on the hills. But they still provide good dexterity over the competition. The Adrenaline features synthetic insulation along with a fixed inner fleece liner. It is not super warm but it works well in mild temperatures. The gloves provide great dexterity though. You won't have to take these gloves off to use your fingers.
The Adrenaline doesn't perform well when it comes to water-resistance. The outer shell gets soaked quickly and becomes waterlogged making it a bad choice for wet conditions. This impression remained consistent even with durability. The shell material is not the strongest and can rip easily. The palms have a rubbery texture which wears quickly than other options on the market. The Adrenaline won't last more than a season of heavy use. It is a glove with a simple design and is adequate for warm days on the hills.
Pros: Good dexterity, comfortable
Cons: Average warmth and durability, absorbs water
See the Outdoor Research Adrenaline
9. Flylow Oven

Style: Undercuff
Insulation: Spaceloft Micropuff
Palm material: Pigskin leather
Waterproof: SnoSeal beeswax
Flylow Oven mitts have a fairly simple design but hold up well for the price. The mitts feature Primaloft insulation that works great in the cold weather. However, these mitts are not adequate for warmer weather as they easily become sweaty. The Oven mitts are ideal for temperatures between 0-20°F. But for days above 30°F, they become easily sweaty and then take a while to dry. Given their construction, they become wet quickly, however, they still manage to keep the hands warm even when saturated.
These mitts are very dexterous due to their grippy pigskin leather and thin construction. The mitts also feature zipper adjustments which make them easier to tuck under the sleeve of the jacket. The pigskin leather also withstands weather, snow, wind, and sharp edges. The stitching is where the durability of the mitts becomes doubtful as it seems cheap. The hands feel a bit lose inside the mittens because it lacks insulation filling up space inside which contributes to its dexterity as well. They are a great product and useful in backcountry and cold-weather resort skiing.
Pros: Good warmth, durable, waterproof
Cons: Sweats out easily
10. Dakine Titan

Style: Gauntlet
Insulation: High-loft polyester fill
Palm material: Rubbertec
Waterproof: Gore-Tex insert
The Dakine Titan is another fully-featured glove at an excellent price point with a lot of features including touch-sensitive liner gloves. But what is most impressive is its weather-resistance. Having removable liners at this price point is also appreciable. The gloves provide average warmth which is something to expect given the affordable price. There is only a marginal difference between the Titan and its competitors. However, the double glove setup provides versatility. The liner can be worn while going up and then wind-blocking shell while coming down.
The dexterity of the Titan is average which is, again, ok for the price point. However, it does perform better than its competitors. Just don't expect exceptional dexterity. The Gore-Tex insert gives it solid waterproofing abilities during freezing storms and also while you are riding all day. The durability of the Titan can be disappointing. It wears quickly around the seams and the fingertips. It can also get cuts by simply handling ski edges and it is not as tough as the competition. But for the price range, the performance is fine.
Pros: Fully-featured, warm, great value
Cons: Average weather resistance and dexterity, below average durability
Best Budget Ski Gloves: Comparison Table
Critical Ski Glove Considerations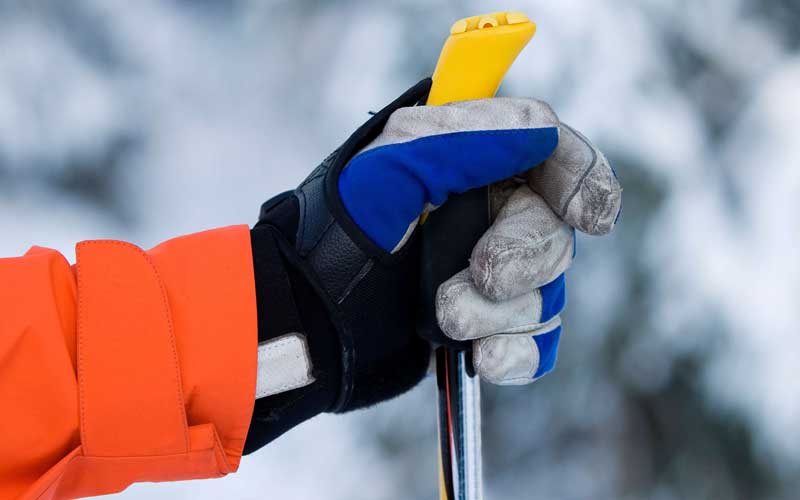 While buying a pair of gloves for the cold might seem like a straightforward affair, there are some things to consider so that you don't end up with the wrong one. Here are a few tips that will help you make the right choice for going in the cold.
Type
Based on your conditions and your personal preference, you would have to choose one of the two types: mittens and gloves. Manufacturers make mitts and gloves with the same basic materials and construction.
Gloves: The fingers in a glove are separate which makes them less warm than mittens but they offer better dexterity. They are ideal for activities where you have to frequently handle gear. A pair of lightweight gloves are a good choice for sports such as cross-country skiing as the body is generating lots of heat. Furthermore, gloves are also ideal for those whose hands don't get cold quickly in the winter.
It is to be noted that both gloves and mittens provide different amounts of warmth which is largely based on the materials they are constructed from. Choosing how warm your mittens or gloves are going to depend on the kind of activities you are planning to perform.
Mittens: Mittens are generally warmer as your fingers share a single compartment generating more heat. However, mittens limit mobility and you may have to remove them for certain tasks like using your gear, phone, etc. A 3-fingered hybrid version is also available commonly known as the lobsters or lobster mitts. Mittens are also more comfortable. If your hands stay cold in the winter season, or you prefer comfort over mobility, then you should opt for mittens.
Shell
Shell material determines the warmth of the glove along with other factors as we will see further. Gloves are made of one of the two types of shell materials, either synthetic or leather. Synthetic material.
Most skiing gloves are made of synthetic fabric, usually nylon. High-end gloves have a waterproof, breathable fabric with a coating of ePTFE (expanded Polytetrafluoroethylene) which is known as Teflon in layman's term. Another material used for coating is PU (Polyurethane).
Synthetic fabrics that are waterproof and breathable come as both, hard and soft shells, and both are used in gloves and mittens. These materials are combined with synthetic material in high abrasion areas such as palms and fingertips to make them more durable.
Along with synthetic fabrics, leather is also used in making gloves and mitts as leather is a material that works well in gloves and is naturally water-resistant. With different treatments like wax, the addition of resin, etc, leather gloves can be made waterproof, windproof, warm. Leather is more durable than nylon materials and so last years if kept with care.
Membrane
For a glove to stay warm, it must stay dry. For a glove to stay dry, it must breathe. Sweat from hands makes the gloves wet which can compromise the warmth of the gloves resulting in sudden temperature dips. The waterproofing and breathability of a glove depend on the membrane of the glove.
There are several methods used by manufacturers to make their gloves waterproof. Gore-Tex membranes are places between the outer shell and the inner insulation which provides the greatest level of waterproofing and breathability. However, these membranes tend to make the glove bulkier.
Hipora fabrics are waterproof, windproof, and breathable having a PU coating that is famous for being more stretchable than other PU coatings. GORE WINDSTOPPER is a Teflon membrane that is only windproof and breathable, not waterproof. They are less bulky and suitable for a cold and dry climate. They are coated with a thin layer of Durable Water Repellent which makes them moderately water-resistant.
Insulation
Among the different types of insulation found in gloves, down is the best natural insulator made of a combination of plumules and feathers, which trap air keeping the hands insulated. The higher the grade, the higher the insulation. Down is perfect for cold and dry temperature bur not so good in wet conditions as it is slow to dry.
Thinsulate is made of a unique ultrathin microfiber, 3M. It has excellent insulation with less bulk and is ideal for gloves made for dexterity in mind. Primaloft is another insulation made of patented synthetic microfibers which is ideal for wet conditions.
Cuffs
The purpose of cuffs is to keep the snow from getting into the gloves and the jacket. Although the length of the cuffs is a personal choice, the style of the jacket is also a factor in determining the style and length of the cuffs. The style can be under the cuff or over the cuff.
Gloves with under cuff design offer greater mobility in the wrist area and allow the jacket cuffs to overlap the gloves. They work best with jackets with adjustable velcro cuffs. The longer cuffs design extends past the jacket cuffs and offers more protection against snow creeping in.
Fit
For better warmth and dexterity, make sure the fitting of the glove is perfect with properly covered palms and little room at the end of the fingers. Make sure the glove doesn't become too tight when you make a fist.
Additional Features
Articulated fingers for better comfortable
Zippered Pockets to increase and decrease insulation
Nose wipes which allow you to manage a runny nose
Reinforced padding on the palms and fingertips for added protection and durability
Wrist loops to avoid losing gloves
When choosing the gloves, keep these above-mentioned points in mind so that you choose the right pair for your next adventure.