We use affiliate links and may receive a small commission on purchases.
Learn more
Ski goggles are the most important piece of equipment before you hit the slopes. The goggles not only protect your eyes from wind and snow but also keep out fog and moisture so that you can see properly. Chances are that you are a beginner who wants to try out skiing for the first time or you are into casual skiing who wants an entry-level goggle. So you might not want to spend too much on equipment and for you, a pair of goggles on a budget would do.
So here are the top affordable ski goggles that you should consider before making your choice.
1. Smith Range

Frame size: Large
Lens shape: Cylindrical
Lenses included: 1
Style: Framed
The Smith Range Snow Goggles has many reasons that might make you consider buying them. The goggle features a large frame that provides good visibility and minimizes tunnel vision which you find on many cheap designs. The lens also contains Tapered Lens Technology (TLT), which progressively tapers the lens from the optical center to the edges. This tapering corrects the distortion by delivering light straight to the eyes resulting in zero distortion and enhancing vision clarity. The lenses also contain the Fog-X anti-fog technology, which is a hydrophilic, micro-etched surface that absorbs moisture and disperses it over a wide surface area to prevent fogging. Since the layer is physically carved into the lens, it can't be wiped off like other anti-fog coatings.
The frame of the goggles is also very flexible, which allows it to adjust easily to the face. It also has a dual-slide strap adjustment system for a more firm fit. The frame also contains dual-layer DriWix face foam that adds to the comfort and also has wicks moisture to reduce fogging. The downsides are that you don't get to swap the tints of the lens with the weather. You also miss out on Smith's ChromaPop lens technology. If you plan your trips only in favorable conditions, then these goggles will work fine for you.
Pros: Decent comfort and performance at an affordable price.
Cons: Comes with only one lens so you can't swap between tints based on the weather.
2. Bolle MOJO

Frame size: Medium/large
Lens shape: Cylindrical
Lenses included: 1
Style: Framed
Bolle is not one of those popular brands that you might have heard about so frequently or at all such as brands like Oakley and Smith. A lesser-known name among the masses helps Bolle keep their prices fair while delivering a top-notch product. The best thing about these goggles is lens technology. The MOJO consists of a double lens with a thermal barrier attached to the first layer which reduces fogging. The inner layer has a P80 plus anti-fog layer, which disperses the water molecules across the surface to prevent build-up.
The Flow-Tech Venting technology employed in the frame uses holes to aid in the reduction of moisture which further enhances the anti-fog capabilities of the goggles. The MOJO uses a multi-layer density foam, which feels very comfortable on the skin. However, using them for long periods can become uncomfortable, and there are definitely more comfortable options out there. One thing that you should be aware of is that the MOJO doesn't have the option of interchangeable lenses. That means you don't have the flexibility to face different dark and bright weather conditions. But what more you expect at this price point?
Pros: Very cheap, stays clear when skiing
Cons: Cheap materials, not super comfortable, no interchangeable lenses option
3. Oakley Airbrake XL Prizm

Frame size: Large
Lens shape: Spherical
Lenses included: 2
Style: Framed
If you are looking for a pair that is slightly in the high-end and gives an exceptional performance, then the Oakley Airbrake XL Prizm is an option you should look into. It's clear that with these goggles, Oakley has a priority of maximizing the field vision. This set of goggles works great with medium to large-sized faces. The peripheral of the Airbrake XL is second to none. The goggles come with two of Oakley's premium Prizm lenses the aim of which is to enhance the contrast to make little details stand out.
Oakley's Switchlock Technology makes it very easy and fast to swap lenses. Once you get used to the system, it takes less than 30 seconds to swap lenses. However, you may still find it hard to operate with gloves on. The Airbrake has an anti-fog coating and the lenses are double lenses that do a solid job of reducing condensation and the frame allows for adequate airflow to counter fogging. It might still get steamy under demanding activities though.
The three-layer foam construction of the Airbrake makes it stand out in the comfort department as it reduces pressure on the cheeks and the nose bridge. The flexible frame conforms to the face nicely. The strap is simple and adjusts easily to fit a wide variety of ski helmets.
Pros: Easy to change lenses, great optics, and excellent field of vision
Cons: Visible frame around nose, not the cheapest option
See the Oakley Airbrake XL Prizm
4. Smith Squad ChromaPop

Frame size: Medium
Lens shape: Cylindrical
Lenses included: 2
Style: Semi-rimless
Smith Squad ChromaPop is an option to consider if you are looking for something that isn't fancy, gets the job done, and has a classy style. They are priced excellently. They feel good on your face without depriving your wallet. The Carbon-X cylindrical lenses provide a clear view with minimal distortion along with good impact and scratch resistance. The lenses use the TLT technology the same as used in the Smith Range Goggle mentioned above. The Squad is comfortable and uses the dual-layered DriWix face foam. The comfort is higher when worn with a helmet. The strap is silicon-based that keeps things in place and feels comfortable at the back of the head with long use.
The Squad has adequate ventilation and breathability with open-cell foam at the top and bottom. However, these goggles do fog slightly under demanding conditions. The lenses can be swapped in a fairly easy way. You just have to get used to it to be proficient at it. The Squad is a durable pair that will last you for a long time with fairly good build quality. Overall, the Squad is a reasonably priced goggle with classic low-profile styling. It looks good and has good quality optics that do the job well.
Pros: Durable, multiple decent quality lenses included
Cons: Very basic style, changing lenses can be challenging
5. Giro Blok

Frame size: Large
Lens shape: Cylindrical
Lenses included: 1
Style: Framed
Along with side helmets, Giro has been making a line of goggles for skiing and snowboarding for some years now. The Giro Blok is one of their least expensive options. Despite the lower price, its performance is still impressive. Giro is in collaboration with Zeiss to manufacture its VIVID cylindrical lenses. The lenses offer a clear view that is nearly as good as the more expensive options on the market. The frame has a large fit that is adequate for medium to large face sizes. It has a triple-layer face foam that makes it very comfortable.
The frame of Blok has good ventilation all around that works very well. The foam has a perforated layer in the middle rather than the open-cell foam which works well for ventilation. Furthermore, the lenses are covered in an anti-fog coating which works well until the temperature goes low. The Blok has a standard lens and frame interface which is reliable and works well. Many goggles share this design and it has proven to hold up for years. However, changing lenses is a bit more time taking. Blok is an excellent product for the price and the interchangeable lenses are relatively inexpensive.
Pros: Fits perfectly with a helmet, comfortable, super inexpensive
Cons: Relatively basic style, one lens included
6. Zeal Optics Nomad

Frame size: Medium
Lens shape: Spherical
Lenses included: 1
Style: Framed
Zeal Nomad Polarized Goggles are a potential choice for those who are looking to own a spherical lens with an attractive style but at an affordable price. This lens costs far less than the high-end goggles and offers a spherical, photochromic lens. You will have a very hard time finding a lens with a spherical lens at this price point. Spherical lenses have a slight optical advantage over their cylindrical counterparts, yet they are only found on high-end goggles. Furthermore, the lens is also photochromatic which can be a deal-breaker.
The initial comfort of the Nomad is excellent. However, with prolonged use, it might become uncomfortable. This discomfort can be felt most during warm days. The frame construction is wide which doesn't make it ideal for narrow faces which can affect your purchase decision. The flexibility in the frame reduces pressure points. The frame of the Nomad has a large vent at the top and two small vents below the eyes. Built-in vents also increase the frame volume which reduces fogging as more moisture would be needed for fogging. Changing lenses on the Nomad isn't as easy but it is reliable. Considering its affordable cost, the Nomad is an impressive choice.
Pros: Cheap price for spherical lens, looks great, durable lens coating
Cons: One lens only, can be itchy on warm days
7. Dragon Alliance NFXs

Frame size: Medium
Lens shape: Cylindrical
Lenses included: 2
Style: Frameless
The Dragon Alliance NFXs is a slightly scaled-down version of the groundbreaking NXF. But don't think that it is somehow inferior to the original hit NFX. It is basically the same thing. The 's' stands for small. The design of the NFXs is, no doubt, a bold design for bold people who doesn't mind showing off. It is also pleasing to look at with the Dragon Alliance's patented frameless technology. The goggles come with two lenses, one for bright light and the other for low light. At its price point, the inclusion of the two lenses is appreciable.
The cylindrical lenses are made from Lexan, which is the substance used for making racecar windshields and bulletproof glass. You can tell right away that they are going to be some durable lenses. Swapping the lenses is relatively easier on the NFXs. The Alliance NFXs is very comfortable to wear. The moment you put it on, you can feel the soft microfleece layer of the foam against your skin. You will find the comfort to be competitive with the high-end goggles. However, the stiffness of the Lexan lens limits the goggle's ability to conform to a variety of face shapes.
Pros: Great fit, looks cool, sleek, and comfortable
Cons: They fog a little when you look down.
8. Spy Ace

Frame size: Medium/large
Lens shape: Cylindrical
Lenses included: 2
Style: Framed
The Spy Ace Goggles are worth a look at if you have the right facial shape and don't ski too often. The optical quality is good but that's just about it. It's a pair of goggles that have a modern design and it will get the job done. Ace comes with two cylindrical lenses in the box, one for bright conditions and the other for darker conditions. This makes it an attractive choice at the price point. The lens quality and its optical quality are both quite good.
Ace is equipped with a three-layer Isotron foam which feels good on the face. The inner-most foam has the proprietary Dri-Force technology that wicks away moisture. The Spy uses its Scoop ventilation system on the Ace which keeps the lens clear of fog.
The Ace uses the Quick Draw system to change lenses which makes it easier to swap lenses but still not as quick as the magnetic lenses. The frame is made of polyurethane which is both, durable and flexible. The Ace has a lower price point and comes with two lenses. The durability and lens swapping might not be what you expect. However, the Ace is still worth a look. If you are looking for something more refined, then we would suggest that you look elsewhere.
Pros: Good breathability, comes with two lenses
Cons: Less durable, lens swapping is difficult, uncomfortable
9. POC Opsin Clarity Comp

Frame size: Medium/large
Lens shape: Cylindrical
Lenses included: 1
Style: Framed
The POC Opsin Clarity Comp Goggles are designed with sports in mind. It is an option for those who are into skiing as a sport and participate in ski races. So if you are looking for a performer on a budget, then this is an option worth looking at. The lenses feature the Clarity Comp technology which has been developed in collaboration with optical industry leader Carl Zeiss. The lens extends far to the side of the head giving a wide field of vision with minimal distortion. The cylindrical double-lens have a tint that enhances contrast and vision for a short period of intensity.
These goggles have high-density ventilation padding which prevents excess airflow inside the goggles at high speeds. However, it poses a problem at lower speeds as the airflow is stopped entirely and the chances increase. The frame features a triple-layer soft foam that feels comfortable especially in warmer weather. The frame is made of polyurethane which makes it flexible and durable. The lenses also feature an anti-scratch and anti-fog coating.
Pros: Good field of vision, excellent built quality
Cons: Limited ventilation
See the POC Opsin Clarity Comp
10. Anon Relapse

Frame size: Medium/large
Lens shape: Cylindrical
Lenses included: 2
Style: Framed
As the old saying goes, "if it ain't broke, don't fix it". The Anon Relapse is what you get when the classic style is combined with modern technology. So if you are a fan of the classic look with the modern bells and whistles, then this may be similar to what you are looking for. Anon's Cylindrical Lens Technology uses de-centered injection which tapers the lens to a thinner profile on the edges to reduce peripheral distortion. The Wall-to-Wall Vision uses optimal optics with a low profile frame and up to 40% thinner face foam for an ultra-close fit that eliminates peripheral distortion as well.
The Integral Clarity Technology (ICT) uses anti-fog treatment which employs a porous cellulose inner lens surface for water shedding that is on par with the standard acetate lenses. The anti-fog capability is further enhanced with Anon's ICT chemical anti-fog treatment of the lens. Anon's Ful Premier Channel Venting provides maximum airflow into the goggles which work with the ICT to provide maximum fog protection. The triple-layer face foam also utilizes moisture-wicking capabilities which further enhances the anti-fog capability of the goggles while also making these goggles very comfortable. The goggles also include an additional lens and a microfiber bag.
Pros: Changing between lenses is easy, good price for the quality
Cons: Helmet compatibility is a problem, not very clear in low lights
Best Budget Ski Goggles: Comparison Table
Critical Ski Goggle Considerations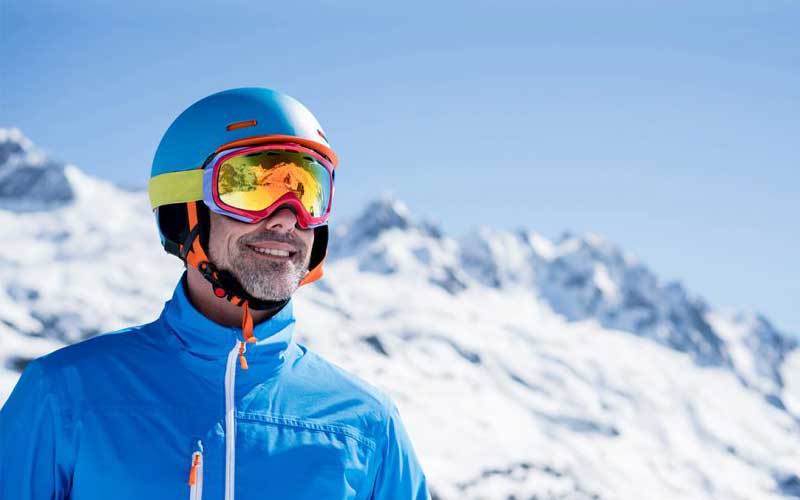 Ski goggles are the most important equipment that you can have. The primary reason is ski goggles keep your vision clear by protecting your eyes in the mountains. At high altitudes, the air becomes thin, hence, filters less UV light. Furthermore, the reflection of sunlight on snow is brighter. Both of these factors can cause damage to your eyes.
While skiing, you can reach high speeds at which point you would need protection from twigs and small stones that might come from trees as well. Selecting the right pair of goggles then becomes very important.
If you are looking at how to choose ski goggles for yourself, here are a few tips:
Lens Shape
Lenses are categorized as either flat or spherical. Some brands may use their proprietary terms but be aware, there are still only two types of lens shapes.
Spherical Lenses: These are lenses that curve side to side and vertically on the face. These lenses give better peripheral vision and cause less distortion and glare. The bigger the lens, the better the peripheral vision. However, they cost higher so it's rare that you find them on affordable lenses.
Cylindrical Lenses: Cylindrical lenses curve across the face but remain flat vertically. They cost less but slightly compromise the peripheral vision and cause more glare.
Light Transmission
The color of the lens works as a filter for your vision. The amount of light that reaches the eyes through the lens is called the visible light transmission (VLT). The color of the lens depends on the kind of environment you would be skiing in.
Lighter lens tints allow more light to pass through meaning they have a higher VLT. Yellow, gold, amber are some examples. Darker lens tints allow less light to pass through, hence, have a lower VLT. Copper, brown, and gray are some examples.
If you are skiing in a cloudy environment with low visibility, you should use the lighter tints. The darker tints are used on clear sunny days when there is more reflection from the snow Mirrored lenses have a coating on the outer lens that reflects light reducing VLT. There are also clear lenses for night time skiing.
High-end models often come with interchangeable lenses. They are ideal if you ski in different visibility environments. Changing lenses is much easier than buying a new pair of goggles. Other high-end models come with photochromic lenses that change color according to the light conditions. They become dark in bright light and stay lighter in low visibility conditions.
Fog Prevention
Condensation happens at the point where body heat meats cold air from the outside. Fogging poses a serious problem that can compromise your vision and cause an accident during skiing. There are multiple ways manufacturers tackle this problem. The first to prevent fog is the employment of double-layered lenses which are now found on virtually all goggles as they take longer to fog than single-layered lenses. Anti-fog coatings are virtually present on all mid to high-end goggle lenses. Anti-fog products can also be used on lower-end or old goggles that are starting to fog.
Manufacturers also add vents to the top and bottom of the goggles to control fogging. Although wider vents are better, they can make your face cold. Some manufacturers also add small battery-operated fans to their high-end models to disperse moisture, The speed of these fans can be adjusted based on your need.
Frames and Fit
The fitting of the goggle is the most important thing to consider since it also determines the comfort of the goggles. Make sure you choose a pair of goggles that are not tight on your face. Different models are suited to larger or smaller faces. A flexible frame is best for the cold temperature. Most manufacturers use polyurethane in the goggle frames because it is flexible.
The other thing to note is the padding on the frame which stops the frame from pinching into your face. The foam should be thick enough to provide you sufficient padding but not thick enough to cause fogging inside the goggles. High-end goggles may use 2 to 3 layers of thin padding to enhance venting.
Virtually all pairs of goggles are helmet-compatible now but it's still a good idea to try goggles with your helmet to ensure that they provide a comfortable fit. Make sure you buy goggles before going on the trip. Don't shop at a snow resort. There are exceptions but most resorts have limited options with inflated prices.
Most goggles have strap adjustment with either a single sliding clip or an open/close buckle with sliding clips. The way the strap is attached to the goggle frame also makes a difference. When the strap is joined by a plastic hinge that moves instead of directly to the frame, it helps the pressure to be spread more evenly to the face.
If you wear prescription glasses, then you should look for goggles that are designed to fit over your glasses. They are known as Over the Glass (OTG) styles. They have space to accommodate glasses while avoiding pressure on your face from the templates and the nosepiece.
Additional Features
There are some additional features that goggles also provide that you may want to look into if you are interested, however, these additional features do raise the price of the goggles in some cases.
Some high-end goggles have polarized lenses the function of which is to reduce glare from sunlight over snow and water. Other high-end models offer digital displays that may pair with Bluetooth or GPS to display navigation and other smartphone information within the goggles in real-time.