We use affiliate links and may receive a small commission on purchases.
Learn more
A ski helmet is a piece of essential safety equipment while skiing in the mountains. It used to be a lot of people who didn't wear helmets when they went skiing. That is no longer the case and there's absolutely no reason not to wear one when you go skiing. Helmets have come a long way and they're more comfortable and safer than ever. If you don't want to spend too much on a ski helmet and still want a decent helmet with good protection, then we have you covered.
So these are the most affordable ski helmets that will protect your head on the slopes.
1. Smith Holt

Construction: ABS
Ventilation: Fixed (14 vents)
MIPS: No
Weight: 1 lb. 4 oz.
Smith is a renowned company in the world of ski and snowboarding. It makes some great apparel that is popular among the community. The Smith Holt is a helmet with a simple sleek design with clean lines and the hard shell durability keeps in the category of the best-seller year after year. The Holt is a good value helmet and it offers a lot for the price. One of the good things about the design of the Holt is that it is not bulky and doesn't give that mushroom look.
The shell uses an ABS construction that can withstand high impact. The adjustment system uses an elastic band instead of a dial system that fits surprisingly well on the head. The Holt is comfortable enough but sadly, still feels like a budget helmet. The foam is thick and warm, but feels cheap, and muffles sound more than you would want. The Holt has 14 air vents and uses the AirEvac 2 ventilation system. The downside is that the vents are fixed and small that limits the ventilation system and makes the helmet hot. The goggle compatibility is also good on the Holt making it a great beginner helmet only used for a moderate amount of time.
Pros: Great value, feels great, comfortable with ski goggles, and warm
Cons: The size adjustment takes time.
2. Wildhorn Drift

Construction: In-mold
Ventilation: Adjustable (13 vents)
MIPS: No
Weight: 1 lb. 1 oz.
Wildhorn was the proud supplier of the US Ski team in 2017 and Ashley Cadwell who is the World Freestyle Aerial Champion 2017. So you can tell that Wildhorn is a serious brand that will give you elite-level performance. The Drift is Ashley's choice for recreational skiing and snowboarding which means it is a serious contender that deserves respect. The Drift features a hard Polycarbonate shell coupled with EPS foam liner which feels premium. The plush interior liner provides excellent comfort and insulation. The earpads are removable for warm ski days and they are also Bluetooth compatible.
The Drift has a thin sleek design that does not look like a bobblehead like most ski helmets. However, the helmet is at the borderline of being heavy weighing in at around 17 oz. The Drift features Wildhorn's VNT ventilation system that has patented adjustable ventilation control and it is compatible with most goggles. The Drift is a helmet that is placed at an excellent price point. The performance and comfort are unmatched. It is a helmet that you can use for professional competition easily which is a great feature for this price.
Pros: Well-padded, sturdy built, adjustable vents at an affordable price
Cons: Need adjustments on the back periodically, but it's manageable
3. Giro Ledge MIPS

Construction: ABS
Ventilation: Fixed (8 vents)
MIPS: Yes
Weight: 1 lb. 2 oz.
From low end to the high-end, Giro just gets it. The Giro Ledge is a rugged helmet offered at a reasonable price. The ledge has a minimalist feel to it. It almost feels like a skate helmet. It is a hard shell construction with MIPS technology making this helmet a good deal to consider. The Ledge is comfortable in different conditions allowing for prolonged use. The earpieces fit tight enough to provide warmth but not too tight to cause pain with prolonged use. Ledge comes with Giro's Auto Loc 2 adjustment system. It is a bit tricky to use but most people don't share helmets anyway.
It provides enough warmth when worn with a beanie or something underneath. Wearing it without something underneath will not provide warmth in cold weather as the cold air can be felt rushing through the helmet. You can wear it in a warmer climate though. The vents on the Ledge are fixed open, which is a downside along with the fact that it's heavy. Ledge works seamlessly with Giro goggles, but other goggles can make you notice the difference. Nevertheless, for the price, the Ledge is worth it if you are in a slightly warmer and dry environment.
Pros: Simple, minimalist, protective, and most affordable MIPS option
Cons: Goggle compatibility is an issue.
4. Anon Raider 3

Construction: ABS
Ventilation: Fixed (6 vents)
MIPS: No
Weight: 1 lb. 5 oz.
If you want a helmet you can use for non-motorized activities other than skiing like skating, etc, and you want it to be within a budget, then Anon Raider 3 is something worth looking at. The Raider 3 is a simple no-fluff option having nothing fancy about it and only focuses on the job it is meant for. It is a simple design with park-ready looks. It uses the Endura-shell technology with a two-piece construction that features a hardshell ABS exterior which makes it more durable to withstand impact. The interior padding has a fleece backer which is softer than you would usually get for this price.
Raider 3 is a warm helmet with a nice feel. It has removable earpieces and padding which makes it easy to wash. The helmet is also multi-season certified. The helmet has fixed vents that do not do a well enough job for ventilation and prevent fog build-up in goggles. So you will probably be running hot quickly on warmer days. The Raider 3 also has weight to it. It weighs around 22 oz which is heavy and it will make your neck uncomfortable during prolonged use. The Raider 3 also lacks an adjustment system for a custom fit and also looks and feels bulky. Raider 3 is an entry-level product that is great to get you started with straightforward functionality and no distractions.
Pros: Durable construction, softer interior padding
Cons: No adjustable fit system, ventilation system doesn't regulate temperature well, heavy
5. Giro Nine MIPS

Construction: In-mold
Ventilation: Adjustable (12 vents)
MIPS: Yes
Weight: 15.4 oz.
This is another Giro on the list. As mentioned above, Giro just gets it. The Giro Nine MIPS is a basic helmet that performs similar to higher-end helmets without being flashy. This helmet has been a flagship from Giro for a very long time now. The Nine MIPS has an exceptional fit that makes it very comfortable. The in-form fit system is an adjustment system that is there to personalize your fit. It works better than many other systems on other helmets. The earpads are thick but surprisingly soft.
It gives adequate warmth because it has 12 vents out of which 10 can be closed. The two vents left open are at the backside, away from the normal flow of air. The number of the vents also creates a noticeable difference between the vents closed and the vents open. The Nine MIPS weighs a moderate 15.4 oz which is not light, but not heavy either. It also does a better job with goggle compatibility than the Giro Ledge mentioned above. There is very little to find that is wrong with the Nine MIPS. This is a great value.
Pros: Good value to money ratio, covers all bases, lightweight construction
Cons: The quality is relatively on the low side, not flashy
6. Giro Ratio MIPS

Construction: ABS
Ventilation: Adjustable
MIPS: Yes
Weight: 1 lb. 9 oz.
Ratio MIPS is another low profile helmet with excellent safety from Giro. The construction of the helmet is a traditional hard shell that features the MIPS safety technology which consists of an inner, low friction liner, and an elastomeric attachment system between them which allows the foam liner to rotate independently around the head in an angled impact reducing rotational impact. The Ratio has a stylish design and looks good on the head. The helmet is comfortable to wear. It is lightweight, which also contributes to its comfort during prolonged use. The ventilation system is adjustable and also features the Stack Ventilation system which uses an exhaust that aligns with the top vents of the goggles to prevent fogging.
The in-form fit system provides room for up to 6 cm of adjustment and also includes a vertical turning feature that adjusts the fore/aft tilt of the helmet to provide better peripheral vision and optimize the lift of the helmet with goggles. Goggle compatibility is great with Giro goggles. However, you may find it a bit problematic with goggles of other brands, especially regarding fog prevention. The Ratio is not ASTM certified but it is CE EN certified.
Pros: Comfortable, keeps your head warm, adjustable fit
Cons: The goggle retainer on the back is plastic and feels brittle, heavy
7. Oakley MOD 1

Construction: In-mold
Ventilation: Fixed (6 vents)
MIPS: No
Weight: 1 lb. 4.5 oz.
The MOD 1 is built on the platform of MOD 5 and MOD 3. As the name suggests, it is an entry-level helmet with a simple design, a downgraded feature-set, and a more budget-friendly price. The design of the MOD 1 is inspired by freestyle combined with Oakley design language that is pleasing to look at and easy to identify as an Oakley. For a low price point, MOD 1 manages to pack some great features that also include a magnetic strap making it easier to use. The shell features an in-mold construction that is less durable than a hard shell and requires protection from daily hits and drops causing dents.
It is a comfortable helmet thanks to a beanie like inner lining that has a soft feel and molds nicely onto the head. The helmet also features Boa's proven 360-degree fit system adding to its comfort. MOD 1 features Oakley's no-pressure ear pads which are comfortable and they are removable. You would have to be nitpicky to find something wrong with this helmet.
Pros: Good feature set, great value
Cons: Minimal ventilation, generic look
8. Pret Cynic X

Construction: In-mold
Ventilation: Fixed (12 vents)
MIPS: Yes
Weight: 15.5 oz.
Chances are that you haven't heard about Pret. Well, they make some good ski helmets that everyone should look into. Cynic X is a helmet with great protection like MIPS and RECCO. This helmet has a magnetic buckle which makes it easy to use and also features an easy-to-use dial to adjust the fit. Cynic X is a comfortable helmet with blended wool as fabric and recycled polyester fleece lining which is soft making great padding. The fit system is easy to use with audible indexes. The liner is removable making it easy to wash. The earpieces are also removable to fit speakers or just to feel the breeze.
The blended wool fabric of the Cynic makes it plenty warm. The helmet also has limited ventilation which makes it great for tough days in the mountains. The helmet has 12 fixed vents. The vents being fixed is a downside as toggles would have been great. Even with 12 vents, the ventilation is still limited though. Cynic X is a lightweight option and weighs under 15 oz even when it has insulated padding and removable earpieces. The helmet has great goggle compatibility and works with almost all brands. The matte finish also gives it a professional feel.
Pros: Comfortable liner, stylish, durable, easy to use
Cons: No adjustable vents
9. Bern Watts EPS Thin Shell

Construction: ABS
Ventilation: Fixed (11 vents)
MIPS: No
Weight: 1 lb. 1.4 oz.
Bern Watts EPS has set a high standard in the category of ski helmet safety from the time it was released and still manages to shine bright. The EPS features a thin ABS hardshell coupled with single-impact EPS hard foam. This combination provides excellent safety and also meets the safety requirements of ASTM. This helmet also meets the safety requirements of CPSC, hence, can also be used as a bike or skate helmet without the winter liner. It is comfortable to wear and allows prolonged use. The Crank Fit adjustment system allows for a custom fit. But the helmet itself is available in a variety of sizes.
Keep in mind that the EPS is a heavy helmet that weighs around 17 oz depending on the size. Even though the padding allows for prolonged use, your neck will feel it after some time. EPS has a total of 12 vents. The downside is that these vents are not adjustable. You would need a beanie in cold temperatures. The goggle compatibility of the EPS is limited. It works seamlessly with popular brands like Smith and Oakley, but you may have a hard time with other brands that are not so popular. The brim also eliminates some of the venting properties of goggles that use ventilation along the top of the frame.
Pros: Stylish look, very comfortable
Cons: A little odd fit, limited goggle compatibility
See the Bern Watts EPS Thin Shell
10. Smith Scout

Construction: ABS
Ventilation: Fixed (8 vents)
MIPS: No
Weight: 15.8 oz.
The Smith Scout is an entry-level helmet at a good price point. It is a stylish brimmed helmet that is tough and durable. The shell of the scout features a traditional ABS hard shell with EPS lining. The construction is highly durable and protects against heavy impacts. The Scout also features the MIPS security system. The Smith is a comfortable helmet but like the Holt, the lining gives the same cheap impression. However, unlike the Holt, it has a modern design that is pleasing to look at. The earpads are soft and removable which is good if you prefer to wear a beanie under the helmet. The helmet also features an elastic band instead of a dial to provide a custom fit and fits well on the head.
Like the Holt, the Scout also features the AirEvac 2 ventilation system which helps eliminate goggle fogging. 8 strategically placed vents keep the head cool, however, a big downside is that the vents are fixed. On extremely cold days, it would be better if you wear a beanie under the helmet. The helmet works well with almost all kinds of goggles. Of course, they just work better with Smith goggles.
Pros: Perfect sizing, great price, nice and comfy air pads
Cons: Air lining is a little difficult to remove but not an issue.
Best Budget Ski Helmets: Comparison Table
Critical Ski Helmet Considerations
As straightforward as choosing a helmet seems, many people make some fundamental mistakes while choosing a helmet. Not only does it compromise their safety, but it also feels uncomfortable to wear.
Here are a few tips that can help you make the right decision.
Size and Fit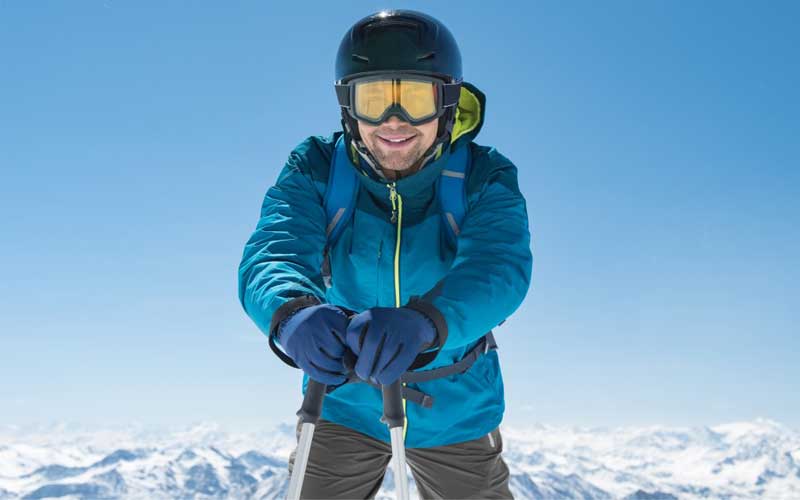 To ski safely and comfortably, it is essential to choose the right size that fits perfectly on your head. The front of the helmet must sit two finger-widths above your eyebrows. If the front part sits too low, it will reduce your field of vision. If it sits high on your forehead, it won't be able to protect you.
Tip: If you are wearing your helmet properly, then you won't be able to touch your forehead when you wear your goggles. Your goggles should not push your helmet backward.
Helmet sizes are expressed either in inches or in S, M, L, and XL. Grab a measuring tape and place the meter between your ear and eyebrows. You should get a reading between 52 and 62. This reading will allow you to choose the size of your helmet correctly.
Make sure that when you move your head with your helmet on, the helmet doesn't move back and forth. The shell should also enough space to slide your glasses or ski mask. For a better fit, choose a helmet with a size adjustment system or a BOA system.
Helmet Construction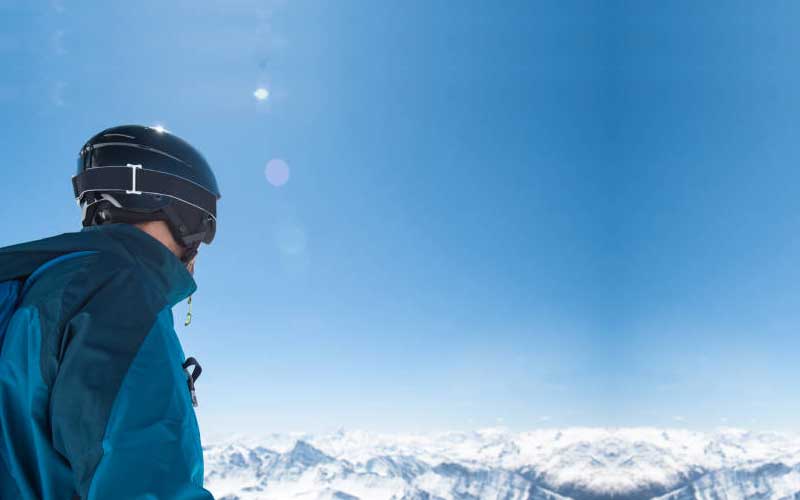 There are two main types of helmet construction: in-mold and hard shell. Some variations use the mixture of two, but they are rare and found in high-end helmets.
In-Mold Construction: The in-mold helmets are made by attaching the shell to the shock-absorbing foam in a single molding process making them sleek and much lighter. This construction usually uses a tough polycarbonate outer shell combined with an impact-absorbing Expanded Polystyrene (EPS) foam liner. This combination of shell and liner forms a better ventilation system.
Hard Shell Construction: This type of construction uses an EPS foam bonded to a separate shell. The shell is usually made of high-impact ABS plastic. These helmets are more durable against everyday hits that you may get by either dropping the helmet or hitting something while moving. But the ventilation is not great.
Some helmets also have detachable pads and liners to adjust the warmth.
Comfort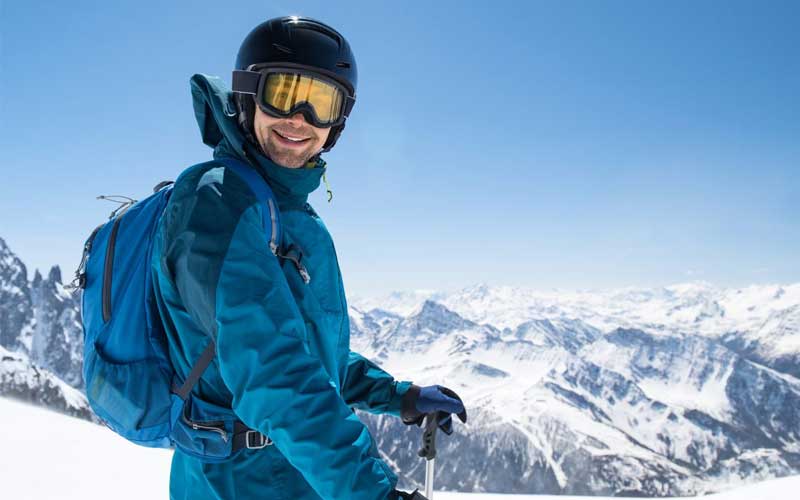 A comfortable helmet will allow you prolonged use. The quality of the liner determines the comfort of your helmet. Look for a nice foam that adapts to the shape of your head. Some helmets come with removable foams making them easier to wash. Removable ear pads can provide more comfort and also allow for better hearing. It also allows you to use the helmet if the temperature rises.
MIPS (Multi-directional Impact Protection System)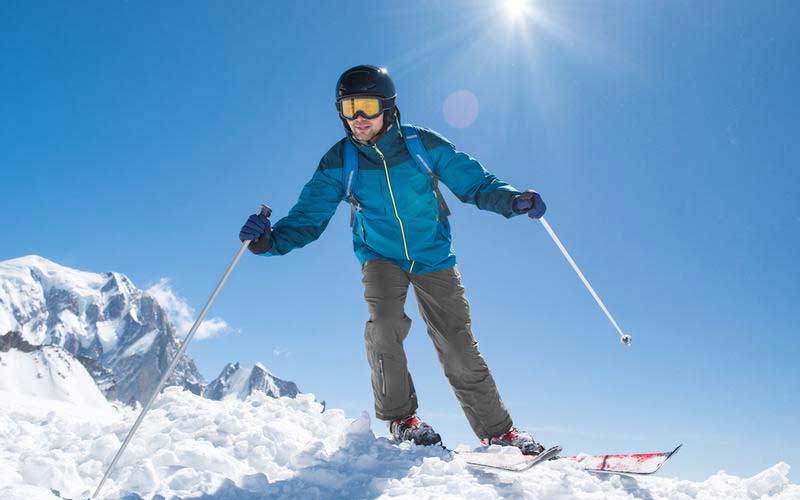 This is an additional safety feature that makes the head more secure during an impact. It reduces rotational forces on the brain caused by angled impact to the head. A MIPS helmet features a low friction helmet between the outer shell and the inner liner. This layer allows the helmet to move relative to the head during an angled impact-absorbing most of the impact.
Helmet Features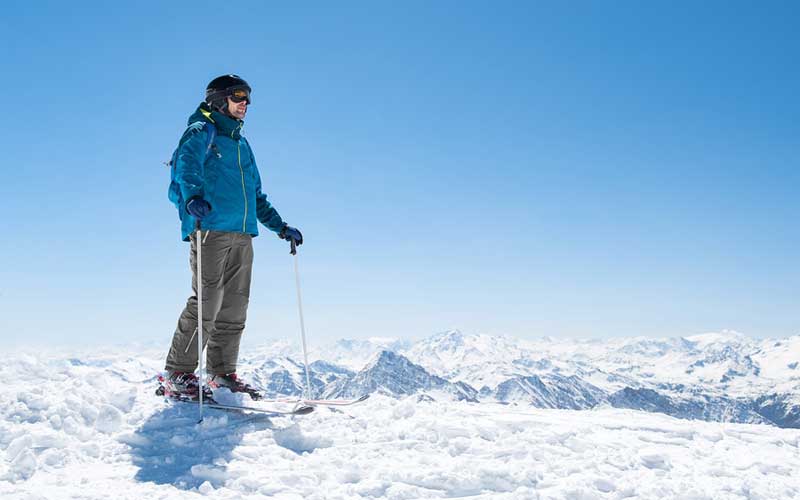 There are some additional features in helmets that you should look for.
Vents: Vents allow cool air to come inside the helmet and allow hot, sweaty air to escape from the helmet. This is essential to prevent the head from getting too hot. The escape of perspiration also helps in managing the temperature. There are two types of vents in helmets, active vents, and passive vents. Passive vents are not adjustable whereas active vents are adjustable. Some helmets have removable plugs that mean that you have to take the helmet off to adjust the airflow. Helmets with adjustable vents are more desirable as they allow you to control your airflow with a push of a lever. Some helmets also include a goggle ventilation system that prevents goggle fog.
Audio: Some helmets come with built-in speakers to attach your MP3 player or your phone to attend calls. Other helmets have space for earbuds.
Goggle Compatibility: Most helmets allow for direct attachment of goggles to the helmet which is done in several ways. You will have to consult the helmet's manual or manufacturer's guide to check the method.
Camera Mount: Vlogging is becoming increasingly popular. Modern helmets now come with built-in camera mounts for cameras such as GoPro.
Safety Certifications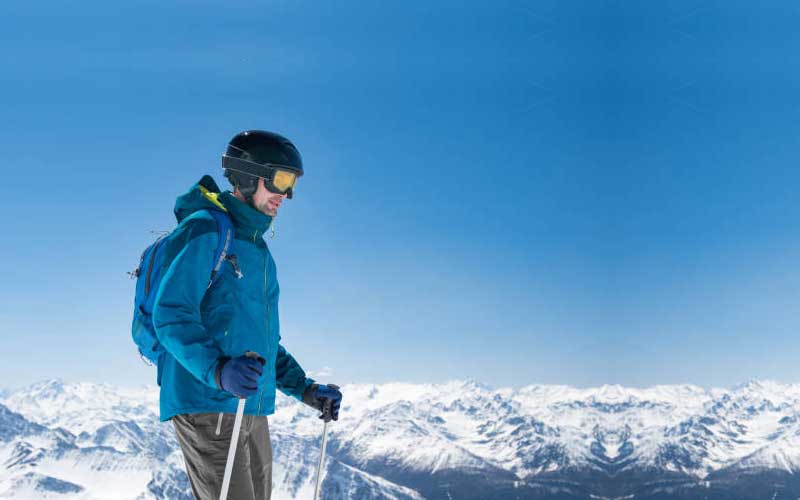 ASTM F2040: This is the most common ski helmet certification which covers nonmotorized recreational snow sports. Look for the ASTM sticker to ensure its certification.
CE EN1077: This is a European certification for alpine skiing. Some helmets have both CE EN certifications. It is easier to meet European standards than Americans.