We use affiliate links and may receive a small commission on purchases.
Learn more
A ski jacket can get very expensive. For example, the Arc'teryx Macai is very expensive. But that doesn't mean you can't get a quality ski jacket at a budget-friendly price. If you're a resort skier and looking for a warm and well-built jacket, you can still get a waterproof and well-built jacket at a very reasonable price. Most budget skiers look for the all-in-one functionality of a 3-in-1 jacket, which comes with a separate insulating layer that can be zipped into the shell.
Below is the list of best budget ski jackets that will keep the snow off and will keep you dry throughout the day.
1. Columbia Last Tracks

Type: Hardshell
Insulated: Yes (80g synthetic)
Fabric: Polyester
Recommended for: Resort skiing
Columbia Last Tracks is the ultimate budget-friendly ski jacket. This jacket has a great classic style, specs, and features that will make it your go-to jacket for the winter season. The jacket has a waterproof build with 80-gram synthetic insulation. You also get an Omni-Heat reflective liner on the inside. This proprietary technology provides excellent waterproof protection, keeping Mother Nature's elements out while still allowing the inside to breathe. It will keep you dry and release any kind of moisture to keep you comfortable and dry. This jacket is also critically seam-sealed, which prevents moisture from entering in at the seams of the jacket that were made due to manufacturing.
Features like adjustable cuffs, a snap-back snow skirt, and a removable storm hood keep the powder on the slope. The jacket has a very sleek design that lacks bulk so this jacket can be worn for both skiing and everyday winter use.
With this jacket, stripping down for spring skiing and warmer days is not an option and it does not have pit zips. Also, Columbia's proprietary waterproofing tech isn't up to Gore-Tex standards, nor should you expect Patagonia or Arc'teryx built quality.
Pros: Great value, warm, plenty of features
Cons: No pit zips
See the Columbia Last Tracks See the Women's Last Tracks II
2. Outdoor Research Skyward II

Type: Hybrid hard/softshell
Insulated: No
Fabric: Nylon/spandex
Recommended for: Backcountry and resort
Outdoor Research Skyward II Jacket protects you from all types of weather while remaining light, ventilated, and comfortable. The jacket has a highly breathable AscentShell 3-layer fabric that might not fend off the elements as well as Gore-Tex shells, but it breathes better and is still highly weather resistant. This jacket can be a versatile option and it has great potential for both resort and backcountry skiers.
The jacket offers a little less warmth for the wearer other than protection from the elements. But it blocks wind, keeps you dry, and wicks moisture away from your insulating layers, which helps to keep you warm. Overall, it feels about as warm as other Gore-Tex ski shells.
Features include adjustable velcro wrist cuffs, a barely helmet-compatible hood, and elastic cinches on the hem of the jacket. One of the great features is their highly adjustable helmet-compatible hood. Outdoor Research incorporated a "hood lock" into the hood's design, which lets you quickly adjust the size of the hood for use with or without a helmet.
There are two well-designed chest pockets with vertical zippers. These pockets are well placed for easy access. In the left chest pocket, there's another small mesh pocket that helps keep its contents, like your phone, from flopping all around. There's also a small media port for the cord of your headphones. Inside the shell, two large mesh drop pockets are suitable for your ski goggles or climbing skis.
Pros: AscentShell delivers on its promises; full-length side/pit zip
Cons: No powder skirt, fabric wets out quickly
See the Outdoor Research Skyward II See the Women's Skyward II
3. CAMEL CROWN Mountain Snow

Type: 3-in-1
Insulated: Yes (fleece)
Fabric: Polyester
Recommended for: Skiing, hiking, running
Mountain Snow waterproof jacket is made of 100% polyester, it keeps you warm and it has plenty of pockets. The part that touches your skin is a fleece type of material and it is very comfortable. This part would get wet but all the other parts, they're all waterproof. There's a removable hood so if you want to take this off, you can. It's perfect for wearing a snowboard or skiing helmet underneath. Since the pockets are very large, you can place the hood in any of the pockets when you're not using it. The jacket is also windproof and it has elastic cuffs with stretchable thumb holes.
Usually, ski jackets are too hot to drive in and uncomfortable. They're too bulky and it's hard to move in them. But this jacket is so well thought. You'll look forward to wearing it. The jacket has got all the basic features like a hand warmer built into it with a hole for your thumb, the hood has a brim to stop it from getting in your eyes, and it's completely water-tight.
Pros: Warm and comfy, the warm fuzzy lining that makes the best heat retention.
Cons: The double zipper is hard to use.
See the CAMEL CROWN Mountain Snow See the Women's Mountain Snow
4. Spyder Chambers GTX

Type: Hardshell
Insulated: Yes (60g of Thinsulate)
Fabric: Polyester/Gore-Tex
Recommended for: Resort
This is a great jacket with a lot of technical features that you're going to love. This jacket is 20K waterproof and 20K breathable which will keep you warm and dry throughout the entire winter season. It also has Spyder's own Spylon DWR coating which will prevent water from seeping through and instead, it'll just be right off the surface of the jacket.
Another cool feature of this jacket is critically seams. Seam taping is important because when a jacket is constructed, little holes are created in the fabric. Seam tape seals those holes so water and moisture don't seep through. On this jacket, all the vulnerable areas are taped. This jacket also features a Bemis anti-abrasion overlay. It is invisible and you won't even see but it prevents scratches and scrapes on the jacket and it's great for backcountry skiing.
The Chambers also features 60g of Thinsulate insulation. Thinsulate is great because of the lower profile. Additionally, the 60g is a versatile amount of insulation, it allows you to throw a mid-layer underneath if you need a little warmth or take it off when it gets a little hotter outside.
To keep snow and cold air out, this jacket features an elastic powder skirt that will move with you. It also has thumbhole wrist gaiters and velcro cuffs. There's a removable helmet-compatible hood. It's removable so you can take it on and off as the weather dictates. There're also underarm vents. They allow you to release excess heat while you're in the mountains instead of taking the whole jacket.
As far as storage goes, this jacket has a pocket for everything. There're two waist pockets on either side to keep your hands warm, a sleeve pocket, and a chest pocket to secure your essentials. Spyder also included a goggle cloth in the chest pocket.
Pros: A lot of resort-specific features.
Cons: Polarizing looks and limited availability, not very budget-friendly
5. Columbia Bugaboo II

Type: 3-in-1
Insulated: Yes (fleece)
Fabric: Fleece, nylon
Recommended for: Resort
Bugaboo has been in Columbia's line for many years. This jacket has been recently updated to be much warmer than the older version. The inner fleece now has its Omni heat reflective material making this a much warmer jacket without adding any weight at all and it's now a little lighter than it used to be. One of the other great things is that they've upgraded the outer fabric to an Omni-Tech breathable membrane.
Years ago, these jackets were very warm but everything you sweat stayed in there. Now when you sweat, it breathes out great and you stay nice and comfortable inside of the jacket. There are great features in this jacket. There's a removable hood on the back so if you're skiing with a helmet, you don't need to have it there but if you're using it as a round town jacket, you've always got a hood flip up if it does start to dump on you.
It's an interchange jacket so you get all that versatility. Everything zips apart and you can use this as an outer jacket or inner jacket separately. The inner jacket is nice fleece material, making for a real soft cozy material to wear over a t-shirt. It has great hand pockets that zipper shut so you don't lose anything out of them and it also has a little keyring holder.
Pros: Affordable way to get out on the slopes.
Cons: Cheap construction and generic fit.
See the Columbia Bugaboo II See the Women's Bugaboo II
6. Spyder Leader GTX

Type: Hardshell
Insulated: Yes (100g PrimaLoft silver ECO)
Fabric: Polyester/Gore-Tex
Recommended for: Resort
This is a very stylish jacket with tons of technical features. Spyder always makes sure their jackets are waterproof and the Leader is no exception. It has a minimum of 20K breathability and 20L waterproofing that will keep you dry and comfortable all season long. To further the waterproofing, Spyder also fully taped the seams on this jacket. Additionally, they also included Spyder's own Spylon DWR coating.
Spyder also included Bemis anti-abrasion technology which will prevent scratches and scuffs and is great for tree skiing. As far as insulation goes, this jacket has 100g of Thinsulate insulation in the body and 80g in the sleeves. The insulation on this jacket is mapped to give you a greater range of motion when you're on the slopes.
This jacket features a removable stretch panel powder skirt that will move with you, thumbhole wrist gaiters, and velcro cuffs. There're two waist pockets, a chest pocket with a convenient goggle cloth, a sleeve pocket, and an inside zippered pocket to secure your essentials. All zippers on the exterior are waterproof. As far a fit goes, this jacket has Spyder's athletic fit which is cut a little trim but typically fits true to size.
Pros: Stylish, loose-fitting, with fast-drying synthetic insulation
Cons: Polarizing style, lacks versatility, a little expensive
7. Columbia Cushman Crest

Type: Softshell
Insulated: Yes (100g synthetic)
Fabric: Polyester
Recommended for: Downhill skiing, snowboarding
Cushman Crest is a waterproof and breathable jacket that is made with advanced technology materials. It offers synthetic insulation that will not only keep you warm but is backed by the quality craftsmanship that Columbia is known for. Omni-heat is Columbia's ultimate body heat management system for outdoor performance. There is a metallic dot pattern on the interior lining that is designed to retain heat, while the breathable fabric dissipates moisture. This jacket keeps you warm and dry, thanks to its air-permeable protection that's waterproof and breathable.
Columbia Cushman Crest jacket offers plenty of handy features including a snapback powder skirt, underarm venting, PU-coated chest pocket, ski pass pocket, interior security pocket, goggle pocket, and zippered hand pockets. There are also adjustable wrist cuffs to dial in the proper fit and a drawcord in the hem to keep warmth trapped. If you've already spent enough money on your boots, bindings, skis, and poles, but still desire a high-quality jacket, then the Columbia Cushman Crest Insulated Jacket may be a perfect option for you.
Pros: Sleek design is stylish, zippered pockets, offered in a variety of colors
Cons: The outer fabric does wet out if exposed to rain for a long time but it does not make the inside damp.
See the Columbia Cushman Crest
8. Outdoor Research San Juan

Type: Softshell
Insulated: No
Fabric: Polyester
Recommended for: Backcountry skiing and snowboarding
Outdoor Research San Juan was inspired by the dry snowy climates found up high in the Colorado Rockies. This jacket was built to be the layer of defense against those dry snows, light winds and rains, and harsh UV rays at elevation. While not a waterproof jacket, this thing grants excellent weather resistance and major breathability. It's great for ski touring, climbing, and other activities that require high exertion. This jacket is also not an insulated piece so it's not meant to be warm unless you're moving and shaken while you're wearing it.
It's made with a polyester 75 denier double weave fabric which is simple and durable. Without all the extra waterproof layers, this jacket is truly breathable. It has a fully-adjustable hood and it is helmet-compatible. It can even fit over ski helmets. There are two chest pockets and two zip hand pockets. There're mesh lines so you can even open them up for more breathability. The jacket fits trim so keep that in mind if you plan to want it for layering. It's meant to be a shell over lightweight during those high output activities.
There are elastic cuffs with Lycra cuff gussets to keep the wrists snug but mobile. There's also a drawcord at the hem. Overall, this jacket is simple but extremely efficient as a weather shield for those dry climates.
Pros: Great design for mild-weather backcountry skiing, excellent wind resistance
Cons: Not waterproof, not insulated
See the Outdoor Research San Juan See the Women's San Juan
9. Outdoor Research Refuge

Type: Softshell
Insulated: Yes (Synthetic)
Fabric: Ripstop polyester
Recommended for: Snowsports
Outdoor Research Refuge is great for climbing, hiking, and playing in the snow. The synthetic insulation is water-resistant and adaptive to your body temperature. Other technical features include stretch fabrics, zippered pockets, and tricot linings.
The exterior shell uses wind and water-resistant ripstop polyester to keep you warm and dry. The mechanical stretch allows an unlimited range of motion mirroring your movements. An innovative synthetic VerticalX insulation strives to provide enough warmth while discouraging overheating meaning this jacket is a great choice for cold-weather aerobic activities like skiing, snowshoeing, climbing, and hiking. This insulation works even it is wet providing peace of mind that down can't match. The revolutionary ActiveTemp treatment means that this insulation adapts to your situation. Responding to your body heat, this insulation is more breathable when you're warm and changes to conserve heat when you're not.
The baffle on the front zipper blocks cold air from sneaking in. The front of the collar is lined with a brushed tricot for comfort. Climbing harness-friendly zippered hand pockets are lined with tricots to give you a warm protected place for your hands in cold weather. The left-hand pocket doubles as a stuff sack for the jacket so it's easy to pack. A zippered chest pocket is a secure place to keep small items. A key clip as you might guess provides a convenient and safe place to store keys. Secure elastic cuffs prevent moisture from sneaking in. Adjustable elastic drawcord hem seals out the cold drafts.
Pros: This jacket boosts technical and highly functional features such as worry-free adaptive insulation, high-placed zippered pockets, and the freeing sensation of stretch fabric.
Cons: The sleeves ride up a bit when bending the elbows.
See the Outdoor Research Refuge See the Women's Refuge
10. Eddie Bauer Sandstone Shield

Type: Hybrid hard/softshell
Insulated: No
Fabric: Polyester
Recommended for: Backcountry skiing, mountaineering
Eddie Bauer Men's Sandstone Shield is a lightweight, waterproof yet breathable jacket. It has StromRepel DWR, taped seam, YKK zippers, and all that functionality, it weighs about a little more than half a pound. There're mesh-backed pockets so there's not an extra layer to interfere with the breathability. The pockets are massive; you can even stick half your arm in there. Other features include Velcro cuffs, an adjustable hem, and a helmet-compatible hood with a single point of adjustment.
This jacket is very good at blocking winds. When you zip up the collar all the way, you get the feeling of wearing a hoody and it keeps your neck warm. The collar is well sized and it doesn't feel like your jacket is trying to strangle you if you zip it up. This is more of an athletic fit in the body compared to other Eddie Bauer jackets. It's super comfortable due to its 4-way stretch. Most jackets are tight in the shoulders and terrible when trying to drive with, but this one is excellent.
Pros: Lightweight, proper collar, true to size
Cons: The sleeves are a little larger than normal.
See the Eddie Bauer Sandstone Shield
Best Budget Ski Jackets: Comparison Table
How to Pick the Right Budget Ski Jacket?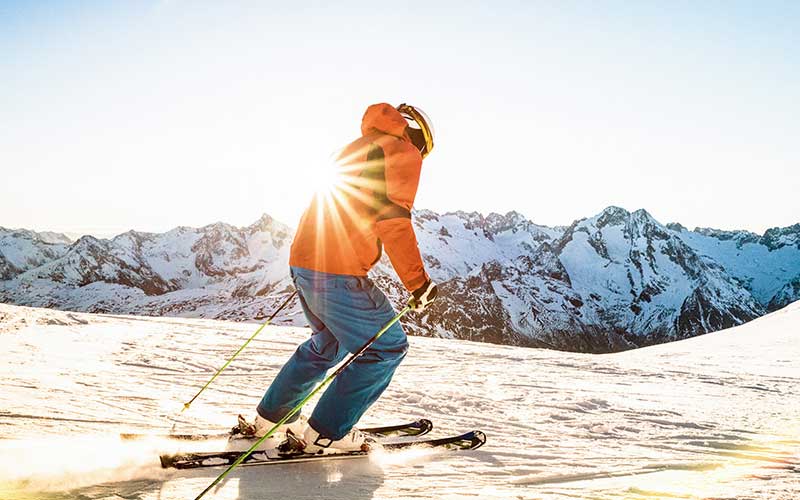 The following are a few things that you should keep in mind to get the perfect ski jacket at a budget-friendly price.
Softshell
Softshells are like the name suggests soft and stretchy. You can be great for backcountry or resort skiing when the weather is milder because they're breathable but oftentimes they're not fully waterproof just water-resistant.
Hardshell
Hardshells, on the other hand, are fully waterproof. They're called hard shells because the material isn't as softer stretchy. They're the best choice for a dedicated ski jacket. They breathe reasonably well but the primary purpose is to keep rain and snow out. If you're doing any kind of backcountry skiing or hiking or backpacking, you should bring a hard shell with you.
When it comes to hard shells, you can either buy a regular hardshell or an insulated hardshell.
Insulated Hardshell
An insulated hardshell has some type of insulation built into the jacket itself. It's usually sandwiched in between an inner liner and the outer liner material.
Non-Insulated Hardshell
These jackets are a little more versatile because they're light enough to bring in backcountry trips and you can add as many layers as you need underneath.
Ski Pass Pockets
It's a tiny little pocket somewhere on the arm where you can slip your RFID ski pass.
RECCO
This is a small strip that acts as a passive avalanche beacon. It allows rescuers to locate you quickly if you're buried under the snow. This feature is built into your ski pants or jacket.
Vents or Pit Zips
You also want to look for a jacket with vents or pit zips that you can close up if it's cold or opens up if you need to dump something.
Powder Skirt
A lot of jackets these days have a powder skirt built into them. They usually integrate right with the pants that could keep you warmer and drier.
Helmet-Compatible Hood
You also want to look for a jacket with a helmet-compatible hood. Every ski jacket comes with a hood but what you should do is try on a ski helmet with it and make sure you can get that hood up over the helmet.
Wrist Gaiters with Thumbholes
It keeps snow out of your gloves and sleeves. It also keeps your hands warmer and drier.