We use affiliate links and may receive a small commission on purchases.
Learn more
The right set of ski pants is important. It's a critical barrier between you and the elements. There're plenty of options available that fit every skier. Whether you choose an insulated pant for cold days or lightly insulated all-around pants, keep our recommendations and considerations in mind while shopping. We have reviewed the top budget-friendly options to narrow down your selection and lead you to the pair that suits you best. If you buy the right pair the first time, it will save a lot of your frustration on the ski hill and money in your wallet.
Whether it be for a weekend skiing, a winter hike or a complicated summit, these budget ski pants have you covered.
1. The North Face Freedom Insulated

Type: Hardshell
Insulated: Yes (60g synthetic)
Waterproofing: 2-layer DryVent
Recommended use: Downhill skiing, snowboarding
As the name suggests, these pants are insulated, comfortable to wear and they perform well in all categories. They have a great relaxed fit and give freedom of movement you need when you're out on the slopes. These pants are made of durable nylon material that incorporates the high vent shell making them waterproof and breathable. All the stitching has taped seams.
Freedom Insulated Pants provide adequate weather protection. The fabric is windproof, waterproof, and beads water well. Keep in mind that these pants don't have waterproof zippers. There's a thigh pocket with velcro closure for easy access but less weather-resistant. These pants are coated with DWR that prevents water from seeping through those unprotected zippers and seams.
The pants fit true to size. There's a reasonable range of motion and the external fabric is soft and comfortable. There're belt loops so you can attach a belt if not, The North Face also incorporated velcro straps on each side of the waist to adjust the waist fit, eliminating the need to wear a belt.
There're mesh-backed inner thigh leg vents, which prevent most snow and water from getting in when the vents are open. The ventilation in these pants is limited because inner thigh vents usually allow less airflow than outer leg vents. Also, these vents are only about eight inches long, which is shorter than other pants.
Pros: Warm, comfortable, great value
Cons: Baggy fit isn't for everyone.
See the North Face Freedom Insulated See the North Face Women's Freedom Insulated
2. Columbia Ride On

Type: Hardshell
Insulated: Yes (60g synthetic)
Waterproofing: Omni-Tech
Recommended use: Snowsports, downhill skiing
Columbia Ride On is a modern pant with a semi-tailored fit, clean styling and great color options. These pants are insulated with 60g synthetic insulation that makes these pants well-suited for resort use. This insulation is enough to isolate your lower half from a frigid chairlift but isn't prone to overheating on the descent.
Columbia is using its Omni-Tech proprietary technology that provides air-permeable protection, which makes these pants waterproof and breathable. The pants are made with advanced internal materials such as chamois touch tricot lining, which makes these pants suitable for all-day wear in any cold environment.
The Ride On pants is perfect for skiing, winter mountain climbing, and snowboarding. The seams of the pants are critically seam-sealed to keep wet snow out. Also, the internal leg gaiters keep your feet comfortable and dry. The pants fit near to expected. The waist is adjustable and it is designed for the perfect fit. There're two zippered hand pockets to your hands warm and secure small items in.
The construction Ride On pants is typical of Columbia but it all seems well made and well put together. The pants move with you, which is a good sign for winter wear. They're warm, breathe nicely and do not make you sweat much even in the 50s.
Pros: Modern look, warm, great fit
Cons: Not fully waterproof, the construction looks cheap
3. Outdoor Research Skyward II

Type: Hybrid hard/softshell
Insulated: No
Waterproofing: 3-layer AscentShell
Recommended use: Backcountry and resort
Skyward II is one of the most well-rounded ski pants available in the market. It offers a 3-layer construction combined with stretchy fabrics for mobility. These pants perform well in all seasons ranging from heavy, wet spring snow to temperatures well below zero. OR Skyward II offers great temperature-regulating abilities and solid weather protection that makes it ideal for both on- and off-piste use.
Skyward II Pants is coated with DWR and repels snow, rain, and sleet even when it accumulates on the pants. The stretch-mesh internal gaiters provide a nice seal over your boots. There's an Avalanche beacon pocket with clip, two zippered hand and two thigh pockets with zippers. These pants also offer AscentShell fabric that is air-permeable and it delivers impressive breathability.
The fabric is 12% spandex, which makes these pants impressively mobile and comfortable. They move up and down the slopes with ease and you'll never feel restricted. The tricot-lined waistband offers good next-to-skin comfort whenever your baselayer top rides up, the knit backer is quite supple, and the AscentShell material is much quieter and less crinkly than typical hard shells.
Skyward II offers a zippered outer vent at each thigh that dumps heat quickly in warm weather. This zippered vent is relatively large (14-inch) compared to other ski pants. You will want to use these vents more often than your jacket's vents because they are easily accessible and effective at cooling you down.
Pros: Stretchy fabric provides exceptional comfort and range of movement, versatile for both resort and backcountry use
Cons: The air-permeable fabric is thin and it doesn't provide great wind protection as thicker Gore-Tex but you won't have any issues with cold gusts seeping through.
See the Outdoor Research Skyward II See the Outdoor Research Women's Skyward II
4. Columbia Bugaboo II

Type: Hardshell
Insulated: Yes (60g synthetic)
Waterproofing: Yes
Recommended use: Mountain skiing
This pant is coated with Omni-Tech, it's waterproof and breathable, and it'll react to your core body temperature. At the top, you get a double bottom closure system and it's enhanced with a nice velcro so it's going to hold it in place. Also, there's a nice and easy zipper as well. This pant features 2 traditional hip pockets on the side that are safe and secure with zippers. On the inside there's a nice fleece lining so if you decide to put a mobile phone, it's not going to scratch the screen. There're storm flaps as well so whatever you keep, it's going to keep it dry when you're boarding.
The pant also features belt loops so you can attach a belt if you wish. If not, they have incorporated waist adjusters on the sides. They're velcros and they'll allow you to customize the fit. At the bottom, you get traditional snow gaiters. That's going to prevent any snow from getting in your pants. Also, you get an elasticated bottom tip and that's designed to fit over your ski boots. The back of the pant is pretty standard. There're no back pockets or anything. The only pockets you get are the front.
Overall, if you want an affordable and insulated pant for occasional skiing or snowboarding in cold climates, the Columbia Bugaboo II can be a great option.
Pros: Very inexpensive, insulated
Cons: Less versatile, some unsealed seams
See the Columbia Bugaboo II See the Columbia Women's Bugaboo II
5. Outdoor Research Trailbreaker II

Type: Softshell
Insulated: No
Waterproofing: Pertex Shield+ (partial)
Recommended use: Backcountry skiing
Trailbreaker II pants are inspired by the design of alpine climbing pants. These pants offer stretchy materials and they breathe well and protect you against snow and keep you cool on the track. Since these pants are softshell, they provide less waterproofness compared to hard shells. But these pants will get the job done if the snow isn't too deep.
The upper material is 50% nylon, 43% polyester, and 7% spandex. It feels protected and does a great job of repelling dry snow. There're waterproof panels on the front of the lower legs that keep you dry where you're most exposed to snow. These panels, however, do not protect the thighs from getting wet, which isn't necessarily a deal-breaker in the backcountry.
Compared to other most resort ski pants, Trailbreaker II is a well-fitting and comfortable pant. The material is stretchy, soft, light, flexible, and the fit is slim but not tight. Also, there're velcro straps that let you customize waist to your desired fit. The pockets are well-placed and comfortable even when full.
When you ski, you spend a lot of time moving uphill at a slow and steady aerobic pace that generates body heat. You expect your pants to have great ventilation to dump this heat when it becomes excessive. Trailbreaker II has very breathable materials and it adjusts your body temperature to help keep you cool, dry and comfortable during high-exertion activities.
Pros: Stretchy, soft, comfortable, many pockets, breathable
Cons: Not waterproof, thin material, climbing style
See the Outdoor Research Trailbreaker II See the Outdoor Research Women's Trailbreaker II
6. Helly Hansen Legendary

Type: Hardshell
Insulated: Yes (60g synthetic)
Waterproofing: Yes
Recommended use: Resort skiing, snowboarding
Helly Hansen Legendary are lightweight and comfortable pants that will keep you warm, dry and protected whilst you're out skiing or snowboarding this season. This stylish Helly Hansen ski pant is incredibly lightweight. This means not only will it be very comfortable to wear, but it's also easy to roll up and pack away and take with you.
It's also waterproof, breathable and fully seam-sealed. This means there's a line of waterproof tape underneath every single seam in the pant. It'll stop any water that creeps inside so you'll be dry and well protected against the elements.
There're belt loops all the way around, which means you can customize the waistband of the pant by wearing a belt with it if you want to. Alternatively, you can simply tighten the fit with the velcro waist adjusters on either side.
There are insulated mesh lining on the inside. This is wicking and very breathable so it'll pull moisture away from your skin ultimately keeping you dry and comfortable. On either side, there're water-resistant zippers, you can throw your valuables inside the pocket and they'll be dry and safe. Inside the pockets, there's nice fleece material that keeps your hands warm and your stuff from getting scratched.
On the inside of the thighs, there're two air vents with water-resistant zippers. You can open them up, there's mesh lining inside. The knees on this pant are articulated for freedom of movement.
Pros: Insulation and clean design at an affordable price.
Cons: The pants are prone to showing wear over time.
See the Helly Hansen Legendary See the Helly Hansen Women's Legendary
7. Spyder Dare GTX

Type: Hardshell
Insulated: Yes (40g synthetic)
Waterproofing: 2-layer Gore-Tex
Recommended use: Resort
Spyder Dare GTX provides excellent warmth with synthetic insulation that most ski pants do not offer. The insulation is also protected by the Gore-Tex shell that will keep you dry and block the wind. This Gore-Tex shell works well as advertised and elastic powder cuffs that keep snow out of your ski boots. Suspenders also help keep the waist of these pants from drooping and letting weather inside.
Dare GTX is very comfortable to wear. The suspenders are comfortable, stretchy, and wide enough to distribute weight comfortably. The suspenders are removable so you can remove them if you don't need them. Despite being a Gore-Tex hardshell, the exterior fabric is soft, supple, and doesn't cause any discomfort.
There're comparatively short, mesh-backed vents in the inner thighs. These vents provide little ventilation as compared to other ski pants on the market, but they are still better than nothing. So try not to dress too warmly underneath because you will likely be wishing for a more effective ventilation setup. Fewer ventilation features and warmth of these pants make these pants less versatile than other options on the market. If you do a lot of skiing, I'd recommend pants with better ventilation features. Spyder Dare GTX pant is not very budget-friendly, but for the warmth they provide, the value is good.
Pros: Warm, comfy, weather-resistant
Cons: Small vents, snug fit, racer style
8. Arc'teryx Beta AR

Type: Hardshell
Insulated: No
Waterproofing: 3-layer Gore-Tex
Recommended use: Backcountry
There are a lot of reasons to appreciate the Beta series from Arc'teryx and quality is number one. The AR stands for "All Around" which means that these pants function well in many various activities. The Beta AR has rugged fabrics that resist abrasion while staying packable. 40D Gore-Tex Pro fabric keeps the pants flexible and waterproof. In the seat, knees, and legs, twice as durable 80D fabric is used.
Arc'teryx and Gore-Tex have partnered to pursue the best possible construction for waterproof pants. The fabric feels thin but is a 3-layer construction. That means there's an outer fabric a Gore-Tex membrane inside and the breathable inner fabric that protects the waterproof layer. The outer layer provides durability. The membrane lets air through but not condensed water and the inner layer is thin and light and protects from abrasion. With all 3 layers bonded together, you get maximum durability.
The fit of the pants is athletic and looks great even with layers underneath. There're two WaterTight zippers running ¾ of each leg. Around the ankle is a Cordura powder cuff to seal out snow. Extra durable Keprotech fabric is used on the in the instep of each leg to protect from skis or crampons. Metal rivets at the bottom hem allow you to pass through a piece of cord to keep the pants from riding up. This is a good idea if you'll be trekking through deep snow. A button snaps closed to secure the zipper from opening on its own. A zipper fly is a feature that makes the Beta AR pants just feel like your normal comfortable everyday pants. The pocket at the hip features a water-resistant zipper and is perfect for small essentials.
Pros: Standout performance and a fantastic fit.
Cons: Not very budget-friendly, missing a few ski-specific features, heavy
See the Arc'teryx Beta AR See the Arc'teryx Women's Beta AR
Best Budget Ski Pants: Comparison Table
How to Choose the Right Budget Ski Pant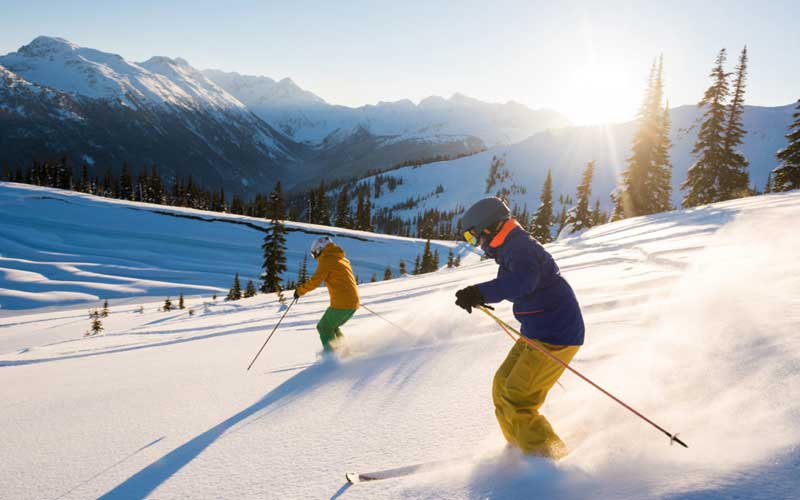 The following are a few tips that you should keep in mind while choosing pants for skiing. The pants you choose must be strong enough and weatherproof and allow a significant range of motion.
Understand the Types of Ski Pant
There're many types of ski pants and we recommend you choose pants that are for their function and your style and preferences.
Insulated: As the name suggests, these pants offer some sort of insulation. They are generally more comfortable compared to equivalent layering schemes. The downside is that the insulation cannot be removed in warmer conditions. If you ski or snowboard exclusively in cold conditions and climates, insulated pants are for you.
Non-Insulated: These pants allow you to customize your system depending on the temperatures. You can add a layer underneath for insulation.
3-Layer Shell Pants: Many pants have 3-layer construction. There're 3 separate pieces of fabric i.e. an outer shell, the waterproof/breathable membrane, and an inner lining. These pants are usually less bulky and they offer great next-to-skin comfort. If you're a serious downhill and backcountry skier, check out 3-layer pants.
2-Layer Shell Pants: A lot of cheap ski pants have 2-layer construction. They are less breathable as compared to 3-layer designs. These pants are perfect for resort use where ventilation and mobility aren't as important.
Hardshell vs. Softshell: Hardshell pants provide maximum waterproofness and weather protection. On the other hand, softshells are more air-permeable and flexible, but they alone don't block moisture and wind as effectively as a hard shell.
Bibs: They generally offer better protection from the snow and wind because they have an extra layer that covers part of your upper body. Also, they're a little warmer compared to traditional ski pants.
Fit
The fit is a personal preference but if you're a downhill skier, you should choose a pant that is neither too tight nor too baggy or simply comfortable. Backcountry skiers generally choose a slimmer cut for easier uphill hiking. For those who spend a lot of time in parks should choose a loose or relaxed fit. The pant you choose should have enough room to comfortably throw on a light or mid-weight base layer underneath.
Weather Protection
The next thing you'll want to consider is durability and protection. Your pants will come in contact with snow on every run. For ultimate protection, look for a hardshell pant made with Gore-Tex. DWR coating and seam taping are also important. These things keep moisture for sneaking through. Backcountry skiers usually need waterproofness in specific areas. Your needs may vary but it is a good idea to choose fully-waterproof pants for backcountry skiing.
Breathability
Softshell pants are generally more breathable. They're stretchy, air-permeable and they allow air to escape. To help compensate for a less breathable construction, you can use the zippered leg vents that are included in most mid-range designs. If you want an ultimate breathable/waterproof pant, go for the 3-layer construction Gore-Tex Pro. These pants are usually expensive for example Arc'teryx Beta AR above.
Pockets
Each ski pant has its own set of features so look at what features you need. Generally, you need a pant with at least two pockets, but 4 to 5 pockets are always good. Zippered pockets are much safer to hold small items than velcro closures.
Ventilation
To enhance breathability, most ski pants feature a zippered ventilation system that amounts to pit zips for your legs. They usually found along the inside of your upper legs or on the outside of your thighs. These vents will help dump a lot of heat but they add unwanted bulk and can sometimes impact comfort.
RECCO
Some mid-range and high-end pant offer RECCO brand avalanche safety "reflectors." You'll need this feature if you make your way out of bounds or into areas where you may experience avalanche dangers. They are built into your ski jacket or pant. This passive unit doesn't require batteries and can be picked up by RECCO detectors often carried by resort search and rescue.
Style
The appearance does matter. Most of the ski pants above come in a variety of color options including both bright and muted colors. With these options, you're free to make whatever statement you wish with your pants. When it comes to fit, the current fashion is moving towards a neutral but not too baggy, not too tight. Style is important because when you look good, you feel good and when you feel good, you ski well. If you ski well, you ski safely.