When it comes to hiking, it is very important to be well-equipped so as to have a smooth and enjoyable hiking experience. And speaking of equipment, carrying a trekking pole is a must. This is because these poles prevent people from putting a strain on their knees while walking they're walking down the hill, and also provide greater balance to the whole body.
Gear has changed a lot since many of us started hiking. Perhaps one of the most obvious changes, other than the shift toward lightweight equipment, is the growing use of trekking poles among day hikers and long-distance hikers alike.
Here is a list of the best budget trekking poles available online that will definitely be worth your investment.
1. Kelty Upslope 2.0

Shaft: Aluminum
Usable Range: 65 – 135 cm
Locking Mechanism: Twist-Lock
Grip: EVA foam
Tip: Rubber, carbide
Anti-Shock: N/A
Weight per Pair: 1 lb 2.7 oz
The Kelty Upslope 2.0 allows a trekker to control the trail completely because it comes with an incredible combination of durability and stability while keeping the Upslope poles extremely lightweight.
The grip material is made of EVA foam which makes it comfortable and non-slip while allowing the user to adapt quickly to altering topography. The foams also help the user to reduce the pressure on palms and wrists and the wrist straps are padded to allow a firm grip.
Moreover, its carbine tip smoothly works on various surfaces while preventing stumbles and slips. For those who wish to use these poles on concrete surfaces, there are rubber tips available too along with a protective cap and trekking basket.
Length of the poles can be adjusted in accordance with the comfort of the trekker through the twist-lock mechanism. These poles can be used by both men and women and come with a year-long warranty.
People who bought these poles find it absolutely amazing, particularly because of effortless twist-lock mechanism to adjust length.
Overall, these are lightweight but strong poles with good locking mechanisms and comfortable grips. If you're looking for affordable poles for hiking and backpacking, look no further.
Pros: Lightweight, sturdy, pleasant colors, comfortable, easy to use and very affordable
Cons: The poles get quite warm and quite cold based on the air temp, but not a big deal.
2. LEKI Legacy

Shaft: Aluminum
Usable Range: 67 – 135 cm
Locking Mechanism: Super Lock System
Grip: PAS Thermo
Tip: Carbide flextip
Anti-Shock: N/A
Weight per Pair: 1 lb
The LEKI Legacy Trekking Poles are built solidly and come with extremely lightweight thermo foam grips for increased comfort. Since LEKI has been manufacturing trekking equipment for more than six decades, they have the knowledge and experience in bringing out the best for customers.
The poles are not only lightweight and easy to carry but also come with SpeedLock 2 which reduces the overall weight and helps the user have a control on the swingweight while on the trail. It has reinforced straps lined with fleece so that the hiker feels comfortable, even when pressure is exerted on the palms. The best thing about this pole is that one can adjust the length of the pole very quickly, and its flex tip short makes these poles super comfortable to be used on all sorts of terrains.
Users, who purchased the LEKI Legacy poles found them much lighter and stronger than other poles, consider them the best budget trekking poles for the price they paid as they are comparatively cheaper than many other brands that perform the same function.
Pros: The locking system is great, easy to adjust, well-marked for extensions, these poles really save your legs over long distances.
Cons: The only minor problem is that the thumbscrew can move when you flip the lever, but if you don't bump it then it won't move.
3. Black Diamond Trail Pro Shock

Shaft: Aluminum
Usable Range: 68 – 140 cm
Locking Mechanism: Dual FlickLock Pro
Grip: Dual density grip, foam grip extension
Tip: Carbide Tech Tip
Anti-Shock: Yes
Weight per Pair: 1 lb 4 oz
The Black Diamond's Trail Pro Shock trekking poles come with some incredible features. This three-piece pole is very strong despite being extremely lightweight. Its aluminum shafts are narrow in diameter and come equipped with a four-state Control Shock Technology (CST) – which smoothly absorbs shocks and reduces the amount of force exerted on a person's joints, hands, and arms when the poles hit the ground.
The best part, it doesn't cause any annoying noises and there are no troubling springbacks either. Users can also adjust the length of the poles and can adjust the clamping force – thanks to its Dual FlickLock pole locking mechanism. These poles are extremely compact and can easily fit into all types of backpacks.
Available either in red or black color, these poles work efficiently on all sorts of terrain with the help of its in-built interchangeable Tech Tips and WaveLock technology that allows a user to switch from carbide to rubber and vice versa whenever needed, while its foam grip extension prevents it from slipping.
Customers who bought these poles found it very comfortable, and particularly admire the strength of these poles despite being extremely lightweight and most users recommend the product to others.
Pros: FlickLock Pro is very secure and also very easy to adjust; even while hiking.
Cons: The rubber handles rubbed off black color palms by end of the hike. Washed off easily so not a big deal.
See the Black Diamond Trail Pro Shock
4. Mountainsmith Pyrite 7075

Shaft: 7075 Aluminum
Usable Range: 67.3 – 137 cm
Locking Mechanism: Twist
Grip: Cork
Tip: Carbide
Anti-Shock: Yes
Weight per Pair: 1 lb 5 oz
The Mountainsmith Pyrite 7075 poles are absolutely loved by users because they provide excellent results while being very cost-effective. Sold as a pair, these poles are made up of aircraft grade 7075 aluminum to give it unmatched sturdiness which helps to keep the trekker balanced on all types of trekking trails and surfaces.
These poles have dual-density grips made of soft rubber which provides a lot of comfort to the palms. They are equipped with the anti-shock system and also come with rubber boot tips that can be replaced whenever needed. The sturdy carbide trips make these poles the best trekking poles to be used on rocky and earthy trails.
The poles lock with minimum slippage but to say "quick lock" is an exaggeration. The measurements are confusing so it takes time to ensure equal length on the poles and the system is not easy to lock and unlock so it takes time to go between distances for ascents and descents.
Customers who bought these poles love its shock-absorption feature and recommend buying it because it's hard to find so many qualities within this price range. And despite the reasonable price, the quality is still top-notch.
Pros: Durable, easy to grip, takes a lot of the stress off the knees and back
Cons: Locking mechanism flawed, not easy to measure length, baskets fell off
See the Mountainsmith Pyrite 7075
5. BAFX Products Anti Shock Trekking Poles

Shaft: Aluminum
Usable Range: 65 – 132 cm
Locking Mechanism: Twist
Grip: Plastic
Tip: Carbide
Anti-Shock: Yes
Weight per Pair: 1 lb 8 oz
BAFX Products Trekking Poles have become instantly popular ever since they have hit the market shelves because of their affordable price. The poles are made of sturdy aluminum and designed for easy adjustment. The grips are molded to fit the fingers and are a nice balance of soft and firm. The tips that they supply allow for use in various terrains and conditions.
Each pole can be extended to any length from 65 to 132 cm in length. The poles extend by turn locking system and each pole has measuring marks on the middle section for easy adjustment to your preferred height on every trip. They have a durable metal tip under the rubber foot at the bottom for tracking on more rocky and uneven terrain. Each pole comes with an optional mud disc for use on softer grounds covering so the poles one sink. Each stick contains an anti-shock spring located in the upper section of each pole for more comfortable walking by absorbing the impact of each pole placement. The poles also come with an adjustable wrist strap for easier hiking.
If your budget is low, and you want a decent pair of trekking poles, then go for these. Otherwise, stay away, because these poles will fail during a more intense hike.
Pros: Very affordable, lightweight, durable and easy to adjust
Cons: Not recommended for serious hiking
See the BAFX Products Anti Shock Trekking Poles
6. LEKI Corklite

Shaft: Aluminum
Usable Range: 67 – 135 cm
Locking Mechanism: SpeedLock
Grip: Cor-Tec
Tip: Carbide
Anti-Shock: N/A
Weight per Pair: 1 lb 1.5 oz
LEKI is a trusted brand and has been producing world-class and high-quality poles for the past 60+ years, and due to their extensive research and experience in the industry, they always come up with the best budget trekking poles in the market.
The Corklite Trekking Poles by LEKI come with similar features that are found in standard Corklite poles, but it is equipped with the SAS-L Antishock feature on its lower end to present some incredible trekking options. They are ultralight and can be easily carried anywhere and work on all types of terrains.
The poles also have Aergon Cor-Tec grips and Speed Lock mechanisms to make them durable and extremely comfortable to use. The Aergon Cor-Tec grips are made from natural rubber and original ground cork to provide a combination of sturdiness and ease. Available in black or grey color, they also have carbide flextips and automatic comfort straps that make these poles a must-have for hikers out there.
Customers who bought these poles consider it an essential backpacking gear when going trekking and hiking because of its strength and comfortable design which holds up in all kinds of terrain and weather conditions including rain, snow, mud and even blistering heat.
Pros: Lightweight, very comfortable cork grips. The SpeedLock system for adjusting is super quick and feels really secure.
Cons: Little heavy, not as compact
7. Komperdell Carbon Ultralite Vario 4

Shaft: Carbon
Usable Range: 105 – 125 cm
Locking Mechanism: Power Lock 3.0
Grip: Expedition foam
Tip: Tungsten and carbide
Anti-Shock: N/A
Weight per Pair: 6.4 oz
These poles are a must have for all those who are looking for fairly-priced trekking poles that can last a long time. Equipped with sophisticated Power Lock 3.0 System which makes adjusts the length of the pole effortlessly and prevents the user from slipping even greater pressures are experienced. They don't slip even when used with gloves on.
These poles are full-featured, adjustable, ultralight trekking poles made from aircraft carbon fiber. They are comprised of four segments which are attached by a rope in the middle of each pole. When extended, they are adjustable in length from 105 to 125 cm. When folded, they are a very compact 16 inches. They also have removable snow baskets and tips for an optional decreased weight.
Best suited for hiking and backpacking trips to rocky terrains, these poles won't disappoint the user because it provides extra stabilization on all types of surfaces, which makes it a must-have. These poles are unique because they come with a four-section folding mechanism that makes it portable and compact, unlike other poles that are made with telescoping shafts.
They are corrosion resistant and customers love them because they are lightweight and ensure extremely sturdy and reliable support.
Pros: Very lightweight (6.1 oz each without baskets or tips, 6.6 with baskets and tips) and full-featured removable snow baskets and tips
Cons: Adjustable strap is too long and can get in the way and the knob for the index finger/middle finger grip is not defined enough
See the Komperdell Carbon Ultralight Vario Compact 4
8. LEKI Micro Vario Ti COR-TEC

Shaft: Aluminum
Usable Range: 110 – 130 cm
Locking Mechanism: Speedlock 2
Grip: Cor-Tec
Tip: Carbide flextip
Anti-Shock: N/A
Weight per Pair: 1 lb 2 oz
The LEKI Micro Vario Ti Cor-Tec trekking poles are in high demand in the market as it comes with LEKI's micro folding construction coupled with the incredibly popular Cor-Tec grips, making these poles one of a kind.
Trekkers love these poles because they get a lot more for the price they pay. The poles are equipped with a push-button release function that allows the user to have an easy and quick assembly along with a 15.5" knock down.
Micro Vario Ti Cor-Tec poles also have a TUV certification for its amazing SpeedLock 2 which ensures up to 20 cm adjustment choice. Because it has folding poles, trekkers can easily fit these lightweight poles even in the smallest backpack.
The Micro Vario Ti Cor-Tec is a tent-style pole, meaning it breaks apart into three sections. This allows it to pack into a tiny package of about 15.5 inches.
People who purchased these poles swear by its amazing Aergon Cor-Tec grip which they say is edgeless and extremely lightweight, thus making it a comfortable fit for every hand. They also recommend the poles ideal for trail running and climbing.
Pros: Nice and compact, easily fit in a backpack, also they're lighter in weight.
Cons: The only drawback of these trekking poles is their vibration and associated noise. But you can overcome this by adding rubber tips (not included).
See the LEKI Micro Vario Ti COR-TEC
9. Black Diamond Alpine Carbon Cork

Shaft: Carbon fiber
Usable Range: 63 – 130 cm
Locking Mechanism: Dual FlickLock
Grip: Cork
Tip: Carbide
Anti-Shock: N/A
Weight per Pair: 1 lb 1 oz
Alpine Carbon Cork Poles are lightweight, durable and strong, and can be used for trekking, skiing, and hiking. Made up of carbon fiber, the Carbon Cork is much more of an all-rounder. From three-mile day hikes to approaching alpine climbs to 200-mile treks, the Alpine Carbon cork excels in all areas. The poles are lightweight and come extremely handy if someone's out on a multi-day hiking or trekking trips. It designed in a way so as to withstand all kinds of terrains -be it snowfield or rocky mountainous terrain – it helps the user maintain a good overall balance and helps people avoid stumbling.
The upholstered hand straps are smooth and made up of nubuck leather for extra comfort and stronger grip which prevents it from slipping. These poles are also equipped with the FlickLock Pro adjustment mechanism which helps the user stretch the pole to their desired length.
Customers who purchased these poles found it compact, extremely comfortable, strong, durable, and most of all, very lightweight.
Pros: Lightweight, solid, easy to use and easy to adjust, excellent quality, eliminate vibration and are suitable for all sorts of trails.
Cons: Don't have an anti-shock mechanism like other comfort-oriented poles.
See the Black Diamond Alpine Carbon Cork
10. Black Diamond Alpine Ergo

Shaft: Aluminum, carbon fiber
Usable Range: 77 – 130 cm
Locking Mechanism: FlickLock Pro
Grip: Cork
Tip: Carbide
Anti-Shock: N/A
Weight per Pair: 1 lb 4 oz
Since Black Diamond is a trusted name in the trekking manufacturing industry, their products are always known for high-quality and study performance. And like all Black Diamond poles, the Alpine Ergo Cork is no exception and has become an instant favorite ever since it hit the market shelves. These versatile trekking poles are considered a winner in the market because they are made with very high-quality materials.
Equipped with an ergonomic handle for extra comfort, these poles make them ideal for backpacking and hiking trails, as well as winter hiking. The poles are lightweight and come with a padded hand strap and non-slip EVA extension. Its two carbon fiber segments combined with two FlickLock Pro adjustment mechanisms allow users to adjust the length according to the terrain and their comfort level.
The tech tips are interchangeable and, depending on the terrain, can switch between rubber and carbide. The handles are made of natural cork which gives extra grip because of its sweat-repellent quality.
Users who purchased the Black Diamond Alpine Ergo Trekking Poles consider it slightly heavier than other trekking poles, but their easy-to-operate clasps and sturdy cork handles make them a winner.
Pros: Comfortable grip, surprising light for aluminum telescoping pole, very packable, packs down to 29 inches (74 cm)
Cons: The flick lock is a little tough to close at first but eases up with a little use.
See the Black Diamond Alpine Ergo
Best Budget Trekking Poles: Comparison Table
Tips to Purchase The Best Budget Trekking Poles
Now that you have developed insight and knowledge as to what makes trekking poles a market winner, here are some tips to bear in mind when making the purchase.
Good Handles

When looking to purchase trekking poles, make sure to read the product description provided in the articles and see which type of handle come with the poles. It's very important because if you can't have a firm grip, then your trekking experience can become unpleasant so watch out for that.
Weight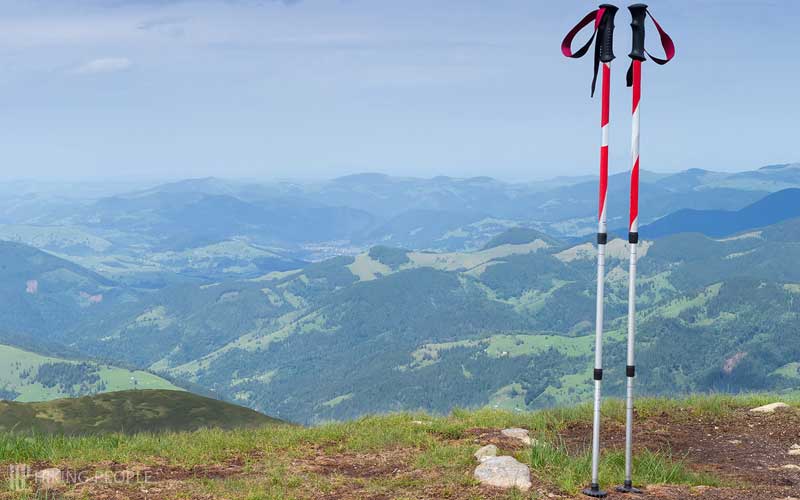 Although most manufacturers are producing very lightweight trekking poles these days, look for those which are ultralight weight. Weight makes a lot of difference, and if you are not a seasoned trekker, it's always better to start off with the lightest ones so as not to have pressures on your palms and joints. Also, lightweight poles are easy to carry in your backpack, so bear that in mind when reading the product descriptions given above.
Material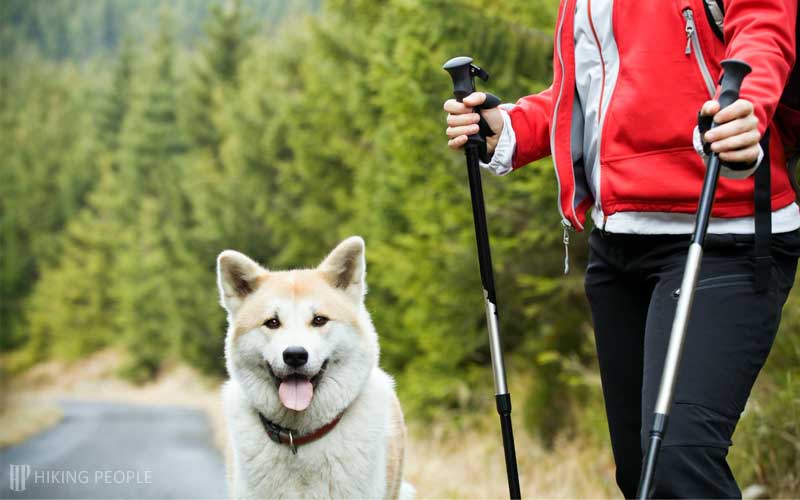 It is important to find out which material is the pole made up of. Some materials are sturdier than others, and if you are looking for something extremely durable, then read in the description which type of aluminum alloys are used to manufacture the poles.
Adjustable Length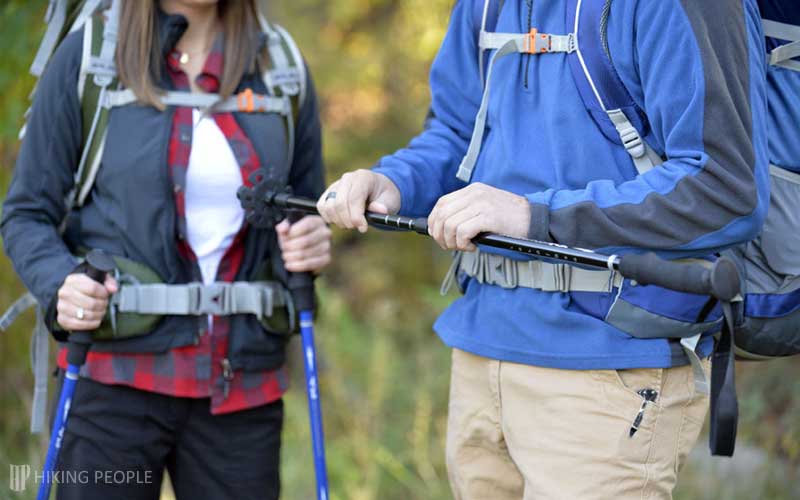 When hiking, people have to change the length of the poles very often depending on the terrain. Look for poles which have the quickest way to adjust the length so that you don't have to waste time and effort making adjustments. It should ideally be done by pressing a button.
Price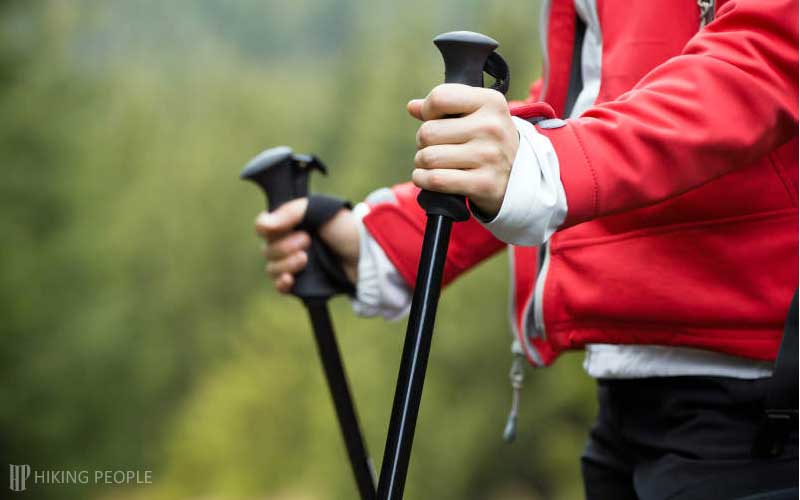 When going trekking, it's always advisable to invest in good-quality equipment and even though most poles are pricey, they are definitely worth the investment. So, when you are purchasing, don't necessarily go for ones with a very low or very high price. Read the descriptions provided and make an informed purchase decision. Happy shopping!