We use affiliate links and may receive a small commission on purchases.
Learn more
It's hard to have a lot of fun out on a backpacking trip if you're feeling too cold or too hot at night also if it feels like you're sleeping on sharp rocks. Your sleeping bag is one of the three largest weight saving choices in your backpack. A traditional sleeping bag can easily weigh 3 to 5 pounds whereas lightweight bags are generally under 2 pounds and can get as little as one pound.
A sleeping bag works to keep you warm through loft not weight. The higher the sleeping bag is going to sit on top of your body the warmer is going to keep you. Temperature rating is simply a measure of the loft or how warm it's going to keep you. A 0°F bag is going to have more loft and keep you warmer than a 15°F bag will which will keep you warmer than a 20°F bag will. If you get a lightweight bag and you're concerned about having a few cold trips, you can always increase your warmth by either bringing a lightweight liner that can add a few degrees of warmth or wearing a jacket or long johns while you sleep.
1. REI Co-op Downtime

Temperature rating: 0°F
Weight: 3 lbs. 14 oz.
Fill: 650-fill-power duck down
Best use: Backpacking
The Downtime 0-degree is a down sleeping bag that offers excellent warmth and it is certified to the Responsible Down Standard (RDS). The bag is water-resistant and it is filled with 650-fill-power duck down insulation. The outer shell of the bag is made of durable ripstop nylon that has a water repellent (DWR) finish, which protects the down from moisture. This bag offers a relaxed fit, which means you get plenty of shoulder and hips room to move but you remain warm and comfortable. There is a contoured hood, an oversized insulated face muffler, and a full-length draft tube. To prevent heat loss, there is a dual top and bottom neck yoke that encloses your shoulders.
Overall it is a lightweight bag with ample room and it keeps you warm even on super cold nights. Since the bag is lightweight, a sleeping pad underneath is recommended. It features pad loops to keep your bag and pad together to avoid rolling off onto the cold ground. The hood is toasty and keeps your head warm throughout the night. Also, there are differentiated drawcords, which allow you to adjust the hood and neck easily at night. This bag comes with an included stuff sack and storage bag for long-term storage.
Pros: Warm, plush, ample room to move around
Cons: Difficult to pack, not very compressible
2. Kelty Cosmic

Temperature rating: 0°F
Weight: 4 lbs. 1.6 oz.
Fill: 600-fill DriDown
Best use: Camping
Kelty Cosmic is the best cheap cold weather sleeping bag that is ideal for 4-season camping. This bag offers water-resistant down insulation, a long zipper backed by a draft tube and a warm hood.
The bag is filled with 600-fill power DriDown. It is a traditional down which is coated with a hydrophobic coating. The bag holds up better in wet conditions than traditional down. It dries out faster and ultimately keeps you warmer in damp or wet conditions.
It's a traditional mummy-style bag. You do have a hood at the top which you can cinch down to hold heat. The hood has a drawstring on the top and the bottom so you can cinch it down on those cold nights. If you're getting close to that lower limit temperature rating.
It does taper in towards the foot-box and it's a natural fit foot-box so you have a lot of room down there but it saves on thermal efficiency so you get a lighter bag with a tighter fitting. There's a full-length zipper. It's a two-way zipper. Behind that zipper, you have a draft tube to keep out cold air from coming through the zipper. You also have an anti-snag material so you're not going to catch or snag that lightweight liner material.
Pros: Burly, decent warmth, roomy fit
Cons: Heavier than average, bulky, no storage sack, no compression sack
3. Therm-a-Rest Questar

Temperature rating: 0°F
Weight: 2 lbs. 12 oz.
Fill: 650-fill down, Nikwax hydrophobic treatment
Best use: Backpacking
Therm-a-Rest Questar is a super packable, lofty and great bag to consider for 4-season backpacking. Therm-a-Rest has a history of creating sleeping pads that have changed the game. Lightweight, warm, packable, all of these features we look for as outdoor enthusiasts. They're also bringing that game to the sleeping bag world with this Questar.
It uses a 650-fill down, ultralight shell materials and several other features that make it worthy for the long haul. One of the neat features on the Questar is the way that Therm-a-Rest has zoned the insulation because of the way sleeping bags work. Whenever you get inside them, you end up just compressing the insulation that's under you. This essentially renders it useless.
Therm-a-Rest has minimized or almost eliminated the insulation below to shave weight and bulk to this item. So they can focus on warmth where you'll need it. They used their ThermaCapture coating at the seams which can be found in many of Therm-a-Rest's sleeping pads. This is going to reflect heat towards the user and prevent that warmth from escaping. That insulation and ThermaCapture technology give this bag of functional range between 0°F and 14°F.
There's a big baffle to prevent air leaks and also down in the foot-box Therm-a-Rest has included a foot warmer pocket. They call this "ToeAsis Pocket". Throw a foot warmer down there to rapidly warm your toes.
Pros: Lightweight and very comfortable to sleep in
Cons: The 0°F model is not very warm for a bag with a "0" in the name
4. Therm-a-Rest Hyperion

Temperature rating: 20°F
Weight: 1 lb. 4 oz.
Fill: 900-fill power, Nikwax Hydrophobic goose down
Best use: Ultralight backpacking
This bag offers water-resistant dawn, sleeping pad straps and a range of sizes capable of giving anyone an optimal fit. This bag is insulated with 900-fill-power Nikwax Hydrophobic goose down. Down is one of the best insulating material known but it loses much of its efficiency in wet conditions. This bag absorbs 90% less water and dries three times faster than untreated down.
Thermally efficient box baffled construction uses lightweight mesh dividers to keep down from moving around, thereby decreasing the chances of cold spots developing. This bag uses a zoned construction to save weight. That means the bag has 70% of the insulation on the top and 30% on the bottom. Insulation on the bottom of the sleeping bag ends up compressed by the weight of your body. With this in mind, Therm-a-Rest uses zoned construction to reduce weight without sacrificing warmth.
Due to the decreased insulation on the bag's lower surface, you must use a sleeping pad rated to the right temperature to achieve the stated temperature of the bag. To help with that, the bag has integrated SynergyLink Connectors. The stretchy loops keep your sleeping pad underneath you. When not needed, the straps can be removed.
This bag offers draft blocking features, a warm hood, and down insulation to keep you warm. Besides, the down has been specially treated so it will stand up better in wet conditions, all that for less than a pound and half.
Pros: Removable sleeping pad attachment system, comes with a great compression sack
Cons: Colder than its temp rating, narrow foot-box, short one-way zipper
5. Hyke & Byke Eolus

Temperature rating: 0°F
Weight: 3 lbs. 3.2 oz.
Fill: 800-fill power goose down
Best use: Backpacking
This bag has a streamlined design with vertical baffles to facilitate even temperature distribution from head to toe. This budget 4-season sleeping bag is constructed with durable, lightweight materials that will keep you comfortable whether you are camping under a lightweight tarp or sleeping at a hostel in Europe.
The bag uses 800-Fill Power Goose Down which has incredible compressibility and exceptional warmth. A full-length zipper along the right side with two sliders which allows you to open the bottom of the bag while keeping it zipped around your head. This feature provides ventilation and freedom of movement for your legs. Whether you want to sit cross-legged walk outside your tent or just poke your feet out for venting.
For additional temperature regulation, the hood area has multiple drawcords that can be adjusted to provide optimal thermal management. To retain the most body heat, there's a shoulder baffle that can be cinched around your neck to keep out cold drafts. The hood is specifically designed so it can accommodate a small camping pillow when the drawcord is uncinched or when the drawcord is fully cinched, it seals around the face to create a comfortable and secure cocoon that keeps your ears, head, and neck warm in the coldest weather. The foot-box has ample room for your and overlapping baffles to guarantee comfort and warmth for your toes.
Pros: This bag along with a tent and a sleeping pad can fit easily in a 45L backpack with ample room for other gear. The zipper is easy to use and the mummy hood has a drawstring that keeps the hood on you all night.
Cons: Zippers snag a bit on the extra fabric but always get back on track
View Eolus 0°F at Amazon View Eolus 15°F at Amazon
6. Hyke & Byke Snowmass

Temperature rating: 0°F
Weight: 3 lbs. 6 oz.
Fill: 650-fill power down
Best use: Backpacking
Hyke & Byke Snowmass is a 650-Fill Power Down sleeping bag. This bag is offered in Shavano 32°F, Quandary 15°F and Snowmass 0°F models in many different colors. It is a streamlined design with horizontal baffles to distribute even temperatures from side to side in head to toe.
The 20D nylon shell fabric is water-resistant and has a silky texture that is extremely comfortable on your skin. It is the lightest weight textile available in any of Hyke & Byke down products. For the design of this bag, they optimize the amount of down inside each chamber to maximize the loft and minimize the size and weight. To accomplish this, they utilize a differential cut which means the liner is a smaller bag encased in the larger outer shell. Additionally, they offset the inner liner toward the backside of the outer shell to achieve a differential fill. This creates larger baffle channels for more down insulation along the front and sides of the bag with smaller channels and less down insulation on your back where you have the added insulation of your sleeping pad.
Furthermore, they added a small channel along the left side of the bag to allow you to transfer fill from one baffle to another. This means you can customize your bag to place the down insulation where you need most for ideal comfort while optimizing size and weight.
The bag uses 650-fill power duck down which has incredible compressibility and exceptional warmth. For all sleeping bags in their 650 fill power line up, they use a fully baffle construction with no sewn through areas to eliminate cold spots.
Pros: Fluffs up easily and easily squeeze back into its carry sack.
Cons: There is a noticeable draft though the zipper area that can be uncomfortable.
7. Marmot Women's Ouray

Temperature rating: 0°F
Weight: 3 lbs. 10 oz.
Fill: 650-fill-power duck down
Best use: Backpacking
Marmot Women's Ouray is perfect for a backpacker who ventures out in cold conditions. Someone wants a little more room to sprawl and needs to keep weight down in their pack. The down defender ensures that you'll be warm and dry all at a price that doesn't break the bank. The shape gives you plenty of room at the head, which can be cinched down on chilly nights. The bag stays wide up top for shoulder room and there's a second short zipper on the opposite side to create a comfortable blanket fold. The width of this bag allows you to sleep comfortably in that position but then it tapers in at the foot-box to keep weight down and to provide thermal efficiency like a traditional mummy bag.
It's the best of both worlds. The baffles are filled with 650 fill power down so that keeps the price affordable while giving you light fluffy insulation for backpacking. The down is treated with Marmot down defender so it'll resist moisture and dry out fast if it gets wet. The nylon ripstop shell fabric further protects the insulation. The interior fabric is nice and soft and getting in and out of the bag is easy. You can keep small valuables close at hand with a stash pocket and snuggle up for a good night's sleep. The bag comes with the stuff sack for on the trail and a storage bag for storing at home.
Pros: Can be used for backpacking, car camping, and even mountaineering
Cons: A little snug in the shoulders, makes it harder to zip
8. Big Agnes Anvil Horn

Temperature rating: 15°F
Weight: 2 lbs. 5 oz.
Fill: 650 DownTek
Best use: Backpacking
Big Agnes Anvil Horn is an excellent option for winter backpacking or camping. This bag has draft blocking features, an insulated hood and high-tech waterproof down insulation. The bag uses 650 fill down tech insulation. We all know that down insulation feathers has the best warmth to weight ratio of any insulating material. Many of us also know that down loses its ability to insulate when it gets wet. The feathers of down tech have been treated with a water-repellent antimicrobial substance.
Water-resistant down stays dry longer than untreated down. You still have to take proper care of your bag though. Water-resistant down will fail if it gets wet enough. When it does wet though, it dries faster than non-treated down.
The shell of the bag is ripstop polyester with a water-repellent treatment. The lining is comfortable taffeta polyester. The vertical baffles minimize cold spots by keeping your down insulation from moving around. This bag has more insulation on the top than on the bottom. This saves weight without sacrificing much warmth because the down beneath you often gets compressed and loses its effectiveness. Because this bag is lightly insulated on the bottom, you must use a sleeping pad with this bag. You'll need a pad rated to the appropriate temperature.
To the pad running away during the night, the bag has built-in flex pad sleeve to accommodate Big Agnes sleeping pads 20 to 25 inches wide. To prevent your warmth from sneaking out of the bag, there's a draft collar and a zipper draft tube. The free-range foot-box lets your feet roam free according to Big Agnes. The hood has a drawcord closure to snug it down around your head. The low-profile cord lock can be used with one hand. The hood also offers a pillow barn to keep your pillow stationary.
Pros: Super comfy and cozy, the way the zip comes up over your head is super nice, comes with a pillow barn
Cons: There's a little insulation on the bottom though it integrates well with Big Agnes Insulated AXL Air Sleeping Pad.
9. Marmot Sawtooth

Temperature rating: 15°F
Weight: 2 lbs. 7.5 oz.
Fill: 650+ fill duck down
Best use: Backpacking
Marmot Sawtooth is a budget cold weather sleeping bag with a lot of features. It's a great bag to consider for backpacking. You get quality materials and solid construction without completely breaking the bank.
Marmot gives you a typical mummy shape but it doesn't feel nearly tight on the inside like some other bags. It feels like it's almost a relaxed mummy fit which is comfortable. It's anatomically designed in all the areas including the foot-box where you get a wraparound construction to maximize your warmth.
The hood is big and beefy and it has multiple baffles to give you maximum warmth up top as well. You can cinch it down if you need to which locks in that warm air. There's a small stash pocket on the inside which is perfect for your small belongings.
What's keeping you warm is a 650+ fill duct down with down defender. The down is lofty and compressible that's treated with a polymer making the down water-resistant. It dries out faster than the traditional down materials. The 30D shell materials will help to protect that down from that initial moister exposure. If you're in super humid conditions or your tent leaks, you'll still be able to stay warm.
Offering a good balance of price and performance with lightweight materials and warm lofty down insulation, the Marmot Sawtooth is a great option for backpacking and camping.
Pros: Accurate 15°F rating, roomy enough to roll around, drawcord acts as a thermostat
Cons: Doesn't compress super-small, heavy for a down bag
10. ALPS Mountaineering Crescent Lake

Temperature rating: 0°F
Weight: 5 lbs. 3 oz.
Fill: Synthetic Techloft+
Best use: Camping
ALPS Mountaineering Crescent Lake is a comfortable, plush and thick sleeping bag. It doesn't bother your hip if you're a side sleeper and you sleep in this on a thin pad. The bag is well-insulated, although sometimes you feel cold air at feet. The zippers are also well-insulated and getting in and out of the bag is easy. Any condensation dries quickly in the morning, and the loft is maintained well.
There are two drawstrings in the hood, one for a draft collar around the neck, and the other one for the hood. The draft collar is excellent for keeping the rest of the body warm. The bag is very soft and if you have a lower quality thin pad, this bag will make your sleep a little more enjoyable.
There are two main problems with this bag; weight and packability. The regular 0-degree Crescent Lake weighs around 5.2 pounds. The bag does not pack down small. It feels like it would take up half of your 50-liter pack. It's bigger than basketball.
If weight and pack size are not your major concerns, ALPS Mountaineering Crescent Lake can be a good option for you. It is warmer than most of the other bags in this price and specification, such as The North Face Furnace 20.
Pros: Good warmth to weight ratio, warm hood, draft collar, one of the affordable winter bags for its weight and warmth.
Cons: Large and heavy, not pleasant to lug around on the trail, not ideal for backpacking
View Crescent Lake 0°F at Amazon View Crescent Lake 15°F at Amazon
11. Big Agnes Spike Lake

Temperature rating: 15°F
Weight: 2 lbs. 10 oz.
Fill: 600-fill-power DownTek down
Best use: Backpacking
Big Agnes Spike Lake is a warm, lightweight and cheap winter sleeping bag that is built for backpacking. The strip down features makes it simple and affordable but Big Agnes did not skimp on the quality. The down fill is warm and reliable.
The 600-fill power down is treated with down tech a water-resistant treatment that makes the plumes perform more like synthetic fill in wet weather. It stays drier longer than traditional down, it dries out faster and keeps you warm when wet, all while giving you the lightweight and compressible benefits you need for backpacking.
The shell fabric has a water-repellent finish to keep that insulation drier and the lining material is soft against your skin. There's a nice big draft tube behind the zipper and around the collar to keep in body heat. The mummy cut means it fits close to the body for optimal warmth. The more space there's in a sleeping bag the harder it is for your body to heat it to stay warm. So this mummy design minimizes the area your body must heat which helps you achieve the greatest thermal value. That's ideal for backpacking when you want the most warmth out of the lightest weight bag.
In more mild temperatures, it can be opened wide with the two-way zipper to vent. The hood and the foot-box are anatomically cut for comfort. If you're getting close to that 15°F, I'd suggest using a liner for more warmth. Those are sold separately but there're loops inside the bag to attach a liner.
Pros: The down-filled yoke gently wrapped around your neck, laying over your shoulders, keeping warm air inside the bag.
Cons: Small zip pouch for your phone or just something to contain whatever you need inside your bag.
12. ALPS Mountaineering Blaze

Temperature rating: 0°F
Weight: 5 lbs. 5 oz.
Fill: TechLoft Silver Insulation
Best use: Car camping
ALPS Mountaineering Blaze is constructed with durable polyester with a soft liner. It is filled with synthetic TechLoft Silver insulation. TechLoft Silver insulation consists of multiple denier staple-length fibers that have a siliconized finish for maximum insulation, loft, and compactness. It means that you get a fill that maximizes your loft and retains your compressibility. The single-hole synthetic fiber is lightweight, highly compressible and will keep the warmth in and the cold out.
The bag has two-layer off-set construction that features a contoured hood and mummy shape, which help seal in your warmth. It also has an insulated chest and zipper baffle for added heat retention. It keeps the warmth in and the cold night air out.
The regular Blaze weighs around 5 pounds so it is a little heavy for long-distance backpacking. The bag can be great if you are going to walk in but then camp. Overall, ALPS Mountaineering Blaze is the best winter sleeping bag for the money. You get quality materials and warmth for nights with temperatures in the low 30's.
Pros: Comfortable, enough room to move around when sleeping
Cons: Heavy, hard to backpack with, you need to buy a separate compression sack, the zipper caught in the material sometimes
Best Budget Winter Sleeping Bags: Comparison Table
Conclusion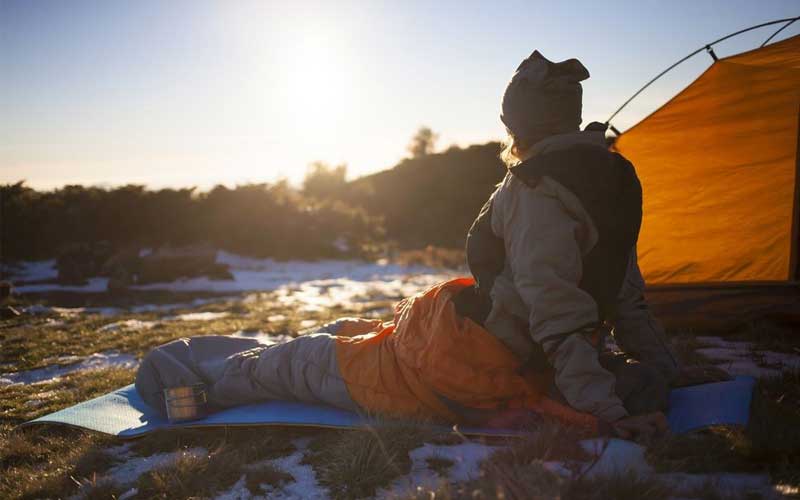 There are a variety of sleeping bags available in the market and choosing the one that's right for you can be challenging. You should choose a bag according to the climate you will be hiking in. Also, consider weight because when you are backpacking, you carry most of the weight on your shoulders so that's something to consider. You can also consider a down sleeping bag, which is a little lighter than synthetic bags to save some weight.