We use affiliate links and may receive a small commission on purchases.
Learn more
When you're planning to head out for a hike you want equipment that's going to keep you warm and comfortable, but that can take a little more thought than you might think. The truth is, heading out hiking means that the jacket you're looking for needs to be warm but not too warm. Thick, but not too thick. It means that there are a lot of ways that the jacket you choose could be just right or it could be all wrong. We've sought to find you the best hiking jackets for cold weather. But we're looking for the kind that is going to keep you cool as well.
Each of the jackets we have here is going to combine several different features (many of the features we'll talk about later in the article). That way, you're going to be fully prepared for whatever you might want. You'll get all kinds of pockets, plenty of colors, waterproof and windproof designs and a great deal more. All you have to do is decide which of these jackets is going to be your new favorite. And which is going to get you ready for that next trip.
Below is the list of winter jackets that are built for all-around use from hiking in cold weather to snow sports.
1. Outdoor Research Winter Ferrosi

Fabric: 90D stretch woven ripstop
Insulation: Thermore synthetic fibers
Hood: Yes
Weight: 1 lb. 6.9 oz.
The fan-favorite Ferrosi now comes in an insulated version. This is a classic softshell piece that now is full of warm synthetic insulation to help you tackle your winter adventures with ease. This classic jacket is made with a 90D nylon face fabric that has spandex built-in to allow an excellent stretch. There's an 80-gram VerticalX synthetic insulation packed into this thing to keep you warm and comfortable regardless of the conditions. That synthetic insulation consistently performs even if it gets a little wet from the sweat of weather.
The Ferrosi shell has a bit of water resistance but it's not fully waterproof. So keep that in mind. The features are otherwise pretty simple. There're two zippered hand pockets and they have a brushed lining for your comfort. There're zippered chest pockets as well. The collar has a brushed lining for some additional comfort. The fit is considered a standard. It's a little snug in the back and shoulders but you get enough room in the belly and you can certainly put a light fleece under if you need to.
There are an elastic drawcord hem and elastic around the cuffs to keep things secure. Overall, this is a great winter piece inspired by a classic active softshell jacket.
Pros: Plenty of insulation for winter hiking. Breathable, comfortable, durable, warm, windproof
Cons: Fits great around the shoulders/chest/sleeves, but the stomach area is a bit baggy, not fully waterproof
See the Outdoor Research Winter Ferrosi See the Outdoor Research Women's Winter Ferrosi
2. Rab Neutrino Pro

Fabric: Pertex Quantum
Insulation: 800FP RDS Certified European Goose Down
Hood: Yes. Helmet compatible down filled hood with wired peak
Weight: 1 lb. 5.3 oz.
Rab Neutrino Pro is lofty, relatively tough, and well-suited for the depths of winter. On the outside of the jacket, the fabric is the ever-reliable Pertex Quantum Pro. It's a very fine and tightly woven nylon microfiber that is incredibly tough and durable. To give it an additional weather resistance, there's a light polyurethane coating. However it doesn't make the fabric 100% waterproof, it still got a lot of stitching in it and for your general outdoor uses, if you're out in cold and snowy, it adds an extra layer of protection.
The stuff inside the jacket that keeps you warm is the 8 ounces hydrophobic RDS 800 fill power European Goose Down. 8 ounces is the physical weight that's inside. So it's mid to heavyweight filled jacket that is suitable for cold conditions. Hydrophobic means that every individual cluster of natural down has been treated with fluorocarbon-free Nikwax which makes the down less susceptible to wetting out.
The down insulation is held in place with mid-sized stitched through baffles. Behind that, you have a lightweight nylon lining fabric that is hung loosely on the inside to give the jacket a nice drape to slide over layers easily and to help with the breathability.
Pros: Solid weather resistance, tons of premium down
Cons: Too warm for most three-season wear
See the Rab Neutrino Pro See the Rab Women's Neutrino Pro
3. Marmot Men's Guides Down

Fabric: Ripstop polyester
Insulation: 700-fill duck down
Hood: Yes
Weight: 1 lb. 7 oz.
If you're looking for a basic jacket that gives you great ratings for warmth then this is a great way to go. It doesn't look like much, but it's still going to keep you warm and make sure you can hike whatever the weather. You'll get your choice of five different colors to choose from but that's not the most important part. You're going to have a coat that sits right around the hips with a slightly loose style so you can get more movement and flexibility. The pockets give you plenty of space to store anything you might need easy access to and the design protects you from just about anything.
This jacket is moisture resistant and filled with down so you don't have to worry about rain or snow. You'll also have Velcro at the cuffs and a drawcord that lets you keep your body heat in at the places where you would normally lose it the most. It's made in the USA and features an exterior of primarily polyester with just the right amount of elastane for stretch. The lightweight aspect here is going to make you feel more comfortable walking for extended periods and yet, it's going to keep you warm enough for weather much colder than you would think.
Pros: Lightweight jacket with a heavy-duty fill.
Cons: The jacket runs slightly small.
See the Marmot Men's Guides Down
4. Outdoor Research Transcendent

Fabric: 100% polyester
Insulation: 700FP, responsibly sourced down insulation
Hood: Yes
Weight: 1 lb. 15.8 oz.
With wider baffles and slightly different down, this jacket shines in all aspects of outdoor life. It's certainly a trail to town style jacket and can be your daily driver. To get technical, the fabrics on the jacket are all polyester and it's got a 20D shell. The down is a responsibly sourced 650 fill so you get a good warmth to weight ratio without having a high cost associated with some of those lighter weight insulations.
Features include a chest pocket with a smaller internal pocket, two hand pockets at the very bottom and one of those pockets even doubles as a stuff sack. The pockets also have a brushed lining which is super comfortable and gives a bit more warmth. There're even two internal drop-in pockets for gloves or hats. At the cuffs, you get low profile elastic and there's also a drawcord hem. These are all design to seal out those drafty winds.
Overall, this jacket has a nice clean aesthetic and is wonderfully technical and design. It's perfect for days out of the boulders on the trail or downtown.
Pros: Responsibly sourced down, an ideal set of features, stylish
Cons: The fit on the Transcendent jacket is a bit snug than some other standard fits. So layering anything hefty under may not be an option.
See the Outdoor Research Transcendent See the Outdoor Research Women's Transcendent
5. Mountain Equipment Lightline

Fabric: DriLite Loft, DWR coating
Insulation: 700-fill down
Hood: Removable
Weight: 1 lb. 11 oz.
With this jacket, you're going to spend a little bit more, but you're going to get some features that you can count on when you're heading out for a hike. The jacket gives you a zip-off hood, so you can use it or lose it to fit your preference. The cuffs and the hems also have drawcords, which means they're going to fit you just the way you want them to and keep out the wind and the cold. The down fill gives you plenty of warmth without being too heavy, which is always a big concern when you need to carry everything on your person.
The variety of colors makes it personal to you and the several pockets allow you plenty of space to store everything you need to take along with you. This zippered jacket has just enough 'puff' to it to keep you warm and comfortable. Combine this one with a shell or a fleece layer and you're going to be ready for even the coldest weather out on the trails. The women's version gives you similar options and provides you with the protection as well as the fit that you're looking for to be able to move on the trails.
Pros: High loft for windproof and waterproof design.
Cons: Seams don't hold up as well as they should.
See the Mountain Equipment Lightline See the Mountain Equipment Women's Lightline
6. The North Face Gotham III

Fabric: DryVent
Insulation: 550-fill goose down
Hood: Adjustable, removable faux-fur ruff
Weight: 3 lbs. 1.6 oz.
Made by a company that's well known in the outdoor gear space, this puffer jacket comes in a range of different colors so you can choose something that matches your style preference. It's a moderately priced jacket that gives you plenty of pockets that feature various closures. You'll be able to store just about anything in the shoulder pockets, standard pockets and breast pockets of this coat. The moderate length means that it cuts to the waist and there's a gathered bottom that gives you a closer fit. This is even more important when you're hiking out in the cold weather.
The zipper is reinforced with snaps up the front and has a protective layer to keep cold air from getting in. Add in the hood with a fleece lining and fur cuff and you're even better protected from the wind. The women's jacket gives you a slightly longer style that cuts just about the hips and different color options, of course. You'll also lose a few of the pockets with this one, but you're still going to have the down fill, the puffy style, and the fur color. All of these are going to make either jacket a great pick to keep you warm on your hike.
Pros: Stops wind from getting through while you're hiking.
Cons: Not quite as warm as other winter weather coats.
See the North Face Gotham III See the North Face Women's Gotham II
7. Outdoor Research Men's Whitefish

Fabric: Polyester
Insulation: 700-fill down
Hood: Removable
Weight: 2 lbs. 2.7 oz.
This heavy-duty jacket comes in at a moderate price, and it's going to give you a sleek look when you head out as well. You'll get a shell that's 100% polyester, a lining that's 100% nylon and fill that's made with 100% duck down. All of these together provide you with a high-quality product that's comfortable and warm to wear even when the weather gets really cold. It's water and wind-resistant and even gives you added cover down the front with the zipper cover so you don't have to worry about wind sneaking in.
There are pockets throughout, which makes it easy to carry everything you need, not to mention there are zipper and button options for storage. Whenever needed, the jacket can easily be thrown right in the washing machine, so you don't have to worry about cleaning. Choose between two different colors for your personal preference and then slip this jacket on for any task you might have during the cold months of the year. The company is actually from Whitefish, Montana, so they know a thing or two about cold weather.
Pros: Provides plenty of warmth and durability with added elbow patches.
Cons: Sizing runs slightly off, large for some and small for others.
See the Outdoor Research Men's Whitefish
8. Marmot Tullus

Fabric: Ripstop polyester
Insulation: 600-fill down
Hood: No
Weight: 15.5 oz.
This is a puffy coat and one that provides plenty of the warmth that you're looking for at the same time. It comes in four different colors to match your personal preference and even though it's not as stylish as some jackets, it's also going to come in at a lower price point. You're going to have a machine washable option that's great for cold and even for damp conditions, and you don't have to break the bank to get it. That's a bonus for anyone.
This moisture-resistant jacket gives you an attached hood with elastic around the edges to keep it fitted to you. You'll also have elastic around the cuffs and hem that keep it tight and keep out the wind and rain. The athletic fit means that the jacket overall isn't too tight or too loose but has a good fit at the hem. Add in the pockets throughout to store all of your belongings and you're going to have no problem taking this jacket with you anywhere you go.
Pros: Excellent fit that is true to size and comfortable for extended wear.
Cons: Sheds feathers without much wear.
9. Outdoor Research Blacktail

Fabric: 100% polyester
Insulation: 700FP, responsibly sourced down insulation
Hood: Yes
Weight: 1 lb. 15.8 oz.
This jacket was inspired by the cold challenging Montana winters. It's packed with toasty warm 700 fill down insulation. This jacket also has a highly abrasion-resistant exterior to handle those whitebark and lodgepole pines. This exterior shell is a blend of polyester and nylon. It offers durable wind and water-resistant protection.
In high wear areas, thicker panels provide increased durability. The responsibility sourced 700 fill down insulation promises warmth in the coldest of conditions along with the low weight and compressibility for which down is famous. A fully adjustable insulated hood extents the weather protection and keeps your head warm.
Inside, a brushed tricot-lined collar offers comfort. An internal zippered chest pocket offers a secure protected place for small items. Zippered hand pockets provide a warm place for your hands when you're not climbing and skiing. The external chest pocket features cord pass-through so you can use your devices without exposing them to the weather.
The jacket's adjustable hem can be used to seal out frigid drafts. Adjustable velcro cuffs keep snow from slipping down your sleeves during winter work or play. This jacket has a standard fit so you can comfortably add layers underneath. If however, you find yourself through crunchy snow beside the ice rim Gallatin River, you can easily add additional layers.
Pros: Super warm, lightweight, stylish, windproof
Cons: Sizing can be an issue
See the Outdoor Research Blacktail
10. The North Face Men's Aconcagua

Fabric: Polyester
Insulation: 550-fill goose down
Hood: No
Weight: 1 lb. 3.05 oz.
This men's jacket is available in several different colors so you can choose something that you like. Even more importantly it provides you with several pockets that will enable you to store whatever you might need for your next trip. You'll also be able to keep yourself warmer and better protected from the wind with the elastic sleeve design. The lightweight aspect of this jacket is great for those who are going to be hiking long distances and don't want the extra weight, not to mention it's thin enough to be comfortable to wear.
Even with all of these other aspects, you're going to have a warm jacket that will keep the wind down without you needing something big and bulky. It's a loose fit jacket, so you'll have more freedom to move around the way you want, and it also provides you with protection to the hips, so you don't have to worry about the wind getting up under the jacket too much.
Pros: Very warm for how thin and lightweight it is.
Cons: Runs slightly small in size.
See the North Face Men's Aconcagua
11. Arc'teryx Atom LT Hoody

Fabric: Tyono, Polartec Power Stretch
Insulation: Coreloft 60
Hood: StormHood
Weight: 12.7 oz.
This jacket is considered more of a hoody than a jacket and yet, it provides you with a range of different features that will make it your favorite jacket … whatever you call it. It's available in a range of different colors and shades to provide you with the widest array of possibilities. You'll also have a tighter fit than some hiking jackets, but that's going to give you a bit more flexibility when you're moving around since it's not going to get in the way.
Available in both men's and women's styles, you're getting a jacket that fits the hips and provides you with wind and moisture resistance. It provides you taffeta on the inside, which is comfortable and warm. On top of that, you're going to have mid-layers that are designed to manage sweat and more. That means even when you're getting overheated you're not going to have a problem with this jacket keeping you going. When you do take it off it even compresses to a small size to make sure it's simple to store wherever you have space.
Pros: Sleek design and breathable side panels.
Cons: Fit seems awkward with baggy design.
See the Arc'teryx Atom LT Hoody See the Arc'teryx Women's Atom LT Hoody
12. The North Face Men's McMurdo Parka III

Fabric: DryVent
Insulation: 550-fill goose down
Hood: Zip-off hood with internal emergency gaiter
Weight: 3 lbs. 8 oz.
If you want a stylish parka that you're going to feel just as comfortable wearing out and about during the day as you will on a hike then this is where you want to look. It's a moderately priced jacket that's made by a company you well know in the field of outdoor gear. Available in several different colors you'll have a range of different pockets throughout that are large enough to hold anything and everything you might need. Not only that but you're going to have a zipper with a protective cover to keep out the wind and the rain. You'll also have a waterproof and breathable exterior that protects you from just about anything outside.
Add in the fact that there's a warm hood with a protective faux fur cuff and you're going to love wearing this jacket. You'll get a full warranty alongside this jacket as well because The North Face says that there won't be any kind of defect to the material or the workmanship of the jacket. All of this means that you're getting a jacket you can count onto last for a very long time.
Pros: Backed by a full warranty.
Cons: Zipper is difficult to use with gloves.
See the North Face Men's McMurdo Parka III
13. Patagonia Nano Puff

Fabric: Recycled polyester
Insulation: PrimaLoft Gold Eco (60g)
Hood: No
Weight: 11.9 oz.
This jacket looks like the puffy coats that you've seen all over and it has the quality that you're looking for as well. You'll have a jacket that is lightweight and easy to pack when you're not wearing it, but also thin but warm when you are wearing it. You shouldn't have to sacrifice the space you need or the flexibility that you want to stay warm when you're out on a hike and with this jacket, you won't have to.
The ripstop shell is recycled, so you can feel great about wearing it, and you're going to have a water-resistant surface. The drawcord for the hem means that you get to adjust the fit for your preference and the insulation is not only water-repellant and compressible but also eco-friendly. Add in the pockets throughout and you're going to have plenty of space for anything and everything that you might need. All it takes is you choosing the right color, and the right style as well because this jacket is also available in a women's style.
Pros: Excellent fit for comfort and movement.
Cons: Stitching snags easily during normal wear.
See the Patagonia Nano Puff See the Patagonia Women's Nano Puff
14. Columbia Barlow Pass

Fabric: Omni-Tech Polyester Broken Twill
Insulation: 550 TurboDown
Hood: Removable
Weight: N/A
This is one company that's well known for outdoor gear and especially for high quality then this is where you want to be. This jacket is one that's going to provide you with a stylish look as well as the other qualities that you're looking for. It's a high down fill jacket with plenty of pockets, and oversized ones at that. You'll be able to store a little (or a lot) of everything in this jacket. You're also going to have adjustable sleeves to make sure you have a close fit and an easily adjustable hood with a fur cuff around it to provide more warmth.
The interior of the coat has a thermal reflective layer designed to add to this even further. Plus you'll have waterproof but breathable seams to keep you comfortable while keeping out the rain and snow. Available in several different colors, the jacket comes in both a men's and a women's style that you can choose from to get something that has a more customized fit to your actual needs. You'll just need to adjust the drawstrings to get the fit just right.
Pros: Works well in any weather from rain and snow to wind and cold.
Cons: Sizing runs very large.
See the Columbia Barlow Pass See the Columbia Women's Barlow Pass
Best Hiking Jackets for Cold Weather: Comparison Table
Critical Cold Weather Hiking Jacket Considerations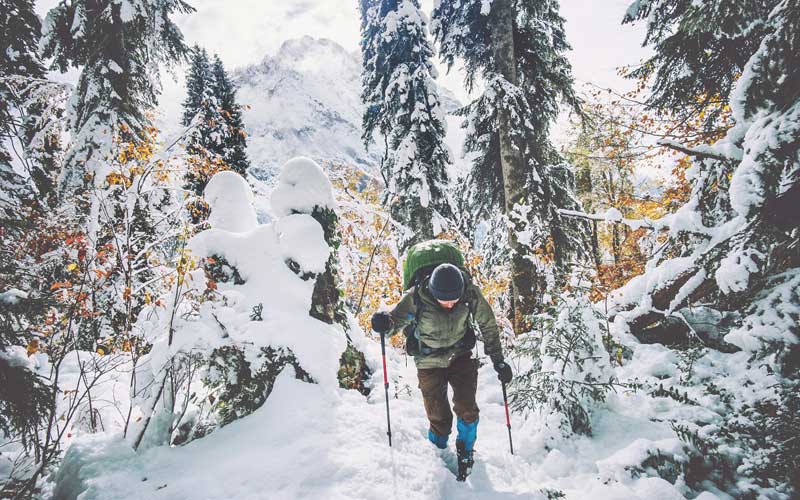 When you're ready to pick out the perfect hiking jacket you're going to want something that combines warmth and maybe a little style as well. You're going to want something that keeps you comfortable and keeps out the wind and water. So we're going to look at each of the features you want most, right here.
Pockets
Pockets are a huge deal when it comes to any jacket and that's especially true when you're going to be out in the wilderness. You want something that has pockets you can fill with your phone, a snack, a water bottle, a flashlight and maybe a few other added tools. Those pockets are going to make it a whole lot easier for you to be prepared at a moment's notice for whatever you might need (or want). The more you have and the more variety to them (like size and closure) the better off you're going to be as well.
Waterproof
You never know what the weather is going to be like when you head out on that hike. It may seem like it's going to be beautiful, but you could end up with a big problem when the rain comes in. Like waterproof pants, having a jacket that's at least water-resistant but preferably waterproof is going to make a big difference. The seams should be sealed against water as well, making sure that the jacket is comfortable, but that you're not going to get wet if you fall or if rain or snow starts coming down when you don't quite expect it.
Windproof
Along the same lines as being waterproof, you want your jacket to be able to protect you from the wind. You need something that is going to help you stay warm when the wind starts cutting through, which happens a lot if you're hiking in high altitude. If you live in an area that gets a lot of wind, especially in the winter months, you're also going to notice the change and the way that the right jacket can keep that wind far away from you, or at least bouncing off the outside of your jacket.
Layerable
You should be able to layer other pieces over and under your jacket. This puffy layer is a mid-layer for most purposes, though you can use it as a solo layer if you prefer. When you can add a shell overtop or fleece underneath, however, you're going to increase the ability of the jacket to keep you warm and dry. All you have to do is make sure you're choosing a jacket and a size that's going to allow you to stack whatever you want around it and make sure it's keeping the right temperatures in.
Length
This one is going to be up to your personal preference. In general, a slightly longer jacket, that's going to come to the hips, is going to provide you with more protection and keep you warmer and dryer. On the other hand, a jacket that comes only to the waist may give you a little more freedom of movement. The exact fit that you prefer and that provides you with the best overall comfort level is the one that you should choose, so look for a length you like. Some winter jackets even come in longer lengths, coming down past your hips. Keep in mind, however, that you're going to be hiking in this jacket and that means you may not want anything too long. You could end up tripping over it or getting tangled on a hike.
Hopefully, this is going to make it easier for you to choose the right jacket for cold weather hiking. After all, you don't want the temperatures outside to keep you from getting out there and having a great time, right? With any of these, you're going to have the features that you need and you're going to be more than prepared to head anywhere your heart desires.