We use affiliate links and may receive a small commission on purchases.
Learn more
A good pair of hiking pants offer breathability, comfort, versatility, and freedom of movement. Most hiking pants are made of lightweight and breathable nylon and come with features like gusseted crotch and articulated knees. You may have heard that cotton is not an ideal fabric for outdoors because it absorbs a lot of moisture and dries very slowly. But in hot and dry weather, cotton can be OK. Even though that moisture can feel good against your skin and as it evaporates it will leave you feeling cool. Some people may not like it so make sure you're OK with the feel of wet cotton next to your skin.
So these are the top hiking pants that can be worn in hot weather.
1. Marmot Arch Rock

Materials: 94% nylon, 6% elastane
Weight: 10.1 oz.
Belt included: No
Sun Protection: UPF 50
Marmot Arch Rock pants offer impressive temperature regulation when hiking in hot weather. They are designed with a modern style but still very technical. These pants are designed for maximum movement, breathability, and sun protection. They're great for making the transition from the climbing gym or your favorite hiking trail to your favorite downtown destination.
These pants are constructed with an abrasion-resistant nylon fabric. They are a performance woven fabric. It is very stretchy for easy movement and they're very packable and super breathable as well. It's a very comfortable fitting pant and it's got some nice abrasion-resistance and water-resistance on the exterior. It is a UPF 50 fabric so it gives you ample sun protection throughout the pants.
These pants have a full suite of features like a gusseted crotch and articulated knees. Other features include two front pockets, two back pockets, and one zippered side pocket. These pants are among the lightest hiking pants available. The pant also features belt loops on the waistband for some added security if you need to add a belt. The interior has a DriClime waistband for moisture-wicking and enhanced comfort. The fit is fairly relaxed so these are going to be a little bit more of a baggy.
Pros: Affordable, super lightweight, easy to move around in them
Cons: Tight around the legs, can't go over the tops of boots or shoes
View at Backcountry View at Amazon
2. Outdoor Research Women's Ferrosi Capris

Materials: 85% nylon, 14% spandex
Weight: 7.6 oz.
Belt included: No
Sun Protection: Yes
These pants are great for climbers who want that extra protection that shorts don't offer. Backpackers who just want that extra breathability that comes from something a little bit shorter than those full-length pants. The materials and the design of these are very lightweight, streamlined, and athletic. The pant is made of durable ripstop materials. It's a nylon/spandex blend so it is super stretchy and breathable. You get a little bit of wind and water resistance with these pants. They are going to offer protection but mostly you're getting that abrasion resistance with that single woven softshell material.
They do have that ¾ length design as I mentioned they don't go all the way down to the ankles or feet. You do have 2 standard hand pockets with mesh back so they are going to help with moisture-wicking and breathability. There's a single zip thigh pocket so it's going to work with a climbing harness and you've got a single back zipper pocket. There are belt loops with the pants. You can integrate a belt with this and it is a very low-profile waist. It's going to work well with a climbing harness. There is a moisture-wicking band on the inside of the waist, which helps with the breathability and the overall comfort.
The fit is pretty athletic but you've got gusseted crotch, articulated knees, and all the features that are going to allow for a full range of motion with that movement mirroring stretch. Overall great pants perfect for the climbers who want that extra protection or the backpackers who want that extra breathability.
Pros: Super breathable, easy to wash and dry, stretchy, don't require a belt
Cons: A little loose in the legs for movement.
3. Columbia Flex ROC

Materials: 98% cotton, 2% elastane
Weight: Not specified
Belt included: No
Sun Protection: UPF 50+
Columbia Flex ROC Pants are made of 98% cotton and 2% elastane. The utility cotton has enough stretch and if offers freedom of movement for hiking. The pant features several handy features like hand pockets, belt loops, front button closure, and a zip-closed security pocket. The pant has a casual fit and the fabric is stretchy, which is comfortable while hiking. These pants are durable and breathable and can be worn in all seasons.
The pants are suitable for wearing in hot temperatures. The durability is excellent and the pockets are generous in-depth for storing things like keys and wallets. The zipper pocket is great for a cell phone. The stretch offered by Flex ROC is great on a hike as you go up steep terrain. The belt loops are well-placed as most designers skimp on the backside belt loops. There are two side-by-side belt loops on the rear, helping to keep them in place while being active. Overall, these are lightweight, quick-drying, and stretchy pants that are great for hiking, backpacking, climbing, camping, and traveling.
Pros: Comfortable, light, stretchy, look professional, breathable, and quick-drying
Cons: The flex fabric feels unpleasant against the skin.
4. Arc'teryx Women's Sabria

Materials: 87% nylon, 13% elastane
Weight: 6.7 oz.
Belt included: No
Sun Protection: UPF 50+
Arc'teryx Sabria Pant is made of durable stretchy material. It has a simple design that allows you to scramble, climb, and trek in comfort. The pant is pretty lightweight and has a trim cut for effective air ventilation in hot conditions. You can pair this pant with a base layer if the weather gets cold. The pant also features a low-rise waist and internal adjuster. These features make these pants great for rock climbing, as they sit comfortably under a harness.
These pants are made of a blend of nylon and elastane. They are somewhat technical and offer comfort with a good amount of stretch. It offers four-way stretch, a gusseted crotch, and articulated cut knees for maximum mobility. You can even sleep in these pants. These pants, however, make some noise when you move, which makes them less ideal for the yoga mat or a plane ride.
The pant has an air-permeable design with a lightweight, four-way stretch material that keeps you cool on the trail. You can roll these pants up from the ankle but due to the tapered leg cut, rolling them up from the ankle more than a couple of inches is virtually impossible. However, these pants are light enough for hiking on in hot temperatures and trim cut will help keep you cool and vent your perspiration.
Pros: Versatile, durable, flattering
Cons: Tighter fit, just 2 pockets
5. Arc'teryx Lefroy

Materials: 86% nylon, 14% elastane
Weight: 9.7 oz.
Belt included: Yes
Sun Protection: Not specified
Arc'teryx Lefroy is the ultimate pants for hiking or backpacking in warm weather. The design is fairly simple yet durable. The pant offers excellent water resistance and is made to withstand the wear and tear of everyday outdoor activity. It has a slim fit, which is a little tight for high stepping activities. These are not the most breathable pants out there, overall they are comfortable, tech-looking, and have sturdy construction.
Arc'teryx Lefroy Pants are more durable than your regular hiking pants. These pants feature a highly water-resistant fabric and it dries out relatively fast. Precipitation beads up quickly and rolls off. Since the pants have a slim fit, they may be tighter than you would want. This could be the right pair for the technically-inclined hiker, they stay put even in high-motion activities. For most regular hiking activates, they are comfortable. However, the slim fit feels tight compared to other hiking pants.
These pants offer a limited but thoughtful set of features. There's a one thigh zippered pocket on the right side, which is a go-to snack holder. The pants feature no rear pockets, which is annoying at first but once you used to the pants, you would realize it is pretty easy to live without them. These pants come with an integrated belt that wraps around the waist and is largely covered by a sleeve except for a few inches in the front. This feature makes these pants easy to use and gives it an elegant styling.
Pros: Stylish, durable, excellent embedded belt and buckle
Cons: Tight, no rear pockets, the fly is not functional
6. Fjallraven Abisko Lite

Materials: 65% polyester, 35% cotton
Weight: 15.8 oz.
Belt included: No
Sun Protection: Not specified
Fjallraven Abisko Lite is lightweight trousers for trekking and hiking and warm weather. They are made of durable four-way stretch fabric and strong G-1000 Lite, which gives the trousers flexibility and fast-drying ability with great ventilation so you stay cool on the trail.
Abisko trousers are a regular fit and the back of the pant is slightly higher, which helps cover your lower back while you're wearing a backpack. There are two front pockets and one side pocket. The side pocket is zippered and it has a mesh holder inside and is perfect for securing a cellphone or any other loose items.
These pants are made for warm weather. They have thin but durable material and they're well-ventilated. From the knee up, the fabric is stretchy. It makes for comfortable working pant and does not leave you feeling restricted while climbing, descending or leaping over various obstacles. From the top of the knee down, the pant is covered Fjallraven G-1000 Lite fabric. The fabric is thicker than the fabric above the knee and helps to protect you against any abrasions.
These pants are water-resistant and do a great job keeping you dry during the light rain. However, during heavy rainfall, these pants do soak through. The positive is, they're good at shedding mud and they wash well. The pant also has articulated cut with pre-shaped knees, which means going the deeper knee flexion such as squatting will feel comfortable well in these trousers.
Pros: G-1000 material is pretty amazing including the ability to waterproof as needed, decent pockets, and great venting
Cons: The pants run a little short in length.
View Men's at REI View Women's at Backcountry
7. Columbia Silver Ridge Convertible

Materials: 86% nylon, 14% elastane
Weight: 10.8 oz.
Belt included: Yes
Sun Protection: UPF 50
These lightweight and budget-friendly convertible pants are made of thin yet durable fabric that is breathable. This material does a fine job of keeping you cool on warmer days. These pants will keep you cool better than most of the competition in this price range. They are a good option for hot climates where you still want the protection of a pant. It also dries out faster if you get caught in a passing shower. However, the material lacks stretch and it is not water-resistant meaning they absorb precipitation immediately. The lack of stretch also limits the wearer's mobility, especially during climbing sessions, or hiking over rugged terrain.
Due to the lack of stretch, it slides up when you are sitting down. However, there are small sections of elastic on each side of the waist that enables a little stretch. The included belt also allows a good amount of adjustability if your waistline shrinks throughout a longer adventure. Silver Ridge pant lacks the versatility found in most hiking pants. The material is static and it restricts movement, which makes climbing, scrambling, and bouldering even more challenging. They are best suited for hiking and backpacking in hot conditions due to the thin material. Remember, they don't keep you warm enough when the mercury drops.
Pros: Super affordable, lightweight for warmer weather, variety of sizes and colors
Cons: Static material limits mobility, not suitable for rugged terrain
View Men's at Amazon View Women's at Amazon
8. Mountain Hardwear AP

Materials: Cotton, nylon, elastane blend
Weight: 7.2 oz.
Belt included: No
Sun Protection: Not specified
Mountain Hardwear AP is a durable and stylish pant that is suitable for summer adventures. The pant is a little restrictive and tight for full-day hiking but the body shape plays an important role in that calculus. These pants have almost no water resistance even in light rain. The pant has a very simple design lack features that are found in most other hiking pants in our review.
The pant is made of 75% cotton, 23% nylon, and 2% elastane blend fabric that is very comfortable and feels great against the skin. However, it offers less mobility. The fit is slim and narrow and it is far too constricting in the upper thighs. Also, the crotch of these pants is cut way too low. If you try to fix this problem by wearing them a bit higher, the waist felt loose and rode up even higher, which is equally uncomfortable.
When it comes to feature, there are mesh-lined front hand pockets and zippered back pockets. It also has a mesh liner on the inside of the pelvic region and it is sewn into the pants. There is reflective tape on the inside of the leg. It becomes visible in low light when it is rolled up. Overall, these pants are great for summer backpacking, rock climbing, or wearing around town.
Pros: Versatile for many activities, stylish look, and comfortable cotton fabric
Cons: Not recommended as dedicated hiking pants due to lack of water resistance and restrictive fit.
View Men's at Amazon View Women's at Amazon
Best Hot Weather Hiking Pants: Comparison Table
How to Choose the Right Pair of Hot Weather Hiking Pants?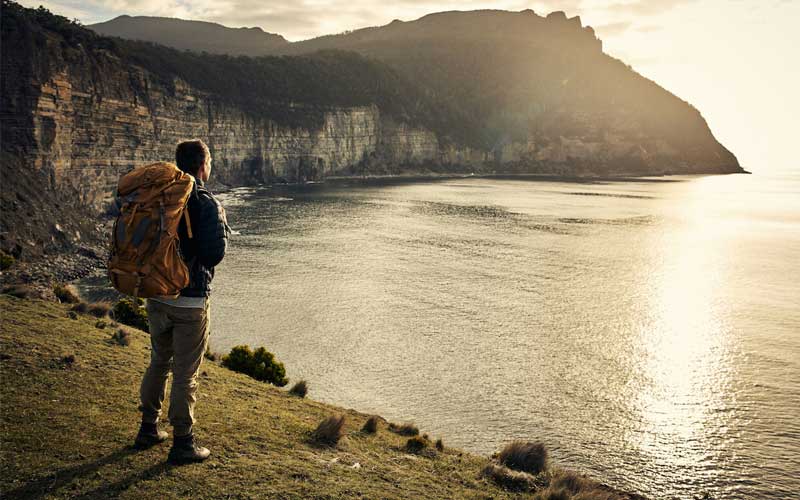 Below are a few things to consider when choosing hiking pants. We have outlined some of the things to look for in each model before you make your purchase.
Types of Pants
Hiking pants can be divided into three basic categories based on their design:
Standard Pants: These can be your go-to hiking pants. They are full-length pants and keep you warmer than shorts. Due to full-length size, they also protect your legs from bug bites, sun exposure, and abrasion from rocks and thorns. These pants can be great for hiking in weathers from cool and wet to hot and sunny.
Convertible Pants: Convertible pants have a zipper on each leg that allows you to remove the legs if the weather turns hot. These pants are great when mornings are hot and nights are cold. They are versatile because they can be used as pants or shorts. They also save space and reduce weight in your backpacking pack.
Roll-Up Pants: Another type of pants is roll-up pants. They have buttons on the lower leg or elastic in the cuff. Both of these features enable the wearer to use them as a higher capris-style. They are easy to adjust than convertible pants and offer just enough relief in hot temperatures. Although any pair of pants can be rolled up, these pants' legs stay in place during activity for as long as you need them to.
Climate and Destination
A typical pair of hiking pants can suit a variety of weather conditions. Some factors differentiate pants when it comes to temperatures. Some pants will keep you cool and dry in heat while others will insulate you in cooler or wetter conditions. Depending on where you will be hiking, keep these considerations in mind:
Hot and Dry: It may be a good idea to hike in shorts in intense heat but protecting your legs from direct rays of the sun, wind, and spiky flora is also important. In these situations, convertible pants are a good option. They are flexible, versatile and offer lighter fabrics. When hiking in summer, color and breathability should be considered as well. You can wear shorts for a day hike in the heat but you need pants for multi-day hiking trips.
Cool or Temperate: In cold and windy weather, full-length pants are always recommended. Your trip may involve warmer days so ventilation and breathability of the pants should be considered. You can carry more than one pair one pants but more items in your pack mean more weight on your shoulders. So keep that in mind. Also, spring and fall can bring wetter weather so if you are caught out in a rainstorm, you'd probably want pants that repel water.
Wet: For rainy days and truly wet climates, you need waterproof hiking pants. Most of these pants have durable water repellent (DWR) coating that absorbs much less water than cotton and dry significantly faster. This coating helps your pants shed the water from a gentle rain. This coating tends to wear off if you subject your pants to abrasive activities, or wash them often. You can also reapply this coating to ensure your pants continue to perform.
UPF Rating
Generally, most hiking pants offer a bit of protection from ultraviolet rays but some offer a UPF rating. When hiking in summer or desert, protecting yourself from the harmful rays of the sun is important. UPF rating (usually UPF 50) protects you from these harmful rays. This is one of the advantages of full-length pants over shorts. For people with very fair skin who burn easily may need a greater level of protection. If you are planning to hike in tropics, high altitude, or areas near water or snowfields, you may need UPF rated clothes.
Color
Color can also play a very important role if you are choosing clothes for hot weather hiking. People usually choose the colors of their clothes based on style or what looks great. Generally, white or lighter colors are preferred for hiking in the sun or warm climates. Choose black or dark colors for hiking in colder conditions. White or lighter colors absorb less heat and reflect heat, ultimately keep you cool and less sweaty. On the other hand, black or dark colors absorb light and heat, which helps you keep much warmer and potentially sweatier.
Conclusion
There are so many options available and the challenge is trying to decide which ones to buy. The comfort should be your top priority but the pair you choose should also provide freedom of movement, durability, and versatility to perform in a range of situations. Also, the climate in which you will be hiking can dictate what other metrics are most important to you.