We use affiliate links and may receive a small commission on purchases.
Learn more
Imagine yourself on a long hike with a bad pair of boots; your feet are aching badly but you have no other option but to drag yourself through this torture. Everyone can tell that you are not enjoying yourself. When it comes to hikes, comfort should be your utmost priority because there is no denying the fact that it is the comfort that makes the difference between a good and a bad hike. So if you are not careful, a good hike can become a real torment. Since your feet are the foundation of the physical structure of your body on which it stands, the right pair of boots, then, becomes a very important part of a long hike.
So here is the list of 10 best lightweight waterproof hiking boots that we recommend.
1. Asolo Fugitive GTX
Upper Material: Suede, Nubuck, Nylon
Waterproofing: Gore-Tex membrane
Footbed: Anatomic Lite 2
Midsole: Asoflex
Sole: Asolo Syncro
Claimed Weight: 2 lb
If I had to recommend only one boot from this list, it would be the Asolo Fugitive. Asolo Fugitive is a beautifully designed outdoor machine. And this is not to say that Asolo preferred form over function by any means when it comes to the Fugitive. It works as well.
Fugitive features a nubuck leather upper along with nylon for strength and breathability. The boots are very comfortable and require no break-in period. As the name GTX suggests, the Fugitive is waterproof and GTX lives up to its name. Breathability and good waterproof capability make these boots usable for all 4 seasons. It has a rubber toe for added protection. Although, the Fugitive is tough, supportive and comfortable, and this tough support makes these boots heavy.
The outsole also detaches from the midsole rather quickly. The D of the boot is also narrow so it often becomes difficult to find the right size for people with wider toes.
Pros: Great style, exceptional comfort
Cons: The midsole is less durable, narrow D is not suitable for people with wide toes
2. Lowa Renegade GTX
Upper Material: Nubuck leather/Cordura nylon
Waterproofing: Gore-Tex waterproof breathable membrane/Polyester
Footbed: Climate Control
Midsole: Polyurethane
Sole: Vibram rubber
Claimed Weight: 2 lbs 7 oz
Introduced in 1997, the Lowa Renegade is a legend when it comes to hiking boots. The boot is one of the most stylish boots out there. The leather upper not only gives it style but also makes the Renegade more breathable. The Gore-Tex liner along with a solid leather and a water-repellant coating makes this boot highly waterproof. The structure of the boot is stiff, but not overly stiff making it comfortable to wear without any break-in period. The Renegade is less on the durable side.
The most notable complaint about the Renegade is that the soles wear out rather quickly. To make things worse, the sole can't be replaced on Renegade as in other models of Lowa (Trekker, Camino, Ranger). The laces don't grip well either.
Pros: Stylish, breathable and highly waterproof
Cons: Soles wear out quickly making them less durable. Laces don't grip well
See the Men's Lowa Renegade GTX See the Women's Lowa Renegade GTX
3. Vasque Talus Ultradry
Upper Material: Waterproof nubuck, abrasion-resistant mesh
Waterproofing: UltraDry
Footbed: Dual Density EVA
Midsole: Molded Polyurethane
Sole: Vibram Nuasi
Claimed Weight: 2 lb 2 oz
The Vasque Talus Ultradry is a fairly priced boot for hiking on wet trails and rocky surfaces. The upper consists of nubuck leather with abrasion-resistant mesh. The upper is covered with a water-resistant membrane to keep the boot dry. The footbed is made up of dual-density EVA foam for cushioning and comfort. A molded polyurethane midsole means it is more durable than the EVA midsole which is often a complaint with EVA midsoles. A toe cap is present for protection yet, the boot remains light. A leather upper means longer break-in periods. The Talus is not a heavy-duty boot. But it is good for day hiking and light backpacking. However, the waterproof capability does make it unbreathable and the toe box is tight causing problems with fitting.
Pros: Low price yet protective and comfortable with good traction and waterproof capability
Cons: Unbreathable with a tight toe box and longer break-in period
See the Men's Vasque Talus Ultradry See the Women's Vasque Talus Ultradry
4. La Sportiva Synthesis Mid GTX
Upper Material: AirMesh, Nano-Cell direct injection, PU leather
Waterproofing: Gore-Tex Surround
Footbed: Ortholite
Midsole: Compression-molded EVA, TPU insert
Sole: Vibram Nano, Impact Brake System
Claimed Weight: 14.6 oz
If you are looking for a lightweight trail hiking and runner boots, then La Sportiva Synthesis is a great choice. The Synthesis is designed to move quickly and it lets you do that because of the lightweight. It fits like a glove and requires virtually no break-in period. The boot has a Vibram Nano sole that provides, both, comfort and protection. The sole is low on grip though, but it is among the most comfortable soles in the market. The Synthesis is breathable even though it has a Gore-Tex layer around it owing to its Gore-Tex surround technology and the upper consists of AirMesh fabric with Nano-Cell technology which makes it very breathable. The only problem with these boots is the lacing system which loses its grip after a few months.
Pros: Lightweight, very breathable
Cons: Lacing system is not durable
See the Men's La Sportiva Synthesis Mid GTX See the Women's La Sportiva Synthesis Mid GTX
5. Danner Mountain 600
Upper Material: Waterproof suede
Waterproofing: Danner Dry waterproof protection
Footbed: Ortholite
Midsole: Vibram SPE
Sole: Vibram Fuga with MegaGrip compound, self-adapting lugs
Claimed Weight: 2 lb 5 oz
The Mountain 600 features a leather upper that is waterproof and Vibram rubber sole that has the best traction and grip. It has a classic design and even though it is a mountain boot, it is very soft and lightweight which allows you to use it right out of the box because of the flexible design, it doesn't require any break-in period. The Vibram with EVA as the midsole making the boot very comfortable to wear. The outsole on the Mountain 600 has quite the grip and provides great traction. The suede leather is waterproof along with another waterproof layer inside which, in principle, should provide the good waterproof capability, but unfortunately, it doesn't. The tongue of the boot lets water in. Plus choosing a size on this boot is very tricky. Danner recommends you take a larger size, but choosing a size regarding this boot is just complicated. The waterproof leather also makes these boots less breathable.
Pros: Excellent traction, lightweight
Cons: Isn't the great waterproof boot, problems with fitting
See the Men's Danner Mountain 600 See the Women's Danner Mountain 600
6. Salomon Quest 4D 3 GTX
Upper Material: Leather, Textile
Waterproofing: Gore-Tex
Footbed: Removable Ortholite
Midsole: Dual-density EVA
Sole: Contagrip rubber
Claimed Weight: 2 lb 13.2 oz
The Salomon Quest 4D 3 GTX is an amazing pair for backpacking and hiking. These boots are specifically built for walking, be it long distance or uneven terrain. The 4D Chassis provides great support and guides the feet on uneven terrain which reduces fatigue. The boots require little to none break-in period. The Quest 4D are cushioned at the heel to provide the heel with good comfort and stability. The boots are lightweight and supportive for backpacking making them great for hiking and camping.
The boots have great waterproof capabilities and keep the feet secure and can be easily used in any weather. However, the waterproof capability tends to make them unbreathable and so they become less ideal for hot weather. Apart from that, the quality of the boots is not as good as it should be, especially against the price you are paying for it which makes them less durable.
Pros: Little to none break-in period. Supportive chassis reduces fatigue during long walks
Cons: Less durable, especially for the price being paid
See the Men's Salomon Quest 4D 3 GTX See the Women's Salomon Quest 4D 3 GTX
7. Arc'teryx Bora 2 Mid GTX
Upper Material: PU-coated yarns, TPU high-abrasion films, 3D molded heel, and toe caps
Waterproofing: Gore-Tex Performance Comfort
Footbed: 3D molded Ortholite
Midsole: Injected EVA, anatomical arch
Sole: Vibram Arc'teryx
Claimed Weight: 1 lb 3.75 oz
Arc'teryx is new in the market. But this company makes some great outdoor wear. Among its finest is the Bora 2 GTX. Arc'teryx went bold when it comes to Bora 2 with two-piece construction. The Gore-Tex stretch micromesh liner is completely removable and can be taken out for cleaning or swapped out after heavy use. It is a sponge-like liner that breathes extremely well and is waterproof. The exterior of the boot has a thick rubber that provides good protection against rocks and debris. The Vibram sole contains large lugs that grip pretty well, especially when it comes to rocky surfaces. Bora 2 provides excellent support and protection but it is only evident on difficult hikes which makes it an overkill for a normal hiking trail.
The boot is also heavy but provides better protection and support. The price, however, is one thing you will have to pay and Bora 2 doesn't go light on your pocket.
Pros: Two-piece design allows a longer use and makes it breathable
Cons: Expensive
See the Men's Arc'teryx Bora 2 Mid GTX See the Women's Arc'teryx Bora Mid GTX
8. Scarpa Zodiac Plus GTX
Upper Material: Perwanger suede
Waterproofing: Gore-Tex
Footbed: Removable
Midsole: Polyurethane, EVA
Sole: Vibram Drumlin
Claimed Weight: 1 lb 3.2 oz
If you do a lot of hiking on rocky surfaces, then the Scarpa Zodiac Plus is for you. The Zodiac has a very supportive structure which protects the ankles well in case of an accidental slip or slopes. The Zodiac has a good grip as well, good enough that you can rely on it. The suede leather upper makes the Zodiac breathable and the GTX liner makes it a great waterproof boot. Suede leather and GTX liner make an unbreathable combination, but Zodiac counters this by having a thin leather upper. However, suede leather absorbs a lot of dust and grim which makes the boot look older than they really are. Despite the support and comfort this boot provides, it is still lighter than many of its contenders in the class and it requires little to no break-in periods as well.
Pros: Great supportive structure, excellent
Cons: Suede leather absorbs mud and grim making them look older
See the Men's Scarpa Zodiac Plus GTX See the Women's Scarpa Zodiac Plus GTX
9. Keen Targhee II
Upper Material: Nubuck
Waterproofing: Keen.Dry membrane
Footbed: Removable dual-density EVA
Midsole: Dual-density EVA
Sole: Non-marking rubber
Claimed Weight: 2 lb 5.9 oz
The award-winning Keen Targhee II was an instant hit after coming to the market. Targhee has a wide toe box with a rubber toe guard for added protection. The Targhee II is famous for its extraordinary level of comfort. The "Metatomical Footbed Design" of the EVA sole fits perfectly and provides great comfort to the feet and ankles along with the densely padded tongues and heel beds. The 4 mm lugs along with nylon webbings and shank system provide great traction on trails and uneven surfaces. The upper is of nubuck leather with KEEN.DRY technology which keeps the feet dry and debris free and keeps the upper breathable. But all this added comfort and sci-fi design comes at a cost; durability. The Targhee II may be comfortable, but not much durable. The soles start falling apart rather quickly.
Pros: Excellent traction, breathable and good waterproof capability.
Cons: The EVA soles are not much durable.
See the Men's Keen Targhee II See the Women's Keen Targhee II
10. Merrell Moab 2
Upper Material: Suede, Mesh
Waterproofing: M Select Dry
Footbed: M Select Fit.Eco + (blended EVA)
Midsole: EVA
Sole: Vibram TC5+
Claimed Weight: 2 lb 4 oz
Merrell has been in the business for more than three decades with a legacy to make tough boots. They are very good with many high-quality features that will make your hike a very pleasurable experience. The boot has suede leather upper with a waterproof layer. A Gore-Tex version is also available for an extra price (see the women's Merrell Moab 2 Mid GTX). The Moab provides a good waterproof capability. The Vibram sole makes it very comfortable but the grip is just so-so. The silicon "speed band" which is new for Moab 2 distinguishes from Moab and also adds more stability. The footbed also adds more cushioning to the heel. The boot is relatively lightweight with a perfect fit. The build quality is good with Moab 2 as in the original Moab which makes the boot very durable.
Overall, the design of the Moab 2 has a similar design to the original Moab. The leather upper tends to be unbreathable.
Pros: The design is similar to the original Moab.
Cons: Unbreathable for feet. Not ideal for hot weather.
See the Men's Merrell Moab 2 See the Women's Merrell Moab 2
Best Lightweight Waterproof Hiking Boots: Comparison Table
Tips for Buying Waterproof Hiking Boots
Choosing the right boots is critical to your hiking and backpacking trip. From size to style, there is a lot to choose from. Your dream hiking boots need to sync with how and where you hike. Before you tie the knot, though, you also have to be sure they're a perfect fit.
See also: How to Choose Hiking Boots: A Really Simple Guide
Uppers
The upper part of the boot intended to support and keep your foot snug. Look for uppers that are waterproof and breathable.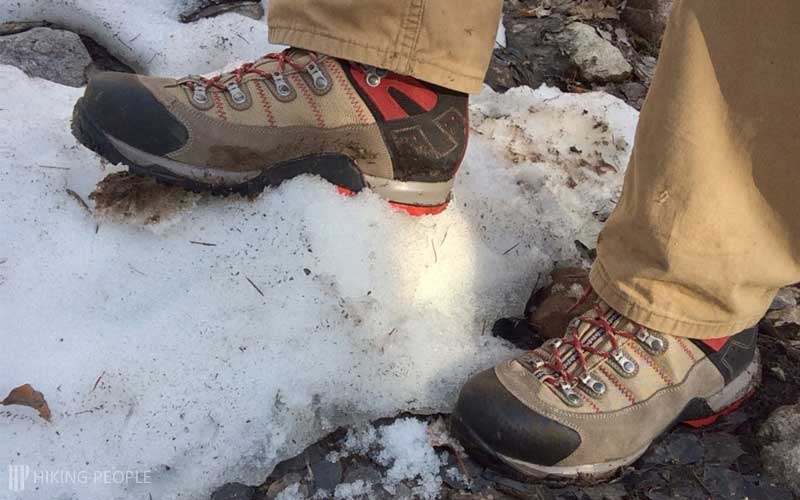 Leather material will protect from water, snow, and debris. However, they are less breathable and require a longer break-in period
Mesh outer material is more breathable and ideal for summer and hot, humid weather
Synthetic materials like nylon, polyester are light, more flexible, break-in more quickly and cheaper. However, they are less durable
Low-cut boots are for trail hiking. They are lightweight and provide trail traction. But provide no ankle support
Boots provide more stiffness, support, grip and ankle support useful for backpacking and mountaineering and protection against rolling ankles. However, they are heavy
Midsole
The midsole, which provides cushioning, buffers feet from shock and largely determines a boot's stiffness.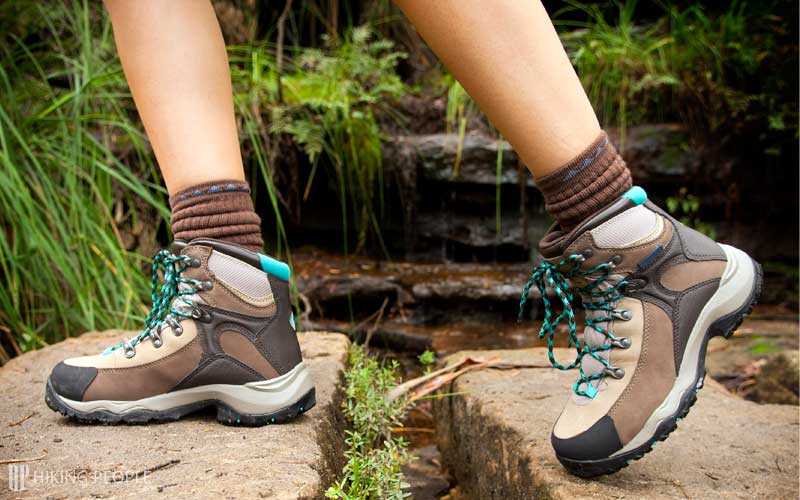 Stiff boots are useful for long hikes on rocky, uneven surfaces providing stability
EVA (ethylene vinyl acetate) is soft and cushioning and used in various densities for comfort and support.
Polyurethane is more stiff and durable for backpacking and mountaineering boots.
Outsole
Hard outsoles increase durability but can feel slick if go you off the trail.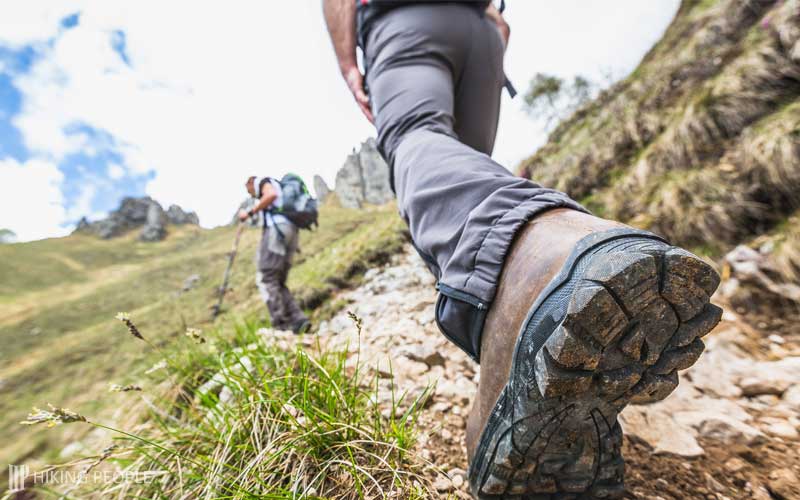 Deeper, thicker lugs are useful for backpacking and mountaineering boots for grip.
Heel brakes decrease chances during steep descents.
Size and fit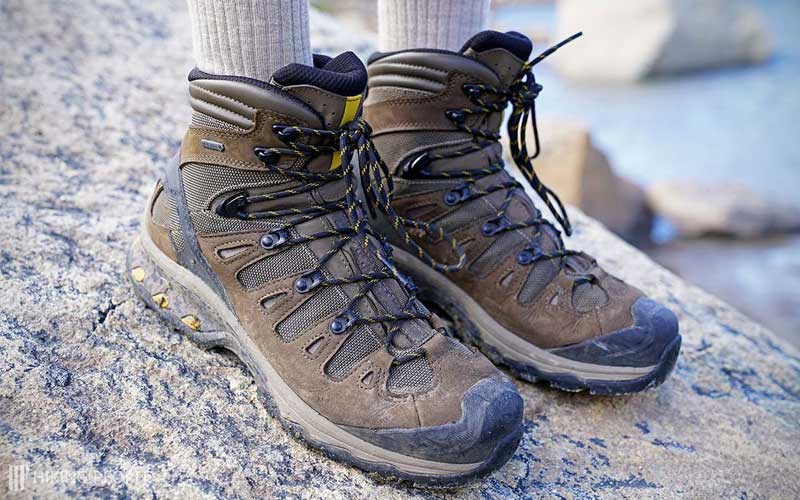 Make sure that the size and the fit of the boot are appropriate and provide you with enough space in the toe box for a comfortable fit and enough room to wiggle your toes. Furthermore, do make sure that the boot fits like a glove for proper support and protection.
Comfort and Flexibility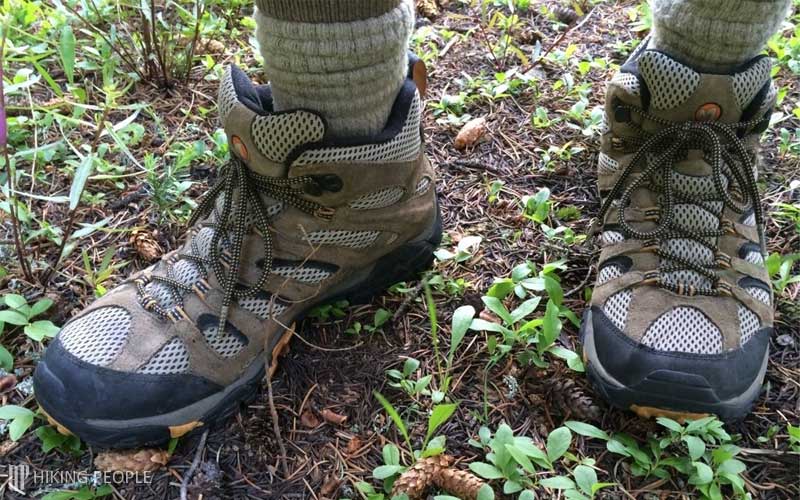 No one wants uncomfortable boots which give blisters. Make sure that the boot you bought is comfortable. Boots are that use EVA in the midsole along with padded footbed and heels provide more comfort. However, EVA is not the most durable material. Flexible boots require less break-in period and are suitable for moderate hikes while stiff boots require longer break-in periods but are suited for long, difficult hikes.