We use affiliate links and may receive a small commission on purchases.
Learn more
Walking is something that people do almost every day. So it is important to choose the right pair of shoe that is durable and has a rugged outsole to feel comfortable and supported. A perfect pair of shoes will make you forget that you're even wearing something. Shoes that are designed specifically for pavement have unique features, which make it easier for you to walk for extended periods without feeling any pain and discomfort. These shoes usually provide a good amount of cushion, a durable outsole, and a supportive yet flexible upper. These shoes sometimes provide motion control and stability features for a comfortable walk.
Below is the list of top 7 walking shoes for pavement in the UK that will serve your feet best.
1. Salomon Sense Ride 2

Weight: 1 lb. 3 oz.
Outsole: Contagrip rubber
Upper: Anti-debris mesh
Waterproof: No
Salomon Sense Ride 2 is the ultimate shoe for walking on pavement. It features generous cushioning and a good feel for the ground. The shoe has an 8mm drop, 27mm stack height in the heel, and 19mm in the forefoot. The upper of the Sense Ride 2 is a single layer mesh with quite a bit of overly what they call this "SensiFit". The Sense Ride 2 is a neutral trail running shoe designed for long-distance runs and races. The shoe has been redesigned with the new EVA midsole, which reduces muscle vibration and increases shock absorption and responsiveness. The shoe features the same great Contagrip outsole that we have come to love out of Salomon shoe.
Salomon took a close look at the Sense Ride 2 and made some great improvements to the materials to provide better durability. Any issues with the previous versions that people had with the outsole, seams coming undone, welded overlays coming undone, etc. That's all been resolved with the new version. They have redone it entirely to be a lot more durable. The shoe is very protective and you can run walk on all sorts of trail conditions. Whatever it is underfoot, you're going to get plenty of protection with the ProFeel film that's embedded within the midsole.
Pros: Durable than the previous versions, grippy, fast, flexible, lots of underfoot feel, and responsive
Cons: Does not flex easily, the toe box height is low, making it problematic during long hours of running.
See the Salomon Sense Ride 2 See the Women's Sense Ride 2
2. Adidas Terrex Swift R2

Weight: 1 lb. 15.6 oz.
Outsole: Continental rubber
Upper: Ripstop mesh
Waterproof: Gore-Tex
Terrex Swift R2 shoes are lightweight, flexible, waterproof, and have incredible traction on most any type of terrain. Adidas has combined all the features we want in a walking shoe and delivered a low-cut option for fast-packing or day hiking. From the ground up, there's traction and lightweight support. The outsole is made of approach specific Continental rubber and it sticks to the trail even when wet. The heel helps break when you go downhill and the lugs are 5 millimetres deep to dig in when you're moving fast. Above that, you have an EVA midsole that cushions each step.
You can see places in the midsole that wraps up into the upper part of the shoe. This part of the midsole cradles your foot and lets you sink into the shoe rather than just sitting up on top of the midsole. That offers support especially on uneven trails when you're wearing a heavy pack. There's about a 9.5mm drop from the heel to the forefoot. It's 25.5mm in the heel down to 16mm in the forefoot. This design gives a good forward proportion and the foam keeps you light on your feet. The upper is constructed of seriously abrasion-resistant synthetic materials and it's fully waterproof with the Gore-Tex lining. The Gore-Tex can do its job of being breathable because of the textile materials.
The more rigid parts of the shoe form a web around your foot. When you cinch down the laces, it cradles your foot to offer support, which keeps your foot positioned right where it needs to be and cuts down on hot spots. There's a toe cap to protect from bruising and a heel counter in the back to keep your heel snugged. The sock liner on the inside cushions your foot and wicks away sweat.
Pros: Super lightweight, fit true to size, athletic
Cons: Narrow forefoot
See the Adidas Terrex Swift R2 See the Women's Terrex Swift R2
3. Salewa Ultra Flex GTX

Weight: 1 lb. 10.2 oz.
Outsole: Michelin Ultra Train rubber
Upper: Mesh/coated fabric
Waterproof: Gore-Tex
Salewa Ultra Flex GTX shoes are ultralight, super breathable, and are meant for the fast and light walker. There's a lot of cool stuff going on with the Ultra Flex despite its minimal appearance. The entire upper portion of the shoe is an open mesh breathable coated upper. This will drastically reduce that break-in time that's normally associated with walking shoes. You probably won't even have to break these in at all. Just get out and start walking. The lacing is quick and Salewa has incorporated a Speed Lacing design. There's a little stretch pocket to protect that lacing.
Under that breathable mesh, there's Gore-Tex extended comfort lining. Even though it doesn't look like from the outside, the entire shoe will be waterproof up to the guested tongue. Because of that open mesh and less use of glue and other adhesives, this shoe will be more breathable than your traditional leather walking shoes. To enhance the fit, Salewa builds their shoes on a 3F platform. This system is their way to more closely mimic the real asymmetry of your foot. The design will limit the chance of blisters and will give you a great comfortable fit right away.
On the back of the shoe, you get a Flex Collar and a wide shape stabilizer. On slopes and steep climbs, your feet are often getting work pretty hard. With this little enhancement, you are going to get a lot more comfort as well as stability. You get some light cushion underfoot and on the inside, there's an OrthoLite sock liner for even more comfort. You can remove that sock liner if you want to and put in aftermarket insole but the one that comes with the shoes is pretty comfortable.
One of the good things about these shoes is the outsole. Salewa partnered with Michelin to develop a rubber compound for all-weather traction on varied surfaces. This ultra-trained outsole has a toothy design and there are a lot of different lug variations. You'll get serious traction no matter the surface. You also get multiple densities of rubber so that the sole can adapt or change based on what you are walking on.
Pros: Great grip and looks nice, perfect for warm conditions
Cons: The laces are sharp and they cut though the lacing system.
4. Garmont Dragontail LT GTX

Weight: 2 lbs. 1.5 oz.
Outsole: Vibram Q811 Friction rubber
Upper: 1.8mm suede rough-out
Waterproof: Gore-Tex
The Garmont Dragontail LT GTX is a well-balanced shoe for the person who wants to go for a light day hike but might end up scrambling on some fourth class rocks. They've got a sleek technical look and many features that make them perform well across the board for anything short of heavy-duty backpacking. The upper of this shoe is built with suede leather. It gives them a sleek technical look. It doesn't look like your everyday casual shoe so if you end up wearing this shoe downtown, you will look like you like to do things outside.
On the inside, there's a Gore-Tex extended comfort lining. The entire shoe is waterproof and breathable under those exterior leather fabrics. For lacing, climbers like to have the ability to dial in the fit down to the toes. These laces reflect that perfectly. With Garmont footwear, you'll have what they call their Anatomically Directed Design. This means that the shoes are created to mimic the foot's natural asymmetry, which in turn reduces the overall chance of blisters or hot spots. You'll need to make sure you've got the right socks on for that to work out though.
In the middle of the shoe, there's a FrameFlex Lite insole. This is going to provide extra stability in the shoe for edging as well as carrying gear on rough trails and descents. A tri-density microporous rubber has three different densities to ensure comfort and performance. You can see two of those. Gray is the medium density and yellow is the firm density. There's also a very firm density and therefore lowest compression and climbing performance. You'll get stiffer materials as you approach the front of the shoe to increase the climbing performance of the footwear. But they stay nice and soft in the heel area for walking in and out.
Pros: Extremely durable for walking on pavement, good traction, stable and supportive
Cons: Poor breathability in hot weather, needs break-in period
See the Garmont Dragontail LT GTX
5. Adidas Terrex Swift R

Weight: 1 lb. 10 oz.
Outsole: Rubber
Upper: Synthetic leather/nylon mesh
Waterproof: No (GTX available)
Well-cushioned and still supportive, the Adidas Adidas Terrex Swift R is a great lightweight and abrasion-resistant shoe for pavement. This shoe is built with a fully synthetic upper. It is a weather-resistant but not fully weatherproof upper. You've got highly abrasion-resistant materials along there with some durable overlay to provide a little bit more structure and a little bit more support. The foot won't move laterally while in the shoe. You've got a nice design throughout and it's going to shed most light precipitation but it is not a completely waterproof upper so keep that in mind.
The lacing system on the shoe is nice. You've got Adidas Speed Lacing system, which is a simple single-pull lacing system. There's a lace bungee to keep everything in place so it's not flopping around on you while you're walking. It just makes for a convenient and easy way to put on and take off the shoes. You do have some reinforcements around the front of the shoe and a rubber toe bumper to protect the front of the toes from any rocks or anything sharp. The heel is a little bit reinforced as well and you get a nice built-in heel counter.
There is padding inside the collar and nice moisture-wicking material. It's going to provide that extra comfort and a padded tongue as well. The midsole of the shoe is built with an adiPRENE midsole. It is a well-cushioned and pretty beefy midsole, which is going to provide a lot of shock absorption and comfort throughout the entire mid-portion of the shoe. It's going to reduce the impact that you'll feel from the rocks and the roots and all those sharp things along the trail.
The outsole is Adidas traction outsole so it's a high friction rubber outsole. It is durable and it's going to provide great grip on all kinds of trail surfaces. The lugs are pretty deep and directional, which is going to help to bite down. A pretty cool feature is back in the heel of the shoe is an aggressive heel stop so if you're going downhill or if you're trying to stop quickly, it's going to help you while you're on the move.
Pros: Suitable for long-distance walking, the lacing system stays in place
Cons: Run a bit narrow, feel hot in the summer
See the Adidas Terrex Swift R See the Adidas Women's Terrex Swift R
6. Altra Lone Peak 4.5

Weight: 1 lb. 5 oz.
Outsole: MaxTrack rubber
Upper: Mesh
Waterproof: No
Altra Lone Peak 4.5 is adored by a wide range of walkers and has become my favourite walking shoes over the past three years. I love the generous amount of toe room and the perfect balance of cushioning, support, and weight. Altra is known for its zero-drop platform. The stack height here is 25mm. That's the some throughout the shoe so your heel is the same distance from the ground as your forefoot for a more natural walking posture. The midsole is made of different densities of EVA foam to cushion and reduce the impact of each step. There is also StoneGuard rock protection, which mimics the skeletal structure of your foot. That means it flexes with you rather than being stiff. It protects your feet from stone bruising while giving the dynamic flexibility you need to move fast on the road.
The outsole is made of MaxTrac rubber for excellent grip and durability to provide a better walking experience on the pavement. What attracted me to Altra was the FoodShape toe box. I'd like to have a lot of room for my toes to spread out. This design doesn't cramp your toes or manipulate them to tapper in. The upper is breathable but durable. The mesh wicks but it's meant to keep dust and dirt out. If you like wearing gaiters, Altra's gaiters attach to the loop of the end of the laces and the tab at the back for a perfect fit. The toe cap on the front protects against rocks and there's a flexible heel counter at the back. The removable footbed offers a bit of extra padding.
Pros: Protective, spacious and wide toe box, zero drop design
Cons: Less durable
See the Altra Lone Peak 4.5 See the Altra Women's Lone Peak 4.5
7. Oboz Sawtooth Mid BDry

Weight: 2 lbs. 7 oz.
Outsole: Carbon rubber
Upper: Synthetic leather
Waterproof: BDry
Oboz Sawtooth Mid BDry is a very lightweight synthetic boot that's designed to perform across the board. Whether you're gearing up for a thru-hike or going on a weekend walking trip, these boots are built to keep you comfortable on the trail. The Sawtooth is built with a fully synthetic upper. It's got strategically placed overlay pieces to enhance the overall durability and structure. At a collar, it's got a very comfortable and flexible cushion, which is going to help minimize the chance of blisters or hot spots in that area. It's also higher cut so you get a bit more support and there's less of a chance of rocks or dirt getting inside of your shoes and slowing you down.
Oboz uses its proprietary BDry membrane inside this boot. It's fully waterproof, seam taped, and highly breathable. The highly porous mesh exterior helps to enhance that overall breathability. It's not stifled by stiff leathers or other materials. For lacing, Oboz is using a SpeedLace system. It's quick, convenient, and keeps you on the go. These boots will also include a separate set of regular laces just in case so you can throw them in your pack pocket if you need them in an emergency. One the front, it's got a durable rubber bumper for extra protection. On the back, it's got a heel counter with an elastic retention strap. All of this is going to help keep you solid, secure, and moving efficiently.
Pros: Comfortable right out of the box, the mid-height keeps the boot from slipping off your heel
Cons: A little heavy for long distance walking
See the Oboz Sawtooth Mid BDry
Best Shoes for Pavement UK: Comparison Table
How to Choose Shoes for Pavement?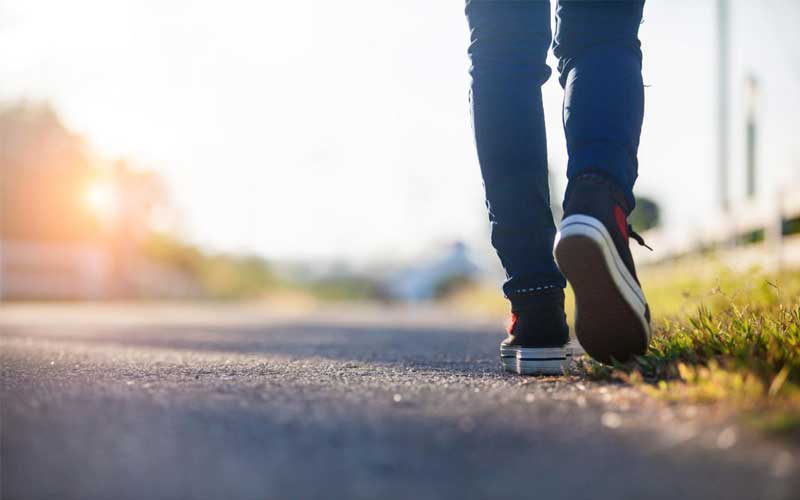 Choosing a good pair of shoes for pavement is not easy. So we ask you to focus on two key criteria. A good shoe should protect your foot and go with your natural movement.
Firstly, a good shoe should protect your foot whilst you walk and you have to be able to count on the shoe that protects your foot from impact and prevents you from slipping. Therefore, the soles would be sufficiently thick and grippy. Favour rubber soles that are more resistant to wear and tear. They must also protect you from blisters by allowing the foot to breathe. That is to say, evacuate the humidity caused by natural perspiration. Humidity weakens the skin and makes it more sensitive to friction. Your shoes should protect the foot by keeping it in place, which avoids friction.
Secondly, a good shoe should accompany the natural movement of the foot. The movement of the foot whilst walking is specific. It takes place rhythmically on the ground from heel to point. So there is continuity in your steps. The thickness of the heel of your shoes should be only slightly greater than that of the toe. The average thickness of the heel will leave you more space to completely extend your legs during the impact on the heel.
Finally, the soles of your shoes should be flexible to go with your movement. Test the flexibility of the sole of your shoe by bending it with your hands. Make sure that the shoe is not loosened too much when it's bent to ensure your foot stays snug in the shoe.