We use affiliate links and may receive a small commission on purchases.
Learn more
There are too many trail running shoes available and choosing the one that's right for you can be challenging. Keep in mind that there's no perfect do-it-all option. We all run in different ways and we all want shoes for different things. These shoes are designed for off-road travel and they feature a durable outsole with large lugs for traction on mud, dirt, and snow. Also, most budget options offer a rock plate in the midsole that helps absorb blows to the underside of your foot. Most of these shoes have a water-resistant and breathable upper to keep your feet dry while you're running on the trail.
Below is the list of top budget trail running shoes, from flexible and lightweight to tough and stable designs at a price that won't break the bank.
1. ASICS Gel-Venture 7

Category: Easy trails
Weight (Pair): 1 lb. 4 oz.
Cushioning: Moderate
Drop: 10mm
Venture 7 is an entry-level and affordable trail running shoe for those wanting to get into trail running. The shoe has a simple and solid construction and it does basics without taking any risks. The single shoe weighs around 10 ounces with moderate cushioning and it has a 10mm drop. The upper is made of synthetic leather with a breathable mesh. The upper repels sand particles well and it also keeps out nasty stuff from getting inside the shoe.
The midsole is the form of EVA from where the primary protection comes from. When you're running over sharp rocks and roots, the foam feels plentiful and it provides great protection. The shoe does not come with a built-in rock guard, so for super sharp rocks, you might feel a little pain. The upper of the shoe does a great job wrapping the entire foot with nice arch and lateral support. The tongue is relatively rigid but you won't have any issues with it on the run.
Venture 7 is one of the most inexpensive shoes available in the market that has decent performance. It is a great option to consider if you're just getting into trail running and simply want some protection.
Pros: Super affordable, durable construction, very stable, good on most trails
Cons: Not recommended for super-technical terrain, less aggressive outsole
View Men's at EMS View Women's at EMS
View Men's at Amazon View Women's at Amazon
2. Brooks Caldera 3

Category: Rugged trails
Weight (Pair): 1 lb. 2.6 oz.
Cushioning: Moderate
Drop: 4mm
Brooks Caldera 3 is a neutral and moderately cushioned trail shoe that weighs less than 10 ounces. The drop is 4mm and even though the stack height looks pretty substantial, it doesn't feel that way. It's a pretty lightweight shoe even though it's cushioned. The upper is synthetic mesh, which is going to give you a little more breathability. There's a BioMoGo DNA midsole, which dynamically adapts to your stride. If you run on variable terrain, it's supposed to adapt with you and provide extra support and stability no matter what you're running on.
The outsole is relatively rugged with the lugs a little more spaced out. These lugs are a little bigger than some other models, which provide good traction support throughout. The level of cushion on this thing is awesome. You put it on and it feels so plush, soft and it does not go away on your run. Sometimes an overly cushioned shoe will feel you're laboring it a little bit after a while but this one doesn't feel that way.
The fit of the shoe is secure and there's ample toe room. You will feel locked in on the instep, no rubbing, no chafing, and no abrasions. The heel also feels secure and as I said before, the toe box is nice and roomy. The ground feel on any trail shoe is important and this one does not disappoint. Anyone who's looking for a nice and cushioned trail shoe is going to want this.
Pros: Responsive, versatile, great for cross-over terrain, durable construction
Cons: Not ideal for slippery surfaces.
View Men's at REI View Women's at REI
View Men's at Amazon View Women's at Amazon
3. La Sportiva Wildcat

Category: Rugged trails
Weight (Pair): 1 lb. 9 oz.
Cushioning: Moderate
Drop: 12mm
La Sportiva Wildcat is the cheap trail running shoes that are favorite among runners for nearly a decade. If offers a great balance between built quality and price and it also performs well as a light hiker. It grips most dry surfaces with ease, has a fairly aggressive outsole, and does a decent job of keeping out mud. When the trail turns technical, the sticky FriXion rubber excels at clinging to granite.
This shoe offers great support while you're running. One of the primary reasons is the rigid plastic stabilizer on the back of the heel cup. When you step in the shoe, your heel slides in here and it provides a firm grip on your heel. So when you're going downhill, you're not sliding forward or going uphill, your heel is not popping out. It just a solid fit and it works well to hold your heel. When your heel or toe is moving around, that's when the blisters start to form.
The grip on these shoes is very nice. I found it to be extremely grippy when you're running up and down rocks, even wet rocks, and roots. La Sportiva does not disappoint in the durability department but when you put around 700 to 800 miles on them, you'll start to notice these shoes breaking down a little bit, which is much higher than most shoes.
Pros: Can be used for both trail running and hiking
Cons: Traction falls notably short on wet surfaces, heavy
View Men's at REI View Women's at REI
View Men's at Amazon View Women's at Amazon
4. Brooks Cascadia 14

Category: Rugged trails
Weight (Pair): 1 lb. 5.4 oz.
Cushioning: Moderate
Drop: 8mm
The Cascadia has been a good shoe for Brooks over the years and they have sold lots of them not only to runners but to backpackers. Cascadia 14 has just been remodeled so it's had lots of new updates. The first major update is the weight of the shoe. The previous shoe was a pretty hefty 23.8 ounces but the Cascadia 14 men weighs 21.4 ounces. Another big change with the Cascadia is the heel height. The 13 used to run off a 10mm offset and the 14 runs off a slightly lower 8mm offset.
When it comes to the fit of the Cascadia 14, you get a slightly sleeker design and you also get integrated Saddle System to give you a bit more hold around your midfoot. The shoe still uses Brooks' Pivot Post System, which helps when you're running on uneven ground and the midsole, is still made from their BioMoGo DNA. Cascadia 14 still carries the Cordura Mud Guard, which is designed to help protect you from debris but it still allows water in and out of the shoe. The shoe still carries the Tongue Pocket for your laces, which the 13 had and you still get the Gaiter Attachment.
Pros: The new model is lighter and more capable.
Cons: Even with the changes, it's still not a fast and nimble shoe.
View Men's at REI View Women's at REI
View Men's at Amazon View Women's at Amazon
5. Salomon Speedcross 4

Category: All-around/rugged trails
Weight (Pair): 1 lb. 5.5 oz.
Cushioning: Moderate
Drop: 10mm
This is a lightweight beast of a shoe that's meant for the mud. The gnarly lug pattern just begs to chew up those softish trails around. The upper of the Speedcross 4 is a nylon mesh with water-resistant textile, which gives you better durability and an overall better fit. This is in line with Salomon's SensiFit construction, which is all about cradling the foot to give you an almost customized fit. The mesh is anti-debris so it will keep out all that nasty stuff that would otherwise make you very uncomfortable and also causes your shoes to break down faster. The upper has a Quicklace system for easy on and off and there's a nice little lace pocket so that cord doesn't get caught in the trails.
The midsole is a dual-density EVA. This is a unique compressed foam that balances weight and rebound as well as shock absorption. It's a nimble system that feels great under the foot. The outsole has Chevron lugs. This Contagrip WT (wet traction) compound is meant for a serious bite. These shoes aim at nothing but those loose soft surfaces. Overall, these shoes will stick. They're grippy, durable, comfortable, and lightweight, the perfect choice for your loose muddy trails.
Pros: Truly excellent traction in soft ground, the midsole unit dutifully offers underfoot comfort
Cons: The upper unit of this running shoe is not very breathable.
View Men's at REI View Women's at REI
View Men's at Amazon View Women's at Amazon
6. Salomon XA Pro 3D

Category: Off-trail
Weight (Pair): 1 lb. 10.5 oz.
Cushioning: Moderate
Drop: 11mm
This is an all-around adventure shoe that can be used for lightweight backpacking and trail running on rugged terrain. With this shoe, there's an excellent balance of support and comfort. Salomon has built this shoe on their 3D Advanced Chassis. You have extra cushioning with the EVA foam that runs through the midsole and it offers extra comfort. You do have a removable OrthoLite footbed, which gives additional comfort and cushioning. It is easy to take out if you need to replace it with your footbed or orthotics.
The mostly mesh upper is breathable so should it become wet, it will dry out a lot faster compared to a waterproof shoe. The overlays give extra durability as you cinch down the laces, it cushions and tightens down on your foot. On the inside, the tongue is Salomon's EndoFit. It is a piece that fits over the top of your foot and it gives excellent stability.
The outsole is Salomon's Contagrip. It is very durable and aggressive on the trail. The lugs give you extra traction on trails and uneven terrain. There's a 27mm heel height and 16mm forefoot height. So you do have an 11mm drop, which is pretty typical with trail shoes. The shoe has a protective toe cap along with the mudguard behind it. So if you do get into muddy or wet conditions, it is going to protect you a little bit better.
Pros: Lightweight construction makes it ideal for long-distance runs.
Cons: The heel part provides minimal shock absorption, heavy
View Men's at REI View Women's at REI
View Men's at Amazon View Women's at Amazon
7. New Balance Minimus 10

Category: Easy trails
Weight (Pair): 14.8 oz.
Cushioning: Minimum
Drop: 4mm
They are incredibly lightweight trail running shoes, which can be worn barefoot or with socks. They're designed for trail running and hiking in wet or dry conditions. These shoes are super minimal pair of trail runners and they only weigh around 7.4 ounces (single) which is insanely light. They have only a 4mm drop so they're very flat and an incredible wide toe box that keeps your foot comfortable breathed out. They have an ultra-thin mesh upper on the front, which is also very breathable. The shoes perform pretty well if they become wet and dries out super quickly.
The shoes are very light. If you wear them especially barefoot, they feel like you're wearing nothing. This lightweight construction makes them perfect for long-distances. The grip on these shoes is insane. They've got a circular pattern, which is a nice design feature. The grip is perfect for going down grassy hills, bouldering and things like that. The shoes are very flexible and you can fold them up and stick them in the mesh pocket of your backpack. They are also designed to be worn barefoot. But always wear socks with these if you're about to hike lots of miles. You don't want to risk rubbing your feet against the materials on the inside to cause blisters. If you want to go super lightweight and a natural footfall, these are good shoes for that.
Pros: Super lightweight, excellent grip, flexible, can be worn barefoot
Cons: No cushion on the bottom, the sole is very thin, not recommended for rocky trails
View Men's at REI View Women's at REI
View Men's at Amazon View Women's at Amazon
8. Merrell Bare Access XTR

Category: Easy trails
Weight (Pair): 1 lb.
Cushioning: Light
Drop: 0mm
Merrell Bare Access XTR is an excellent choice for those runners who are on a budget and love zero drop shoes. In addition to its low price, it offers a snug ride that will help you connect to the mountain trails you are running on. While Bare Access XTR may not be suitable for long distances or the gnarliest mountain terrain, they offer a refreshingly intimate ride on trails that don't require copious foot protection.
If your primary importance is foot protection, then this may not be a good option for you. The shoe has a stack height of 17mm, which is made up of dense foam. This foam feels firm and does a great job of protecting the bottom of the foot. Even with these features, the shoe is light on underfoot protection. Also, the upper of the shoe is mostly mesh and it is covered by thin TPU overlays that add structure. The toe bumper is a thin TPU overlay that has a very little impact absorbing ability. Overall, these shoes have a different and highly noticeable feel. They're comfortable, lightweight, and very stable.
Pros: Low to the ground and stable, zero heel-toe drop
Cons: Not much cushioning, narrow fit, the tread is a bit light duty
View Men's at REI View Women's at REI
9. Xero Shoes TerraFlex

Category: Easy trails
Weight (Pair): 1 lb. 4 oz.
Cushioning: Light
Drop: 0mm
TerraFlex is designed for trail running, hiking and they are very minimal. The shoe features a lightweight rubber outsole and a wide toe box that lets your toes spread and relax. The shoe has a flat heel (zero-drop) for proper posture. These shoes are very grippy and they feature 4mm lugged sole, which provides excellent traction when you're running uphill, downhill, fast, or slow, in dry and wet conditions. When it comes to comfort, the Natural Motion design lets your feet bend, flex, and move easily.
The soles used in these shoes are FeelTrue soles that give you enough protection while still giving the ground feedback your brain needs for efficient, natural movement. The shoes are also very lightweight and travel-friendly. They weigh around 9.8 ounces (each) for men size 9 and 8.4 ounces (each) for women size 7.
The sole is 2mm and it is removable. The shoes are also barefoot friendly so you can wear them with or without socks. If you want some more barefoot feeling, you can also remove the optional 2mm insole. Like all their FeelTrue soles, the TerraFlex is also backed by their 5,000-mile sole warranty.
Pros: Lightweight, can be used for both trail running and hiking
Cons: Bulky laces, less cushioned
View Men's at Amazon View Women's at Amazon
10. Salomon Sense Ride 3

Category: Easy trails/all-around
Weight (Pair): 1 lb. 0.6 oz.
Cushioning: Moderate
Drop: 8mm
This shoe delivers elite-level running performance at a price that won't break the bank. It borrows design features and tech from Salomon's elite S-Lab line but uses materials that allow it to be more reasonable on the wallet. This shoe isn't designed for any specific objective it's more of an all-around trail runner. A lot of folks might look at this and see a perfect everyday trainer. The upper is a flexible mesh with a welded synthetic overlay. You get plenty of structure around the middle of the foot to keep you in place and the toes have all open mesh to breathe and move around freely without restriction.
It has Salomon's EndoFit construction, which mimics a sock. It wraps around your foot and provides a nearly seamless fit. There are friction-free lace eyelets so durability is enhanced. The Quicklace system also makes the shoe much easier to put on and take off so you don't have to waste any time. Just tuck away the excess lacing right in the lacing pocket in the tongue. You can see just by looking at the shoe that it's got tons of cushioning. The compressed EVA midsole gives you plenty of comfort and cushion and there's also a dampening compound in the midsole as well. The combination of these protects the feet well after a full day of rock hopping.
On the outside, you get a Contagrip rubber outsole. This sole provides a great balance of grip and stability on variable terrain. Wet, dry, rocky or groomed trails, the grip is just enough without being overly clunky and route to the trailhead. If you like to warm up on pavement before hitting the dirt, these can suffice for that as well. The lugs are multi-directional so you get good braking power and acceleration without being too slippery.
Pros: The mesh upper and sock-like liner provide excellent comfort.
Cons: Single-pull Quicklace system might take some time to get used to.
View Men's at Amazon View Women's at REI
11. La Sportiva Bushido II

Category: Rugged trails
Weight (Pair): 1 lb. 5 oz.
Cushioning: Light/moderate
Drop: 6mm
This is a fully-featured lightweight trail shoe that is great for someone who is running with more of a minimal mindset. It's not a minimal shoe by any means but La Sportiva has put some features on this trail shoe that makes it very stable and lightweight.
The most interesting feature about this shoe is a TPU frame that starts on the upper part of the shoe and connects to the midsole seamlessly and wraps around the bottom of the shoe and the other sides. That gives a lot of stability in the shoe and just makes a dialed-in fit. The rest of the upper is lightweight mesh and they have put some overlays in key areas where you need a little more durability.
There's a nice rubber toe cap on the front to protect against rocks and that sort of thing. You also get a nicely padded tongue so if you cinch down laces, it will be comfortable against your foot. The shoe has sort of an asymmetrical design on the lace so it will fit your foot anatomically and you can dial in the fit.
The outsole of the shoe has very aggressively lugs. They come up the round and they come up into even the midsole of the shoe. So, against mud and loose gravel, you will have a lot of traction. At the bottom, there's La Sportiva Impact Brake System. It's going to give you a lot of traction on ascending and descending.
Pros: Excellent balance of weight and stability, awesome traction
Cons: Stiff for easy trails
View Men's at REI View Women's at REI
View Men's at Amazon View Women's at Amazon
12. Altra Lone Peak 4.5

Category: All-around
Weight (Pair): 1 lb. 5 oz.
Cushioning: Moderate/maximum
Drop: 0mm
Lone Peak is a go-to option for short daily trail runners to ultralight backpackers. It's a great balance of cushioning and traction. The shoe has a couple of design features that are consistent throughout the Altra line. It's important to know that Altra shoes use a zero-drop platform, which means that the height of the heel and the forefoot are the same.
Most running shoes have a higher heel than the forefoot but Altra feels strongly that Zero Drop allows your foot to function exactly as it's designed. If you have never worn low drop shoes, you may want to ease in mileage until you get used to it.
The FootShape toe box is flared so your big toe isn't pinched and your other toes have room to spread out. The upper of the shoe is quick-drying breathable mesh and the overlays increase durability in high wear areas. The integrated tongue is designed to keep debris out of the shoe and cushion the top of your foot. If you have trail gaiters, they'll pair perfectly with the shoes, thanks to the integrated gaiter trap attachment system.
The shoe's EVA midsole delivers moderate cushioning that is a big step up from minimalist shoes but it isn't as bulky as some more highly cushioned options. An internal StoneGuard is shaped to mirror the structure of your foot and take some of the pain out of running on rocky or root covered trails. A TrailClaw outsole uses a tacky rubber and a lug pattern that provides confident traction on a wide variety of surfaces.
Pros: Comfortable, roomy fit in the toe box, drains water well, sensitive and responsive
Cons: Not the grippiest rubber outsole
View Men's at REI View Women's at REI
View Men's at Amazon View Women's at Amazon
13. La Sportiva Ultra Raptor

Category: Off-trail
Weight (Pair): 1 lb. 8 oz.
Cushioning: Moderate
Drop: 8mm
La Sportiva Ultra Raptor can be used in a variety of activities from going bouldering, to hiking. While these trail runners are a little bit heavy for long-distances, they provide some of the best protective aspects of any shoe. They provide ample protection with elements such as a full rock guard and adequate cushioning. If you're in looking for a protective yet comfortable pair with fantastic traction, stability, and support, Ultra Raptor can be a good option.
Ultra Raptor is loaded with a lot of features including a full-length stone guard, ample cushioning, a super durable toe cap and ultra-protective upper. It provides protection on all sorts of terrain. The thick cushioning provides not only comfort but also protection from trail hazards. The full-length stone guard protects against sharp rocks and roots. It even distributes the force evenly throughout the shoe.
The upper of the shoe is ultra-breathable AirMesh. It protects you from fine sandy particulates and other pesky debris. There's an interlaced synthetic material inside that mesh, which helps in wicking moisture away. This feature makes these shoes a good option for warm summer days.
The outsole is aggressive and it sticks to most surfaces except super smooth slippery rocks. With these shoes, you'll be able to maintain traction without slipping or sliding around. There're multidirectional, tri-tipped and long lugs that allow you to run up and down steep, loose terrain without slipping forwards or backward. Also, the shoe has a wide forefoot that allows for better balance when stepping over rocks or roots.
Pros: Breathable, comfortable, durable, super protective, stable
Cons: Absorbs water, heavy
View Men's at REI View Women's at REI
View Men's at Amazon View Women's at Amazon
Best Budget Trail Running Shoes: Comparison Table
How to Choose a Budget Pair of Trail Runners?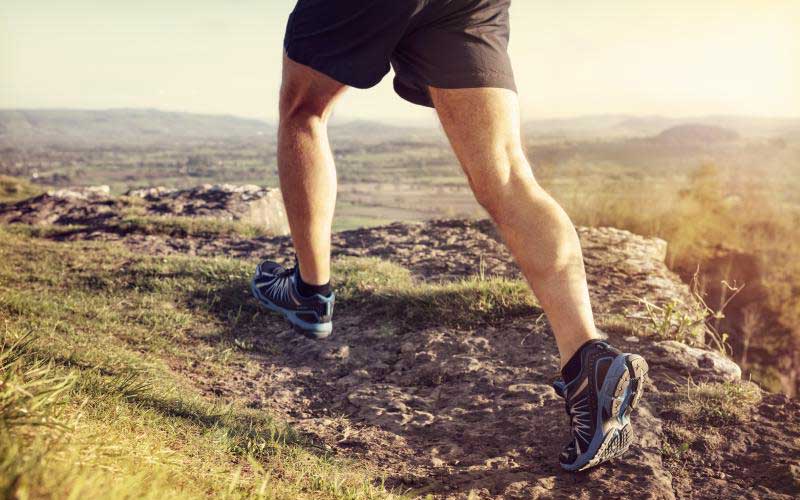 In the section below, I am going to talk to you about how to get the right pair of trail running shoes. The most important thing to remember is there's no perfect do-it-all option. We all run in different ways and we all want shoes for different things. So these are some of the technical parts of buying trail runners.
Traction
Let's say you are the kind of person who lives in a city and you go out into the forest and you want to run on the trails in the forest. You don't need something which is going to give you loads of traction. Instead, you want something which is a good mix between running on hard surfaces and running on spongy soft surfaces in the forest. You don't need deep lugs to give you traction. You just want a nice flat sole just like you'd get with the ASICS Gel-Venture 7. This is perfect for people who are living in the city and do a little bit of trail running but spend most of their time running on the road.
If you are somebody who's doing technical runs, something like the Speedcross 4 would be a good choice for you. It's got good traction and it's great for soft ground. It's not so good on hard stuff but it's nice and soft so you get a feeling of running but it doesn't give you great support.
Support and Protection
If you do long-distance runs, Speedcross 4 is not going to be the best shoe for you because your arch is going to collapse. It's going to give you pain but for technical running, it's a good option. If you're an experienced runner and have worn through a couple of pairs of shoes, you want something which is going to push you forward and something that you can run mid to long distances comfortably. It'd give you support without holding you back. Something like the La Sportiva Bushido II would be a good choice. This is a nice and light shoe and it gives you good traction but also nice protection underneath the forefoot. When you're running on your toe for a long time, it's going to feel nice and comfortable.
If you're the kind of person who wants to do a really long-distance run or you get tired quite quickly or you need a shoe which is just got good protection because you end up doing lots of trail running on rough terrain. You want something with good protection and good support. A shoe something like Salomon Wings Pro is going to give you support underneath the arch. The foam here is a lot harder, which provides cushioning and support, and also the frame of the shoe is nice and supportive. It holds your foot in a good position and when you get a little bit more tired, you need that support and control to be able to maintain a good running style without being too tired and feeling that your ankles are going to roll over.
Heel-to-Toe Drop
The drop height or differential is a difference in height between the heel and the forefoot. A shoe with a larger drop height will tilt your foot further forward. These types of shoes are great for those looking to progress into high performance running as it forces you to land in the middle or front of your foot. As you progress, you'll want to lower drop height. This is easier to run downhill in the middle of your foot without feeling like you're being pushed forward. The highest performance shoes for pros have no drop height at all letting you move faster.
Motion Control
Motion control refers to the support and control that the shoe will provide for your arch. A neutral position is preferred where your lower leg is in a stable straight line. This will reduce stress on your joints and give you a more stable feeling. Pronation where the arch collapses inwards and supination where the foot rolls outwards giving an unstable feel will cause problems in your knee and hips. These problems need addressing through motion control. If you think you have either of these problems I recommend seeing a podiatrist to get more specialized advice especially if you're planning to undertake longer distances.
Heavier Runners
The body acts as a natural shock absorber for running. But if you're heavier than 175 pounds then it's worth going for a shoe that will provide extra cushioning. This will reduce the impact on your knees and hips.
Sizing
If your shoes are too small your toes will hit the end when you run downhill. If you're buying technical running shoes I recommend going one size larger. There are always new technologies appearing. Some shoes have different lacing systems, toe designs, and everything. Don't get too confused with these different technologies because they're constantly evolving. Look at the most important thing like support, drop height, or cushioning. If you're doing more technical running should give you enough grip.
Conclusion
Choosing the right pair of shoes for trail running is not as hard as it seems. Learn the pros and cons of different types of shoes and narrow down your selection by understanding your requirements. You can compare these shoes to get more information. Make sure you check out the recommendation and pros and cons of each shoe. A good pair of shoes provides support, protection, is durable enough, and feels comfortable.