If you are going hiking, backpacking or camping, and are planning to spend the night in your tent, then investing in a good-quality sleeping pad is necessary. This is because after hiking, your body becomes exhausted and it is essential to get some rest.
The cheapest and lightest pads are closed-cell foam pads. These pads are durable and can double as a quick seat during a brief rest on the trail or during a meal.
The alternative is an inflatable pad. Many backpackers find these to be a little more "deluxe" than a closed-cell foam pad, providing a more comfortable sleeping surface. These can be heavier, however, and you must stay aware of your surroundings to avoid a puncture in the pad.
However, if you don't have a good sleeping pad, you're going to wake up tired and won't be able to enjoy your backpacking trip. Investing in a good one, on the other hand, will help you sleep comfortably by providing proper cushioning and insulation. If you are looking to buy one, then read on this article to choose the one which fits your needs and budget most perfectly.
So here is a list of best lightweight sleeping pads for backpacking that will help you sleep comfortably.
1. Therm-a-Rest NeoAir XLite

Material: 30D rip HT Nylon
Type: Air Pad
Shape: Mummy
Dimensions: 72 x 20 x 2.5 in
R-Value: 3.2
Weight: 12 oz
Recommended Use: Ultralight backpacking, camping
This ultralight and inflatable air mattress is perfect for backpacking and mountaineering expeditions and offers maximum comfort and warmth in all seasons. It comes with the reflective ThermaCapture technology, which as the name suggests, traps radiant heat within the mat to provide warmth, while its Triangular Core Matrix prevents the loss of heat when a person is sleeping on it.
This pad is perfect for sleeping outdoors in spring, summer and fall seasons as well because it has an R-value of 3.2 – which measures how much insulation the pad can provide.
It inflates just by blowing into the valve and the job is done effortlessly within minutes. It's extremely lightweight and makes a perfect travel companion. The pad also doesn't add bulk because of its tapered design and materials. The pad comes in three sizes in accordance with your height, and you will also get a repair kit and stuff sack with it.
Customers who bought this sleeping pad found it very comfortable and warm to sleep on, and recommend others to buy it too.
Pros: Lightweight and durable. We'd also recommend this to anyone who wants a lightweight inflatable sleeping pad.
Cons: Makes a bit of noise because of the reflective layers within.
See the Therm-a-Rest NeoAir XLite
2. Klymit Static V2

Material: 30D, 70D
Type: Air Pad
Shape: Rectangular
Dimensions: 72 x 23 x 2.5 in
R-Value: 1.3
Weight: 1 lb
Recommended Use: Backpacking, camping
Klymit is a trusted name in sleeping pad manufacturing and most of its products are made with advanced technology. The Static V2 sleeping pad is an excellent product for you if you are looking for a pad which is versatile and can be used on all surfaces like the ground, cot or even hammocks!
On the Static V2, you've got V-shaped chambers that run the center of this pad. It gives it a really unique and comfortable ergonomics. It also creates a bit of headrest at the top of the pad and these deep cut-aways help to save weight as well.
Available in stunning green color, this luxurious sleeping pad only weighs one pound and can be compactly stuffed in one's backpack, thus making it ideal for backpacking that you can lay your hands on. Like other Klymit sleeping pads, this one also comes with a V-chambered design that allows your body to stay in the right posture while you sleep, and allows you to comfortably move during your sleep.
If you purchase this one, you can say goodbye to a stiffened body in the morning that substandard sleeping pads often cause. The side rails keep your body secure in the center of the pad, and the deep-weld pattern of the pad allows for expansion zones that provide thermal comfort. Easy to inflate and deflate, this one has become very popular among customers because of its design and comparatively lower price.
Pros: Packs up small, easy to air up, durable, comfortable and affordable
Cons: The R-Value is a little low.
3. Big Agnes Air Core Ultra

Material: Ripstop Nylon, TPU laminate
Type: Air Pad
Shape: Rectangular
Dimensions: 72 x 20 x 3.5 in
R-Value: Rated as 15°F
Weight: 1 lb
Recommended Use: Backpacking, camping
The Big Agnes Air Core Ultra Sleeping Pad is extremely light and compact weather pad, ideal for backpacking and camping trips. It provides you with a smooth and stable surface to sleep on and will help you get a sound sleep after a tiring day.
This model is very easy to inflate and deflate which means when you are ready to sleep, it will only take a few breaths to inflate, and you would be able to sleep immediately. It's also sturdier and warmer as compared to its award-winning forerunner. Thanks to its advanced heat reflective mechanism.
Available in a beautiful gold color, this sleeping pad is available in 4 different sizes. Price varies according to the size, of course. This pad is also antimicrobial so you don't have to worry about microorganism growth inside the pad due to moist air. Those who purchased it found this pad extremely lightweight and found it easier to fold and pack.
Overall, this is a lightweight, low volume backpacking pad that will make you forget you're sleeping on the ground.
Pros: Lightweight, very compact, easy to inflate/deflate, easy to roll up and stuff back into its carrying bag.
Cons: This pad is not self-inflating and moving around on it is a bit noisy.
See the Big Agnes Air Core Ultra
4. Klymit Insulated Static V Luxe

Material: 70D Polyester
Type: Air Pad
Shape: Rectangular
Dimensions: 76 x 30 x 3 in
R-Value: 4.4
Weight: 2 lb 3 oz
Recommended Use: Camping, backpacking
Klymit is known for using the minimal amount of materials to give the maximum amount of comfort in the backcountry. Static V Luxe is the wider and more comfortable luxurious type of sleeping pad. It is going to be really comfortable and offers a lot of thermal efficiency throughout most seasons throughout the year. It has side rails that provide a secure sleep and keeps your body in the center of the mattress. The V-Chambered sleeping surface allows you to toss and turn freely without feeling confined. This body-mapping technology allows you to sleep on your back, your stomach, or your sides – whichever way you like. And the best part: it's wide. The pad provides a lot of warmth while you sleep on it – thanks to its lofted synthetic insulation which gives the optimal thermal performance.
Its twist-pull valve is simple to use and you only have to blow up to 10 breaths to inflate it. You can fold the pad over twice lengthwise and roll it up. The valve allows the air to exit so you don't get any bubbles trapped in sections that are cut off. It's compact and can be effortlessly rolled up into a small cubicle and can be tucked in your backpack without adding any weight. The pad comes with a patch kit in case you need to make emergency repairs.
Customers who bought this absolutely love its V-shaped design as it provides added comfort which other pads don't.
Pros: Extra wide. Great for people who tend to move about more at night. There's less of a chance of you rolling off.
Cons: Could take a while to inflate if you blow it up.
See the Klymit Insulated Static V Luxe
5. Sea to Summit Comfort Light

Material: 40D Ripstop Nylon, Exkin Platinum, Thermolite
Type: Air Pad
Shape: Mummy
Dimensions: 72 x 21.5 x 2.5 in
R-Value: 4.2
Weight: 1 lb 6 oz
Recommended Use: Backpacking, weekend camping
Sea to Summit Comfort Light is great for any backpacker and camper looking for comfort and convenience. Sea to Summit sleeping pads are some of the most unique pads on the market these days. Instead of using some of the traditional baffle systems, these pads use a really neat air sprung cell technology.
The matrix of dot-welds seen on the mat form the revolutionary air sprung cells that work like individual coils to make the mattress bouncy, thus distributing your weight evenly on the mattress, and contouring your body perfectly. It's like you're sleeping on your soft master bed. You can easily inflate and deflate it – and if you're blowing air with our mouth, you can easily do it with 10-12 full breaths, and deflate it within a few seconds.
This air pad is also very durable – thanks to its aeronautical-grade manufacturing technology. It's anti-mold, and even when you use your breath to inflate it, the moist air will not cause any mold because of its anti-microbial TPU that remains bonded to the shell fabric permanently.
Customers who buy it love the product because it's extremely lightweight and easily packs down to a very small size that doesn't take a lot of space in a backpack.
Pros: Very comfortable, provides great hip support, not very noisy compared to other pads.
Cons: Could have more cushion, slick surface, expensive
See the Sea to Summit Comfort Light
6. ALPS Mountaineering Lightweight Series Air Pad

Material: Ripstop top fabric, polyester taffeta bottom fabric
Type: Self-inflating
Shape: Rectangular
Dimensions: 72 x 20 x 1.5 in
R-Value: 4.0
Weight: 2 lb 4 oz
Recommended Use: Backpacking, weekend camping
ALPS Mountaineering is a renowned name in outdoor gear manufacturing and has been around for 25 years. Their products are famous for being performance driven and high in quality. The ALPS Mountaineering Lightweight Series Air Pad is a self-inflating pad which is extremely lightweight and sturdy. You can quickly and effortlessly inflate and deflate it with its jet stream foam and roll it up to fit in your backpack without adding bulk or weight.
The top fabric is tough made up of abrasion-resistant Polyester ripstop fabric which makes it very comfortable to sleep on, while the inner air pad keeps your body warm at night. It comes with a free-of-cost stuff sack, repair kit, and compression straps, which earns this air pad extra points. It comes in five different sizes in accordance with your height, and prices vary accordingly.
What makes ALPS Mountaineering products stand out is that they come with a limited lifetime warranty, which shows that they are committed to making their products better and take customer services very seriously.
Pros: It's lightweight and attaches easily to the outside of a backpack.
Cons: Slow to inflate and doesn't inflate completely without blowing into the mat. It's also very thin.
See the ALPS Mountaineering Lightweight Series Self-Inflating Air Pad
7. Therm-a-Rest ProLite Plus

Material: 50D polyester
Type: Self-inflating
Shape: Mummy
Dimensions: 72 x 20 x 1.5 in
R-Value: 3.4
Weight: 1 lb 7 oz
Recommended Use: Backpacking, mountaineering, weekend camping, winter camping
This is a lightweight and warm self-inflating pad that offers a lot of comfort and convenience for colder weather adventures ski touring or just all-around backpacking. The pad especially comes in handy during winter because it provides extra warmth and keeps helps you sleep comfortably throughout the night. You wake up fresh and warm, thanks to its diagonal cut foam which offers more warmth as compared to the traditional vertical-cut form found in other sleeping pads.
Although it is especially good for winter, its 3.4 R-value makes it ideal to be used throughout the year. It is self-inflating and if you like to sleep on a firmer pad, it would just take a few more breaths into the valve. It is available in three sizes, has a limited lifetime warranty, and is accompanied with a stuff sack and an emergency repair kit.
Customers who bought it gave it five stars because of its thickness which allows a person to sleep on their sides without having to feel any pain. Also, people found it extremely lightweight and durable, thus, perfect for backpacking.
Pros: Good balance of warmth, convenience, cushion, weight, and packability. Also works great with hammocks.
Cons: The folding up isn't great, it's hard to get all the air out but doable after a couple tries.
See the Therm-a-Rest Prolite Plus
8. NEMO Astro Insulated Lite

Material: 20D PU Polyester Ripstop
Type: Self-inflating
Shape: Rectangular
Dimensions: 72 x 20 x 3.5 in
R-Value: Rated as 15-25°F
Weight: 1 lb 3 oz
Recommended Use: Backpacking, camping
With a pack size so small and weight so light and a comfort level so supreme it is hard not to love the NEMO Astro insulated light sleeping pad. The pad comes with stellar support provided by its lateral baffles that do not allow the pad from curling under the person's body weight. In terms of the comfort provided by this pad, it has an oversized pillow baffle towards the end to give you extra loft which prevents your pillow from sliding away from the pad while you are asleep.
It is ultralight and doesn't add bulk when folded, and it serves as the perfect companion when you are camping in the mountains on colder nights. Thanks to its PrimaLoft insulation that helps to keep your body warm throughout the night and allows you to wake up fresh and energized. It has a rugged ripstop top to provide extra durability even when used on rougher, mountainous surfaces or forest floors.
Customers love it because it is very compact and hardly takes up any space in their backpacks, and of course, because it's really sturdy and provides a good value for money.
Pros: Excellent comfort, sturdy construction, easy valve mechanism, very quiet, packs well
Cons: The surface is a bit slippery.
See the NEMO Astro Insulated Lite
9. Exped SynMat UL

Material: Polyester, Texpedloft microfiber
Type: Air Pad
Shape: Rectangular
Dimensions: 72 x 20.5 x 2.8 in
R-Value: 3.30
Weight: 1 lb 0.8 oz
Recommended Use: Backpacking
The Exped SynMat UL sleeping pad is available in a beautiful orange color, and although it belongs to the slightly pricier end of the spectrum, it's an amazing sleeping pad. With an R-value of 3.3, it keeps the body warm during winter months. This pad is extremely comfortable and comes with an anti-slip, grip-skin coating in a honeycomb pattern. It has a tight laminate which is hydrolysis resistant.
The pad is very thick and comfortable. You can use your pad in several environments from car camping to week-long backpacking trips and this pad is great everywhere. Roots and rocks do not seem to exist when you are on your Exped. Cold granite and wet ground will not seep through during the night.
The pad is very easy to inflate (takes about 10 breaths) and deflate, with inflate/deflate dual valve system. It is also incredibly easy to inflate to a high pressure even sleeping on a slight incline. Furthermore, it takes about 2 seconds to deflate completely and fits easily in the stuff sack even rolling it up loosely. In the end, it takes up between 1/2 to 3/4 L worth of space.
It also comes with a flat-valve technology which makes it durable an ideal choice for fans of sturdy outdoor products.
Pros: Very comfortable and lightweight, easy to inflate using the Exped air pump pillow
Cons: The intense heat can melt the glue of the baffles and can destroy the pad.
10. Therm-a-Rest NeoAir Venture

Material: 75D polyester
Type: Air Pad
Shape: Rectangular
Dimensions: 72 x 20 x 2 in
R-Value: 1.8
Weight: 1 lb 5 oz
Recommended Use: Backpacking, camping
The Therm-a-Rest NeoAir Venture Lightweight Camping Air Mattress is not only a more economical than a lot of other air pads but this one keeps your body warm through its wave core design that provides double the warmth as compared to mattresses which are uninsulated.
This mattress has a compact design and can be tucked into a backpack effortlessly without having bulk. It's very comfortable and guarantees to provide you with a good night's sleep.
This pad offers protection from the ground e.g. damp, cold, uneven surface. Very easy to set up—you just unroll it, blow for about 10 full breaths and you have an air mattress in the wilderness.
This pad, however, is not suitable for winter months as its R-value is only 1.8, which makes it perfect for summer camping expeditions. People who purchased it love it for its lightweight body and compactness, which makes it easy to carry around.
Pros: It's very durable since it's made by Therm-a-Rest, materials are top notch.
Cons: It has a low R-value, so it's not made for the freezing temperatures.
See the Therm-a-Rest NeoAir Venture
Best Lightweight Sleeping Pads: Comparison Table
Tips to Purchase the Best Lightweight Sleeping Pad
While all the listed sleeping pads in this article are best in their own right, there are a few suggestions to keep in mind when purchasing a sleeping pad.
Type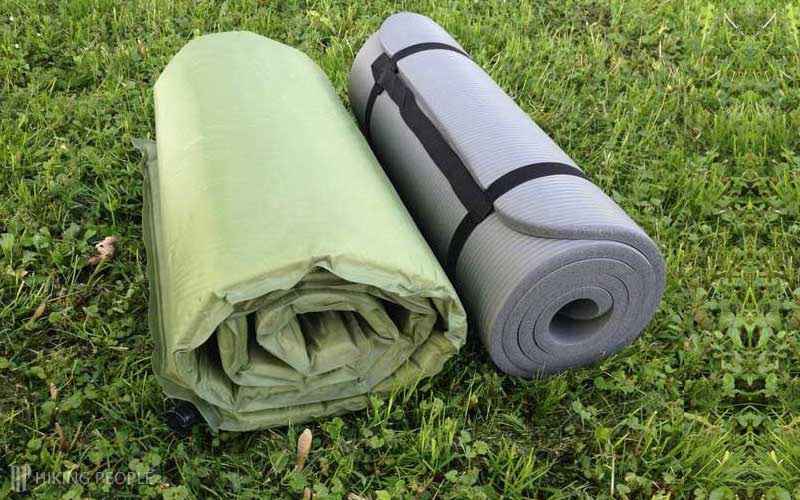 Before purchasing any sleeping pads, make sure which type are you looking for. Types include air pads, self-inflating pads, and foam pads. Each one has a different function, so make sure to decide which one will work best for you.
The durability of a Best Lightweight Sleeping Pad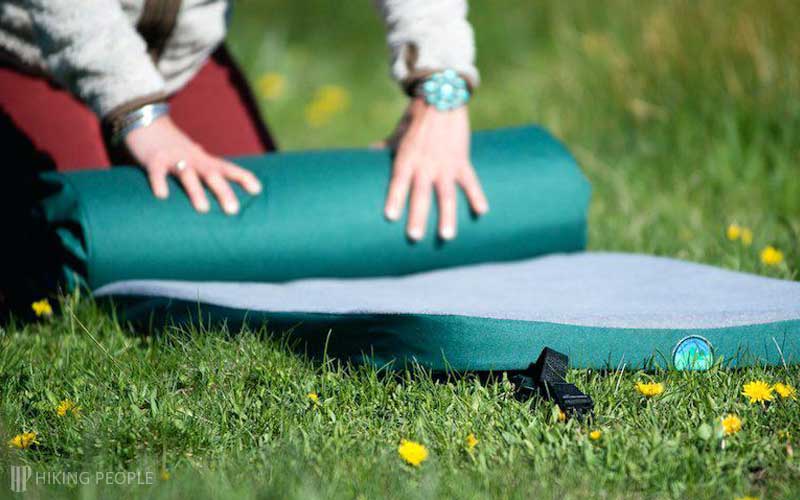 If you are hiking or camping frequently, look for the sleeping pad that can provide you with maximum durability. So that it will last longer and you don't have to purchase it again and again.
Insulation and R-value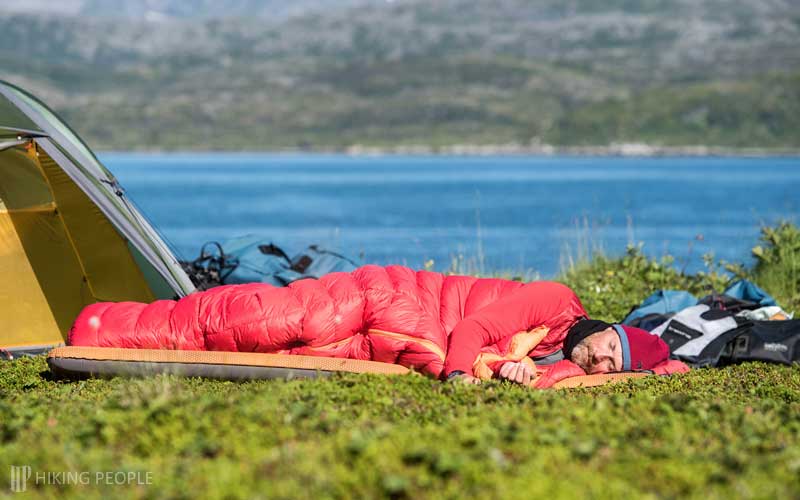 If you are looking for a sleeping pad which will keep your body warmer through greater insulation, then check the R-value of the sleeping pad. Anything more than 3 is an average R-value, and the higher it goes, the more insulated it is.
Length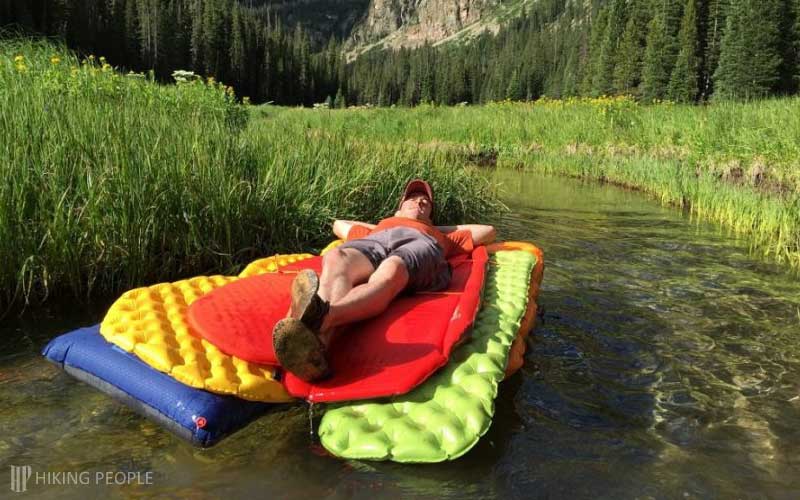 Whether you are tall or short, always check if the pad is available in accordance with your height. If you are too tall, you wouldn't want to end up sleeping on a pad which is shorter than your body length. So look for the pad that is long enough in length.
Design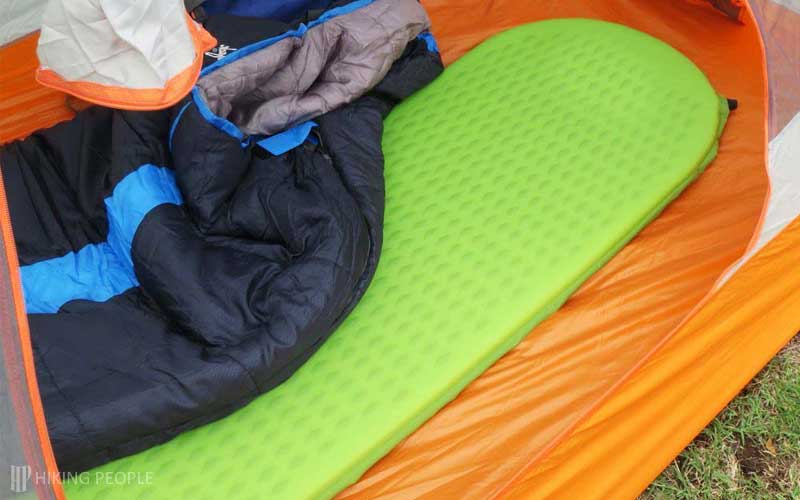 If you want to buy a sleeping pad that can provide you the best posture, is anti-slip, and can allow you to sleep in any position – whether on your back, stomach, or sides, then choose a pad that can adapt to the contours of your body.