We use affiliate links and may receive a small commission on purchases.
Learn more
If you're familiar with wilderness hiking, you will know that there are no picnic tables, and nature rarely has a flat place to sit let alone be comfortable on. A hammock is a fantastic luxury that gives you a chance to get off your weary feet and read a book with the great wilderness around you.
A camping hammock is not like the big hammocks you might see by a pool, but they operate on the same principle. You still need two trees to set one up, but these hammocks look a little like a tent you've suspended in the trees. They include bug netting and a tarp overhead to keep the weather out. Though they require a little bit of trial and error figuring out how to sleep in them (you're supposed to sleep diagonally so your body doesn't fold on itself), they can be more comfortable than sleeping on a thin pad.
So here is the list of best budget camping hammocks. Consider them for your next adventure trip.
1. Grand Trunk Skeeter Beeter Pro

Material: 70D Parachute nylon
Capacity: 1-person
Weight Limit: 400 lb
Dimensions: 10.5 x 5 ft
Claimed Weight: 2 lb 3 oz
The Skeeter Beater is made of 100% parachute nylon. It has the cool feature of the no-see-um mosquito netting built into the hammock. With the stuff sack, the Skeeter Beater weighs in at 35 ounces. The hammock comes with a suspension rope and shock cord for the mosquito net. Grand Trunk also includes two nautical grade carabiners. The cord that comes with the hammock is too small. You can hand the hammock with Atlas Suspension System straps, which are easy to use especially if you are hanging your hammock from a large diameter tree.
The mosquito net seems to be very durable and fine. Something is going to have to be just about microscopic to be able to penetrate this netting. The parachute nylon, stitching, and zippers are very high quality. The hammock is rated for 400 pounds load capacity. The lay is comfortable and the hammock is quite wide. You can give yourself a diagonal lay in this. When you are finished laying in the hammock, you simply stuff the hammock back into the attached stuff sack and the hammock never has to touch the ground. That's a great feature.
Pros: Large and comfortable, bug netting included
Cons: Trunk straps cost extra.
See the Grand Trunk Skeeter Beeter Pro
2. ENO DoubleNest

Material: 70-denier High Tenacity Nylon Taffeta
Capacity: 1-person, 2-person
Weight Limit: 400 lb
Dimensions: 9.3 x 6.2 ft
Claimed Weight: 1 lb 3 oz
ENO DoubleNest is a durable, versatile and compact hammock made for one or two people. It has a lightweight design making it perfect for hiking, camping or just setting up and swinging in the backyard! Once installed, you can set it up in about 10 seconds. Note that you have to buy the straps for suspension separately (We recommend Atlas Suspension System and that works great.) The roomy design made of nylon taffeta fabric accommodates up to 400 lb, so you can relax with a buddy or just hog the whole thing for yourself.
ENO DoubleNest may be intended for two persons with its 400 lb weight limit, but also it's ideal if you're a big guy – plenty of room and no worries about reaching that weight limit.
This lightweight gathered-end hammock tucks into an integrated stuff sack the size of a grapefruit and weigh just over a pound, so you can keep it in your backpack— ready to hang wherever you are.
People who bought this hammock admitted that it is a very reliable and long-lasting camping gear.
Pros: ENO offers a lot of accessories that are compatible with this hammock, including bug netting and a rain tarp.
Cons: Hanging or mounting straps sold separately.
See the ENO DoubleNest See the ENO SingleNest
3. ENO SuperSub

Material: Ripstop nylon taffeta
Capacity: 1-person
Weight Limit: 300 lb
Dimensions: 9.3 x 6.2 ft
Claimed Weight: 10 oz
Eagles Nest Outfitters SuperSub hammock is a super light hammock designed with the same width and dimensions as its popular DoubleNest. At less than 10 ounces, it's ready to be the focal point of your camping or backpacking kit. The SuperSub holds an impressive 300 pounds despite its lightweight it uses 30D ripstop nylon in its construction which means that if a rip or tear begins, thicker threads will catch it before it gets any bigger. At 9.8 ounces, this hammock is light enough to be considered for thru-hiking or fast-packing as a part of a shelter system.
The toggle at either end is specifically designed to be used with the Helios Suspension System, which is sold separately. The lines that are attached are made of a super-strong material called Dyneema, which has a strength rating similar to steel. The cut of the SuperSub is wide to accommodate the different ways you might try to sleep in a hammock. Try sleeping diagonally for instance this will flatten out the bottom of the hammock and will be easier on your back. If you're taking your first steps into hammock camping or trying to lighten your existing setup, this is a great option.
Pros: Easy to put up, lightweight, packs down small
Cons: Quite thin and can get cold easily.
4. Grand Trunk Double Parachute

Material: Parachute Nylon
Capacity: 1-person & 2-person
Weight Limit: 400 lb
Dimensions: 10.5 x 5 ft
Claimed Weight: 1 lb 4 oz
Grand Trunk Parachute allows you to stay in any locality and to enjoy rest and peace. The reliable mounting system gives you a complete guarantee of safety and reliability; you can safely take a NAP without fear of falling. This hammock is easy to pack and does not require special conditions of storage.
The Grand Trunk Parachute is made of a sturdy rip-stop nylon parachute material. It weighs in at only 20 oz, very respectable for a good backpacking hammock. It fits very nicely into the stuff sack, which is integrated into the hammock material, making it pretty difficult to lose. Two aluminum carabiners are included and are already attached to the tie cords.
The hammock consists of a wide canvas of parachute silk, which with its lightness remains durable and wear-resistant. This material is not afraid of moisture, quickly dries, the paint does not fade in the sun and the hammock does not deteriorate from regular use. The reliable integrated fastening system and rings let you secure the entire structure. Also on the side of the hammock, you will find a removable pocket where you can store all sorts of stuff you need. Complete with a hanging hammock, you will find instructions for the correct fastening of the hammock. With the right fasteners so the hammock can be placed easily.
Pros: The material is super breathable. The hammock is compact enough to hang from a backpack while walking
Cons: Grand Trunk Double is too long for any rain fly. If you plan on going camping anywhere it rains then go for the Grand Trunk Single.
See the Grand Trunk Double Parachute See the Grand Trunk Single Parachute
5. ENO Sub6

Material: 30D Ripstop Nylon
Capacity: 1-person
Weight Limit: 300 lb
Dimensions: 9 x 4 ft
Claimed Weight: 5.8 oz
As the name suggests, this is a cheap hammock that weighs less than 6 ounces. Don't let its weight fool you. This hammock is strong enough to hold 300 pounds of weight when paired with ENO straps. Specifically, the Helios Straps, which are sold separately. These straps are designed to work with the Sub6 hammock.
The unique toggle system saves weight by integrating with the Helios Straps or traditional ENO straps that use a carabiner. The strength comes from 30D ripstop nylon, which makes up the body of the hammock. It resists tears but if one were to develop it will catch on the thicker strand to help prevent it from growing. The Sub6 uses Dyneema Fiber Line to attach to the straps. Dyneema is a material that is flexible but its tensile strength is comparable to steel.
You can complete your hammock system with the straps, a bug net, rain protection, and a variety of other accessories all available from Eagles Nest Outfitters. If you want to lighten your pack but still lounging comfort and style, try the Eagles Nest Outfitters Sub6.
Pros: Super lightweight, strong and easy to setup
Cons: A little narrow, not suitable for multiple nights.
6. Lawson Blue Ridge

Material: Ripstop Nylon
Capacity: 1-person
Weight Limit: 275 lb
Dimensions: 7.5 x 3.75 ft
Claimed Weight: 4 lb 4 oz
Blue Ridge, a Hybrid Tent-Hammock, is made up of ripstop-nylon and poly pack cloth. The hammock is equipped with 'No-see-um net canopy' that keeps bugs out. Waterproof nylon border on the canopy protects against water blowing up under rainfly, so no need for additional trees for tying off a tarp or staking. Blue Ridge has a raised interior with a pair of aluminum arches that create the frame, the double grid will save you from insects, and the panel will provide insulation during inclement weather.
Blue Ridge is not really a lightweight hammock as it comes with a bug net, rainfly, shock cord poles, spreader bars, and heavy gauge rope. Each spreader bar is nearly a pound, but you can upgrade to some carbon fiber bars. Regardless, that weight may be heavy for a hammock but is very light for a tent and compared to all the other junk we carry.
You can also use it as a mini tent on the ground if there are no trees though there will be much less interior space.
The pretty solid little package and cheap compared to some of the high-end hammocks.
Pros: The big inside pockets made a great drink holder and the spreader bars make it very wide and roomy.
Cons: Some people found it too big and heavy.
7. Grand Trunk Ultralight

Material: Polyester Taffeta
Capacity: 1-person
Weight Limit: 200 lb
Dimensions: 9.5 x 3.67 ft
Claimed Weight: 12 oz
If you want an inexpensive way to try hammock camping, Grand Trunk Ultralight is the best option for you. The hammock is simple, which offers exactly what you need for enjoying summer evenings. It is extremely lightweight and packs very small, like the size of a grapefruit.
It is equipped with mosquito nets against insects, which can be disconnected, the hammock is convenient to use in the sitting position and in a lying position. Additionally, it is large enough – so it will fit people up to 210 cm and weighing up to 200 lb (probably hard to find someone that it will not peel off). The hammock is designed to travel in the summer, so for winter will have to find another option. It's a simple but reliable and best camping hammock.
It is a lightweight hammock so care is needed when laying in it due to the thin nylon fabric. You can't abuse this one like a rope hammock. The key to these hammocks is laying off-center then you lie flat which feels great.
Pros: If you're scared of the price of some of the other hammocks, this may be a good place to start.
Cons: Roomy for a single person but not a double person hammock.
See the Grand Trunk Ultralight
8. Kammok Roo Double

Material: Gravitas Ripstop Nylon, DWR
Capacity: 2-person
Weight Limit: 500 lb
Dimensions: 10 x 7.6 ft
Claimed Weight: 1 lb 6 oz
Kammok Roo is specially designed for hammock camping. It is made with diamond ripstop fabric that doesn't itch or scratch. It is the highest performing camping hammock on the market and built with climbing-inspired, quality materials. First, it is very small in the collapsed form (to fit in an adult palm). Secondly, it is incredibly lightweight 10.2 oz. Thirdly, it has many use cases, starting from chairs and ending with Brazilian hanging bed. Fourth, you can hang the hammock very quickly in almost any condition.
The Roo comes in its stuff sack that is very small and light. The compression on the side is a great idea to get the hammock as small as possible. Pulling it out of the stuff sack you see the Roo is set up with a set of strong aluminum wiregate carabiners. The biners are dense and provide confidence that they are going to last.
Roo is made up of material that is very comfortable and tough at the same time. It's extremely roomy for one, to where you could lay diagonal and surprisingly very comfy for two.
Overall the hammock is definitely worth the price and a great buy if you're in the market for one. It's a bit more pricey but worth every extra dollar. It's extremely comfy, a breeze to set up, and screams quality.
Pros: Durable and holds more weight 400 – 500 lb. The military-grade aluminum carabiners don't rust.
Cons: It's sometimes hard to place back into the little bag, and when you do, it's oddly shaped and bulky.
See the Kammok Roo Double See the Kammok Roo Single
9. Grand Trunk Single Nano 7

Material: Ripstop Nylon
Capacity: 1-person
Weight Limit: 300 lb
Dimensions: 9 x 4 ft
Claimed Weight: 7.3 oz
Grand Trunk Single Nano 7 is a great minimal camping hammock. It's is lightweight and packs down very nicely into its attached pouch, it also comes with quality carabiners for attachment points.
Nano 7 is a great choice if you want to camp light and fast. It comes with a couple of great biners that should promptly be replaced with Amsteel loops. Pick up some whoopie slings and some tree savers – find the lightweight ones – and you could be rolling at under 10 oz.
The lightweight and packable Grand Trunk Nano 7 is a strong choice to consider. It's unquestionably a specialty loft with little measurements and thin texture, yet at a sparse 7.3 ounces and about the span of a baseball – including the light wiregate carabiners – this item is an extraordinary friend on hiking trips or for squishing into lightweight baggage when space and weight are at a premium. While lightweight apparatus regularly comes at the cost of strength, we feel this item performs honorably under differing conditions, from outdoors close to boondocks lakes at 10,000 feet to a speedy parlor in the terrace.
Pros: Lightweight….and I MEAN IT! This is the definition of 'Ultralight!'
Cons: The material is thin and may not be suitable for cold weather.
See the Grand Trunk Single Nano 7
10. Wise Owl Outfitters Hammock

Material: 210T Nylon
Capacity: 2-person
Weight Limit: 400 lb
Dimensions: 10 x 6.5 ft
Claimed Weight: 1 lb 10 oz
If you are looking for an affordable best camping hammock for camping, hiking, backpacking, picnics, or just relaxing at home; you can't do better than Wise Owl Outfitters. It's a lightweight, strong and comfortable hammock that you can rely on. This hammock comes with carabiners attached to each end and two 8 ft ropes to hang it up. Don't forget to get the Wise Owl Outfitters Talon Hammock Straps. They make setup/takedown a breeze and have the "leave no trace" philosophy.
The hammock is fairly easy to hang and is incredibly comfortable to relax in. Find two trees, strap the hammock to them, and enjoy your time. The takedown is just as easy, the stuff sack is included and is attached to the center of the hammock which makes it easy for take-down and stow-away, plus you'll never lose it.
The material is good and holds a lot of weight. It's also very breathable if there's any sort of breeze at all you won't feel hot in it as the air moves easily through the material. Overall this is an awesome hammock.
Pros: Durable, easy to set up and affordable
Cons: Few instructions available on their website but they're contacted easily.
See the Wise Owl Outfitters Hammock
11. HEEKAME Double

Material: 210T Nylon
Capacity: 2-person
Weight Limit: 500 lb
Dimensions: 10 x 6.5 ft
Claimed Weight: 2 lb
HEEKAME Double is an extra-large size hammock that can easily fit two large adults comfortably who want to spend an hour or two swinging in the breeze. It's made of 210T nylon fabric and its strap design has a breaking strength of 500 lb, twice as strong as most competitors, or so they say. It packs down to extremely small size about the size of a volleyball and weighs about 2 lb.
The hammock is very large and spacious, about 10 feet tall and 6.5 feet wide. This makes it larger than most of the biggest name brands on the market. The fabric and stitching is high quality and strong. Easy to set up and repackage into the attached bag.
HEEKAME Double comes with two high-tensile strength carabiners, premium rope, and a stuff sack; everything you need to hang it between two trees. It's easy to set up in minutes even if you're alone.
If you're looking for an affordable and durable hammock, look no further.
Pros: Compact, easy to set up, and very comfortable.
Cons: Not exactly ideal for one person.
12. Legit Camping Double

Material: 210T Nylon
Capacity: 2-person
Weight Limit: 400 lb
Dimensions: 10 x 6.6 ft
Claimed Weight: 2 lb 1.6 oz
This is a great opportunity to relax after a long ski without departing from the surf spot. Just drag it in between the palm trees and enjoy the beautiful view, sipping a cool coconut drink. But seriously, the hammock is a really practical thing, indispensable during trips to nature, be it a one day picnic or long trip. Agree, it is always nice to take a NAP in the fresh air, slowly swaying in a hammock and listening to the sound of the leaves. And, you can fold it boring children, and high hang. Joke.
It's a lightweight parachute portable hammock with a maximum weight limit of 400 lb. Along with the hammock, you'll get steel carabiners, rope, and tree-friendly straps. All you need to immediately set it up. It's easy to install and easy to unhook to bring inside.
The hammock is made of great quality soft material with a little bit of flex for comfort.
The hammock is spacious and fits two people easily and for one it is especially roomy.
Overall the hammock is great. Price is better than others and the quality is on par or better than more expensive hammocks. If you're looking for a budget-friendly hammock, Legit Camping Double is a great option.
Pros: Easy to set up. Compact design when stored in the case. Including straps, rope and steel carabiners.
Cons: The straps included are bulky and, are and short for some situations. But you can also buy different style straps to use instead.
13. Winner Outfitters Double

Material: 210T Nylon
Capacity: 2-person
Weight Limit: 500 lb
Dimensions: 10 x 6.5 ft
Claimed Weight: 1 lb 6.4 oz
Double Camping hammock by Winner Outfitters is a lightweight, comfortable and durable hammock that supports up 500 lb weight. This hammock can easily fit two people, but just make sure you don't exceed the weight limit of 500 lb.
The hammock is very easy to set up and packs down small. No mess, no fuss! It is easy to get into and out of. The material feels thin, but it sure is strong. If mobility is an issue, then this hammock has solved that issue beautifully.
The hammock comes with ropes and carabiners and both seem like they hold up to their statement of quality.
We would recommend getting a double, even if you are looking just for one person hammock. This one feels much more comfortable. You will not be afraid to turn around when you sleep in this hammock.
Pros: The overall quality of hammock is good at a very affordable price. Other pros include; easy to set up and carrying case is built into the hammock.
Cons: The straps come with this hammock are small. You'll need another set of longer straps unless the two trees that you are looking to hang the hammock upon are very close together and have very small trunks.
See the Winner Outfitters Double
Best Budget Camping Hammocks: Comparison Table
Tips To Purchase The Best Budget Camping Hammock
What you need to pay attention to when buying?
Material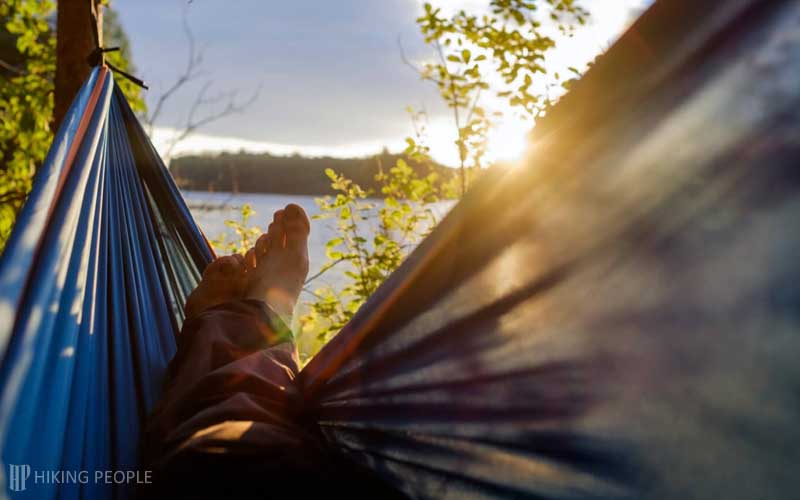 If you choose a hammock with metal base, make sure that it was made of stainless steel or anodized aluminum, to withstand rain. Fans of environmentally friendly materials, it is recommended to choose the wood, which coexists with moisture.
Coating Material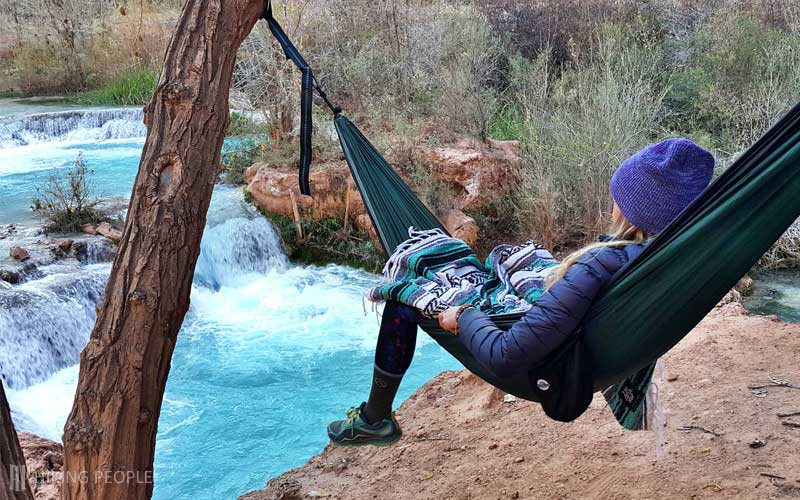 When purchasing, pay attention to the grid: whether it is comfortable for the body. Well, if the kit will include covers and pillows. Consider the nature of the coating. Cotton and linen hygienic are comfortable for the body, but short-lived. Synthetics can withstand the onslaught of bad weather but does not possess environmental cleanliness. Better to stop the choice on a bilateral coverage, which is universal.
Maximum Withstanding Weight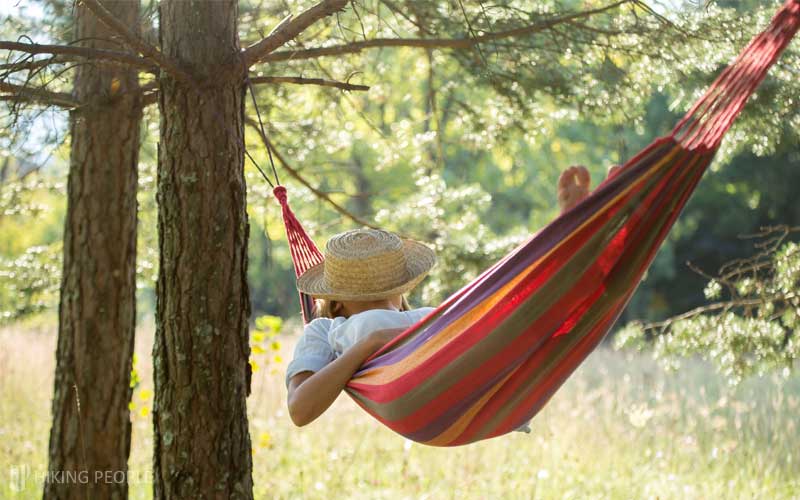 Be sure to check this figure. To the hammock as long as possible you served, it is ideal to choose a load equal to twice the weight of a person even better if this option will be not less than 300 lb. In any case, it is better to get ahead than to be upset because of the fragility of purchase.
The presence on the sides of the Support Bars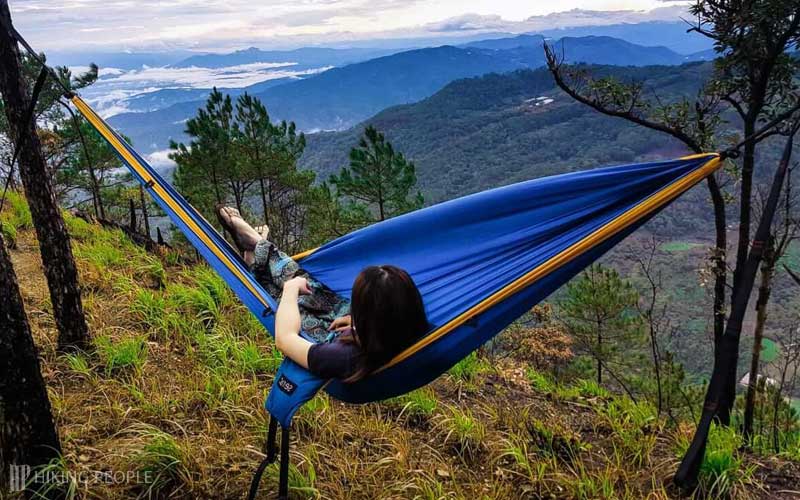 Models of hammocks can have them or not is up to you what to choose. The hammocks with bars the canvas is almost no slack, making it similar to a chaise longue. No bars have a non-rigid coating, more compact when folded, which is particularly important for transportable hammocks.
Look at Slings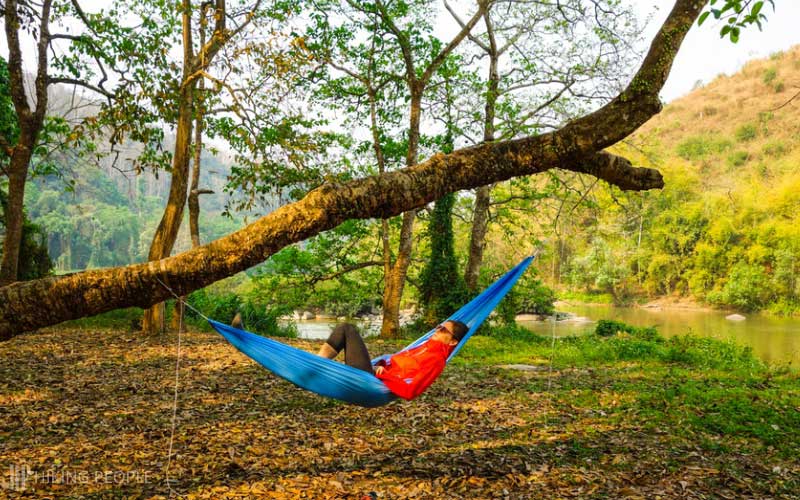 To hammock faithfully serve you not one season, when buying, pay attention to slings to which it is attached to the supports. In qualitative models, they are not sewn separately to the edges of the product and be one with him.
Where it is possible to Install and Hang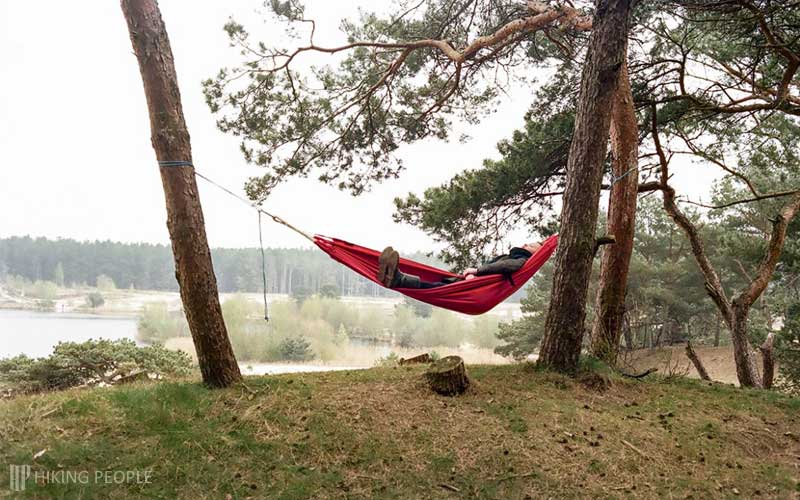 The traditional method of placement of hammock is between two trees in the garden. You should choose reliable, mature trees with a diameter of fewer than 15 centimeters. The distance between such natural supports must be 20-30 inches greater than the length of the model chosen — usually about two meters. The hooks for the hammock or rope should be located at a height of 1.4–1.75 meters. However, if the hammock is too tight or slack, raised too high or low — you can always adjust its location by changing the length of the strop.
For hanging a hammock to trees, it is necessary to use a special attachment that will ensure the safety of the crust.
We would like to mention one more point: although the hammock is an indispensable tool for the outdoors, the doctors do not recommend too carried away by them. It only takes a short respite, not to hurt the neck and spine. You should spend more time relaxing and enjoying the beauty of nature around you.
Conclusion
The traditional camping is when you set up the tent on a flat piece of land that develops as soon as you go to sleep, cook meat on the fire or grill, and then trying to get a cover on your smartphone. But lately, more and more people are looking for desert adventures in extreme circumstances and trying to find the most unexplored trails. Therefore, traditional tents for camping are useless, and adventure travelers are starting to prefer hammocks.
These are our top 12 picks for the affordable hammocks but there're a lot of other options available. While buying one for your adventure trip, make sure you consider the above-mentioned tips.