We use affiliate links and may receive a small commission on purchases.
Learn more
When it comes to getting a good night's sleep there's really no substitute. No one wants to toss and turn all night and it doesn't matter if you're sleeping at home or you're sleeping in a sleeping bag in the wilderness. You want to be as comfortable as possible. That's where a great sleeping pad can really come in handy. With the right one, you're going to be far better off than you might think. You'll be comfortable and supported all night long. And you're definitely going to get the sleep quality that you're looking for. The wrong one, however… it can leave you disappointed.
The highest R-Value sleeping pad is definitely going to be something you want to keep an eye out for. With a good R-Value, you're going to have no problem falling asleep outdoors because it's going to keep you nice and warm, all night long. Something too low, however, is going to make it difficult for you to sleep when it's cold or when you're in higher altitudes. With any of these options, you're definitely not going to have a problem getting to sleep and you're not going to have a problem with what you're paying for.
So these are the top sleeping pads with high R-values that will help you sleep comfortably in the backcountry.
1. REI Co-op Camp Bed

R-Value: 7.6
Thickness: 2.5 in.
Shape: Rectangular
Weight: 3 lbs. 10 oz.
REI Co-op Camp Bed is a single-person car camping sleeping pad that keeps you warm and ensures an exemplary night's sleep. If you are on a tight budget and want a pad that is comfortable than your traditional backpacking pad, REI Co-op Camp Bed is what you need. This self-inflating pad is super easy to set up and it requires only a few minutes to fully inflate. The pad is 2.5-inch thick, which means no part of your body is going to feel the bumpy ground. The Camp Bed features an impressive 7.6 R-value that is suitable for any season, regardless of how you sleep.
This self-inflating mattress comes in two sizes; regular and XL. Its self-inflating feature is much similar to that of MegaMat 10 and Therm-a-Rest Luxury MAP. The pad is super comfortable, easy, and quickly inflates, and presents a great value. It inflates much faster and more fully than most self-inflating sleeping pads on the market. You can fully inflate this thing by mouth in 9 to 11 breaths. You can also release some air to achieve your desired firmness. On the inside, there are thick and supportive horizontal foam baffles that protect your body from rocks, roots, and the cold ground.
Pros: Fast and easy inflation, supportive, great value
Cons: Difficult to pack, potential durability issues
2. Therm-a-Rest NeoAir XTherm

R-Value: 7.2
Thickness: 2.5 in.
Shape: Mummy
Weight: 15 oz.
Available in several different sizes to fit your personal needs, this sleeping pad is ideal for all four seasons, so you don't have to worry about swapping it out of your gear. You're going to have a lightweight pad that you can easily carry along with you even on a hiking trip when the weather turns cold. Plus, it has a baffling construction that's designed to keep the heat in and also make sure that it's sturdy while you're sleeping on it. You definitely don't want your sleeping pad to rupture while you're trying to sleep.
The no-slip fabric means that the bag you put on this pad is going to stay right where it's supposed to and the fact that you can inflate the whole thing in under two minutes definitely makes it a convenient option. Just blow into the valve to get it ready to sleep on and when you have it deflated roll it up like a one-liter bottle and slide it directly into your pack. There's a whole lot this sleeping pad has to offer, like the tapered design and the individual cells that retain air exactly where it should be.
Pros: Doesn't sag or bow throughout the night.
Cons: A little heavy for ultralight backpacking, noisy
3. Therm-a-Rest BaseCamp

R-Value: 6.0
Thickness: 2 in.
Shape: Rectangular
Weight: 2 lbs. 8 oz.
Therm-a-Rest BaseCamp mattress is a great no-frills option for year-round camping. You get a comfortable sleeping base, durable construction and reliable warmth at an affordable price. The foundation of the pad is its open cell foam core. The solid layer of compressible foam provides stability and a 6.0 R-value that's suitable for use even in cold temperatures. The exterior of the pad is a highly durable 75D polyester that enables the pad to hold up to repeated use. The foam construction also makes the BaseCamp self-inflating.
To achieve the full 2-inch thickness and maximum firmness, you will need to manually add a few puffs of air but most of the work is accomplished by simply opening the twist valve and allowing the foam core to expand and draw in air. If you prefer to sink into the pad a little bit, once it's fully inflated you can lie down, reach over your shoulder and let out just a little bit of air. The regular size measures 20 inches wide by 72 inches long. All sizes come with an included stuff sack. Note that for long-term storage it's best to keep the pad in an uncompressed state with the valve open.
Pros: Durable, affordable, very comfortable
Cons: Little traction in the bottom, you can slide a bit if on a smooth surface
4. Therm-a-Rest LuxuryMap

R-Value: 6.0
Thickness: 3.0 in.
Shape: Rectangular
Weight: 3 lbs. 4 oz.
This is a self-inflating mattress that uses advanced variable-density pressure mapping technology and innovative die-cut foams to provide comfort and support in all the right places. Basically pressure mapping means that you have got more supportive, higher density foam in certain areas and lower density, more cushioning, and comfortable foam in other areas. In high-pressure areas like near your shoulders and hips, it's more soft and comfortable.
The foam on the interior of this pad is open-cell foam, which acts like a sponge with air. So as soon as you open the valve the foam expands on the inside and let's air in.
The pad is 3 inches thick, weighs around 52 ounces, and has an R-value of 6.0 and that makes this pad perfect for four-season use.
Therm-a-Rest LuxuryMap self-inflating sleeping pad is sure to offer a great night's sleep. It is perfect for car camping or family camping when comfort is the most important thing. This pad rolls down pretty small but it's defiantly not necessarily a backpackable option.
Pros: Super warm, comfortable and easy to use
Cons: Heavy, large packed size, takes a long time to roll up if you want it back in the original bag
5. Therm-a-Rest MondoKing 3D

R-Value: 8.0
Thickness: 4 in.
Shape: Rectangular
Weight: 4 lbs. 6 oz.
This is going to be a great option for you if you're going out camping and want to make sure that you have something comfortable to sleep on. It's a foam air mattress that is actually self-inflating, which makes it a whole lot easier for you to use. You just set it up and you can get started on setting up the rest of your camp while it inflates. The moderate price is great for most who will be heading out into the wilderness and the size is definitely enough for you to sleep comfortably.
This mattress is designed to keep you super comfortable and there is no tapering or curving to this mattress pad, which means you can set multiples up side-by-side with no problem. That's going to make it easier for you to have a larger space or to sleep next to your partner. There's a stuff sack included to make it easy to transport and there's even a handle on it so you don't have to worry about a thing.
Pros: Provides a great night's sleep when camping or enjoying the great outdoors.
Cons: Can be too hot for warmer environments, heavy
6. Therm-a-Rest NeoAir Xlite

R-Value: 4.2
Thickness: 2.5 in.
Shape: Semi-rectangular
Weight: 12 oz.
Available in several different sizes to fit your body type. This mattress is going to provide you with a super comfortable design for your next backpacking trip. The oblong design is slightly unique and also saves you space, making sure that this pad will roll up as small as possible. You don't want anything too bulky in or on your bag, after all. You're also going to get something that's insulated and warm enough to be used for three-season by using reflective technology to trap in body heat and reflect it back to you.
You'll be ready to use this mattress in two minutes or less. The inflation is really easy and when you're ready to take it down you'll end up with something that size of a one-liter water bottle. The non-slip surface and the texture make sure that your sleeping bag is going to stay right where you put it and the fact that it comes with its own stuff sack and repair kit means you're going to have a super easy time taking it with you wherever you go.
Pros: Doesn't create pressure points or hot/cold spots while sleeping.
Cons: Can be loud/crinkly while sleeping.
7. Sea-to-Summit Comfort Deluxe SI

R-Value: 5.5
Thickness: 4.0 in.
Shape: Rectangular
Weight: 3 lbs. 8 oz.
This simple mat is definitely going to make it simple for you to get the comfort that you're looking for. It's a standard, rectangular mat that has a thick loft and a foam interior that provides you with even more stability and durability. It's not quite as well designed for those who want to pack it up and head out hiking, but if you're going camping and you have a little more space this is definitely going to be the way to go. You'll have 4 inches of thickness to keep you up off the ground and away from all those rocks, stones, and cold temperatures.
The multi-function valve makes it easy to inflate and deflate and the fact that it's super soft means that you don't even have to have a sleeping bag to sleep here if you don't want to. Whether you use this mat for camping or you decide to keep it as the guest bed at your home, you're definitely not going to have a problem getting people to want to stay over.
The internal foam provides an even sturdier surface and more support. This pad is made with durable polyester and an anti-slip surface, you can easily pair this with a sleeping bag and you won't have to worry about it sliding around when you're trying to get some rest. It's even rated for four seasons, so you won't need another one when you're heading somewhere for the colder weather.
Pros: Comfortable even for guest use.
Cons: Doesn't roll as small as others, heavy
View at Backcountry View at Amazon
8. Exped MegaMat Lite 12


R-Value: 5.3
Thickness: 4.7 in.
Shape: Rectangular
Weight: 3 lbs. 0.9 oz.
If you're looking for a standard mat then you're definitely going to want to take a closer look at this one. It's a standard rectangular option with a thick loft that looks a lot like the air mattresses you might stay on at a friend's house, which means you're going to be more comfortable than you would with some of the other options. It's designed to keep you feeling like you're on a bed, even when you're on rocky ground. There's an inflation bag to make it easier to get read at night and you can use that bag like a sack when you're not using it to pump up the bed.
There's a large deflation valve that gets you up and moving quicker in the morning and the mat itself is fully insulated so it works down to -4 degrees Fahrenheit. Complete with a 5-year warranty, this mat is still very lightweight and highly packable, which means you're not going to have any trouble out there on the trails. It's even certified free of harmful chemicals and it has a hydrolysis-resistant surface over both the top and the bottom. Pair this with your best sleeping bag and you're going to be up and running.
Pros: Very durable and 'hardness' is customizable.
Cons: Quite narrow for those with wider shoulders and arms.
View at Backcountry View at Amazon
9. Exped SynMat 7

R-Value: 4.9
Thickness: 2.8 in.
Shape: Rectangular
Weight: 1 lb. 13. oz
This inexpensive mat comes in several different sizes so you can make sure that you have something that's going to work for you. Designed to give you plenty of lofts and therefore plenty of warmth, this bed also has the standard baffle over the top and bottom. This provides a better surface for your sleeping bag as well as keeping the mat more stationary on the ground. On top of that, it provides added insulation and comfort. Rated down to 1.4 degrees Fahrenheit, this mat is great for those who are camping all year round, though maybe not in higher altitudes.
You'll get an integrated pump that makes sure your mat is inflated quickly and without any of the moisture and humidity from your breath. It even comes with a 5-year warranty and is certified to be free of harmful chemicals. The standard, rectangular shape of this mat is definitely going to make it easier to use and makes sure that it better fits the sleeping bag you're going to be using with it as well.
Pros: Comfortable and warm for colder trips.
Cons: Pump takes a while to get the mat set up.
10. Big Agnes Air Core Ultra

R-Value: 4.5
Thickness: 3.5 in.
Shape: Rectangular
Weight: 1 lb. 5 oz.
Looking for an inexpensive option that's still going to give you the features that you're looking for? You're in the right place. This sleeping mat has large air chambers that keep you centered all night and this helps with keeping your sleeping bag in place as well. It even has welded seams that are designed to keep you from getting cold and they help with both the inflation and deflation. You'll have a high-quality nylon surface that's rip-stop on both the top and bottom and the bag is rated to 35 degrees Fahrenheit so you have something great for three-season use.
There's a repair kit included in case of any problems and there's a stuff sack to store the mat in when you're traveling or not using it. Choose the right size for you and you'll be able to store it and head out on the trail. It's moderately weighted, which means it's not going to slow you down too much when you're really trying to get some added distance on that next big trip.
Pros: Works great for warm and cool weather use.
Cons: Valve is not as durable or high quality as it used to be.
11. Klymit Static V Ultralite SL

R-Value: 4.4
Thickness: 2.5 in.
Shape: Rectangular
Weight: 15.9 oz.
This sleeping mat definitely looks unique with the deep ridges throughout, and it's going to keep you warm with no problems either. It's moderately priced and gives you the option of an insulated or non-insulated product. With the insulated version you're going to have something that's still ultralight but provides you with added protection against cold weather. Not only that but you're going to have a long mat that's going to fit well with your sleeping bag and provide you with both the size and shape that you need. The ridges also make sure that your bag isn't going to slip and slide during the night.
When you're ready to head out on the trail you can pack this up into a small sack and attach it to the exterior of your bag. That's because it's made of a high denier polyester and is resistant to abrasion, tears, and punctures. If you ever do have a problem, however, there's a repair kit included with the mat. Made to keep you comfortable, no matter how you sleep, it provides a super simple valve to improve the speed and quality of inflation. In fact, you can likely get it inflated in as little as 10 breaths. And then the valve locks to make sure you can't open it by accident.
Pros: Comes with a lifetime warranty.
Cons: The overall size is slightly narrow.
12. Exped SynMat HL

R-Value: 3.3
Thickness: 2.8 in.
Shape: Semi-rectangular
Weight: 15.5 oz.
Exped SynMat HL comes with some great features. The lightweight design makes it easy to pack when you're heading out on a longer hike. Even better, the thickness and loft provide you with the comfort you want and the warmth that you're going to need when the weather is cold. There are even several different sizes to make sure you have something that fits you and works with your sleeping bag as well, whether you want a more standard size or a wider option.
This bright orange mat works for three seasons and provides an anti-slip surface so you don't have to worry about your sleeping bag sliding off. On top of that, there's a pump bag that makes it even easier for you to inflate and you don't have to worry about how the humidity of your breath is going to affect the interior of the bag. Even better, you can use that bag to store the mat in when you're done with it so it's out of the way and takes up a whole lot less space at the same time.
Pros: Comes with inflation bag and repair kit.
Cons: Not as comfortable as other options while sleeping.
13. Sea-to-Summit Comfort Plus Insulated Mat

R-Value: 5.0
Thickness: 2.5 in.
Shape: Mummy
Weight: 1 lb. 11.6 oz.
This warm packable pad is ideal for 3-season backpackers. It's got a unique baffle construction and a redundant design that almost eliminates any worry about the pad deflating during the night. The pad doesn't have traditional horizontal or vertical baffles. The unique air-sprung cells actually distribute weight and contour to your body much better than typical battles. They effectively react to your size, your shape, and your sleeping position which is really cool.
The durable 40D ripstop fabric has a TPU coating that increases water resistance. A combination of Thermolite synthetic insulation and reflective interior fabric gives the pad of warm 5 R-value. Unlike some crinkly fabrics being used on other pads, the fabric on the Comfort Plus is nice and quiet.
A really cool feature is the pad's double-layered design. It may take a bit longer to inflate than a single-layered pad but it's like sleeping on two pads even if one of the layers leaks there is another layer keeping you off the ground. You get two and a half inches of loft with both layers fully inflated and you can let out a little bit of air if you prefer.
Lightweight, durable, warm, and equipped with that double-layered design, the Sea-to-Summit Comfort Plus Insulated Mat gives you assurance on your backpacking adventures.
Pros: Comfortable, supportive, quiet, warm, stable, and dual air chambers are redundant
Cons: Heavy and expensive
Highest R-Value Sleeping Pads: Summary
Critical High R-Value Sleeping Pad Considerations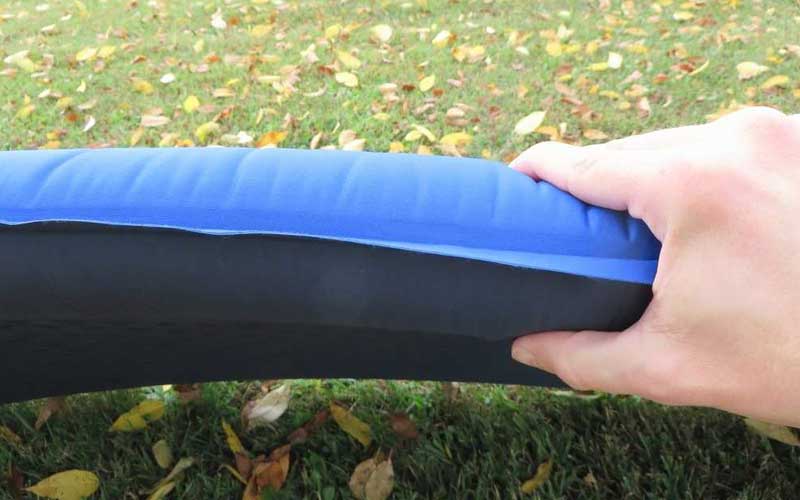 When you're ready to head out camping or hiking or even just when you're ready to invite some friends over, the best sleeping pad is going to be important. But there are certain features about those pads that you need to look at more than others, so let's take a look at what they are.
R-Value
The first thing you want to look at is, of course, the R-value. You want to know what you're actually getting and what kind of rating the product actually has. When you're looking for something with a high value you're going to want to weigh out the benefits and drawbacks associated with it as well. After all, a higher R-value is generally also going to mean more weight, so make sure you know what you're getting, and opt for at least a 3 or above. If you really don't mind the extra weight something at 4-6 is even better.
Folded Size
You're going to need to be able to transport your new sleeping pad and depending on just how far you need to carry it you might have different needs as far as the overall size of the pad. If you're going to be hiking you need something that folds up as small as possible. If you're taking a vehicle or a camper to your site you may be able to go with something that doesn't fold as well but maybe more comfortable. It's going to be entirely up to you what works the best and what size is small enough.
Overall Size
When it comes down to it you also need to know what the size of the pad is when it's fully inflated. You want to be comfortable, after all. That means the pad needs to be wide enough for you to move around at least a little. It also needs to be long enough that your head and your feet are supported (along with everything in between). So pay attention to the overall size and whether it's going to comfortably fit you.
Inflation/Deflation
Look at just how it inflates and deflates. That means looking at how long it takes to do both. It also means looking closely at what you're going to need to do. Some pads are self-inflating. Some pads require you to blow them up. And some pads provide you with a pump that you need to use in order to inflate them. Choose something that you're going to be able to easily and comfortably blow up whenever you need it. You don't want to spend a lot of time on the process, after all.
Sound
One of the things that a lot of people don't really like about sleeping mats is the sound that they make. Some make a lot of noise and some make very little noise but just about any of them are going to make some kind of noise. After all, you're going to have movements over the top of the pad every time you use it. Materials can contribute to this, but in general, it's all about the specific pad, not what it's made out of, so if you can check out an inflated one make sure that you do.
Seasons
Is it considered a three-season pad or a four-season one? Something that works for three seasons isn't going to be rated for quite the same level of cold but if you live in an area that doesn't get that cold that may not be a problem for you. If you're going to be camping somewhere that temperatures fall quite low you may need to upgrade and opt for a sleeping mat that is going to keep you protected from those cold temperatures. Make sure you're paying attention to what the manufacturer actually considers the mat to be designed for.
Hopefully, each of these different features is going to help you figure out exactly what you're looking for when it comes to a sleeping pad, and hopefully, you're going to be ready for a great trip. You can definitely enjoy your time camping.