We use affiliate links and may receive a small commission on purchases.
Learn more
Long sleeve hiking shirts are not the same as regular shirts. These shirts are equipped with special properties and characteristics to be effective. Although you can hike in a regular cotton shirt but for longer and extreme hiking and backpacking trips we recommend shirts that are specially made for the purpose. These shirts offer some technical features like polyester or merino wool fabric and flat sewn seams. These hiking shirts are also lightweight and they have layer-able construction.
Long sleeves are great for summer as they keep you cool and protect your arms against harmful rays of sunlight. While in the winter, they keep away the chill. Some shirts offer features like rolling and button-up long sleeves which is great for allowing you to respond to all weather conditions.
Below we have tested and reviewed the top 10 best lightweight long sleeve hiking shirts for men and women.
1. Columbia Silver Ridge Plaid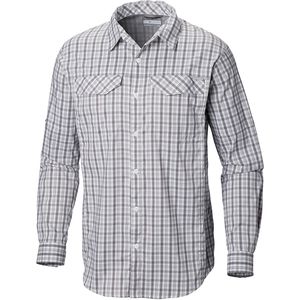 Omni-Shade UPF 30 sun protection
Roll-up sleeve tab holders
Pockets with hook and loop closure
Mesh pocket bags
Sun protection collar
Sun protection cuff
Columbia Silver Ridge Plaid is a trail-ready shirt and it is an ideal companion for hikers and adventurous days in the mountains. The nylon fabric is an exceptionally soft hand and it's designed to wick moisture away from your body. The Omni technology allows you to stay dry regardless of your output or the heat index. Its handsome styling offers a relaxed but functional fit. The roll-up sleeves can be secured with button loops when conditions demand.
The Silver Ridge also offers a full UPF 50 sun protection rating. Its quick-drying fabric is perfect for hiking. Columbia adds details like hang loops and pockets for added functionality.
The fabric is lightweight, breathable, and durable and it dries in minutes. The shirt is beautiful looking extremely comfortable.
There is a variety of styles and colors available. Casual, dress, solid color, plaids, short and long sleeve and you don't ever have to worry about messing it up in the laundry.
This shirt offers great sun protection and a lightweight feel during hot and sunny days. Start your next adventure with the Columbia Silver Ridge Plaid.
Pros: Lightweight, durable, breathable and has some style points with the plaid.
Cons: The neck is a little bit big and the shirt is roomy.
View Men's at REI View Men's at Amazon
View Women's at REI View Women's at Amazon
2. ExOfficio Air Strip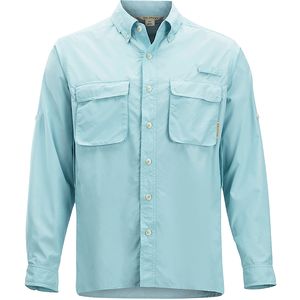 Material: 73% Nylon 27% Polyester
Weight: 8.8 oz.
Fit: Modern Relaxed
3-position button-down sun collar
3-position back cape ventilation
Side vents for increased airflow
Hidden security zip pocket in the right pocket
Pen/Sunglasses slot in the left chest pocket
Utility loop above the left front pocket
Roll-up sleeve tabs
ExOfficio Air Strip is a summer hiking shirt that delivers superior sun protection. The shirt is lightweight and easy-care and it dries fast. The shirt has two big cargo and one security zip pockets that can accommodate your all valuables. There is also a slot for your pen or sunglasses.
The shirt features a shoulder-to-shoulder back vent and internal mesh yoke which keep the breezes flowing. There is a 3-position sun collar, which keeps your neck from toasting.
The material (nylon-polyester) of the shirt is strong, comfortable, with great ventilation. The roll-up sleeves are secured with tabs which make them still just as versatile. ExOfficio Air Strip shirts are great for travel. They pack small and light. They can be washed in a sink and dry overnight. In hot weather, they wick sweat away like cotton can't.
Pros: The great thing about these shirts is that they keep you warm when it starts to chill and cool when it's warm.
Cons: ExOfficio has changed its Air Strip Shirt this year. The pockets are now a few inches higher making them harder to access.
3. Fjallraven Abisko Hike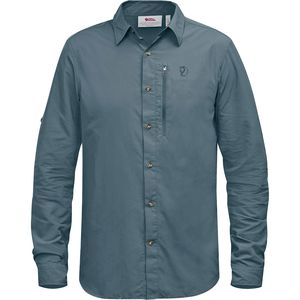 100% nylon
Weight: 5.3 oz.
Roll-up sleeve function
Ventilation opening
Wicks away moisture
Zippered chest pocket with mesh lining
Fjallraven Abisko Hike is a lightweight and comfortable shirt made for summer hikes and easy-going outdoor life. The shirt is made of a soft and packable material that wicks away moisture and keeps you cool on the trail. This thing is super packable and it takes very little space in your backpack. This becomes practical when space is limited. There are ventilation opening at the back, which releases excess heat. There is a zippered chest pocket with mesh lining that you can use to store your small belongings like your wallet and keys. The shirt offers buttons at the front and sleeve buttons keep rolled-up sleeves in place.
The style is very classical and this shirt is designed to use from the office to the trail. The material is thin yet durable and it holds against snagged branches and brambles in the woods. When it comes to protection, it features a UPF 30 rated sun protection for coverage on a sunny day. Abisko is an ideal shirt for summer hike when you need a great shirt but don't have much room in your backpack. It is a practical garment for hiking and summer adventures.
Pros: Ventilation yoke, thin and durable material, dries very quickly
Cons: Limited color options available.
4. Marmot Windridge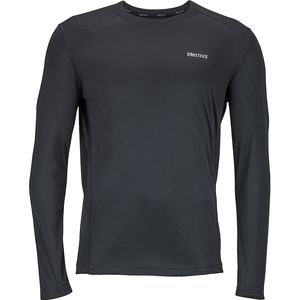 UPF 50 sun protection
Mesh panels for breathability
Flat-locked seams
Quick-Drying and moisture-wicking fabric
Forward set side seams and shoulder seams
Marmot Windridge is a fast-drying, moisture-wicking, and a breathable shirt that is designed for variable trail conditions. The shirt features flat-locked seams and breathable mesh panels for ventilation and unmatched comfort. The fabric on this shirt is Quick-Drying Performance Knit, which is super comfortable and dries quickly. It's got a UPF 50 rating for sun protection. The fit is great it stays tucked in during a full day of hiking. The lightweight cool fabric feels good against your skin and it manages your sweat well.
Marmot Windridge shirt can also be used as a base layer in the winter season for backcountry skiing. You can wear it with a soft shell mid-layer or a heavier outer layer without heating. When you are wearing it as a base layer, the fit gives you total freedom of movement. The long sleeves do a good job of wicking up to about 50 degrees under another layer. If you are looking for a shirt for summer hiking and winter base layering, check out Marmot Windridge.
Pros: Comfortable in hot weather as advertised, can be used as a base layer
Cons: The tag on the inside seam of the shirt, which annoying but not a total deal-breaker.
View at Moosejaw View at Amazon
5. Columbia Bahama II
Fabric: Omni-Shade 100% nylon
Relaxed fit
Quick dry
Bonus breathability via hidden vents at shoulder
Convertible to a short sleeve
The Bahama II was designed for anglers but people are using it for hiking and backpacking more than angling. This shirt is lightweight and has a relaxed fit. The material is nylon that dries quickly, wicks sweat effectively, keeps you cool, and protects you against UV rays. The mesh-lined back vents let in and out a cooling breeze which is perfect for hot and humid weather. There're big chest pockets with nice large Velcro closures which is great for storing small essentials. You can open them even when gloves on. Since the shirt is made of nylon/polyester so be careful with using a steamer. Just hit it quickly and don't leave it too long in one place.
The buttonholes are a little tight but they will stretch. The buttons are sewn on well. The two buttons at the sleeve bottoms make wrist tightness easy to control. You can slip your hands up the sleeve on the widest setting. The ventilation panel on the back is covered with fabric and assists in cooling the wearer.
Overall this shirt is well-made, comfortable with big pockets, and looks good. This shirt will keep you cool in hot weather and will serve as an adequate base layer in cold weather.
Pros: The sleeves roll up and down very nicely and it feels very secure and looks good.
Cons: The Large Columbia shirts run very big.
View Men's at Amazon View Women's at Amazon
6. Arc'teryx Remige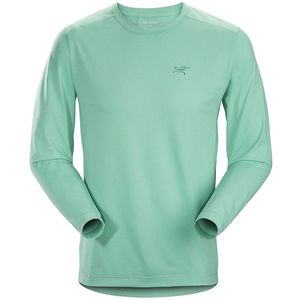 Moisture-wicking
Super breathable
100% polyester
Ventilation with comfort and mobility
Merrow stitch seam construction
Arc'teryx Remige shirt is designed for warm weather hiking and trekking to keep you cool as temperature rises. The shirt keeps you protected from UV and it wicks away moisture well. It can handle subtle shifts in temperatures to keep you cool and protected all day on the trail. The Remige shirt is made from a fabric called Thalden. It is a soft and breathable polyester, which feels great against the skin and delivers UPF 50+ protection. There are gusseted underarms that allow freedom of movement. The fit is regular and it weighs just around 4.9 oz. The lightweight materials make this shirt ideal for summer hiking, backpacking, and trekking.
The material is breathable and it helps regulate temperature by allowing moisture to escape. The construction is a merrow stitch seam that reduces seam size. There are articulated patterns that provide unrestricted mobility. Available in four beautiful colors, the Arc'teryx Remige can your go-to option for warm weather hikes. If you want a decent long-lasting shirt for backpacking that you can also use as a base layer, the Remige shirt can be a great option.
Pros: Can be used as a base layer and everyday use.
Cons: A little loose fit.
View at Backcountry View at Amazon
7. Columbia Tamiami II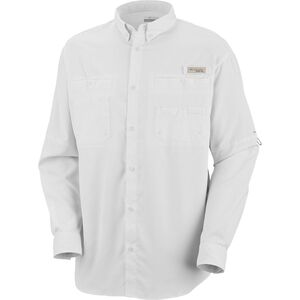 Omni-Shade UPF 40
Anti-microbial treatment
Modern Classic fit
Mesh-lined vent at center back
Omni-Wick technology
Columbia Sportswear Tamiami II features wicking and sun-shielding fabric. It is specially made for comfort and functionality while hiking or just enjoying the outdoors. The shirt is equipped with mesh-lined back vents that let a cooling breeze in and out in the hottest and muggiest weather. There are a rod holder and plenty of low-profile pockets that free up your hands, while the sleeves roll-up for versatility.
The shirt offers UPF protection. The natural fibers just don't block the sun like synthetics and the UPF protection of this shirt is superb. These shirts are more durable than other synthetic shirts, especially if you're wearing a pack and have lots of contact areas.
The shirt is comfortable in warm weather, wicks very well, and the UPF rating helps to reflect a lot of sunlight. The shirt also features an anti-microbial coating that works very well. This has always been a disappointment with other synthetics advertised as anti-microbial in the past.
You will literally feel cool in this shirt because it wicks sweat from your body well and keeps air moving across your back, chest, and stomach to allow evaporation and cooling.
Pros: Great quality, wrinkle-free, good color choices, lightweight, and it almost feels like you're not wearing a shirt.
Cons: Be careful if you're ordering Camellia Rose color because Hot Pink is what you'll get.
View Men's at REI View Men's at Amazon
View Women's at REI View Women's at Amazon
8. Pendleton Board
Fabric: Virgin wool
Fit: Regular
Style: Button-down
2 chest pockets
Anti-Odor
Pendleton Board is made from premium and washable wool. The fabric is rugged, mid-weight and resistant to water, order, and stains. The quality is very high and has all the positive benefits of wool. The shirt is very comfortable, especially for cooler weather. The layering over another shirt is fantastic. You can wear a silk or cotton turtleneck base-layer under your Pendleton. This works great in the fall. But when the weather gets cold, you can switch to mid-weight woolen quarter-zip T-necks.
When you sweat, the shirt does not lose heat like other cotton shirts. This is because of the merino wool that has almost no itch whatsoever. The shirt can be easily cleaned without a trip to the dry cleaners. You can also wear it as a light jacket during the cool spring and autumn weather or as a mid-layer during the colder months of the year.
Although the shirt is made in Mexico, still the wool is from the USA. There is no difference in quality than that of Made in USA vintage Pendleton Board shirts.
If you are looking for a shirt made of natural material that will keep you warm while staying breathable. Pendleton Board will be a good option.
Pros: The fabric is really soft and feels nice on the skin.
Cons: The only con is the pockets and pocket flaps are now much smaller. The shirt has been around for several years but now the pocket design has changed.
View Men's at Moosejaw View Men's at Amazon
View Women's at Moosejaw View Women's at Amazon
9. Columbia Super Bonehead Classic
Fabric: Super Bonehead Gingham 100% cotton
Pockets: Four Hook-and-Loop closed fly box chest pockets
Omni-Shade UPF 30 Sun Protection
Tool holder
Vented in back, shoulders
This Columbia shirt has all the features needed, sockets loops, vents, UV protection etc. If you're an outdoor person and want a well-made practical and great shirt, go for it and it will last a lifetime.
This shit comes in very nice and unique colors. The design is great and comfortable and there are a variety of pocket sizes in good locations. There is a velcro on each pocket to keep them closed. The shirt also offers nice venting that keeps the air circulating.
This shirt is great if you are going to hike in summer because it has long sleeves so it will protect you from briers and poison oak. This shirt is roomy so it is great for outdoor activities and it is absolutely made for this purpose.
If you are looking for a shirt for hot weather in which you can spend all day outside, this shirt is a great option.
Pros: Washes great, dries fast, can be ironed or just worn depending on need.
Cons: The material is a little thicker than other outdoor shirts.
View Men's at Moosejaw
View Men's at Amazon View Women's at Amazon
10. Pendleton Lodge
100% Umatilla virgin wool
Classic cut
Button-down design
1 chest pocket
Pendleton garments last a lifetime and can be handed down to the next generation. Their classic styling and patterns never seem to go out of style.
The Pendleton Lodge is designed especially for outdoor activities like hiking, backpacking, and camping but you can wear this shirt year-round. The fabric is well done and feels warm and solid and it is soft and comfortable. The collar is nice and sturdy and doesn't look like it will get beat up in the dryer.
This shirt can be used as a mid-layer at the lower temperatures, underneath a jacket or windproof shell. If you're hiking under load in the 40s and 50s, the shirt is comfortable and not too hot by itself.
Overall, this is a comfortable winter shirt that fits true to size and keeps you cozy.
If you want to be warm and comfortable then a Pendleton shirt is the one to buy with your hard earned money.
Pros: The shirt is more versatile than a light fleece jacket. You can wear it like that or as a shirt-jacket.
Cons: The stripes don't match up properly on the sides of the shirt and that's not what one expects when buying something in this price range.
View Men's at Moosejaw View Men's at Amazon
View Women's at Amazon
11. Pendleton Fitted Trail
Pure 100% virgin wool
Button closure
Woven button up shirt
Button-through chest pocket with pencil slot
Open collar with lined collar band
Machine Wash
Fitted Trail is another great shirt from Pendleton. It is good quality and comfortable wool shirt. Comes in a nice peat moss color and is great for fall and winter. Wool really breathes well – neither temperature nor humidity is a problem. You can also wear another shirt as a middle-layer when in the woods. We would recommend washing this shirt once or twice or wearing a long sleeve t-shirt underneath is somewhat itchy at first.
The wool is high quality like other Pendleton shirts. It might feel thin, but it keeps you warm even in Central Oregon type winters.
The shirt is easy to wash and iron and it does not retain perspiration or body order. There are wonderful elbow patches and ample flexibility in the arms and chest when chopping wood, casting a rod, or hiking through the backcountry on cool mornings.
There is a small Pendleton logo on the back right shoulder at the yoke, and it adds a great touch to this brand. It serves as a badge to let people know that this isn't a run-of-the-mill mall flannel, but one built with integrity and designed for the true outdoors.
Pros: Does not retain body odor, wears well, comfortable and lightweight
Cons: The shirt is a little bit of itchy when you first put it on but otherwise comfortable.
12. NAVISKIN Quick-Dry Shirt
100% Nylon
UPF 50+ sun protection
Lightweight, breathable, moisture-wicking fabric
Back ventilation with a mesh-lined back yoke
2 chest utility pockets with secure hook-and-loop closures
Roll-Up Sleeve with tab holders
If you spend most of your time outdoors, hiking, fishing, traveling, climbing, running, camping or boating, NAVISKIN Quick-Dry Shirt is the best choice for you. These shirts made to stand out in a crowd while standing up to the sun's glare. NAVISKIN Quick-Dry Shirt is built for you to look and stay cool when the heat is on. The shirt is equipped with UPF 50+ sun protection which protects the skin during outdoor activity by blocking harmful rays. There's a collar too that flips up to provide protection against UV for your neck.
The sleeves can be rolled up and secured with button tabs to convert to a short sleeve.
The fabric is soft and moisture-wicking material which feels amazing next to your skin. The fabric will keep you light and cool to the touch, great for your favorite sports or daily use!
If you're looking for a budget shirt for your outdoor adventures, the NAVISKIN Quick-Dry Shirt will be a good option.
Pros: Good material, nice colors, comfortable, and works better than expectations.
Cons: Button(s) fall off quickly and the material is not very durable.
View Men's at Amazon View Women's at Amazon
13. Baleaf Outdoor UPF 50+ Sun Protection Shirt
Fabric: 100% Nylon / Mesh back: 100% Polyester
UPF 30+ sun protection
Multi-functional pockets
Long convertible sleeves with tab to hold
Fit type: loose
Baleaf long sleeve shirt is a perfect choice for long-term outdoor activities like hiking, backpacking, camping, fishing, climbing, etc. It is made of 100% nylon and polyester and offers UPF 30+ sun protection which provides protection against sunlight. The lightweight nylon wicks sweat quickly, and breathable mesh back panel keeps you cool in hot weather. The fabric is lightweight, soft and feels like very high-quality fabric and it is not see-through like some other nylon shirts.
This shirt features multifunctional pockets with a rod holder on the chest. There're pockets within the pockets which are nice for keeping things together. Also, there is a sunglasses holder. The long sleeves are convertible to short sleeves. This shirt offers a loose fit which is great for activities like backpacking, hiking camping, and fashion.
The shirt is very comfortable to wear and it has good airflow with the vent in back. The shirt can be easily wrinkled if you dry it, so remove it from the dryer immediately and if you do so it is fairly wrinkle free.
Overall, this is a nice shirt with a good fit and quality compared to the much higher price brand. If you want an inexpensive shirt for your outdoor activities, Baleaf Shirts are great.
Pros: Good quality in affordable price, good fit, can be worn for many occasions
Cons: The buttonholes are sewn too small, but can be corrected easily.
View Men's at Amazon View Women's at Amazon
How to choose the Best Lightweight Long Sleeve Hiking Shirt?
It is important to choose the right shirt for your adventure as you never know how the weather conditions and terrain might affect. Taking some time to prepare and buy the right shirt will save you lots of headaches in the long run. Below are some critical considerations for choosing hiking shirts.
Fabric
Choose the shirt that is made of polyester/nylon or merino wool. These materials move sweat off the skin, dry quickly and keep your skin cool and dry. These materials are not only great for shirts but will work well for all the rest of your clothing.
Durability
Hiking trails have twists and turn full of branches and you need to move freely. Choose the shirt that is made of durable material like nylon.
Weight
For a long hiking trail like Appalachian Trail, weight becomes very crucial. If you're planning a long hiking trip, choose a lightweight shirt.
Color
If you think in terms of heat, dark colors absorb heat and light colors reflect heat. If you're hiking in summer, your shirt should be grey, beige, cream, etc. Similarly, in winter choose a darker color that can help absorb heat from the sun and help keep you warmer.
Comfort and Fit
Keeping yourself comfortable is crucial to a successful hiking trip. If possible try out the shirt in advanced before purchasing, if you're going on a long hiking trip.
Wicking
Wicking is the ability of a fabric to pull moisture (sweat) away from the body. Look for the fabric that offers wicking feature.
Insulation
Your clothes do not generate heat but they're efficient at insulating. Thus, this ability is important to keep you warm.
Breathability
This feature is important in all your clothes. When your clothes don't breathe well, you end up getting soaked by your own sweat. So choose a shirt that I made of breathable material to ensure that your body can breathe well.
Bug Protection
Depending on the season your hike maybe burdened with thousands of bugs bothering you the entire time. Long sleeves provide great protection against bugs.
Sun protection
Shirts that offer ultraviolet protection factor (UPF) rating will help protect skin against the sun's damaging UV rays. See REI Expert Advice on How to Choose Sun Protection (UPF) Clothing. It is basically a sun protection rating and it is very similar to an SPF. So typically the higher number of the UPF rating the better protection you are going to get from ultraviolet rays from the sun. UPFs are currently regulated by the EPA. Any company that is producing a garment that has a tag stating it has a UPF rating that means that they went to the EPA and had that garment tested for that rating.