We use affiliate links and may receive a small commission on purchases.
Learn more
So you've decided to go car camping? First things first, after a long day of exploring nature, all you need is a good night's rest to recharge yourself for the next day. When you're going to camp in your car, weight is not a big problem so you can focus more on other qualities such as comfort and durability. You have to find the balance between how much space the mattress takes in your car and how much space it gives you.
A good night's rest can make a big difference in your trip. Gone are the days when camping meant sleeping on an uncomfortable mattress. With the right mattress, you can have the comfort and sleep under the stars at the same time, because you can. This is where our list and tips come in.
So these are the top air mattresses for car camping.
1. Therm-a-Rest NeoAir Camper SV

Weight: 2 lbs. 5 oz.
R-Value: 2.2
Dimensions: 77 x 25 x 3 in.
Type: Air pad
Therm-a-Rest NeoAir Camper SV is a 3 inch thick, inflatable, and 3 season pad. It's an update on the 2017 NeoAir Camper with a speed valve hence the SV in the name. The camper SV comes with ThermaCapture technology that helps reflect the heat, and the WaveCore baffled construction which radiates the heat. Both the features combine to make this a cozy and warm sleeping pad great for all three seasons. The R-value for this mattress is 2.2.
The Camper SV comes with its stuff sack and repair kit. It packs to a pretty compact size and weight so this can be your one investment which comes handy while car camping and also while backpacking. If you are someone who tosses and turns or if you're a light sleeper, you might notice some noise. It comes in three sizes: regular (72×20), large (77×25), and extra-large (77×30). It's made in the USA and Therm-a-Rest also gives a limited lifetime warranty.
Pros: Very comfortable, easy to inflate, rectangular shape has more area than mummy
Cons: Noisy if you toss and turn a lot.
View at Backcountry View at Amazon
2. Exped Megamat 10

Weight: 3 lbs. 12 oz.
R-Value: 9.5
Dimensions: 77 x 25 x 3.9 in.
Type: Self-inflating
Megamat by Exped is an insulated and self-inflating sleeping pad. It has an R-value of 9.5 which means it will keep you warm in winters. It has 10 cm open cell insulation. It's a 4 season pad. The top is covered with stretch tricot with a honeycomb embossed pattern, the tricot has a give to it that eliminates that bouncing castle feel and gives an experience similar to memory foam, making it very comfortable while sleeping. Another good touch is the addition of vertical sidewalls instead of round edges found on most camping pads.
Megamat 10 comes with a repair kit, a stash bag, and an inflating pump. You can simply lay down the mattress and open the self-inflation valves to let it fill to almost full capacity (10-15mins), then tweak the firmness as per your personal preference by using the pump and the valves. There are two separate valves for inflation and deflation along the side walls. These valves do not remain airtight which can be good for some people while others might find it annoying. It's a personal preference for everyone. It comes in various sizes.
The sidewinder roll-top bag makes packing quite easier. Even if you're in a hurry and shove the partially deflated mat in the bag, it will still fit and you won't have to waste time on complete deflation. The Megamat 10 comes with a 5-year warranty. This mattress prefers quality and comfort over weight, which is ideal for car camping.
Pros: Very comfortable, warm, good value
Cons: Does not pack small
3. SoundAsleep Camping Series

Weight: 9 lbs.
R-Value: Not specified
Dimensions: 75 x 42 x 9 in.
Type: Air Mattress
The camping series includes two sizes, queen and twin. It comes with a rechargeable pump which makes inflation and deflation very quick and easy. The pump can be charged in the car, at the campsite or on the way. When you want to set camp, you'll have your pump ready or you can simply charge the pump before leaving home. Either way, it has a heavy-duty battery and inflation or deflation is very quick.
The mattress comes with a carry bag which makes its transportation very easy. SoundAsleep gives a 1-year limited warranty for this product. Compared to other products by SoundAsleep especially the Dream Series, it has a separate rechargeable pump which others have a built-in pump that needs a 110 socket.
The mattress is 9 inches thick and uses ComfortCoil technology with I-Beam air coils. The mattress is made of eco-friendly PVC and it has an air core. There is no R-value mentioned for this mattress and it isn't a winter-friendly mattress. It's more suited for summer. The material used however is durable and thick to withstand any rough surface and the Sure-Grip prevents sliding, giving you a stable and durable surface to sleep on.
Pros: Comfortable, easy to charge pump and good customer service
Cons: Valves start to leak over time.
See the SoundAsleep Camping Series
4. Intex Classic Downy Airbed

Weight: 8 lbs. 14.4 oz.
R-Value: Not specified
Dimensions: 80 x 60 x 8.75 in.
Type: Airbed
This is an inflatable queen size bed and comes with two inflatable pillows. It's an open-cell mattress. No R-value is given. The mattress can be cleaned easily with the waterproof flocked top. It comes at an affordable price so if you're in a pinch or just want to dip the feet in car camping without investing too much, this should be a go-to option. It can also double as a spare mattress for occasional guests.
The mattress comes with a hand pump which generally makes for a long and tedious method of inflation. But if you're up for it, it's not as difficult. You can also buy a battery pump to save time and energy but that's a personal choice for individual users. The valve on the mattress is an extra wide 2 in 1 valve and saves time and energy which is especially a good thing with a hand pump.
The 8 ¾ inch thickness makes it comfortable. The size is a standard queen size so fitted sheets will work well with it. It comes in a storage box, and folds compactly. The material is a heavy gauge vinyl. As vinyl takes some time to relax, it might need to be topped off a few times before the first time and every now and then later.
Pros: Affordable, good value
Cons: The hand pump might not be for everyone.
See the Intex Classic Downy Airbed
5. ALPS Mountaineering Outback

Weight: 7 lbs. 6.88 oz.
R-Value: 11
Dimensions: 80 x 32 x 4 in.
Type: Self-inflating
ALPS mountaineering Outback self-inflating air mat has a wide Qwikflate valve for quick inflation and two-way deflation. The top fabric is elastic which makes this mat very comfortable. It has a black bottom which is made of durable material and can be cleaned easily. It comes with a stuff sack and a repair kit. The mattress has vertically-cored foam which cuts down on weight and also helps to make deflation easy for one person.
This mattress makes no compromise on the size, you get enough area to move around. But this might not be ideal if you want something that can be stowed away compactly. This shouldn't be a problem with car camping since you have plenty of space. The mat has an R-value of 11.
With this 4 inches thick mattress, ALPS mountaineering has focused on home-like comfort wherever you are. No pumps mean you don't have to put in any effort in hand pumping or carrying cords for charging or any of that hassle. If you still want a pump you can get one easily.
Pros: Large and comfortable
Cons: Large pack size, hard to get in its stuff sack
See the ALPS Mountaineering Outback
6. Therm-a-Rest MondoKing 3D

Weight: 5 lbs. 8 oz.
R-Value: 11.4
Dimensions: 77 x 25 x 4 in.
Type: Self-inflating
The MondoKing 3D is a luxury mattress by Therm-a-Rest with an R-value of 11.4 and a thickness of 4 inches. It is a self-inflating mattress that does not need a pump. A torrential pump is included in the package to quickly inflate the mattress with batteries or a car adaptor provided with it. This mattress doesn't have a very compact packed size but the comfort outweighs it with a huge margin. The mattress is very cozy, especially for winter. Compared to their NeoAir discussed earlier, it's thicker and warmer.
The mattress can self inflate but make sure you do this at least once at home before you take it to the campsite. Because the urethane foam core takes some time to properly inflate the first time. You can adjust the firmness with a few breaths after that. Deflation is a bit tricky. You have to fold and roll it to completely deflate.
Another good feature is the stretch knit fabric that makes it very cozy. The compressible pillows are also made of foam core and have different size options. The universal couple kit that comes with the large size includes a sheet and clips to cover two large mattresses together without any gap in between, which is also facilitated by the vertical sides.
Pros: Fit in a smaller tent, good warmth
Cons: Does not pack small
View at Backcountry View at Amazon
7. Sea to Summit Comfort Deluxe

Weight: 3 lbs. 8 oz.
R-Value: 6.5
Dimensions: 72 x 25 x 4 in.
Type: Air pad
This mattress has a soft knit, stretchable top with a polyester anti-slip print. The bottom layer is durable and will stand any rough surface. This comfortable mattress has an R-value of 6.5. It's good for 4 seasons. This is one mattress you'll need all year round. It's 4 inches thick with delta core technology. The maximum height for the users is 6 feet.
Inflation and deflation are easy with a multi-function valve. While deflation, the valve can be set to be one way so that air can not go back in while you're folding. Adjustments for air are also easy. The delta core ensures that no matter how much air you remove, you will not bottom out with this mattress during the night. You get a stuff sack with it which is easy to be carried to and from the car.
This packs to a bulky size and heavyweight which is not a problem for car camping. But if you want to go for a mat that can double as a backpacking mat for you, Sea to Summit has lighter options as well. The core is polyurethane foam. As with all foam core mattresses, let it inflate for a couple of days to get air into the vacuum-packed foam. After that, just lay it out and you're good to go.
Pros: Luxurious, comfortable for side sleepers
Cons: Difficult to pack
View at Backcountry View at Amazon
8. Lightspeed Outdoors 2

Weight: 6 lbs.
R-Value: Not specified
Dimensions: 80 x 55 x 7 in.
Type: Airbed
This is an affordable 2-person air mattress with a good space for both sleepers. It doesn't dip in the middle like most air mattresses. Since this is a PVC free mattress, you don't have to put up with the obnoxious smell of PVC or phthalate. The material used for this mattress is TPU (thermoplastic polyurethane) which makes it very lightweight and durable. It packs up to a very compact size and comes with an oversized carry bag. It's 7 inches thick so you have enough room to adjust air without touching the ground.
The mattress stays inflated and doesn't leak. The valve is a two way Boston valve and the first (top) cap opens to expose a one-way valve which only lets air go inside allowing to pump air in easily to adjust to the desired firmness. The second cap opens to expose an opening that can be used for initial speed inflation and also for deflation.
It comes with a battery-powered pump, which has 3 nozzles. It can be covered with a queen size sheet. For a colder night, it's best if you lay down a blanket on the mattress. It has a 1-year manufacturer's warranty.
Pros: Affordable, PVC free, lightweight and small packing air mattress
Cons: Needs a blanket for insulation
9. ALPS Mountaineering Rechargeable Air Bed

Weight: 8 lbs. 6 oz.
R-Value: Not specified
Dimensions: 74 x 39 x 8.5 in.
Type: Airbed
Since we added a foam core by ALPS mountaineering to this list, it's obligatory that we add one air-core for the air mattress lovers too. So here we go. This will last a fairly decent time if you are nice to it (pro tip for air mat care: keep away from sharps, follow instructions for recharging battery). This mattress is about 8.5 inches thick when inflated.
This mattress comes with a rechargeable pump with a wall charger or a car charger (both are included). Inflation and deflation are both very quick and convenient with the pump. It folds down to a very compact size and weight and goes easily in the provided carry bag.
The material used is a thick and durable PVC and on the top, there's a soft, velvety flocked layer that prevents the bedding from sliding. The support from the coil system is good. The instructions for the battery recharge are given on the website. Many users have found it not ideal for rough camping but if you follow the instructions, this mattress might last a good time.
Pros: Fast and convenient pump, affordable
Cons: No insulation, PVC construction
See the ALPS Mountaineering Rechargeable Air Bed
10. NEMO Roamer

Weight: 3 lbs. 15 oz.
R-Value: Rated to 30°F
Dimensions: 76 x 25 x 4 in.
Type: Self-inflating
It's a plush self-inflating mattress for car camping and road-tripping. The overall pack size is far smaller than comparable pads on the market. But it inflates to a plush 4-inch thickness. This pad takes camping luxury to the next level. The open-cell foam core starts compressed small but soaks up the air like a sponge when you open the valves. When you get to camp, just roll it out and let the pad do most of the work for you while you attend to other tasks.
You can top it off with your lungs or with a pump if you have one. Foam naturally gives insulation so this pad can handle cold weather temperatures. The top fabric has stretch so it feels more like your bed at home and the bottom is durable to hold up well against repeated use. The vertical sidewalls and toggles mean you can attach two pads. There's no awkward dip or a gap in the middle. I prefer to use two separate pads like this rather than one 2-person pad. Because you can each dial in your preferred firmness and when you move around or get up at night you don't disturb your partner's side of the pad.
The valves are flush with the pads so they don't stick out in the tent. This one-way inflation valve lets you burp out short puffs of air at a time. I like to sink into my sleeping pads a little and I usually fully inflate it to start and then dial it in once I'm laying down on it. The other valve opens wide to dump air out for fast deflation when it's time to pack up.
Pros: Packs to half the size of similar options, warm, comfortable
Cons: Slight bounciness
Best Air Mattresses for Car Camping: Comparison Table
How to Choose Car Camping Air Mattresses?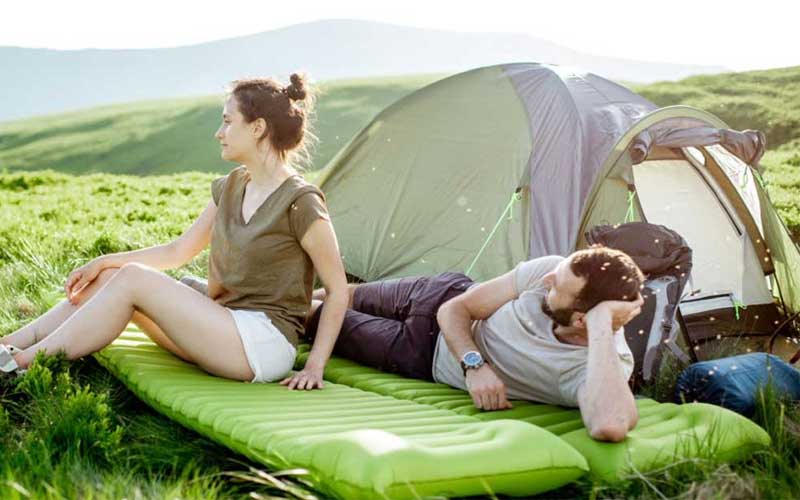 There's absolutely no one way to select a bed that is good for everyone. A night of good sleep is an essential need for everyone especially when you are outdoors because you need all the energy you can get. That said, there is absolutely no need for buying anything that costs a lot. As with your bed at home, read the specs, and see what you find best suited to your needs and get that. If you're going to use a mattress for just a day or two or you're just experimenting with sleeping outdoors, do what you'll do for a temporary bed at home, buy the best you can get in a budget and invest in something better and long-lasting if you're going to use it that often.
Insulation and R-value
Foam core can be so much more comfortable than air core and foam has a greater R-value than air. The R-value is the measurement of heat insulation provided by a surface or anything that is between you and the ground. An R-value of 0 means there's no insulation. An R-value of 2 means it is 2 times more insulated than not being insulated and so on.
Noise and Smell
Some air mattresses can be very noisy and smelly. Heavy sleepers might not even notice the noise this but light sleepers can find it annoying. The same goes for the PVC plastic smell. Some people tolerate it and others don't.
Size
If you're sleeping in the car you would also need space for other stuff. It is also important to consider who will be sleeping on the mattress. Just as not every glove will fit every hand, not every mattress will fit every car or every sleeper's individual requirements. It is important that you look for the mattress that best suits your requirements including your height and weight.
Horizontal and vertical space measurement in your car is very important. You must leave enough headroom so that you don't have to sacrifice some trunk space with the slanted rear end.
Inflation
A self-inflating mattress can be an ideal choice for those who don't want to put in any extra effort in inflation. This can take time, so be sure to lay out the mattress first then see to the rest of your set up and come back to an inflated mattress. A mattress with a manual pump can be less expensive and will take time and effort. Automated pumps can be more expensive, but they are very easy and quick to set up.
Comfort
A mattress should give you the room for movement, optimum firmness, and best back support for your personal sleep preferences. Sometimes all the reviews you find for a mattress can be good but you can find it the opposite, while sometimes a mattress that many people don't like can give you the best sleep of your life. So a good idea is to check the specifications, we've outlined the most important specs here. You can see if people are appreciating the compact size of a mattress but if like more space to move around, go for a wider mattress. Some people might complain about the noise in a mattress but if you're a heavy sleeper, there's no need to go for an expensive alternative. In the end, it's about what makes you comfortable.
Price
When investing in a mattress, it is very important to check all the key specifications and decide which ones are relevant to you and which ones aren't. For example, lightweight has no significance when going for car camping. Packed size is also not very important but if you have other gear to store, you can look for a compact size. The thickness, noise, smell, etc are all features that some might notice too much and hence find it difficult to sleep without their desired environment but at the same time. Some might not care about them and hence don't have to spend too much on these features.