We use affiliate links and may receive a small commission on purchases.
Learn more
Choosing the right rain jacket for your outdoor adventures is important because it provides comfort and safety when a storm rolls in or the wind starts to howl. The models we reviewed below provide budget rain protection for day hikes and general around-town use, to ultralight rain protection for climbing, long-distance backpacking and trail running. These jackets perform well in rainstorms and provide features like DWR coating, seam-sealing, waterproof/breathable membranes, and secure hoods.
Whether you're hiking or climbing, these budget rain jackets will keep you dry on rainy days at a price that won't break the bank.
1. Marmot PreCip Eco

Material: NanoPro Eco
Waterproofing: 2.5L NanoPro
Pockets: 2 hand
Weight: 10.1 oz
This is a fully waterproof and budget-friendly jacket for hiking, weekend backpacking, and everyday use. It's constructed with 100% recycled nylon fabric and the coatings are the PFC free so you can feel good wearing it. The NanoPro ripstop nylon fabric keeps rainwater out and if you start to heat up inside, you can open the pit zips to vent. The hand pockets have meshed lined and they have a storm flap over them so they act as additional vents.
The attached hood gives protection on stormy days and it's adjustable to cinch around your head so you can look left and right and not be blinded. The hood can be rolled into the collar on days when you don't need that extra protection. The cuffs adjust to keep out the elements and the drawcord at the hem can be tightened. If you zip it up all the way, the DriClime liner is soft against your chin. The snap at the bottom of the zipper helps keep water out with a storm flap.
You won't feel inhibited in this jacket because of the Marmot's Angel-Wing Movement. It is a pattern that gives more room in your shoulders and upper back. The jacket is packable enough for backpacking and it conveniently stows in one of the pockets so you can clip it to a climbing harness.
Pros: Simple but functional, can pack away hood, excellent value
Cons: Difficult to fit into a pocket, no chest pocket, basic interior lining feels clammy when working hard
See the Marmot PreCip Eco See the Marmot Women's PreCip Eco
2. Columbia Watertight II

Material: 2-Layer nylon
Waterproofing: 2L Omni-Tech
Pockets: 2 hand
Weight: 13 oz
Columbia Watertight II is an affordable rain jacket that provides good mobility, it looks sharp, it fits well and most importantly it keeps you dry. This jacket is made for the budget-conscious and is a perfect everyday option for short hikes, drizzly early morning dog walks, and yard work. This jacket is lightweight and it can be used for longer hikes, even backpacking trips and will perform best in cool weather when ventilation isn't as important. Watertight II jacket is built with 2-layer fabric technology and a mesh liner. It is waterproof, feels comfortable and a good option for entry-level rain hikes.
Features include a simple hood that doesn't offer any cinching feature on the back, elastic wrist cuffs with simple velcro tab for cinching them down, two zippered hand pockets with storm flaps, and an elastic hem cinch cord on the right side. It's important to note that this jacket does not have pit-zips.
Watertight II jacket weighs around 13.5 ounces. Despite the 2-layer construction, it is barely 0.5-2.5 ounces heavier than most of its closest competitors. It is made with a durable nylon fabric but it doesn't have a ripstop weave. The pack size of this jacket is not very impressive. However, it does stuff into and stows in its left-hand pocket. It fits well, is easy to stuff, and the zipper is easy to operate.
Pros: Great value, lots of color options, athletic fit
Cons: Cheap construction, plasticky feel, limited hood adjustment
See the Columbia Watertight II
3. The North Face Venture 2

Material: DryVent Nylon
Waterproofing: 2.5L DryVent
Pockets: 2 zippered hand
Weight: 10.9 oz
This jacket is packed with features to keep you dry and comfortable in rainy conditions. The North Face always makes sure to pack their products with high-quality features to keep you well-protected during all weather conditions and Venture 2 is no exception. With its waterproof and seam-sealed DryVent shell you'll be sure to stay dry and comfortable during the cold and rainy season.
The hood is fully adjustable for a nice custom fit. For extra airflow, this jacket has an underarm vent system for convenient temperature control in case things get too warm. To protect from outside elements, this jacket features an exterior storm flap and a hem cinch-cord for a tighter to keep rain and snow from coming inside the jacket. On the sleeves, the adjustable velcro cuffs allow for a dialed-in and custom fit. As far as pockets go, there're two waist pockets for keeping your hand warm and storing any essentials.
For sizing, Venture 2 has a regular relaxed fit that makes it comfortable without being too baggy and heavy. You should be getting your normal size but if you want to be sure you can take measurements. Overall, Venture 2 is one of the most affordable 2.5-layer shells and it is a good entry-level shell for the budget seekers. It's also an incredible deal for the occasional hiker or backpacker and will impress urban-focused users.
Pros: Fairly light, good mobility, nice hood design, fairly compact, solid weather resistance, good ventilation
Cons: Not the most breathable, the hood doesn't fit over a helmet, relatively bulky fit
See the North Face Venture 2 See the North Face Women's Venture 2
4. Outdoor Research Helium II

Material: Pertex Shield
Waterproofing: 2.5L Pertex Shield+
Pockets: 1 Napoleon, 1 stow
Weight: 6.4 oz
Whether you're doing some summer alpine climbing or ultra-running through the winters, this ultralight shell has a home in your backpack. This jacket is made with 2.5-layer Pertex Shield+. This 30D ripstop is pretty durable when compared to other ultralight shells. It's fully seam-taped and 100% waterproof. That being said, this is a super lightweight layer and I have found it gets pretty warm when I am generating a lot of heat. So you may feel perspiration build-up on the inside.
It's pretty minimal but you do get a few features. It has an adjustable hood that works with a climbing helmet. The front main zipper has YKK AquaGuard construction so it's quite water-resistant. The zippered chest pocket has that same construction. There's a small internal pocket that doubles as a stuff sack. It lets this jacket pack down to about the size of a small sandwich. The fit is pretty trim. If you're climbing, it's recommended that you have a lightweight insulating layer underneath or simply a mid-weight base layer. There's a drawcord hem to cinch the fit and cuffs are elastic, which helps to keep things in place.
Overall, this is a great piece and it's backed by an awesome guarantee. Outdoor Research knows how to create great gear for the outdoors.
Pros: Super light and packable.
Cons: Doesn't breathe as well, clammy-prone interior.
See the Outdoor Research Helium II See the Outdoor Research Women's Helium II
5. Marmot Minimalist

Material: Gore-Tex Paclite
Waterproofing: 2.5L Gore-Tex Paclite
Pockets: 2 zippered hand, 1 zippered chest
Weight: 14.9 oz
It's a lightweight and durable outer shell made with a Gore-Tex Paclite waterproof breathable membrane. It's a go-to shell when the harshest weather approaches. Wet materials can make you feel uncomfortable and rob you of a good backcountry experience. Gore-Tex products are guaranteed to keep you dry.
Features include a full-length zipper on the front with a storm flap, at the bottom of that flap there's a nice snap closure so it will keep that flap dry and closed if the rain is coming down. You get a chest pocket with a water-resistant zipper that provides easy access to items if you need to get them quickly. You also get two zippered hand pockets with a velcro closure to provide some extra protection.
At the cuffs, you get a velcro adjustment so you can cinch them down if you want a more snug fit or if you want to put a glove over the jacket. Under the arms, you do have pit zips, which help in dumping extra body heat. On either side of the jacket, there's a hem drawcord so it's not going to ride up if you're wearing a backpack or a harness of any sort. The jacket also comes with a helmet-compatible hood with easy adjustments.
This jacket is a regular fit so it is a relatively loose cut. It's not very athletic tailored. You get plenty of room underneath. It's also got Marmot's Angel-Wing Movement that provides a lot of mobility in the arms and shoulders. It's not restricting in any way. You won't feel like the jacket is holding you back from any type of movement out on the trail.
Pros: A high-quality and well-rounded rain jacket.
Cons: Heavy for a "minimalist" design, slightly more expensive than non-Gore-Tex jackets
See the Marmot Minimalist See the Marmot Women's Minimalist
6. Outdoor Research Foray

Material: 50D polyester with Gore-Tex Paclite
Waterproofing: 2L Gore-Tex Paclite
Pockets: 2 zippered hand, 1 chest
Weight: 16.3 oz
This jacket is durable, waterproof, and just reliable. It's worth carrying anytime you think there may even be a chance at some foul weather. The Foray has a home in everyone's closet whether you're an outdoor adventurer or not. The jacket is technical. It's built with a 50D polyester plain weave fabric and Gore-Tex Paclite waterproof membrane. That Gore-Tex is now PFC free, which is just another step toward their commitment to sustainability and reducing the carbon footprint.
The entire jacket is laminated and seam-taped to guarantee waterproof protection. The full-length front zipper has YKK AquaGuard barrier that blocks a storm flap to even further bolster the weather protection. The zipper is double separating so you can open it up from the bottom to access your harness if needed. When zipping the jacket up, make sure to fully seat the zipper in both of the zipper poles to prevent it from getting snagged or caught up. There's a fully-adjustable hood at the top. There's a zip chest pocket with an AquaGuard zipper and there're also zip hand pockets with welted flaps covering the tops. The left -hand pocket even doubles as a stuff sack.
One of the great features of this jacket is the TorsoFlo Venting. You can vent this thing from Hem-To-Bicep to maximize the airflow, while still stay protected with this vent system. You can enhance the fit and protection with the hook and loop cuff closures and the elastic drawcord hem.
Pros: Stormworthy, versatile, durable, comfortable, high level of ventilation, great price for a Gore-Tex jacket
Cons: Slightly on the expensive side
7. Mountain Hardwear Stretch Ozonic

Material: Dry.Q Active Stretch
Waterproofing: 2.5L Dry.Q Active
Pockets: 2 hand zip, 1 chest zip
Weight: 10 oz
Mountain Hardwear Stretch Ozonic is a great offering for those who need waterproof and breathable protection that won't restrict their movement. This jacket is constructed with Mountain Hardwear's Dry.Q Active membrane. It's a fully waterproof breathable membrane that is designed for aerobic activities where waterproof breathable protection is necessary but lightweight is essential and freedom of movement is also a key.
Features include a full-length water-resistant zipper on the front with a storm flap, two bonded water-resistant zippered pockets set slightly higher to access harness or a pack hip-belt easily, a small napoleon chest pocket, underarm PitZips enough to get some ventilation, velcro closure cuffs, and a drawcord hem. This is a hooded jacket so you do have a 2-way adjustable hood. This jacket is a standard fit so it's a fairly loose cut. You get plenty of room in the arms and in the body to layer up so you can add a lightweight down jacket or a fleece underneath. It's stretchy so it is going to work with most of the layers, it's not going to pull against you if you want to layer under it.
Pros: Can be used in a variety of situations and activities, surprisingly breathable and stretchy
Cons: The hood is a bit too large.
See the Stretch Ozonic See the Women's Stretch Ozonic
8. Outdoor Research Interstellar

Material: 3-layer 20-denier mechanical stretch ripstop
Waterproofing: 3L AscentShell
Pockets: 2 hand, 1 chest
Weight: 11.6 oz
This is the lightest, truly stretchy, and waterproof jacket that's breathable and works with you regardless of your sport. The fabrics are ultralight but they have a good feel. The face is a 20D nylon with mechanical stretch and the backer is a 20D polyester. The membrane that keeps you dry is Outdoor Research's 3-layer AscentShell membrane. This is extra special because the membrane is Electrospun that gives it a much different level of waterproof breathability than the competition. This also allows the whole thing to stretch without compromising the structure.
The zippers are all YKK AquaGuards so you get superior water-resistant in more leak-prone areas. There are a small zippered chest pocket and two zippered hand pockets. The jacket even stows away into the left-hand pocket. The hood is large enough to be helmet-compatible and there're plenty of adjustment points to cinch it down on a bare head.
The fit is considered a trim fit. It is snug but there's a little bit of space underneath for light insulation. The Dynamic Reach Underarm Panels help with the mobility combined the stretch it's easy to move around. Whether you're ski touring, cycling, climbing or trekking, this jacket will fit into your kit without weighing you down.
Pros: A multi-sport shell at fewer than 12 ounces.
Cons: Not everyone will appreciate the technical design, including the helmet-compatible hood, expensive
See the Outdoor Research Interstellar See the Outdoor Research Women's Interstellar
Best Budget Rain Jackets: Comparison Table
How to Choose the Right Budget Rain Jacket?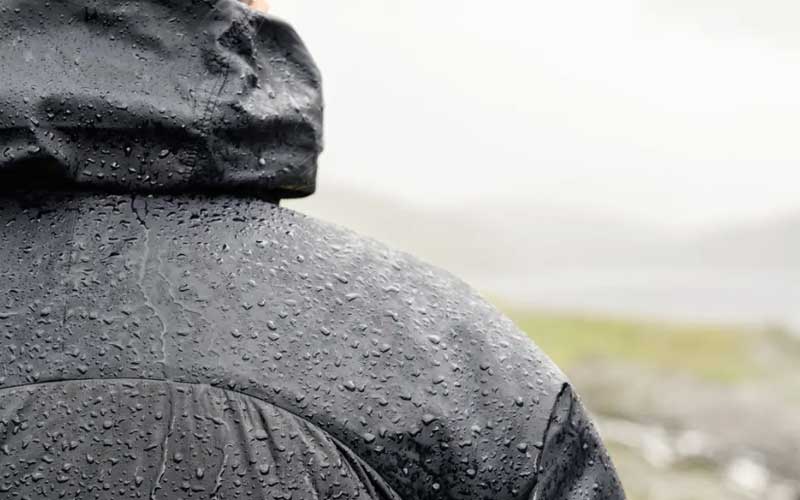 Whether you're looking for a new jacket for the first time or a modern replacement for an old favorite, keep these recommendations in mind to choose the perfect fit for your outdoor adventures.
Understand the Fabric Layers
When a waterproof jacket is created, it resists moisture from entering yet also lets sweat and hot air vent out requires a combination of fabric layers. Fabric layers are can be broken down into three categories described below.
2-Layer: Most of these jackets are entry-level and require a mesh liner to protect the jacket's inner coating. They don't breathe well and adding mesh liner creates bulk. These jackets are best for casual use.
2.5-Layer: These jackets have a very thing interior fabric attached to the waterproof/breathable laminate or coating, therefore eliminating the need for mesh found in 2-layer jackets. These jackets are comparatively more breathable and packable, which make these jackets a good option for hikers, backpackers, and climbers. One limitation is that the interior fabric isn't as soft to the touch as a true 3-layer.
3-Layer: Almost all premium jackets have 3-layer construction. These jackets incorporate three separate pieces of fabric i.e. an external DWR treated face fabric, a waterproof breathable membrane in the middle, and a super-thin polyurethane (PU) film. 3-Layer jackets are the most durable but expensive. One disadvantage is that these jackets are not always as breathable and are often slightly heavier than many of their 2.5 layer counterparts.
Weight
The rain jacket weights correlate closely with their intended use. Every jacket is designed for a specific outdoor activity. For example, lightweight shells are hiking-ready while designs that are more feature-rich and durable for crossing over for daily wear often add a bit of weight. It is recommended to choose a jacket between 9- to 16-ounce, this range covers almost all jackets that can be used in a variety of outdoor activities.
Packability
Most jackets can stuff into their own pockets. You turn the pocket inside out, stuff the jacket in, and zip it shut. Just because a jacket has a nice pocket that doubles as a stuff sack, doesn't necessarily mean that the jacket is that packable. The pack size may vary depending upon the brand and/or price. A cheaper jacket, for example, Columbia Watertight II can be stowed in its left-hand pocket but it does not pack small. On the other hand, the lightweight Arc'teryx Zeta SL would still be considered quite "packable", despite lacking a stuff pocket.
Size
Do you want your jacket to fit snugly for active use or loose to allow for layering underneath? Jackets that fit snugly allow maximize breathability. On the other hand, loose-fitting jackets give you more room for insulation, base layers, and they promote ventilation. Snug-fitting jackets usually create a more uniform and warm environment inside that promotes breathability.
Pockets
It is always good to have a couple of hand pockets but most ultralight shells go without hand pockets. If you get a feature-rich jacket, you often get two hand pockets and a chest pocket. Pocket placement is another consideration. Some high-end brands set pockets slightly higher to access harness or a pack hip-belt easily.
Hood Design
Consider your intended activity and decide whether you need a hood or not. Do you need a helmet-compatible hood? Does peripheral vision important to you? If you're a climber or cyclist, it is recommended to go for an over the hood design. For normal hiking and backpacking, it isn't very critical.
The hood adjustability is also important. Look for a hood design that conforms to your head in the wind, while retaining enough structure around the sides and the bill that you can still see out.
Pit Zips
Waterproof shells are designed to keep moisture out. There're natural restrictions on the air being held inside. It sometimes becomes a necessity to dump that hot air especially when you're working hard. By opening up the jacket's pit zips, you can release a lot of air without sacrificing the jacket's waterproof design.
Waist Adjustments
Almost every rain jacket comes with some sort of waist adjustment system at the hem to allow the best possible seal. Most ultralight shells have a single cinch. When you tighten the jacket, it pulls a bit to one side but it is not a big deal and worth the weight savings. On the other hand, feature-rich and heavier shells have cinches on each side for a more even fit.