We use affiliate links and may receive a small commission on purchases.
Learn more
If you're looking for a rain jacket that offers solid warmth at a good value, you've come to the right place. The jackets we will be discussing are resistant to moisture, can breathe better and are more cost-efficient. These jackets protect you from exposure in the wilderness and provide warmth and comfort. Although there are a lot of expensive choices out there, you shouldn't have to break the bank to keep yourself dry in the woods. An affordable option will get the job done.
Rain jackets can now be the same weight as they were a few years ago. They're lightweight, and some soft-shelled are now fully rainproofed. But the main has not changed. To protect against rain you could still use a dense waterproof jacket. For a short being outdoors in changeable weather often only need a suitable jacket, not occupying much space in the backpack. For all other cases, there are countless varieties of soft-shell.
So these are the top picks for the best backpacking rain jackets consider them for your next adventure.
1. Arc'teryx Zeta SL
Material: N40r Gore-Tex Paclite Plus
Waterproofing: 2L Gore-Tex with Paclite Plus
Pockets: 2 hand
Weight: 10.9 oz
This jacket has a simple and lightweight shell that is designed to be your emergency when the sky opens up. It has a simplified profile and minimal features keep it light. The Zeta is made with 40D ripstop nylon fabric. This is a great balance between lightweight and durable. The jacket's kept waterproof by using the Gore-Tex Paclite Plus technology. This Paclite is an improvement and gives better next to skin comfort than traditional Paclite membranes.
The features are simple to keep it light and packable. You get a storm hood that's not helmet-compatible. It's meant to be a backpacking jacket, not a technical climbing or skiing shell jacket. The front zipper is highly water-resistant. There're also two hand level water-resistant pockets. You can seal up the jacket at the hem and the cuffs with adjustment. There's a drawcord at the hem and velcro a the cuffs.
Overall, this is a great layer to have in your pack. Perfect storm protection when you need it and it packs away effortlessly when you don't.
Pros: Premium look and feel, top-tier storm-worthiness, hood design, mobility and range of motion, exceptional breathability, harness & hip-belt friendly pockets
Cons: No ventilation options, expensive, no easy way to clip to a harness
See the Arc'teryx Zeta SL See the Arc'teryx Women's Zeta SL
2. Marmot Minimalist
Material: Gore-Tex Paclite
Waterproofing: 2.5L Gore-Tex Paclite
Pockets: 2 zippered hand, 1 zippered chest
Weight: 14.9 oz
Despite the name, this thing gives maximum waterproof protection at an average weight of around 15 ounces. This jacket is a tried-and-true shell that's great for year-round adventuring. The jacket has zipper flaps and a seam that runs vertically along the inner flap. This feature helps keeps water from getting to you. Pockets are sealed and taped with Gore-Tex from the inside. You could fill your pockets with water and it would not reach you. There are only a few seams so the jacket ends up being more breathable. The jacket is also treated with a PFC free water-resistant finish to help shed moisture even better.
This is one of the great Gore-Tex jackets on the market for the money. If you are looking to keep dry and want to breathe in temperatures at 70 degrees or below (no Gore-Tex jacket breathes above about 70 degrees as it requires a temperature differential to breath) then this is the jacket for you. Overall, this jacket is great for all-season use. Gore-Tex performance in a simplified package at a price that's not outrageous.
Pros: Lightweight, feels sturdier and a little more durable than a true ultralight jacket, the hood is great
Cons: The only thing we don't like in this jacket is the left-handed zipper.
See the Marmot Minimalist See the Marmot Women's Minimalist
3. Outdoor Research Helium II
Material: Pertex Shield
Waterproofing: 2.5L Pertex Shield+
Pockets: 1 Napoleon, 1 stow
Weight: 6.4 oz
Helium II is made of Pertex Sheild 2.5-layer ripstop nylon. The jacket is very lightweight and packs down so small. It's compressible to the measure of a granola bar. The Helium II keeps you shielded from unpleasant climate on the trail yet doesn't squander space or include over a feather's worth of weight to your pack.
This jacket is very light you can carry this jacket in your pack on every hike. There is nothing better than pulling it out of the pack during squalls and keeping the elements at bay.
The jacket has a drawcord on the very bottom. This allows you to fit the jacket to whatever waist size. If your waist is about 36 inches, you don't need to adjust this. The cuffs also have the elastic inside of them which helps keep the water elements out.
Overall, it's a great jacket and very portable either by carrying in hand or a pack. You'll love the waist adjuster and the hood adjuster. You can use it solely for backpacking.
Pros: Super lightweight, works as advertised, cuts the wind and rain, upper zip pocket for keys
Cons: The cuffs aren't adjustable but they're just fine and stay in place. Little expensive for what you get – but at the end of the day it's a nice reliable and packable jacket.
See the Outdoor Research Helium II See the Outdoor Research Women's Helium II
4. Marmot PreCip Eco

Material: NanoPro Eco
Waterproofing: 2.5L NanoPro
Pockets: 2 hand
Weight: 10.1 oz
Marmot PreCip Eco is a tried-and-true jacket and it is now simply made with more sustainable recycled materials. Marmot is taking a step toward sustainability and this classic piece is a great example. This jacket is a budget-friendly buy for those who may want a rain shell but don't expect to use it all of the time. The shell is made from 100% recycled nylon.
The jacket is using Marmot's NanoPro technology which ensures waterproof and breathable performance. The seams are fully taped to guarantee that waterproofing. There're full pit zips under each arm to help dump heat when you go out hiking. There's also a full hood with peripheral adjustment. Marmot built a collar feature so you can roll the hood down to make it essentially disappear if you don't want it.
The chin area has a DriClime lining to give you some next to skin comfort. There're zippered pockets that are pack compatible and one of those pockets is reversible so that you can stow the jacket away into itself. There're also velcro cuffs and a drawcord hem to seal things down.
Overall, this is a great budget-friendly shell for the occasional outing or someone who just needs a shell for those quick walks in the rain.
Pros: Proven performance and excellent value.
Cons: No chest pocket, basic interior lining feels clammy when working hard
See the Marmot PreCip Eco See the Marmot Women's PreCip Eco
5. Outdoor Research Interstellar
Material: 3-layer 20-denier mechanical stretch ripstop
Waterproofing: 3L AscentShell
Pockets: 2 hand, 1 chest
Weight: 11.6 oz
This is a completely waterproof shell that offers legitimate freedom of movement. No matter what's your preferred sport, this thing is great for keeping you dry outside. It has also very light construction so it's even great for those ounce-counters. The jacket uses a 3-layer nylon shell with the AscentShell membrane. This is a laminated membrane that gives you waterproof and windproof performance while still being air-permeable from the inside out.
The face fabric itself is a 20D ripstop mechanical stretch nylon with a 12D polyester backer. It's nice because it doesn't have that plastic-like feeling that we sometimes associate with waterproof jackets. The best part about this jacket is that it's just comfortable. It doesn't feel like a typical waterproof jacket.
There're plenty of extra features on this jacket. You have YKK AquaGuard zippers, which bolster the jacket's weather protection. Behind the front zip, there's a storm flap to even further prevent leaks. You have protected zippered hand pockets and a low profile zippered chest pocket. Up at the top, you have a fully adjustable helmet-compatible hood. The jacket has a trim fit because it's meant for some slightly higher output activities. It's meant to be very low bulk.
Despite being a waterproof jacket, this one still packs down small enough to stow into its pocket. You'll find a reversible pocket at the hand level that doubles as a stuff sack for this thing.
Pros: Stretchy, light, very packable, affordable, quite breathable
Cons: Hand pockets are a bit low, the hood is a bit shallow with a helmet on, fragile
See the Outdoor Research Interstellar See the Outdoor Research Women's Interstellar
6. Marmot PreCip
Material: NanoPro Nylon
Waterproofing: PreCip NanoPro
Pockets: 2 zippered hand
Weight: 13 oz
Marmot PreCip is a lightweight rain jacket. For fans of backcountry and urban travelers focused on convenience jackets from the American manufacturer. Marmot PreCip has been on the market for many years. But this year it's made with new technology. It has the most breathable 2.5-layer technology that the market has to offer today. Fully taped seams and 2.5-layer NanoPro coating makes our everyday classical model even more breathable. Additional details such as a full range body motion fit, active ventilation system and pockets PitZips Pack Pockets with easy access. PreCip jacket can be packed into its pocket.
The PreCip Jacket is very comfortable and it has a 2.5 layer shell with well-built features. Marmot PreCip is well-equipped with NanoPro technology that breathes exceptionally well for a low price tag.
Marmot PreCip is a great do-everything jacket. It is very lightweight, you can carry this jacket on long backpacking and climbing trips and it's well ventilated for high energy activities. The hood rolls away if you like to wear a rain hat or if you're using your jacket around town. The hand pockets can hold phone, keys, and gloves with no problem.
If you're looking for one model to do everything and an affordable price, PreCip is for you.
Pros: Good breathability than others in its price range, good ventilation, roll away hood, nice pit zips, affordable
Cons: DWR lasts decently long, no chest pocket, not quite as breathable as membrane models
See the Marmot PreCip See the Marmot Women's PreCip
7. Outdoor Research Foray
Material: 50D polyester with Gore-Tex Paclite
Waterproofing: 2L Gore-Tex Paclite
Pockets: 2 zippered hand, 1 chest
Weight: 16.3 oz
Outdoor Research Foray jacket has been a long-time favorite among alpinists, backpackers, and climbers. It's extremely lightweight, durable and full of features that deliver high performance in the backcountry. The Foray jacket's 2-layer 50D Gore-Tex Paclite construction makes it highly waterproof yet breathable.
You get fully-taped seams everywhere throughout the jacket, fully waterproof full-length zipper and TorsoFlo pit zips. The pit zips in this jacket make it unique especially if you're wearing a pack or climbing harness. It is a hooded jacket. There's adjustability on the hood to ensure that you get a proper fit. The hood is large enough and it will fit over a helmet. You do have adjustability velcro at the cuffs and also dual adjustability at the hem to make sure that the jacket is fitting appropriately and keeping you fully protected.
On many waterproof breathable jackets that include pit zips, you get a design that runs just a short length or just enough to allow a little bit of ventilation and give you a chance to cool down. On the TorsoFlo, you get two-way separating zippers that go from tricep area to hem of the jacket. It provides maximum ventilation and also conveniently allows pack straps to pass through the jacket or beneath the jacket.
Pros: Great price for a Gore-Tex jacket, nice fit, and feel, multi-sport functionality, nice fit and feel, high level of ventilation
Cons: Annoying toggles
See the Outdoor Research Foray
8. The North Face Venture 2
Material: DryVent Nylon
Waterproofing: 2.5L DryVent
Pockets: 2 zippered hand
Weight: 10.9 oz
The North Face Venture 2 is a good value jacket. It's recommended for hikers, backpackers, skiers, or someone who might merely need a rain jacket for running around town. Venture 2 offers excellent weather resistance and a DWR. It is also lightweight and packable enough. This feature makes it a very reasonable option for taking it for ultralight backpacking. Venture 2 has its own 2.5-layer propitiatory Dryvent fabric that offers weather protection.
Although this jacket is recommended for hiking and backpacking, you can also use it for climbing and mountaineering or even the occasional downhill skiing. That said, for a quite low price, you can find something that offers lighter weight, as well as better packability, durability, and breathability.
One thing to know, this is a low price waterproof jacket so it's not going to be quite breathable as the other Gore-Tex jackets.
If you're looking for a lightweight, waterproof or a rain jacket to wear on drizzly days, also, wanted it to have pockets, a hood, and have some style to it; this jacket will meet your requirements perfectly.
Pros: Affordable, zippered opening allow you to ventilate if you get war, fits great, good mobility
Cons: Relatively bulky fit, not the most breathable, the hood doesn't fit over a helmet
See the North Face Venture 2 See the North Face Women's Venture 2
9. Arc'teryx Beta SL Hybrid
Material: Gore-Tex Paclite synthetic
Waterproofing: 2L Gore-Tex Paclite
Pockets: 2 hand
Weight: 12.3 oz
This is a technical shell designed for mountain adventures. Whether you're alpine climbing in the Bugaboos, trekking the Continental Divide Trail or traveling abroad during the rainy season, this jacket will protect you. A mix of materials and an excellent fit make this thing great. The Beta SL is made 40D ripstop nylon with a Gore-Tex Paclite Plus membrane. Other panels are made with a 42D plain weave nylon with a Gore C-Knit backer.
This hybrid construction gives you added durability and key areas while shedding weight in places where you don't always need that beefed up protection. Both the Paclite Plus and C-Knit materials are designed to give you excellent next to skin comfort. They don't feel like the slimy plastic we normally associate with rain gear.
The features are clean and simple. You get a big front WaterTight VISLON zipper. There're also two WaterTight zippers with RS sliders for the hand pockets. These zippers are all highly water-resistant. The hood is an adjustable helmet-compatible StormHood. It's a bit oversized but you can easily cinch things down. The hood is strategically cut to provide full protection and excellent visibility. During those hard climbs when you start to get a little warm, this jacket vents easily thanks to the water-resistant pit zips.
The jacket has a trim fit with the e3D cut. This ergonomic design is something Arc'teryx prides itself on and it makes their jackets fir better than most in the business. You do get laminated adjustable cuffs referred to as DryCuffs in this case. There's also a drawcord hem to seal out the bad weather.
Pros: Great combination of weather protection, features, weight, and comfort.
Cons: Expensive and technically not packable.
See the Arc'teryx Beta SL Hybrid See the Arc'teryx Women's Beta SL Hybrid
10. Patagonia Torrentshell
Material: H2No Performance Standard
Waterproofing: 2.5L H2No
Pockets: 2 hand (1 stow)
Weight: 11.3 oz
Patagonia has expanded its collection of new Torrentshell rainproof and windproof jackets. The new Torrentshell provides excellent protection from wind and precipitation, and water vapor permeability due to the proprietary H2No material. The jacket is made of a thick nylon 40D with ripstop. The material is made of two-layer H2No Performance Standard Shell with water-repellent Deluge DWR, nylon polyester and backed by a laminated membrane from the inside.
In men's version, there's a voluminous, double-layered hood and high collar, two hand pockets, and one chest pocket. The sleeve is fixed cuff with Velcro, under the sleeves, there are two vents two-way zip. The new jacket, weighing 12 oz for medium size, comes in five different shades; the price is very reasonable.
Pros: Takes up little room in a daypack, wrist straps can be made pretty tight so that during a rainstorm your arms and body will stay dry
Cons: The pockets are created by attaching extra fabric to the whole jacket and seams are not well protected thus cause leakage
See the Patagonia Torrentshell See the Patagonia Women's Torrentshell
11. Arc'teryx Beta AR
Material: N40r-X Gore-Tex Pro
Waterproofing: 3L Gore-Tex Pro
Pockets: 2 zippered hand, 1 zippered chest
Weight: 1 lb
Arc'teryx Beta AR Jacket made for the versatile mountaineer who climbs alpine all summer and skis the backcountry all winter. The jacket is made of updated membrane material Gore-Tex Pro laminate material. According to the manufacturer, up to 28% more permeable than the previous version. The outer layer of the sandwich material is made of nylon fabric N40p-X. The density of the fabric is 40 denier. The fabric is also treated with water-repellent impregnation.
The cut of the jacket provides low back, adjustable sleeve cuffs and jacket hem and two large front zippered pockets and one laminated pocket inside. Jacket and pockets, wind and waterproof zippers, all seams are additionally glued.
If you're doing tons of hiking or backpacking, this jacket will always keep you dry and warm. The fabrics in this jacket are incredible. There's a new front zipper that seems much more robust and durable than the previous version. Use this jacket to go backpacking or wear it to work throughout the week. You'll never find a versatile jacket like this.
Pros: Very functional and great looking and feeling outside the shell, amazing quality
Cons: The only con is the price. It's expensive!
See the Arc'teryx Beta AR See the Arc'teryx Women's Beta AR
12. Outdoor Research Optimizer
Material: Gore-Tex Active
Waterproofing: 3L Gore-Tex Active
Pockets: 1 chest zip, 2 hand zip, 1 internal zip
Weight: 13 oz
Outdoor Research Optimizer Jacket gives you heavy-weight protection and a surprisingly lightweight package. Averaging 13 oz for the large size, this jacket brings complete rainproof performance to the table. This jacket has some premium materials which make it perform so well in the mountains.
The cut of the jacket weighing approximately 12 oz provides a volume adjustable hood with a high collar, low back, elastic vapor-permeable panel undersleeves, preformed sleeves with adjustable cuffs and three pockets with zip closure.
Outdoor Research Optimizer Jacket is made from a relatively new material Gore-Tex Active 3L. The outer layer is rip-stop 20D nylon, lining — polyester 20D. It's characterized by a high level of water-resistance and vapor permeability and low overall weight and high compactness. In the design of jacket used an oversized hood with a high storm collar, low back and adjustable volume on the bottom edge, permeable elastic panels in the armpits, slightly elongated preformed sleeves with adjustable cuffs and three inset pockets with zip closure.
Pros: very breathable, great quality, soft and pleasant materials, lightweight
Cons: Expensive, no vents
See the Outdoor Research Optimizer See the Outdoor Research Women's Optimizer
13. Mountain Hardwear Stretch Ozonic

Material: Dry.Q Active Stretch
Waterproofing: 2.5L Dry.Q Active
Pockets: 2 hand zip, 1 chest zip
Weight: 10 oz
This piece takes active rainwear to a whole new level because of the innovative Dry.Q Active membrane. It's great for any active adventure seeker who needs lightweight stretchy rain protection. The jacket's made with a 40D face fabric and under that is a 2.5 layer Dry.Q Active membrane. That's the special bit that makes this thing perform as well as it does. Because of the way Mountain Hardwear was able to create that you get a 4-way stretch throughout the entire jacket. No matter what, you'll be able to move in this piece.
The hood cinch system is easy to use. You get large underarm vents as well that are accessible with 2-way zippers. There's an AquaGuard front zipper to protect you from the elements. The jacket even packs into its zippered chest pocket. Two hand pockets are extremely spacious and zip closed for security. Velcro cuffs and a drawcord hem help to trap a little heat or seal out those gusty rains.
The jacket is meant to fit a bit more actively so it's not a loose or relaxed cut piece. This thing is perfect for the runner, biker, hiker, climber or anyone looking for a lightweight, stretchy and highly breathable rainwear.
Pros: Incredibly stretchy, comfortable, breathable, long arms, not crinkly
Cons: Thin, hood not great coverage, not windproof
See the Stretch Ozonic See the Women's Stretch Ozonic
Best Backpacking Rain Jackets: Comparison Table
How to choose the Best Backpacking Rain Jacket?
Every man needs protection from wind and rain. And if we talk about the active, and sometimes more than active, lifestyle, a good jacket is a necessity. Membrane jackets are widely demanded in various types of outdoor activities. The manufacturers also offer a variety of models to meet different requirements.
For the toughest conditions manufacturers of outdoor clothing using a three-layer membrane, the fabric is denoted by 3L. The membrane connects with rugged outer material and internal lining. This prevents any displacement of the layers, which gives high resistance to wear and tear. Such jackets often have increased a more dense material in the places most subject to wear. The jackets using three-layer membrane material, having high strength, are ideal for frequent, year-round use in all conditions. Before choosing the right jacket you should take into account the mention features of the quality jackets.
Quality of Seams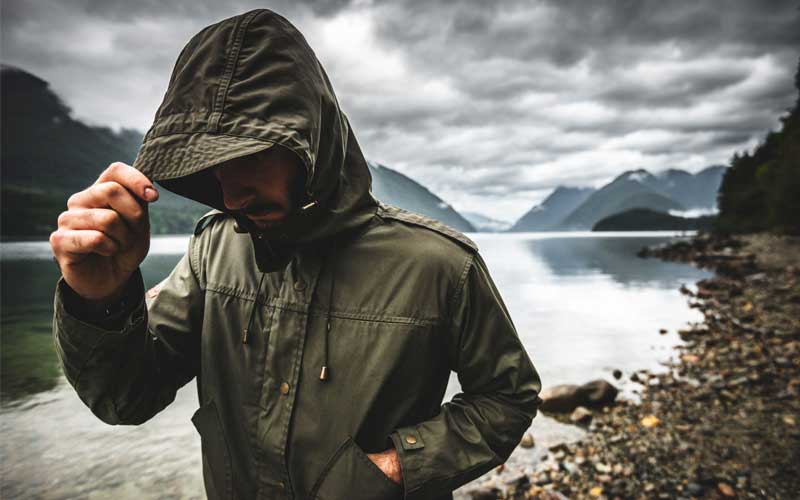 When choosing a jacket, pay attention to what threads sewn product. The jacket does not have the right to cross the stitches; all the stitches should be windproof. If you use poor quality threads jacket will be damaged after the first wash.
Pay attention to the lining (lining material). The better stitched the jacket, the more expensive lining is used, and in good jacket should be natural materials. Manufacturers who value their brand will not use thin polyester in their products.
Fitting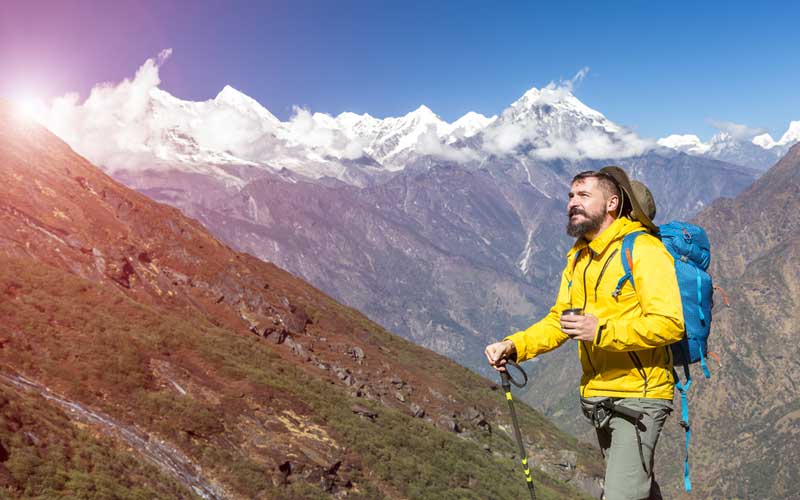 Choose a jacket that is well-equipped with high-quality fittings. Check zippers, buttons and all fasteners. The zipper should operate smoothly and jams. To fasten buttons, do not need to make strong efforts. Good jackets almost all the accessories I try to enclose the braid or sheathing fabric.
Material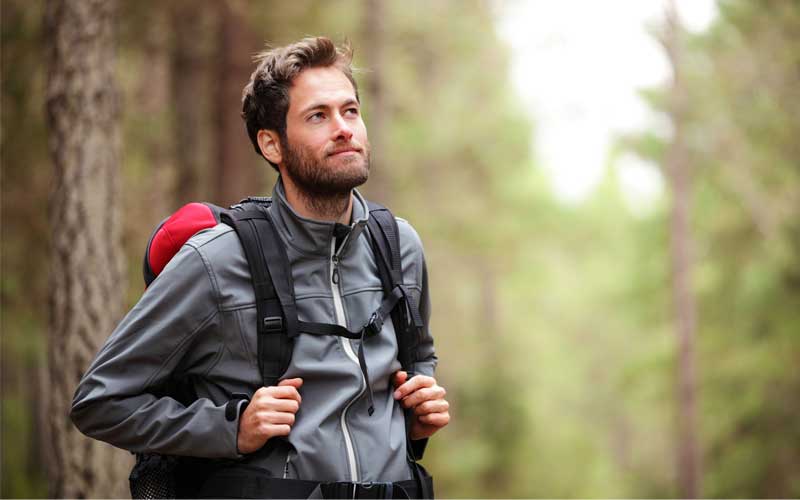 NylonOttoman – slightly shiny material, the surface of which is lined with embossed squares. Sew from it, as a rule, jackets sporty style, which requires a special strength and hygroscopic properties. The material has repellent properties, nevertheless, it is breathable, which is important for people leading an active lifestyle.
StretchVinil worth a special mention, as there are lots of jackets of similar material at the markets now. It is cheap and short-lived. Real StretchVinil has a rubber structure and, in contrast to fakes, matte surface. This vinyl is fragile, quickly erased, and the place of the fading appears glossy spots. Genuine StretchVinil not shiny, not wet, it is a very durable material that is capable of slightly (but not much) stretch.
The fabric is reminiscent of Amaretto plush (soft) or faux suede (according to the length of the pile). Soft, velvety, at once gives the impression of comfort and good quality. Not protecting from rain, this fabric has a water-repellent impregnation and breathes well.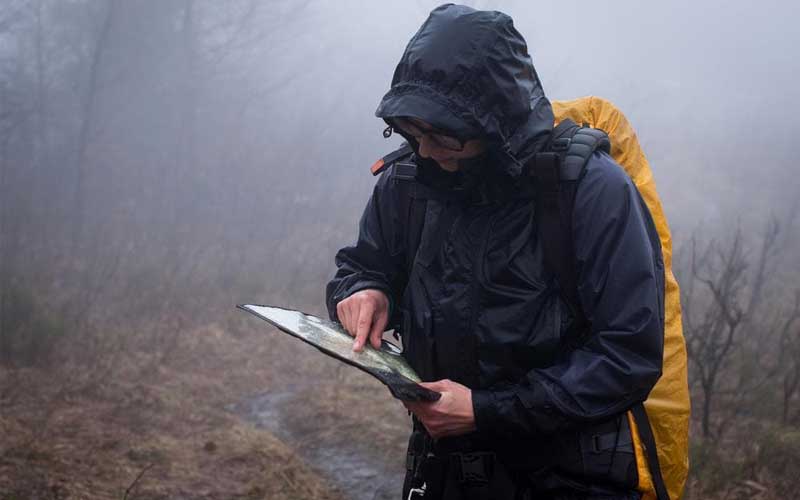 Most of the characteristics of water-resistance of the membrane are indicated on the product, in millimeter of the water column. Water-resistant clothing is considered to be indicators of at least 5,000 mm in the water column.
Water Vapor Permeability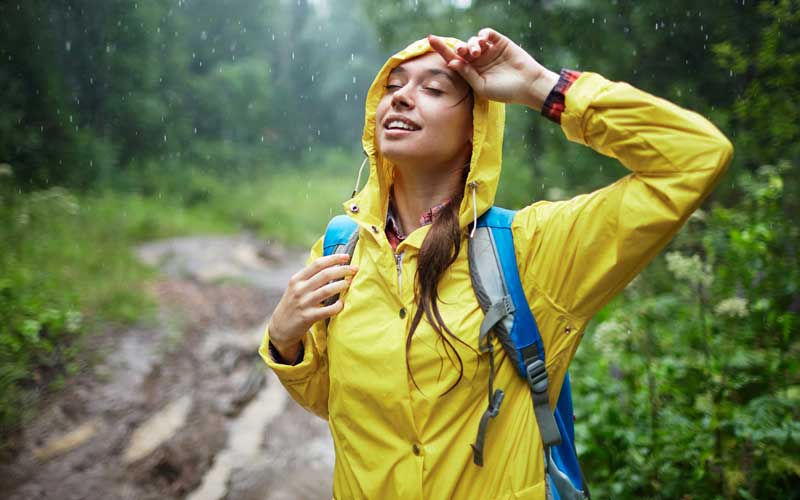 This term describes the ability of the fabric to withdraw the evaporating sweat to the outside. It does not apply to the transmission of air inside. Sports clothing should be well "breathe" under high load, its owner, to the sweat evaporating from the body surface, easy left, not condensing lined outerwear. Thus partly prevents overheating of the body and the accumulation of moisture.
Remember that every jacket has to be comfortable for you personally. That is why choose the one which perfectly suits you. You should select the jacket in which you could do different activities and feel comfortable.