We use affiliate links and may receive a small commission on purchases.
Learn more
While you're backpacking, you have to bring everything you need to survive. But you don't want to make it too heavy because it is uncomfortable to carry. You need to determine and categorize what items you need and what you could otherwise go without. Once you have sorted out what you need to take, you now have to fit it all into a single backpack. Now if you're thinking about the long-distance hike, what will be the best pack for you? There are so many options available from cuben fiber packs to traditional ripstop packs, frameless, framed, internal, and external. With so many choices it can be a really hard decision to figure out what is best for you.
In this article, we will talk about some of the most common backpacks out on the market. We'll also tell you what is good about them and what is bad about them and help you decide what the perfect pack is for your needs.
So, here are the most common and the best backpacking backpacks that you can get for a comfortable hiking and backpacking experience.
1. Osprey Exos

Material: Nylon (100D & 210D)
Gear Capacity: 45L, 48L & 51L
Weight Capacity: 30 – 40 lb
Claimed Weight: 2 lb 9.9 oz
Recommended Use: Backpacking, Ultralight Backpacking
The Osprey Exos is a perfect choice for thru-hikers or any backpacker who is looking to balance weight with performance. Despite this pack just weighs about two and a half pounds, it's capable of comfortably carry up to 40 pounds in weight. This pack's equipped with a super light AirSpeed suspension system on the back panel. This contacts your back and allows air to flow. There is a metal framing on the sides. It is a lightweight aluminum that creates the overall structure of the pack. They've removed unnecessary materials to solidify that weight saving mentality.
This pack comes in different sizes so make sure to pick up which one works best for your torso measurement. No matter what size you get, your pack will weigh barely over two and a half pounds. The pack is already light but you can remove some of these pieces to make it lighter still. The top lid has some accessory pockets that can be completely take off and left at home. If you decide to leave this behind, your pack will still be protected. Thanks to the integrated flap jacket cover. At the bottom, you get a routed sleeping pad strap that can also be completely removed. The fine compression straps on the sides are also removable.
Overall, the Exos is super light and extremely comfortable to wear. It's got materials that are more durable than some other ultralight packs but still provides that lightweight construction those thru-hiker look for.
Pros: Ultralight and comfortable, fits everything just right
Cons: The hip-belt sometimes looses as you hike. But it's almost effortless to adjust back to how you want it.
See the Osprey Exos See the Osprey Women's Eja
2. Sierra Designs Flex Capacitor

Material: 100D Nylon-Poly Ripstop
Gear Capacity: 40L to 60L
Weight Capacity: 35 – 50 lb
Claimed Weight: 2 lb 10 oz
Recommended Use: Backpacking
This is a full suspension backpack with a great feature set. It's competitively priced and it only weighs two and a half pounds. The Flex Capacitor is more versatile than the most conventional packs. Most backpackers will find it suitable for trips between 2 and 7 days.
The backpack features a top lid zipper for easy access into the main compartment. The Flex Capacitor has six exterior pockets all generously sized and easily accessible. There are two hip-belt pockets, two side pockets, and a shoulder strap pocket which is ideal for a water bottle. It also comes with a removable hydration pouch.
With this purchase, you will have one light but a capable backpack that will handle all of your trips. Whether you're already a lightweight backpacker or someone looking to shed weight from the pack, the Flex Capacitor will help prevent you from packing unnecessary items to fill that space.
Pros: The pack can expand between 40L-60L. This makes it super versatile. No need to have a weekend pack and a separate pack for longer trips.
Cons: The shoulder straps are attached to the pack and are not adjustable. Depending on your body shape you may not be able to dial in the perfect fit.
See the Sierra Designs Flex Capacitor
3. Granite Gear Virga 2

Material: Cordura Nylon
Gear Capacity: 50L, 54L & 58L
Weight Capacity: 20 lb
Claimed Weight: 1 lb 3 oz
Recommended Use: Ultralight Multi-Day Backpacking
Virga 2 is designed with the experienced ounce-counting backpackers and hikers in mind. The Virga 2 54L backpack is a great option for multi-day backpacking. You don't have a frame or a real back panel at all. It is true to the just lightweight design. This pack is meant to carry up to 20 pounds so it's not meant to carry a huge load.
There is no foam or any padding on the back. It's just fabric on the back. If you carry some sort of closed-cell foam pad that folds up or rolls up, you could use that inside the pack as some sort of a foam back panel.
The design of this pack is a pretty traditional rucksack style pack. You have just one big main body compartment. But on the outside of the pack, there are a lot of organizational features, and a lot of ways to lash gear onto the outside and some minimal pockets.
Virga 2 is perfect for anyone who wants to go fast and light, needs a pack that is pretty versatile, but also in keeping with that ounce-counting backpack style.
Pros: Versatile compression system, ultralight, large volume
Cons: The load capacity is just 20 pounds, poor comfort for medium loads
4. Osprey Volt

Material: 210-denier ripstop nylon
Gear Capacity: 60L
Weight Capacity: 30 – 50 lbs
Claimed Weight: 3 lb 14.7 oz
Recommended Use: Backpacking
Volt 60 offers highly adjustable suspension, easy storage for trekking poles, and an integrated rain cover. The pack uses a lightweight 3.5mm peripheral frame and an HDPE frame sheet to provide the support that's flexible but strong. This pack's highly adaptable suspension system gives it an adjustability range from 17 to 22 inches, allowing the pack to fit a wide variety of people.
Spacer mesh on the harness as well as on the back panel provides ventilation to help you stay dry and cool. The hip-belt has a dual-density construction and offers the Fit-on-the-Fly system meaning that the belt can be extended for a more comfortable and supportive fit. Load lifter straps and an adjustable sternum strap help you dial in the fit.
Inside the main compartment, it offers a volume of over 3600 cubic inches or about 60L. The other storage options include two zippered pockets on the lid, a stretchy shove-it pocket on the front of the pack, and two zippered hip-belt pockets for small items like keys granola bars. An internal hydration pocket makes this pack compatible with up to 3L reservoir of your choice. There are also two dual-position bottle pockets.
There's a sleeping bag compartment with a removable divider. The exterior of the pack features ice tool attachment points and removable sleeping pad straps. You can use the upper and lower compression straps to snug down a floppy pack or stabilize a full load. These can work well for lashing down gear like tent poles or wet layers that you're hanging out to dry.
There's a sleeping bag compartment with a removable divider. The exterior of the pack features ice tool attachment points and removable sleeping pad straps. You can use the upper and lower compression straps to snug down a floppy pack or stabilize a full load. These can work well for lashing down gear like tent poles or wet layers that you're hanging out to dry.
Pros: Ergonomic shoulder straps and back-panel, great value, versatile, budget-friendly
Cons: Tight water bottle pockets, narrow main compartment, difficult to pack
5. Osprey Packs Atmos AG
Material: Nylon (100D & 630D)
Gear Capacity : 62L, 65L & 68L
Weight Capacity: 30 – 50 lb
Claimed Weight: 4 lb 6 oz
Recommended Use: Hiking, Backpacking
The Osprey AG 65 Pack is a great way to carry all your loads while backpacking. It has 65-liter space to carry your various belongings and comes with anti-gravity technology so that you do not feel pulled down while walking with it on you. The compression straps on the upper and the lower side make sure to stabilize the load evenly so that you have comfort while walking. To get the best fit, it also comes equipped with the Fit-On-The-Fly hip-belt.
The good thing is that during rains or bad weather, you can use the flap jacket to protect your contents from being wet or damaged. The central core and the upper load lifters connect to the hip-belt to spread the weight in an even manner. Plus, there is a sleeve for hydration resources, which can be got separately, with 3 liters capacity.
Some people have found it very comfortable even after using it for over 2000 miles and some feel that they are carrying 30 lb less than the actual weight.
Pros: Comfortable, anti-gravity technology, big thick padded shoulder straps, and hip belts
Cons: Heavy for starters, not waterproof but you can use things like pack covers to make sure your stuff inside doesn't get wet.
6. Granite Gear Crown VC
Material: SilSeal Cordura nylon (100D), Cordura (210D)
Gear Capacity: 60L & 65L
Weight Capacity: Up to 35 lb
Claimed Weight: 2 lb 2 oz
Recommended Use: Hiking, Long treks, Backpacking
The Granite Gear Crown VC 60 Pack is a versatile bag for many backpacking escapades. It has a capacity of 60 liters and weighs only over 2 pounds. The suspension has molded back panels which help in the circulation of air from the bottom to the top, a convection system to help in cooling. It can support weight up to 35 lb or 16 kg. There's double-density padding in the areas of shoulder straps and hip-belt. Also, the shoulder strap features a pocket for easy storing of small things like money or cards, etc.
The backpack contains an internal pocket for holding a reservoir system, for drinking without using your hands. It is sold separately though. The pack is extra solid and durable on account of the 100-denier Silnylon body and for added strength in key areas, it is padded with 210-denier Silnylon. This makes for a sturdy and dependable backpack.
It has 3 pockets apart from the main compartment. People who have used this backpack feel that it is very light and of excellent quality. Also, some opine that the hip belt could be a bit longer for fitting comfortably.
Pros: Lightweight, well-built, and comfortable
Cons: The torso length is too short and there is no way to adjust.
See the Granite Gear Crown VC 60
7. Arc'teryx Alpha FL
Material: Nylon (N400r-AC2, N100mr-HT, N70r-HT)
Gear Capacity: 45L
Weight Capacity: Up to 25 lb
Claimed Weight: 1 lb 7 oz
Recommended Use: Alpine & Expedition, Climbing
The Arc'teryx Alpha FL 45L Backpack is an ultralight backpack weighing just over 1 lb and has a capacity of 45 liters. It is very well built and durable those who have used it cannot even find a hole in it. It is made using Advanced Composite Construction (AC2) so that you don't have to worry about the weather going bad. Its seams are sealed on the main compartments, ensuring that it is completely water-proof and weather-resistant.
The amazing part is that you can open and close it even while wearing gloves, as it chord system for opening and closing. It has side lashes up to 6 mm to the front and 22 m wide for putting some extra gear to the exterior of the pack — like skis or sleeping pads. Furthermore, the sternum and the shoulder straps have been revamped so that you can fir the pack better on you when loaded.
For customers who have used or have been using this bag, the experience of it being ultralight is something that makes feel good about the backpack. Also, people feel that you can load it with stuff and it won't put the weight on your shoulders. It is that breezy a backpack.
Pros: Ultralight, durable, and simple
Cons: Not suitable for heavy loads, Can't remove the foam suspension pad, requires thoughtful packing
8. Osprey Packs Aether AG
Material: Nylon (210D & 500D)
Gear Capacity: 67L, 70L, 73L & 76L
Weight Capacity: 35-60 lb
Claimed Weight: 5 lb 2.5 oz
Recommended Use: Backpacking
The Osprey Packs Aether AG 70L Backpack has a lot of space and comparatively is not that heavy. It has an internal package capacity of 70 liters and weighs 5 pounds. To give your back enough breathing space, the backpack has suspended mesh panels that extend from upper back to lower back.
The harness and the hip-belt are heat-moldable and can be interchanged to provide the best fit as per your convenience. The backpack is also fitted with a large J zip so that you can effortlessly access the main compartment. This makes for loading and unloading of contents an easy affair.
It does not end here. The backpack also comes equipped with features such as trekking pole attachment for slow trekking, 2 ice ax loops, and sleeping pad straps that are removable. This is quite a package to go hiking for extended periods.
The actual proof of the functionality of the bag can be had from those who have used it. People feel that the long zipper outside of the pack is useful to access the pack. In addition to that, the gear pockets for the 1-liter bottle are also very useful for sufficiently long treks.
Pros: A lot of storage space available, perfect for long or short backpacking adventures.
Cons: Too many unnecessary buckles and straps.
9. Gregory Baltoro
Material: Nylon, Aluminum (Frame Material)
Gear Capacity: 72L, 75L & 78L
Weight Capacity: 40-62 lb
Claimed Weight: 4 lb 13.2 oz
Recommended Use: Backpacking
With the Gregory Baltoro 75 Pack, you'd certainly be ready for extended trail trips. The backpack is well made with a load-carrying capacity of 75 liters and a featherweight of just 4 pounds. The suspension system is of the A3 type and is very responsive. It lets you rotate the hip-belt and the harness independently. This helps you in adjusting the backpack comfortably as per your body's movement on the trail.
The good part about the backpack is that the mesh on the hip-belt, harness and the foamed back pane makes for drying of sweat quickly whenever you take a break after a long trail.
When you hike, you tend to go off-balance, owing to the weight of the backpack. To minimize this, the backpack has an aluminum tube which directs weight to your lower back and hips, so that you do not have a wobbly move when hiking.
The hip-belt pocket is easily accessible so that you can store your camera for an instant click or a mobile phone, in case you need to call someone urgently.
It has a sleeping bag compartment at the bottom. Not just that, the pack also has 2 bottle holders for water access during trails provision for trekking poles, boots, snacks, etc. So whatever you want to carry, you can have it with you.
People like the even distribution of weight this bag offers them. Also, it has been observed that even a 5-day trek will not give you shoulder soreness. The pockets on the waist belt, however, are not large enough, to carry large mobile phones.
Pros: Durable and handles everything you pack well
Cons: Waist belt pockets are tiny
10. Osprey Packs Kestrel
Material: Nylon (210D & 420D)
Gear Capacity: 46L & 48L
Weight Capacity: 25 – 40 lb
Claimed Weight: 3 lb 5 oz
Recommended Use: Backpacking, Ultralight backpacking
Carrying the Osprey Packs Kestrel 48L Backpack is quite a breeze. A capacity of 48 liters will let you pack most of the essential things that you need for a 2-day trek. It is also relatively lightweight at just about 3 lb.
The bag comes with a 3.5 mm peripheral frame which is useful in transferring the weight from the harness to your hip-belt; i.e. from the top of your body to the middle and lower parts of the body for better balancing. You don't have to worry if you are too big or too small in stature as the harness adjusts itself to fit into all torso lengths.
It has an upper and lower side compression straps for a better grip and a strap for attaching your sleeping pad, which is detachable.
If the fear of making your belongings wet makes you want to postpone your backpacking trail plan, don't worry, as the pack has an integrated rain cover.
Also, to easily store and access your various gadgets and contents, the pack comes loaded with side pockets with is of full-length, mesh side pockets that are stretchable along with the zippered hip belt pockets. It also has an external hydration sleeve for your reservoir.
Customers appreciate the hip belts that are very comfortable and give a good fit. Also, the bag is very durable, in the sense that even after 4 years of rough use in the forests and deserts, there is not a trace of tear or cut.
Pros: Lightweight and great side compartments
Cons: Hydration port is not very accommodating
11. Granite Gear Blaze A.C.
Material: Cordura (100D & 210D), ABS plastic/molded foam (Frame Material)
Gear Capacity: 55L & 60L
Weight Capacity: 30 – 50 lb
Claimed Weight: 2 lb 11 oz
Recommended Use: Hiking, Camping
The Granite Gear Blaze A.C. 60 Pack caters to all your adventure and hiking needs. Its 60-liter interior and a weight of just 2 lb, will give a great time to focus on your trip than being concerned about the backpack. Its suspension has a 3D molded alloy frame makes for easy flow of air. Plus, it is easy to adjust around the torso and has padded shoulder straps. This won't give you soreness of shoulders after days of backpacking.
The sweaty back becomes the first casualty of irritation for most backpackers. This pack does away with it by the molded foam in the back panel and stretch meshes that allow for cooling and vents heat away from the back.
The signature arched Lineloc compression cords fit your belongings to the sides, on the top, and in the front; and also gives you numerous options to lash your varied gears outside of the pack.
The pack is powerfully constructed using a 100-denier ripstop and 210-denier Cordura nylon fabric. This gives it extra strength and increases the life of the product.
People have fallen in love with this backpack as it can carry weights over 40 lb when required. The other thing is that the side pockets can be stretched very easily to keep your stuff. The only concern is that getting the water-bottle from one of the side pockets needs a little bit of work.
Pros: Durable material, lidless design, and lightweight
Cons: Suspension lacking, single compartment makes a more difficult organization
See the Granite Gear Torso Blaze AC 60
12. Osprey Packs Xenith
Material: High Tenacity Nylon (210D, 420D, & 500D)
Gear Capacity: 75L
Weight Capacity: 40 – 70 lb
Claimed Weight: 5lb 8.96 oz
Recommended Use: Backpacking
The Osprey Xenith 75 Pack is the ideal backpack if you plan to go for week-long hiking. Its 75-liter interior will make sure that you do not run out of the essential stuff needed for survival. And its weight is just 5 lb. It has a removable top lid that comes attached with an under and top zippered pockets. This can be converted to a daypack.
In case even if the top lid is removed, the flap-jacket protects the gear in its stead. For your trekking needs, there is an attachment for stowing your poles when you are climbing a steep incline. The advantage of this backpack is that there is not just one way to reach the main compartment, but has multiple access points.
Another good thing is that the sternum strap comes with a safety whistle, in the eventuality you need help or are away from your fellow backpackers.
People vouch for its length and its lightweight and feel it is perfect for medium or long trail trips.
Pros: The pack is comfortable. It can carry heavy loads well. It has superb external twin zippered pockets and dual directional stretch mesh zippered pockets which are super functional and easy to use.
Cons: Harder to search for items in lid pockets
13. Gregory Paragon
Material: Nylon, Aluminum (Frame Material)
Gear Capacity: 55L & 58L
Weight Capacity: Up to 30 lb
Claimed Weight: 3 lb 14.4 oz
Recommended Use: Backpacking
The Gregory Paragon 58 Pack is a great fitting backpack that gives you 58 liters of space in under 4 lb of weight. Its chassis is made of the lightweight aluminum and ventilated foam, which drops the weight down, without clenching your back for support. For a breathable back and good ventilation, the back panel is made of foam. The hip-belt is easily adjustable and fits perfectly every time you put on your pack.
For storing delicate items such as sunglasses, the stow system on the shoulder harness comes in handy. The straps are removable so that you can use it to carry your sleeping pads or it can be removed and used as a hip belt to carry other items.
The Gregory Paragon 58 has an innovative weight-saving suspension system that maximizes breathability. It has a nice range of adjustability and numerous backpacking-friendly features. You get the load-hauling capability you expect from Gregory in a pack that weighs just three and a half pounds.
People who have used it, feel that it fits perfectly on the hip and the lower back.
Pros: Extremely comfortable, feature-rich for weight, included a rain cover
Cons: Some features unnecessary for a lightweight pack
14. Gregory Optic
Material: Nylon (100%), Aluminum (Frame Material)
Gear Capacity: 48L & 51L
Weight Capacity: 30 lb
Claimed Weight: 2 lb 6.2 oz
Recommended Use: Backpacking, Ultralight backpacking
The Gregory Optic 48 Pack is an ultra-lightweight reducing backpack which enhances your mileage while trailing. It has a 48 liters capacity interior and weights a measly 2.5 pounds. Its leaf-spring lumbar pad spreads the weight evenly across your body and the pack. The extremely light V-compression system on the side and the bottom of the pack take up the excess volume.
The Optic is built with a lightweight 7000 series of an aluminum tubular frame that you can see on the outside of the pack. Built into the framing but unseen is an anti-barreling stay that helps the pack to maintain it is under a load that may otherwise cause it to buckle. They call this suspension the Aero Spans Suspension and it has this lovely moister wicking material throughout the back panel. Theirs is space between the pack and the portion the touches your back, this will give you superior breathability when compared to your standard backpacks.
The hip-belt pockets are wonderfully made and provide easy access to store things and the side pockets are quite large to have your bottles stored for drinking water while on the trail.
Users have found the back mesh vent very effective and comforting with hardly any sweat even after 1 mile of trailing.
Pros: The main compartment can hold all the essentials without messing up weight distribution.
Cons: Not enough outside pockets and places to tie gear down to.
Best Backpacking Packs: Comparison Table
Tips to Purchase the Best Backpacking Backpack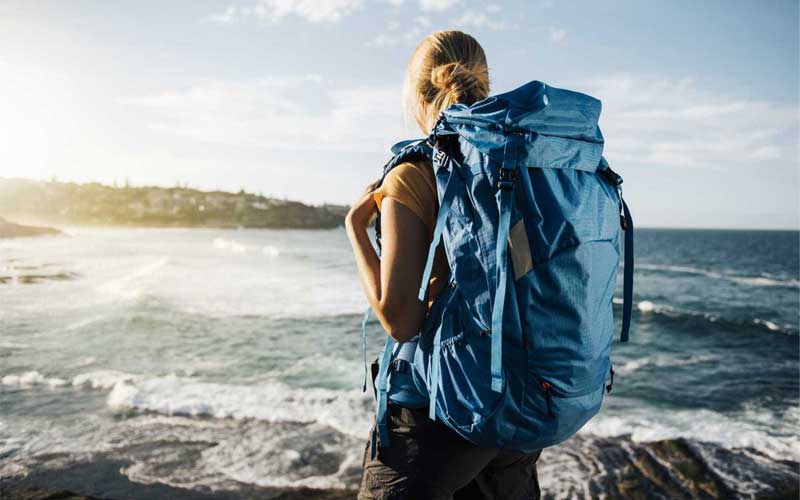 Whether you're purchasing a new backpack for the first time or you're just updating an older model, you should keep the following tips in mind to select the appropriate pack for your next adventure trip.
Type
Over the years backpacks have stayed the same. It doesn't matter if you go back to the 60s or you're buying a pack today. The design is going to be fairly similar. Now the technologies have changed the materials, the composites and so on. With that being said there are three main types of backpacks. There are internal frame packs, external frame packs, and frameless packs.
Internal Frame Packs
These types will generally have a frame system on the inside of the backpack. It's an aluminum frame and you can feel it. It's essentially a strong wire that goes around the body of the pack. These types of packs also have a very stiff frame sheet in the middle.
External Frame Packs
These types of packs have a frame on the outside and the pack attaches to that frame. External frame packs are known for being cumbersome, they can be somewhat heavy but they can carry a large amount of weight very comfortably.
Frameless Packs
It's essentially what you have is just a backpack with no frame at all. There's no padding in the back, there's no stays or anything like that. Those sorts of packs are made for lightest weights.
Try to choose a backpack that has an internal or external frame.
Loading
When it comes to loading there are two different styles i.e. top loading and panel or side loading. The top-loading feature allows you to access your pack form the top. You can unbuckle the lid and you have access to your pack.
Not all packs have panel loading feature but it is still a fairly common feature. Panel loading allows you to access the contents of the pack from the side zipper. Which one should you purchase, it is up to you. It's a nice feature to have but it's not a deal-breaker by any means.
Suspension System
There are plenty of variants of the suspension system but they will all involve a shoulder harness system. Most packs will have a waist belt feature but not all packs. The purpose of the waist belt is to take the load and distribute that weight over your hips. When it comes to weight distribution you want to carry most of the weight on your hips with just a little bit on your shoulders.
Torso Length
Your torso length is very important. With each size small, medium and large the torso length will be longer or shorter. Speaking of the torso length all packs are different. Some packs do not allow you to adjust the suspension system for different size torsos. On the other hand, some packs do allow you to make adjustments.
Straps
Straps are called load-lifters and they allow you to pull the pack and your gear close to the top of your bag. It's a nice feature to have because it allows you extra customization so you can find that comfort zone for you.
Sleeping Bag Compartment
Not all backpacks will have a dedicated sleeping bag compartment. This compartment has a divider in the middle to separate your sleeping bag from the rest of your gear. Some packs will have this feature some packs will not. Most packs that do have the divider and you can take that divider out.
Pockets
All backpack designs are different so the amount of pockets that a backpack has is up to the manufacturer and they are all going to be different. Choose a backpack that has fewer pockets because you don't want your gear hidden all over the place.
Compression Straps
Compression straps allow you to compress your backpack. When your backpack is all loaded up it's time to pull it tight so things don't move around. That's where compression straps come into play. This will add control over your loads.
We've gone most of the functions and features that most backpacks have. And it doesn't matter if you have a pack from the 70s or you're buying a pack today. With this information, you can go out and find the right backpack for you.
Thanks for reading and happy trails!