We use affiliate links and may receive a small commission on purchases.
Learn more
A good pair of long johns is essential to stay warm on the trail especially when the weather is super cold. But it can be hard to find the perfect pair as there are many options available in the market. You can easily be overwhelmed by just the fabric options alone. Most people choose merino wool undergarments for cold weather, which is known for its lightweight thermal insulation. Wool provides insulation with breathability and a great next to skin comfort. But this comfort comes at a cost. There are, of course, budget-friendly options available. These are also durable and do a good job in most conditions.
So these are the top pairs of long johns that will keep you warm in a cold climate.
1. Smartwool Merino 250 Bottom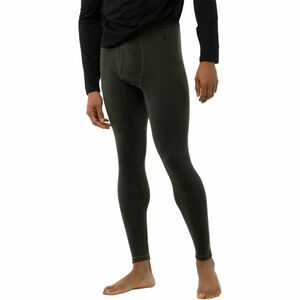 Fabric: 100% Merino wool
Category: Midweight
Weight: 7.55 oz.
Fabric weight: 250 g/m2
Smartwool Merino 250 Bottom is 100% merino wool with a construction that will keep you warm in cold weather. This base layer is breathable and keeps you dry even when you sweat. It is loaded with 250-grams of merino wool and offers a wide range of thermoregulation. There is, however, stretchiness to them that make them extremely comfortable. The wider band at the top also adds to a comfort level so you don't get any of that uncomfortable pinching at your waist.
Over the past few years, I've used these base layer pants for various outdoor adventures from hikes to snowshoeing to ice fishing and conditions ranging from 0 to 32°F and I've been impressed with their warmth and wear. So you will find yourself getting a little too warm if you're doing any brisk activity in weather above 32°F.
What you need to know before buying any Smartwool base layers is that they come in different warmth levels. The Merino 150s are created as a year-round base layer for more mild weather whereas the 250s are for cool to cold weather. Though Smartwool doesn't get specific with actual temperature ranges, use your best judgment on your activity level and what you'll be using these base layer pants most commonly for. The 250s have been a great choice for me considering the colder winter and the fact that I still like to get active outside despite the cold.
Pros: Can be used in a variety of conditions, keep you dry, breathable, great fit
Cons: Lacks durability when worn alone.
View Men's at REI View Women's at REI
View Men's at Amazon View Women's at Amazon
2. Ortovox Rock'N'Wool Pants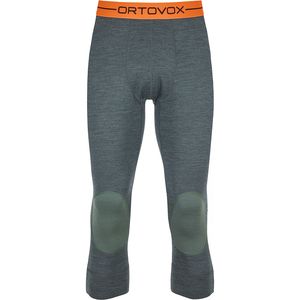 Fabric: 100% Merino wool
Category: Light/Midweight
Weight: 6.58 oz.
Fabric weight: 185 g/m2
Ortovox Rock'N'Wool is a warm and durable pant that feels ultra-soft next-to-skin when worn. It is 100% merino wool, which offers moisture-wicking capability during those hard climbs. Also, it can withstand harshest winter adventures. This long underwear is plush, cushy and the fit is so relaxed and you can wear it a whole day of winter hiking, skiing, and even climbing. There are knee pads, which is a nice addition and adds durability. These bottoms provide a great amount of loft and perform well in a variety of trail conditions. You will never feel too cold or too overheated in these bottoms.
As I mentioned earlier, the fit is relaxed and offers an airy feel in particular areas where heat tends to pool. The fit also allows a good amount of airflow. This enhances breathability and any excess heat will be dispersed and dumped. The construction of the Rock'N'Wool bottoms also wicks moisture well thanks to the all-natural fibers. These merino wool bottoms are neither too tight so you don't feel cozy, nor too loose to fit over a pair of pants. They hit that Goldilocks zone just right. There's optimal knee stretch and the athletic cut fits your calves comfortably.
Pros: Super soft, feel great against skin, good warmth to weight ratio, durable
Cons: Slow to dry after washing.
View Men's at Backcountry View Women's at Backcountry
View Men's at Amazon View Women's at Amazon
3. Arc'teryx Rho LT Bottom

Fabric: 84% polyester, 16% elastane
Category: Lightweight
Weight: 6.2 oz.
Fabric weight: 175 g/m2
Arc'teryx Rho LT bottoms are a great base layer for cooler weather activity. With a focus on fit and high-quality materials, these things are great and they won't break the bank either. The fabric on the pants is a Torrent synthetic fleece. This is a lightweight fleece with a nice feel. The face is a smoother fabric, which makes it great for layering and the back is brushed for excellent next to skin comfort. The fleece is also treated with a Polygiene treatment to combat the stink we normally associate with synthetic materials.
To focus on these pants is the fit and there's plenty of articulation to allow true freedom of movement. Along with the stretch fabric, you'll hardly notice you're wearing this layer except for the warmth they provide. There's a small thigh pocket with a zipper for storing small things like ChapStick or keys. The seams are all flat-locked, which improves the next to skin comfort. The fit is slim. It's a base layer so it's supposed to be tight throughout. Overall, they're a great ski layer, great for running, or backpacking or just any general cool to cold weather activity.
Pros: Warm, versatile, durable, great fit, super comfy
Cons: A little pricey, average breathability
View Men's at Backcountry View Women's at Backcountry
View Men's at Amazon View Women's at Amazon
4. Arc'teryx Rho AR Bottom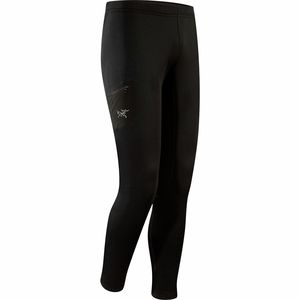 Fabric: 90% polyester, 10% elastane
Category: Heavyweight
Weight: 7.8 oz.
Fabric weight: 241 g/m2
For super cold conditions, this is a base layer that you should check out. Whether you're climbing, skiing, snowboarding, or running, these long johns will stretch, wick, and help keep you going. The Rho series from Arc'teryx is their base layer series. These are meant to provide serious thermal efficiency and excellent moisture management. This particular item is made with Polartec PowerStretch synthetic fleece. This is by far one of my favorite fleece materials. The amount of stretch you get with it is unlike anything else and it is super soft to touch. The next to skin comfort is wonderful and it's a fairly high loft fleece so it does a great job at insulating.
The outer face is a nice and smooth material so it layers well or you could even wear this as a standalone tight for milder weather runs. These bottoms are built for all-around use hence the AR in the name. They're not specifically designed for anyone's endeavor so they're perfect for anyone's gear closet. They've got flat-locked seams to eliminate chafing, a single thigh pocket for storing small items if you're using them as your outer layer, and an elastic waistband for a snug fit.
Arc'teryx takes great pride in how their gear fits and functions. The articulation, strategically cut, stitch materials, and overall patterning give you a nice comfortable fit. It feels natural, there's no uncomfortable bunching, and the movement is great especially with that Power Stretch material. Providing serious warmth and moisture-wicking properties whether as a base layer or an outer layer the Power Stretch fleece of the Rho AR Bottom creates excellent winter pants.
Pros: Comfortable and stylish, can be used as a outer layer
Cons: A bit pricey for a pair of thighs.
View Men's at Backcountry View Men's at Amazon
5. Patagonia Capilene Air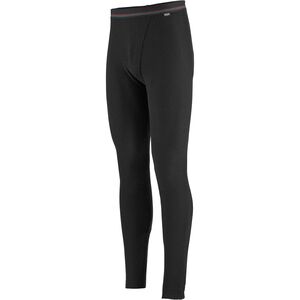 Fabric: 51% merino wool, 49% recycled polyester
Category: Midweight
Weight: 5.9 oz.
Fabric weight: 190 g/m2
Capilene Air is touted as the most advanced baselayer Patagonia has ever made. It shows the blend of materials and unique construction, which makes it great for anyone or anything. The warmth and breathability you get are pretty wild. The fabrics are the foundation. These pants use 51% merino wool and 49% recycled polyester. The yarns are constructed with an air blasting technology that increases the loft of the fabric while reducing the weight normally associated with other layers like this.
Because of the airy lofty style, the fabric doesn't bind your bunch up and stretches easily with your movement. 3D construction eliminates chafe points and minimizes material waste. The elastic waistband is brushed for next to skin comfort and there's a double layer on the front crotch for additional support. These are Patagonia's slim fit and they fit exactly like you'd want them to. You'll have a little bit of extra room but total freedom of movement is the ticket. These pants are excellent for any cold-weather activity. They are warm, cozy, stretchy, extremely breathable, and blending natural fibers with performance polyester. There's no reason not to have a set.
Pros: Not itchy for wool, doesn't hold odors, comfortable waistband
Cons: No fly opening, might be too warm for many activities
View Men's at Backcountry View Women's at REI
6. Icebreaker 200 Oasis Leggings

Fabric: 100% merino wool
Category: Midweight
Weight: 5.7 oz.
Fabric weight: 200 g/m2
Icebreaker 200 Oasis is a durable pair of cold-weather leggings that is ideal for hiking, backpacking, and casual winter walks. The fabric is thin still it performs well in all areas of winter conditions. The fabric is 100% merino wool and it offers exceptional performance with a great thermoregulation. The fit is stretchy and it is versatile for or a plethora of shapes and sizes. These leggings come in a variety of cute colors so you could wear it underneath a pair of pants or wear it on its own. If you are looking for a durable and versatile pair of leggings, Icebreaker 200 Oasis is the right choice for you.
These leggings are packed with 200-grams of merino wool, which makes it a mid-weight base layer. You can wear them under an un-insulated pair of pants or wear them with an insulated pant while winter camping. Since the fabric is thin, it offers exceptional breathability. The fabric also does a good job of repelling water, which makes it a water-resistant option. The material feels soft against the skin and it is nice and comfortable. It stretches to provide an overall good fit for a variety of shapes and sizes. If you have longer legs, you'll appreciate the extra materials in the length. Women with large thighs are also going to like the versatile fit.
Pros: Wide range of thermoregulation, many color options, durable
Cons: Not super duper warm
View Men's at REI View Women's at REI
View Men's at Amazon View Women's at Amazon
7. Mountain Hardwear Tight

Fabric: 88% polyester, 12% elastane
Category: Midweight
Weight: 9.9 oz.
Fabric weight: Not specified
Mountain Hardwear 32 Degree Tight is a perfect base layer for cool or cold weather aerobic activities. This can include anything from winter day-hikes to cross-country skiing trips for just general running. These tights are made with an awesome stretch fabric. It's a smooth-faced polyester with elastane. The backing is a very comfy fleece so you get good next to skin comfort. There's a minor drawcord at the top and plenty of reflective detail on the outside if you're wearing these as an outer layer for a cooler weather run or under a pair of running shorts.
There aren't any pockets on the outside but there is one small key pocket on the inside. The fit is pretty snug but because of that stretch, you can move easily. I wouldn't hesitate to use these for anything from winter climbing trip to a cross-country skiing where you're going to be moving fast and need that layer of warmth. Don't let the 32-degree naming fool you. It's not like a sleeping bag, it's not rated to 32 degrees. These are just a nice mid-layer that are designed to keep you warm when you're moving fast.
Pros: Great fit, comfortable, warm
Cons: It can be too warm to run in them
8. Patagonia Crosstrek Bottom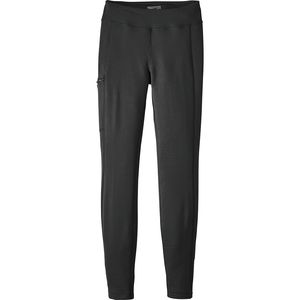 Fabric: 86% polyester, 14% spandex
Category: Midweight
Weight: 9.3 oz.
Fabric weight: 193 g/m2
Patagonia Crosstrek fleece bottoms are a technical adventure-ready version of your favorite sweatpants. The Crosstrek bottoms are made of one of my favorite technical fabrics, Polartec PowerStretch fleece. Those of you who have felt this fabric probably know what I mean and for those of you that haven't just imagined stretchy pajamas that you can climb mountains in. The fabric is a tighter weave polyester spandex jersey blend on the outside with a soft fleece inside. This means the outer fabric is pretty abrasion and wind-resistant and the inner fabric traps body heat to keep you warm while wicking away moisture.
These pants provide a generous range of motion for demanding activities. Flat seams stitching throughout the Crosstrek bottoms cuts down on bulk and eliminates chafing. The sleek profile and tapered cut of these pants make them perfect for layering under ski bibs or a rain shell. The wide flat waistband is comfortable and keeps the pants from shifting around too much. The Crosstrek bottoms are very streamlined and minimal but do feature a zippered pocket on the leg for your phone or keys. I could see these being perfect for so many cold-weather activities from backyard yoga on Christmas morning to a winter bouldering session that runs late into the evening.
Pros: Super warm, great fit, true to size
Cons: The waist feels a little loose.
View Men's at REI View Women's at Backcountry
Best Cold Weather Long Johns: Comparison Table
How to Choose Long Underwear for Cold Weather?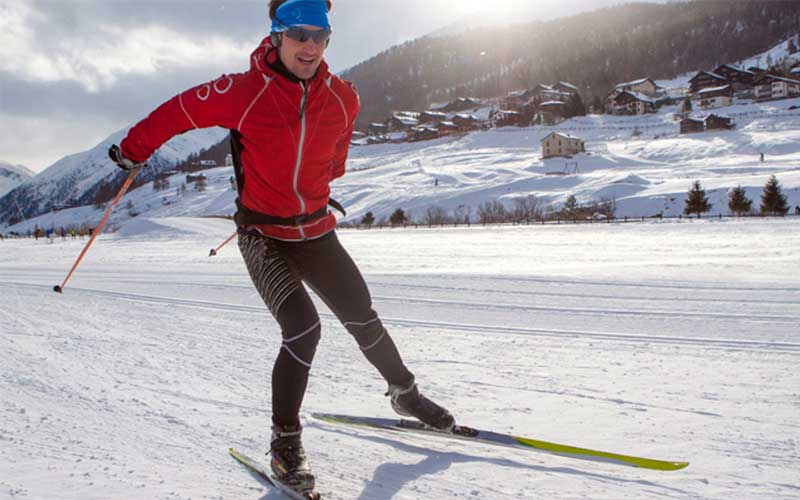 Whether you are skiing, snowboarding, winter hiking, or backpacking, choosing the undergarments is important. That's why I have compiled a list of tips so you can select the best pair for your adventure.
Fabric
When choosing a base layer, the fabric choice can be overwhelming. There are three main types of fabrics and each one has its pros and cons.
Merino Wool: Despite a higher cost than other fabrics, I would recommend merino wool for several reasons. This fabric provides good temperature regulations, it's ultra-soft and comfortable. Wool also resists odor. The downsides of wool include a higher cost and they tend to be less durable than synthetic materials. They need good care and they last at least a few seasons if you treat them right.
Polyester: It is the most budget-friendly fabric option. You can always turn to polyester if you are on a tight budget. Polyester provides a reasonable comfort level and it does a good job at moisture wicking. The major downside of polyester is odor. Polyester clothes often smell very unpleasant. In addition to the odor, this fabric does not regulate temperature as well.
Silk: It is one of the softest and comfortable fabrics out there. It is lightweight, provides great warmth to weight ratio, and packs down super small. But the moisture-wicking properties of silk are not as impressive as polyester and wool. Moreover, it is less durable than most fabrics and it is meant to be worn under a mid or outer layer. Also, silk cannot be worn alone because of its thin design and it does not protect you from harmful UV rays and abrasion.
Blends: Deciding between an all-polyester and an all-merino can be tricky especially if you are going to use them in different weather conditions. Some manufacturers are experimenting with blends to make a fabric that provides the comfort of wool and moisture-wicking property of polyester. The Patagonia Capilene Air, for example, is a good option if you are considering a blend of fabric. It is 51% merino wool and 49% polyester but the main downside of blends is that they are among the highest-priced options.
Breathability
The breathability of a fabric depends on several factors like quality, thickness, type, and openness of the weave. In general, lightweight merino wool undergarments provide excellent breathability. On the other hand, some high-end synthetic fabrics also provide great breathability close to merino wool. For high-exertion activates like skiing, biking, or climbing, it is always a good idea to spend some more to get higher-performing long underwear like the Merino 250 Bottoms or Patagonia Capilene. A cheap and thick base layer will always yield less breathability.
Durability
Even though merino wool is super comfortable and provides great breathability, it is the least durable option available. Wool will eventually develop small holes over time that reduces the performance of the fabric. On the other hand, synthetics last longer, usually multiple seasons. In general, you will get a season or two out of your standard lightweight merino wool base layer. If you want a pair that will last longer or you are looking for something durable, go for polyester or blended fabric. A blend of wool and polyester will be much durable than the wool itself and it will provide reasonable next-to-skin comfort.
Odor Prevention
Merino wool performs better when it comes to odor prevention. If you are planning an extended outdoor trip and you don't want to rinse your long johns each night, merino is the way to go. Some synthetics do provide great odor prevention such as Patagonia's Capilene. You can hike for an extended period in these and you will be impressed with its odor resistance.
Warmth
Merino is known for its great warmth properties. You get a better warmth-to-weight ratio with merino than with polyester. Also, it regulates temperature better than polyester and other materials. Merino long johns will keep you warm in cold climates while other materials such as polyester provide durability.
Weight
You can choose a lightweight option but they do least in keeping you warm and they are less durable. Merino provides a great balance between weight and warmth. It does a good job of temperature regulation for the weight and thickness. If weight is your top priority, go for a polyester base layer. Even a thin polyester base layer will be reasonably durable will do the job in most activates like cross-country skiing and cold-weather running. If you are planning resort skiing or winter climbing, opt for a warmer and cozier base layer.
Fit
You need a snug fit for optimal performance. A snug fit will help the fabric draw moisture away from the skin most efficiently. If you are planning to use your base layer for casual use, a dedicated option is useless for you. There are some options available that can be used as a base layer or an outer layer. For example, Mountain Hardwear Men's Tights is a great option to consider. You can wear them on their own for a chilly morning run or layer up and head out in the frigid snow.