We use affiliate links and may receive a small commission on purchases.
Learn more
Convertible pants are great when the mornings are cold and the days are hot, so you can switch back and forth regularly. When you're up in mountain valleys, you zip on the legs in the morning to keep out the chilly wind, zip them off in the midday sun, and then back on around dusk when the mosquitoes come out.
Most convertible pants come with sturdy nylon clipping belts for precise and easy adjustment and an ample amount of pockets that give you space for everything. These pants give you a convenient 2-in-1 function that saves weight and space. You can zip off the legs if the weather turned warmer, or you can put them back on. To eliminate the possibility of losing your zipped-off pants, some pants convert with a roll-tab rather than a zipper. But with roll-tabs, you still need to test whether the rolled-up legs are comfortable. These features make them perfect for hiking and backpacking. When you can't decide whether you need shorts or pants, just reach for a convertible pant and you will get both.
Below is the list of best hiking convertible pants with zip-off legs that become shorts in seconds.
1. Outdoor Research Ferrosi

Material: 86% nylon 14% spandex 90D stretch woven ripstop
Sun Protection: UPF 50+
Pockets: Front Jean-Style, Bellows Zip Thigh, and Back
Weight: 12.6 oz
There are a lot of reasons that make the Outdoor Research Ferrosi a good option to consider. It is made up of ripstop nylon and spandex that makes for a soft and fairly durable fabric. The fabric is soft and allows good breathability, comfort, and mobility. It is also one of the most lightweight pants on the market.
The ability of these pants to turn into Bermuda shorts makes them versatile. It has zipped pockets on the legs that are large enough to hold a phone. Outdoor Research has updated the design with horizontal zipped pockets. But the hand pockets are shallow. The fabric resists water to some extent but doesn't provide much protection and takes longer to dry if it gets wet.
The pants do, however, have some problems with the fit. The cut is narrow and the Ferrosi might feel tight to even skinny people. The fabric may also feel light in the cold weather but the fitting is tight to put a layer under it. The slim leg cut and the convertible zipper placement reduces comfort. The zipper is also tight on the legs. So you ought to try a larger size than yours. The pants are available for both men and women.
Pros: Lightweight with a perfect amount of stretch which makes these pants great for anything from hiking to rock climbing.
Cons: The hip pockets are small.
View Men's at Backcountry View Women's at Backcountry
View Men's at Amazon View Women's at Amazon
2. Columbia Silver Ridge

Material: 100% nylon Silver Ridge ripstop
Sun Protection: Omni-Shade UPF 50
Pockets: 2 hand pockets, 2 back, 2 cargo, 1 side zippered
Fit: Regular
Silver Ridge pants are lightweight yet durable that wears so comfortably. These pants are perfect for hiking on trails that are a little overgrown. You can zip off the bottoms and stow them in an easily accessible place on your backpack and grab them when you come to overgrown sections of the trail. Silver Ridge pants are also perfect for overnight hikes when the days are warm but the nights are a little cold. If you are looking for an inexpensive option for summer hiking, this is a good option to consider.
These pants come along with an elastic waist that adds to comfort along with an integrated belt. It comes with an adequate number of pockets to store and secure stuff while you are on the move. And of course, the pant can be converted into shorts if it is getting too hot or there is a pool nearby.
However, the Silver Ridge is a hip hugger. It is tight along the thighs and crotch along with a short zipper. The fabric is also non-stretchable which limits mobility. The fabric lacks a DWR coating leaves them less versatile and they offer less protection against rain and cold weather. It is recommended that you try them before using them. They come in both, male and female versions.
Pros: The zipper is above the knee, dry fast, wash well and look like new after a machine wash
Cons: The zippers used are not very high-quality which makes getting the pant zip off and on a little difficult. There's only one zippered pocket instead of two.
View Men's at REI View Men's at Amazon
View Women's at Amazon
3. Marmot Transcend

Material: Nylon, Elastane Stretch Dobby
Sun protection: UPF 50
Fit: Relaxed
Waistband: DriClime Interior Waistband
These versatile pants are ideal for hikers, backpackers, or travelers. The relaxed-fit pant is constructed primarily of nylon but it also incorporates the stretch of spandex for increased comfort and mobility. To further increase the range of motion, the pants have a gusseted crotch. The nylon material is highly abrasion-resistant and even has a UPF 50 rating to help protect your skin from those harmful UV rays.
Additionally, a water-resistant finish is effective against light precipitation. Large belt loops can accommodate your favorite belt and the waistband itself has soft comfort-enhancing lining. It has a zippered fly and a button closure on the waist. Side zippers at the cuffs of the pants can expand to allow for an easier on and off.
In addition to the option to convert to shorts, features include two hand pockets, both a zippered and unzippered side pocket, and two rear pockets.
Pros: Very comfortable on contact with the skin, breath extremely well, have an amazing water-shedding capability
Cons: The fit is very casual. That can be good or not such a good thing. People usually prefer a fit little more on the athletic side.
View at Backcountry View at Amazon
4. Outdoor Research Equinox

Material: 95% nylon, 5% spandex stretch woven
Inseam: 32" (Shorts: 10")
Sun Protection: UPF 50+
Fit: Regular
Pockets: 2 hand pockets, 2 back, 1 zippered thigh
Weight: 12.4 oz
The Outdoor Research Equinox is a lightweight, breathable option for people looking to hike in the summer. The fabric is made of 95% nylon and 5% elastane making it very lightweight and stretchy. The fabric is durable to last even the roughest hikes.
The convertible option on the Equinox adds to its versatility. The shorts are also of adequate length. The pockets have good size and are stretchable. The zipper at the bottom of the legs makes it easy to remove and provide more ventilation to the ankles.
The fabric is UPF50+ for protection against the sun. The DWR coating on the pants works extremely well during light rain and the pants dry quickly. Do consider the size because you may find it too long.
Pros: These pants are lightweight, the quality of the material is great, feels good when worn, quick-drying, and built with a spandex blend for stretch and easy movement.
Cons: Not great for long treks with high impact as the material seems a bit lighter than others.
View Men's at Moosejaw View Women's at Moosejaw
View Men's at Amazon View Women's at Amazon
5. prAna Stretch Zion

Material: 97% Nylon, 3% Spandex
Sun Protection: UPF 50+
Fit: Standard
Weight: 1 lb
prAna Men's Stretch Zion is one of the best options available on the market. These pants have a loose fit which allows for a great amount of movement. The fabric is made of nylon and spandex which is stretchy, so much so that you can also perform yoga in them.
The fabric is also durable. It can withstand wear and tear in rough conditions. These pants are breathable, but in case the weather gets too hot, there are breathing holes near the crotch area for extra breathability. These are water-resistant pants and the DWR coating works surprisingly well. Stretch Zion can keep you during normal rain and dries quickly after getting wet. The shorts are proper full-length shorts with perfectly sized positioned pockets and multi-access zipper pockets.
There are not many complaints about the Stretch Zion. Some people may find it too baggy. The zipper is also short, not to say that it is not functional, but annoying. The inner flap of the convertible zipper also rubs and causes discomfort. But we didn't find these things to be that much of an issue. The Stretch Zion is a great option that can be used in all seasons with little or no complaints.
Pros: Breathable, stretchy, and roomy. It doesn't tighten up when climbing mountains or taking high steps.
Cons: Baggy at the legs
6. KUHL Renegade Cargo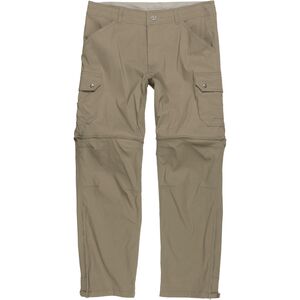 Material: Duralux, DWR finish
Pockets: 2 front, 2 back, 2 cargo
Fit: Regular
Sun Protection: UPF 50
Best Use: Hiking & camping, casual
KUHL Renegade Cargo pants are highly versatile, offer spacious pockets, and can be quickly converted into shorts. If you are looking for a pair that can be used both as pants and shorts, these versatile pants are a great option for you. They get the job done on any summer hike or backpacking trip. These pants can also be used for yard work, traveling, and even climbing. The cargo pockets provide plenty of room for trail snacks, cell phone, or other trail necessities.
The fit is more spacious than some other slim or straight-legged pants, thanks to their gusseted crotch and articulated knees. The fabric feels super soft against the skin and the waist and pelvis region fit well. When it comes to comfort, these pants have one downside. When you move your leg, the convertible zipper seam creates a rub point against the skin. It is common for zip-off pants, still it detracts from the overall comfort.
There are mesh liners in the front hand pockets as well as the rear pockets to facilitate ventilation. However, there are no mesh vents in the side cargo pockets. The pants' loose fit makes them cooler when the temperature rises. A vertical zipper at the bottom of the pant allows it to fit over a pair of boots. Overall, KUHL Renegade Cargo pants are best suited for almost all outdoor adventures.
Pros: Durable stretchy nylon, tons of pockets
Cons: Front button sometimes comes undone
7. Patagonia Quandary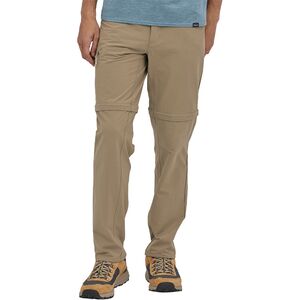 Material: Nylon, spandex with a DWR finish
Sun protection: UPF 50+
Weight: 12 oz
Fit: Slim-straight
Patagonia Quandary is ideal for hikers or travelers. The lightweight pants are great for warm weather and even offer the versatility of zip-off legs that turn the pants into hiking shorts. These pants are constructed with nylon with just a touch of spandex. The pants have a comfortable feel with a build-in stretch that promotes mobility.
The fabric has a UPF 50+ rating for sun protection and water-repellent treatment offers weather protection. A curved waistband and a slim straight cut give the pants a close fit without having them feel restricted. They have a zippered fly, a button closer, and integrated belt loops. It also features a light drawstring to tighten up during those long thru-hikes.
The fabric has a UPF 50+ rating for sun protection and water-repellent treatment offers weather protection. A curved waistband and a slim straight cut give the pants a close fit without having them feel restricted. They have a zippered fly, a button closer, and integrated belt loops. It also features a light drawstring to tighten up during those long thru-hikes.
Pros: DWR coating works great, supple and mobile
Cons: Slim fit may not be awesome for larger adults, not many pockets
View Men's at Backcountry View Women's at Backcountry
8. Columbia Silver Ridge Stretch

Material: Nylon
Sun Protection: Omni-Shade UPF 50
Fit: Regular
Pockets: 1 cargo, 1 zippered
Columbia Men's Silver Ridge Stretch II is an improvement over the normal Silver Ridge Convertible pants. Although the Silver Ridge Stretch II does address some problems over the normal Silver Ridge, the overall design is the same. The most prominent being the stretch feature that the normal Silver Ridge lacks, of course.
The fabric is the same which makes it a great choice for hiking in the summer. The stretch feature adds to comfort making them a better option over the normal Silver Ridge. The Stretch loses the ugly belt. The Stretch is also more comfortable than the non-stretch version. The fabric is also smoother. The pockets are also deeper and more secure in the Stretch.
However, some problems remain the same. The fabric is thin which provides less protection against cold weather. The shorts are still short, a complaint from the non-stretch version. The pants are still tight at the upper portion and pull against the thighs especially when moving uphill or climbing. The stretch feature reduces this, however, but some people still find it uncomfortable.
Pros: The stretch eliminates the baggy look that most pants for hiking have. These pants have almost everything you need on a hike in the mountains.
Cons: The pockets aren't deep enough.
See the Columbia Silver Ridge Stretch
9. Jessie Kiddens Adventure Pants

Material: 100% Nylon
Sun Protection: UPF
Fit: Comfort
Waist: Elastic
Ideal for: Hiking, camping, mountaineering, etc.
Jessie Kiddens Men's quick-dry is a lightweight and comfortable option for summer hikes. The fabric is nylon and it is super lightweight and very comfortable. The pants have a UPF fabric that offers UV protection. The pants are stretchable and do not limit mobility.
Although these are pants are comfortable due to their lightweight, the fitting can be narrow at the waist even with a larger size. The pockets are too narrow so they can't be called proper cargo pants. The other problem is the durability of the pants. The stitching starts to come out very quickly. The shorts are of the right size and provide versatility.
The fabric is very thin and does not protect against the cold weather. All in all, for the price you are paying for these pants, they are not bad. They carry out the basic functions well and can be turned into shorts if it gets too hot.
Pros: Great fit and cool feel
Cons: The pockets are not deep enough and they can't hold items very securely.
See the Jessie Kiddens Adventure Pants
10. Toomett Quick-Dry Pants

Material: 100% polyester
Sun Protection: Omni-Shade UPF 40+
Fit: Classic
Waistband: Exterior adjustable
Ideal for: Spring/summer/autumn hiking
Toomett Men's Quick-dry pants have a nice soft fabric made of polyester. The pants and lightweight and very comfortable if you find the right fit. That is a problem you will struggle with. The pants have a narrow cut. People have to order larger sizes than their regular fits. However, the pants consist of spandex fibers making them very stretchy and it doesn't limit the movement.
These pants are water repellent and effectively repels other liquids as well. The quick-dry feature is impressive and keeps you dry and cool. The fabric is breathable but still keeps you warm which becomes a problem in hot weather. But you can always convert it into shorts to tackle that issue. You may find the shorts to be a little too long for they cover the knees as well.
The pants have Omni-shade which prides UPF40+ protection from the sun. It is difficult to put and take out stuff from the pockets. The pants cost much less than the average on the market but do a fine job for outdoor trips making them a bag for the buck. They are not perfect, but for the price, they are good enough.
Pros: Lightweight, comfortable, and durable
Cons: Not ideal for serious hiking
See the Toomett Quick-Dry Pants
11. Nonwe Outdoor Water-Resistant Pants

Material: 88% nylon, 12% spandex
Waist: Partial adjustable
Pockets: Multi-functional
Washing: Machine/Hand wash cold, No Bleach
Water-resistant: Yes
If you are looking for a pair of pants that keep you warm in cold weather, this should be your choice. The Nonwe Men's Outdoor Water-resistant Quick-dry pants are an option worth considering when going on a hike in cold weather. The fabric is made of nylon and spandex which keeps it lightweight and stretchy.
The pants have a regular fit that feels and looks great. There is no question on the durability of these pants. I have seen people using them for years and these pants have survived. They are a good value for money and can easily compete with expensive options on the market.
However, the material of the fabric makes a lot of noise when moving. This is the only major complaint found in these pants.
The pants do not repel water but resist it to some extent. The quick-dry feature of these pants is really good. The pants are suited for cold weather where you might find yourself in rain. The shorts could have been a bit long though. But overall, it is a pair of pants worth buying for a mountain climbing trip in the cold weather.
Pros: Great quality hiking pants at a very affordable price.
Cons: The material feels a little thin.
See the Nonwe See the Women's Nonwe
12. JOMLUN Outdoor Quick-Dry

Material: Taslon nylon fabric
Fit: Classic
Pockets: Many
Waist: Partial elastic
Best use: Hiking, camping, climbing, fishing
The JOMLUN Men's Outdoor Quick Dry is a very durable pant due to the fabric being polyester. The pants provide a classic cargo fitting. Although some people might find it too baggy. The Talson fabric provides maximum protection against the sun.
JOMLUN pants are lightweight and comfortable with a partial elastic waist and a gusseted crotch to allow freedom in mobility. The pants also keep you warm making them suitable for cold weather. These pants have just one zip-off pocket but contain loops and hooks over the rest of the pockets for secure storage of your stuff. The crotch is short which can get annoying.
The double overlock makes the pants very durable. The pants lack a DWR coating but the Omni-Wick technology works impressively well. The pants dry quickly to keep you dry and cool. Polyester, however, is not the most breathable fabric although durable. This causes problems in hot and humid conditions. You would also not want to sit near campfires while wearing these pants.
Pros: Very comfortable, durable, and wear extremely well
Cons: The buttonhole on the fly is small for the button.
See the JOMLUN Outdoor Quick-Dry
Critical Convertible Pants Considerations for Hiking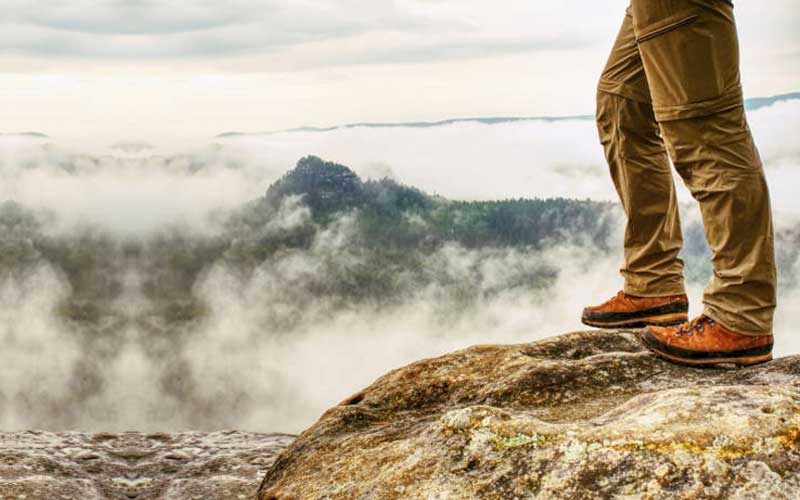 Convertible hiking pants are a popular choice for hikers throughout the year because their convertible design means less packing. Here are some important things to consider before buying a pair of convertible pants.
Material
Nylon or nylon blend is usually the material used in hiking pants. But materials listed in the feature list doesn't mean much because you can't tell how the material will behave by simply reading that the pants contain 80 or 90% nylon or whatever. It is recommended that you prefer material containing spandex. Spandex is stretchy and does not limit your mobility.
Weight and Comfort
The weight of hiking pants matters because, in a long mountain climbing and hiking trip, every ounce matters. So you need to make sure that your pants are light enough to not cause you problem. Lightweight pants also that are easy to pack also allow you to carry an extra without much effort. This makes comfort a very significant factor to make your outdoor trip enjoyable. Your pants should allow you to move freely and not push against your legs while walking or climbing. This will conserve your energy along the way.
Thickness and Durability
The thickness of hiking pants varies from thin to medium softshell to very thick depending on what season they are made for. You must know what you are dealing with when choosing hiking pants. Most hiking pants are usually made for 3-season use. Some extra layers underneath can make any pants suitable for winter. Thickness often correlates to durability and the resistance to wear and tear. So thick pants are great for winter hiking and rough mountain climbing that will expose you to a lot of sharp edges.
Pockets
Pockets are not for everyone. Too many pockets can drive some people crazy. They will stuff these pockets only to find out that they have taken over useless weight. This makes their trip uncomfortable and ruins their hike. Know what kind of person you are. You might want a simple pair of pants instead.
Gusseted build and Articulated Knees
One thing that improves the comfort of hiking pants is its ability to allow motion. Certain design aspects, like gusseted crotch and articulated knees, provide with this comfort. Articulated knees mimic a person's movement by being bent. This makes them push less against the knees as you walk or climb. A gusset is a patch of diamond-shaped fabric that runs along the inner side of the thighs replacing the normal seam. Of course, a complex design means more cost. But the cost is worth the comfort.
Water-Resistance
Most of the time and especially in hot summer weather, you won't be bringing completely waterproof pants unless you are certain you will be facing heavy rain. The reason is that they are unbreathable. Most pants do a decent job keeping you dry in light rain. The nylon mesh doesn't absorb water easily. It also dries up quickly if it gets wet. So it is recommended that you stick to normal hiking pants unless you are going in heavy rain.
Fit and Convenience
In the past, there used to be limited options to choose from. But recently, we have plenty of options and many companies that have conducted years of research to develop hiking pants that give the user a perfect fit. You can find pants that have an athletic to loose fitted baggy pants. Other features add to the convenience of using the pants. Like integrated belts, zippers at the bottom of the legs left and right labels on the legs, such features provide convenience to the user and makes them comfortable with the pants.