We use affiliate links and may receive a small commission on purchases.
Learn more
There are so many compromises to be made when packing for an outdoor adventure. Every kilo of weight counts since you will be dragging it with you for the whole trip. One such compromise is the tent in which you are going to stay.
These cleverly designed small shelters offer a wide variety of sizes, designs, and other capabilities to not only withstand the outdoor wear and tear but also protect you from wind, rain, etc. Tents are usually chosen based on comfort (which means more space) and durability. But more comfort and durability probably means more weight.
But when you are hiking solo, you can get relief on weight. Solo tents are small, but they are lightweight saving a lot of precious kilos.
So here are the best one-man tents in the UK that you should consider if you are planning a night trip outdoors.
1. OutdoorGear Backpacker Pro
Polyester with waterproof PU coating flysheet
Polyester inner
Oxford PU 1500mm groundsheet
2 x pre-bent alloy poles
16 x strong and lightweight alloy pegs (14g each)
4 x reflective guylines with cleats
Oversized compression stuff bag
OutdoorGear Backpacker Pro is a budget-friendly, lightweight and compact tent. It is sturdy, easy to pitch and ideal for solo backpacking. The tent has a lightweight yet durable and reliable polyester waterproof flysheet with a PU coating that offers excellent waterproof protection.
Backpacker Pro offers excellent ventilation. It has ventilation points at both ends of the flysheet to ensure maximum breathability and to ensure you remain comfortable while camping! The tent also has a sturdy and waterproof groundsheet on the base and large mesh panels to keep the bugs out. There is an accessory pocket in the inner sheet and plenty of extra space for gear.
OutdoorGear Backpacker Pro comes with Pre-bent Alloy poles for reduced weight, increased strength and to offer maximum space inside this backpacking tent. The tent also comes with a stuff bag to make packing quick and easy.
Pros: Affordable, lightweight, easy to put up and takedown
Cons: Not high enough to stand up so you can't change clothes inside the tent.
See the OutdoorGear Backpacker Pro
2. Vango Force10 Helium UL
Protex 15.SRN 15D Siliconised
PU Coated Nylon Flysheet
Nylon fabric bathtub groundsheet
Yunan SD70 Pre-angled poles
Flysheet vents with mesh
The optional footprint for Vari-Pitch options
Dyneema pegging points
Force10 was first released in 2017 but it is still popular among those who want a highly technical, extremely lightweight and compact tent. The tent is ideal for short trips and for those moments when you can grab your gear and go!
The tent comes with factory tapped seams and the flysheet has a silicone PU coating. The groundsheet is a bathtub style for complete protection from the wet weather. Vango Force10 has a low profile design and it offers exceptional stability making it a fantastic choice for protection in inclement weather!
Pack size and weight are two important factors to consider when designing a one-man tent. Still, this tent offers a reasonable amount of living space and room for storing your gear, compared to other similar models of solo tents! Vango Force10 has achieved this through the use of pre-angled poles which maximize inner space so that you can stay in this tent as comfortable as possible. Vango uses nylon inner and ventilation points to encourage airflow and reduce condensation build-up. Overall, Force10 is an incredibly impressive tent, ideal for campers and solo backpackers.
Pros: Ample room for one person, compact, lightweight, tough groundsheet
Cons: The material is not very high-quality.
See the Vango Force10 Helium UL
3. GEERTOP 1 Person Tent
20D PU3000mm flysheet & 20D floor
40D PU5000mm floor
Reflective strips
2 x doors, 2 x windows
Perfect for backpacking, camping, and hiking
The Geertop is extremely lightweight and only weighs around 1kg, which makes it an attractive option to put in your backpack for your camping and hiking trips. It gives you the ability to pack it when you are in a rush and have a limited time to prepare. This portable tent will always come in handy.
This tent has a waterproof flysheet with taped seals and double-stitched seams that securely covers the whole tent. The tent has reflective strips that ensure safety at night. This tent also has two ventilation windows on the top and near the foot of the tent providing and easy airflow.
The tent has a 105cm of headroom making it easier to live with. GEERTOP 1-person tent needs one trekking pole or a strong tree branch to support. Overall the tent has no issues except that some people might find the windows to be too large.
Pros: Double-stitched seams, lightweight, good ventilation
Cons: Windows may be too large
4. Naturehike Cloud Up
20D nylon
7001 aluminium poles
Fully taped Silicon coated seams
Reinforced professional pole with bold aluminium pegs
Scientific ventilation system with high-density mesh
Insect prevention and breathable
Naturehike tents have always mimicked tried and true designs, yet their tents are a fraction of the price from the tents of the same design. These tents won't win an award for some innovative design or comfort or being the lightest. But they are hard to beat when it comes to budget backpacking tents. The Cloud-up Ultralight is one such tent.
The tent comes in 1, 2, and 3 person variations but we are only looking at the 1-person design. It is light enough that you will appreciate the weight savings. The 210T ripstop material withstands abrasion quite well. The rainfly also performs well in terms of keeping the rain out. But you would have to buy out the rainfly to make it effective.
The Cloud-up's description labels it as an ultralight tent, however, this tent can't be considered as ultralight. It can be a lightweight backpacking tent though. If you are truly looking for ultralight backpacking, you would pass on this tent. But this tent isn't heavy either.
One thing you need to understand is that you will get what you are paying for. These are not top of the line tents and do not have top of the line materials. You will start to notice a performance decrease after 2 or 3 seasons. It seems Naturehike understands this and their customer service is good.
Pros: Cheap, packs down small, good rain performance, relatively light
Cons: Zipper can snag, a taller person may have trouble, clearly a design copy of Big Agnes with heavier materials
5. Naturehike Taga Ultralight
7001 aluminium poles
Nylon coated silicon rainfly
B3 breathable mesh
Nylon coated silicone bottom
Duraflex buckles & aluminium nails included
Naturehike Taga 1 is a single-skin, single entrance, one-man tent. The biggest difference between the two is that the Naturehike Taga's design doesn't require a trekking pole to keep the tent suspended.
Starting with the main feature, the weight, the tent has a stated weight of 1063g (~2lbs 6oz) for the single man. However, during our weigh-in, the 1 man came in at 1197g. The tent is mounted in a few minutes and has a very attractive shape as well as extremely effective against the wind, and rain.
The Naturehike Taga is made from Nylon coated Silicone, with a 3000mm rated hydrostatic head. The poles are comprised of Aluminium alloy, and the version we got sent came with an included, separate groundsheet.
The fabric is Silnylon 20D ripstop capable of supporting a 4000mm water column with all taped and waterproof seams. this tent comes with two vestibules, one of which has to be accessed through a zip inside the tent. We found this to be a major plus point, as it seemed to offer a lot more gear storage than you'd expect from a tent in this size and weight class. We can't see anyone having problems with storage space in this thing!
Pros: Lots of storage space, lightweight, waterproof seams
Cons: Not free-standing, 20D floor needs a groundsheet, condensation is an issue
See the Naturehike Taga Ultralight
6. Marmot Tungsten
Trail Weight: 3lb 8oz / 1.5kg
One D-Shaped Door
One Vestibule
Freestanding Design
Seam Taped Full Coverage Fly with Vents
Jingle-Free Nylon Zipper Pulls
HD Velocity 7000 Series Aluminum Poles
Marmot has created a pretty impressive offering with these Tungsten tents. They are lightweight, packable, durable, and extremely reasonably priced. You also get a lot of volume on the inside of the tent that I've not found in other tents at that price point.
One of the great things about the Tungsten tent is the Pre-Bend pole construction. Those aluminium poles are built with Marmot's zone construction. This creates nearly vertical sidewalls at the lower ends of the tent, which give you a much more usable interior volume. Up the tent, you have strategically placed clips that draw out the tent materials to create more volume and therefore more comfort when you're stuck inside on a rainy day.
The tent itself is made with a mix of very durable materials. The floor fly and canopy are all a 68 polyester taffeta. Both the floor and fly are treated with a waterproof coating to ensure weather protection. The floor also has a catenary cut so there's some extra attention, which helps keep the seams off of the ground and aid in weather protection. The mesh is a 40D polyester mesh so it's much more significant than your traditional ultralight mesh and won't snag it easily. The trade-off is that it's a bit heavier.
Overall, the tent weighs just under 4 pounds so it's not considered an ultralight tent but it's great for the backpacker or recreational camper or simply anyone who wants a solid tent at a reasonable price.
Pros: Roomy for its weight, inexpensive
Cons: Difficult to tension fly properly, asymmetrical fly with a small vestibule
7. Highlander Blackthorn
190T PU breathable polyester
Flysheet with waterproof PU coating
Taped seams
Inner pitch first
9mm fibreglass poles
Fire retardant
Compression stuff sack included
Highlander Blackthorn is an ideal tent for the hikers, campers or solo backpackers on a budget. Equally, at home on the hills and in the woodlands this tent can keep you sheltered in most conditions. The tent offers an extremely affordable price tag. But you do still get a reasonable weight of 1575g and there is a large porch.
Blackthorn 1 has a respectable hydrostatic rating of 2000mm which enables you to camp out in some quite wet and wild weather. There are glass fibre tent poles that are strong, well-constructed and well placed to enable the tent to take a fair amount of hammering from the wind. The structure is quite stable once this is complete and the side doors access a large porch.
The drawbacks are that this tent pitches inner-first. This means that in the rain the internal part of the tent gets wet until you manage to get the flysheet over it. The tent is not recommended for people over 6ft tall. If you are over 6ft, you won't have enough space in this tent. You cannot complain at the price, but for more money, you do get metal alloy poles.
Pros: Stable structure, lightweight, low price
Cons: Pitches inner-first, little headroom for taller people
8. Yellowstone Matterhorn
Pitches inner first
Pre-attached guylines and integral groundsheet
Fire retardant
Taped seams
Perfect for hiking and backpacking
Our first impressions were of a sturdy tent that appeared well made. The groundsheet appears tough, and is raised all around as it should be and the tent fabric reassuringly thick to the touch. The porch is quite generous for the tent size and has plenty of room to store excess kit overnight.
Yellowstone Matterhorn is a simple tent, inner and outer layer one-person tent, that's low-slung to guard against high winds. The inner layer pitches first, followed by a protective outer layer, so the whole thing is double-protected. The tent is large enough to house tall people and large rucksacks.
Inside, there's ample room for one person (180cm) without feeling like you're sleeping in a body-bag. The headroom is however limited, tuning the process of undressing for bed into an impromptu yoga session. It is essentially a one-man bivi, and as such it's roomy.
With a total length of 2.7m and a height of 90cm, there's enough room inside for tall people, and you'll be able to sit up comfortably, without having to crane your neck around the ceiling. The Yellowstone Matterhorn Tent weighs in a 1.5kg, making it fairly lightweight. Fire-resistant, which is always a plus. Waterproof level 2000 HH (Hydrostatic Head). Made from polyester, which is decently strong and durable for the cost.
See the Yellowstone Matterhorn
9. MSR Elixir
Ripstop polyester, 1500mm PU & DWR rainfly
Ripstop nylon DWR fabric canopy
Nylon micromesh
Nylon 3000 Durashield PU coated & DWR floor
Unique pole geometry creates optimises headroom
Aluminium pegs
For 2018, MSR has decided to update and extend their Elixir Series of backpacking tents, and have introduced this MSR Elixir 1 Tent to the range, which is claimed to be the most liveable solo backpacking tent in its class! The Elixir range was first designed for performance backpacking with liveability in mind and offers backpackers a fantastic technical tent that is great value for money!
While many of those lighter tents are around a third more expensive, others twice the cost, and some that are made of truly remarkable light materials, are multiple times the cost of the Elixir 1. There are cheaper one-man tents too, but with the quality on offer here from MSR, Elixir 1 represents excellent value for money.
Secondly, the Elixir 1 is BIG. In comparison to some "one-man tents". MSR says the inner tent is 2.18 by 0.84 meters. The inner is a meter high at the highest which means loads of room above the head when sitting up.
The Elixir has colour-coded poles, clips and webbing to ensure that it is quick and easy to put up and this tent comes with groundsheet to offer multiple setup options, including free-standing and Fast & Light® pitch so it is still possible to easily pitch in adverse weather conditions!
Pros: Very durable and high quality, lot of space, low price, easy to set up
Cons: Heavy
10. Big Agnes Copper Spur HV UL
Trail Weight: 2lb 2oz / 964 g
Vestibule with double-zippers
Reduced condensation
Smooth-closing, dual-zipper doors with easy-grip pulls
Quick Stash door-keeper
Multiple interior loops
This is a backpacking tent that balances space, weight, and functionality. Its quick setup and durable construction make this a great option for any backcountry adventure. The HV stands for High Volume that means the Copper Spur has been designed to maximize interior space. UL stands for ultralight. With a packed weight of 2 pounds 8 ounces, this tent has an excellent space to weight ratio.
The rainfly is attached with colour-coded clips and webbing. It is made of durable ripstop nylon. There are thick strands of high tenacity yarn sewn in random intervals to resist tears. The vent in the rain fly has two guylines at either end create airflow to fight condensation. The additional guylines can stabilize the tent in high winds. The rain fly can roll back into a few unique configurations. There is even a Fast Fly, which creates a minimalist shelter using only the poles, rainfly, and optional footprint.
The vestibule space is large enough for a backpack and boots. There are 20 square feet of floor space inside. The floor is nylon that's been coated to keep water from penetrating. Inside, you'll find the walls have been made nearly vertical and that provides plenty of room to sit up. There are easily accessible gear pockets within reach over your head and on the walls of the tent.
The poles are DAC aluminium and are very strong. The tent body is attached to the poles with plastic clips. The door has two separate zippers. You can open both to roll back the door or you can try zipping only the bottom open to access your gear without letting bugs in.
Pros: A real tent that weighs as much as a bivy.
Cons: Not everyone loves the single door and thin fabrics.
See the Big Agnes Copper Spur HV UL
11. Jack Wolfskin Gossamer Tent
DAC Green poles
1 x Doors
Large mesh panels for ventilation
2 x cleated high vis guylines
9 x 18 cm Lightweight alloy pegs
Roll-top bag included
The Jack Wolfskin Gossamer is an amazing tent for solo backpackers, cyclists, motorcyclists, fishermen and adventure hikers alike! The Gossamer is a light yet durable bivi tent weighing just 1.75kg that has a comfortable sleeping length with room for storage at your feet or head.
The inner tent is made entirely of mosquito mesh for lightness and superb ventilation. You can roll-up the flysheet if you want to see the stars on clear nights. The groundsheet is made from durable polyester and is in a 'bathtub' style.
Pitching the Gossamers is quite a simple affair; they are inner first pitch with two arches, a larger one at the head and a smaller one at the foot. Gossamer is a tunnel tent. Its strength comes from how well it is pegged out. Low profile and rounded tunnel design make them very effective in the wind and with their taped seams and the HH properties mentioned previously they are fully waterproof 3 season tents.
Entrances are as large as possible, this makes entering and exiting much easier than with a hooped bivi. The large entrance of the Gossamer and Gossamer XT also has added benefit in that they allow you to get a good view of the night sky. Both the outer and inner entrances are easy to close at a moment's notice!
Pros: Easy to set up and takedown, spacious dual construction, waterproof and wind-resistant
Cons: Issues with damp, lack of storage space, cannot sit up inside the tent
See the Jack Wolfskin Gossamer Tent
12. Teton Sports Mountain Ultra
T6 Aluminium Cross and Ridge Pole
75D 3mm Ripstop 3000mm PU
Micro-Mesh
Steel stakes
Free-standing
TETON Sports has always been known for its high-quality outdoor products. The Mountain Ultra Tent is one such high-quality product. You might pay more for this than many other solo tents but you will get a solid built quality.
The Teton Sports Mountain Ultra 1 comes with everything you need to set up camp out of the box: rain fly, inner tent, footprint, stakes, and poles. There is no need to separately buy tarps for this tent.
The tent is fantastic as it is easy to use. The tent has a fully removable rainfly to withstand a good amount of rain. The micro-mesh of the tent is perfect for clear summer nights. The tent has a high bathtub floor which prevents water from getting in the tent while you are sleeping.
There is plenty of room inside the tent. An average person can comfortably fit inside the tent. However, at 4.4lbs, the tent is not exactly lightweight even though it is advertised to be ultralight. This puts it at a disadvantage in its class.
Pros: Extra high waterproof bathtub floor, rainfly stays in place, mesh allows plenty of ventilation
Cons: Costs more, heavier than the competition
See the Teton Sports Mountain Ultra
Critical One-Man Tent Considerations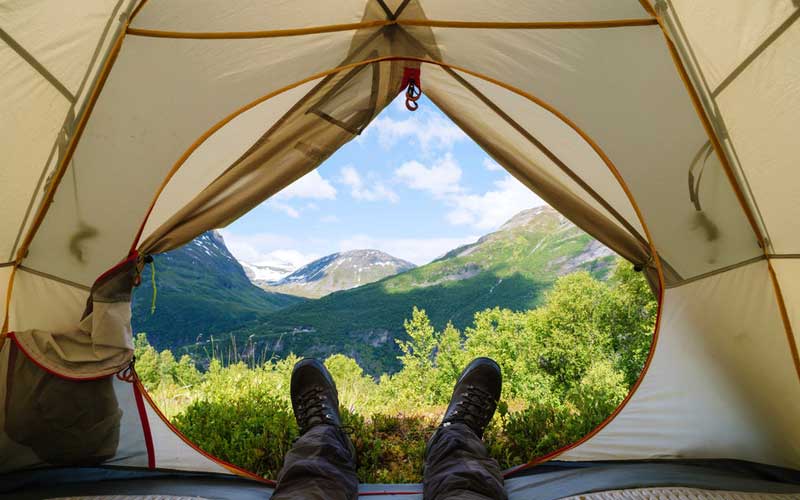 If you are a camper, hiker or solo backpacker and you don't want to carry too much weight, a one-man tent is an ideal option for you. Whether you're bedding down on a mountainside or pitching up at a campsite, a one-man tent should protect you from the elements and provide you with a comfortable and functional home-from-home for the night. The tent should also be lightweight and compact enough to take up a minimal amount of room in your rucksack, once it's packed away. There are plenty of options available and choosing the one that's right for your needs can be difficult. So, we have compiled a list of critical tent considerations. You can consider them when you buy a tent for your next adventure trip.
Determine the use
It's best to be brutally honest with yourself here. Do you need that an ultralight tent, or can you get away with something a little heavier (and thus less expensive) because you'll just be out for overnight and weekend trips? Are you planning to go backpacking, or just planning to buy a simple car-camping tent?
Consider the weight
If you'll be carrying a tent on your back, buy a backpacking-specific model, which will likely be made from lightweight materials. Sometimes people ask me about non-freestanding tents with guylines rather than dedicated tent poles. They're great if you're thru-hiking because they're ultralightweight, but for regular users, freestanding tents are much easier to set up and still pretty packable. If you're car camping, weight isn't an issue.
Size does matter
If you're a car camper, you can buy a heavy tent. Bigger than you need. Be obnoxious. You'll appreciate the extra space to roll around in, and you'll have plenty of room for dogs and kids. If you're a solo backpacker, buy a tent that's one person bigger than you need. Just you and your partner? Go for a three-person tent. Again, you'll have more room to store gear, and the weight penalty isn't huge.
Pitch before buying
It's one thing to read about dimensions and occupant capacity and another to get inside a tent to test its roominess for yourself. One three-person tent design might feel bigger than another three-person tent, so try to visit a camping store that has your tent pitched before pulling the trigger.
Durability
This isn't as much of an issue for car-camping tents, but read reviews for backpacking tents. Most shelters these days are pretty well made, but see what users are saying online before you plop down a couple of hundred bucks.