For any outdoor activity – camping, hiking, or simply for your backpacking expedition, investing in a good-quality sleeping bag is essential. This is because when you are carrying out outdoor activity, then your body gets exhausted and needs rest.
If you purchase a substandard sleeping bag, it will leave your body tired and lethargic, thus turning your super exciting camping or backpacking trip to a not-so-pleasant one.
Therefore, purchasing the right sleeping bag can make a huge difference in giving you a restful sleep at night. If you are looking for the best types of sleeping bags available in the market, then read on to find out and make an informed purchase decision that you will not regret. Here is a list of top 10 Best Lightweight Sleeping Bags for Backpacking:
1. Western Mountaineering UltraLite

Material: ExtremeLite, Nylon Taffeta
Insulation: 850+ fill down
Degree: 20 F
Weight: 1 lb 12 oz (Regular)
Shape: Mummy
Western Mountaineering represents some of the best quality and construction in the industry. They've been making sleeping bags for over 30 years so they really know what they're doing. This is a 20-degree bag and comes with interlocking draft tubes as well as a full-down collar to seal in heat. You can easily and snugly wrap the collar around your neck to stay warm. The material is breathable and doesn't make you suffocate, yet keep you warm because of its 20F down.
Its shell is water resistant so if it starts raining and your sleeping bag won't get wet. The shell also provides protection against condensation. It also comes with a sturdy, non-corrosive YKK zipper and has a 5 ¼ inch spacing or continuous baffles.
The bag has a 59″ shoulder girth and is extremely lightweight and compressible which makes it less bulky even when rolled up.
This bag comes in at 1 pound and 12 ounces, so it is a lightweight-to-ultralight range. It is really great for three-seasons, like 85% of the year it is going to get you through it. Customers who purchased this sleeping bag loved its breathable material and recommend it for is sturdiness.
Pros: Warmest, great no catch zipper design, lightweight, excellent compressed size
Cons: The bag can be very warm for summer, slightly on the tight side dimensionally, weak Velcro closure for the draft collar, expensive
See the Western Mountaineering UltraLite
2. Mountain Hardwear Lamina Z Flame

Material: 30D Nylon Ripstop
Insulation: Thermal.Q
Degree: 22 F
Weight: 2 lb 13.2 oz (Regular)
Shape: Comfort mummy (slightly bigger than standard mummy)
The Mountain Hardwear Lamina Z Flame sleeping bag is made up of nylon and comes with welded lamina which removes cold spots and enhances loft. It has zoned insulation that increases warmth whenever needed, and the Thermal.Q insulation technology gives this bag outstanding compressibility while giving it an excellent loft.
It has a comfort mummy cut doesn't cause constriction due to a person's weight, and its ergonomic draft collar retains heated air from inside the bag, therefore, giving a good night's warm sleep to the user. The bag has a soft lining made of polyester which easily wicks away any moisture, thus keeping it dry and mold-free. Its nylon shell is also water-resistant, so no need to worry about it even if it starts raining and your bag get wet.
The sturdy zipper comes in a full length with double sliders which provides added ventilation. Lamina Z Flame is pretty wide at the top. It allows you to put your arms up under your head with your elbows out. So you can sleep on your stomach or side and still be warm. The bottom half of the bag is pretty slim, so if you like to spread your legs when you sleep, look for something else. But this slim fit helps you stay warm, all the way down to your feet.
Pros: The bag is compressible. It fits easily inside a sleeping bag compartment of a backpack.
Cons: The zipper catches on the material almost every time you try to zip it up or down. This is annoying but manageable.
See the Mountain Hardwear Lamina Z Flame
3. Big Agnes Thunderhead SL

Material: Nylon Ripstop, Nylon Taffeta
Insulation: 650-fill DownTek
Degree: 30 F
Weight: 1 lb 12 oz (Regular)
Shape: Mummy
Big Agnes products never fail to disappoint as they are always top notch, and the Thunderhead SL sleeping bag is no exception. Available in a beautiful charcoal color, the bag is made with new and improved technology. It provides a unique draping effect to the sleeper, thus making them more comfortable.
It feels like you are sleeping on your own bed. The bag is made with the highest-quality insulation material available in the market and is perfect for a cold night to keep the sleeper warm. In other sleeping bags, compression due to body weight makes the sleeping bag lose its ability to insulate, but this bag has replaced the bottom insulation with two pad sleeves that provides insulation.
It is constructed like a quilt and is ideal for backpackers who have a large stature, or anyone who has the habit of tossing and turning in bed at night and requires more room.
The bag utilizes water-resistant down insulation and its overall construction focuses on saving weight and maximizing compressibility. With its lightweight, compressible and weather-resistant down insulation, the Big Agnes Thunderhead SL sleeping bag is a great option for ounce-counting backpackers.
Pros: Insulated with synthetic insulation, comes in at a pretty reasonable price
Cons: Not the warmest option.
See the Big Agnes Thunderhead SL
4. Marmot Hydrogen Sleeping Bag: 30 Degree Down

Material: Pertex Microlight (20D Nylon Ripstop)
Insulation: 800-fill down, Down Defender treatment
Degree: 30 F
Weight: 1 lb 7.3 oz (regular)
Shape: Mummy
This amazing 30°F down sleeping bag by Marmot is one of the best lightweight backpacking sleeping bags out there because of its high-quality features. This world-class bag is so lightweight that it feels like it's filled with buoyant gas instead of genuine down.
It only weighs about one pound but keeps the sleeper thoroughly warm and comfortable throughout the night and is perfect for climbs and backcountry excursions in the cool weather. Even when one is hiking, the bag is so lightweight that it seems as if there is nothing in the backpack.
This sleeping bag has a fold-down second zipper for increased ventilation and comes with an anti-snag slider which greatly reduces snagging. Hydrogen has an anatomically-designed foot-box and wrap-around make greatly enhanced warmth, while the curved baffles prevent the down from shifting unevenly and accumulating in one place to form lumps.
The shell material is a Pertex microlite which is really light and soft fabric. There is a nicely baffled hood, so you can really cinch that down on cold nights to keep that heat in. There is a separate drawstring for the top and the bottom so you can customize that as you choose. Its nautilus multi-baffle hood reduces the loss of heat from the bag. The bag also has two hang loops and comes with a stuff and storage sack to keep it compact.
Pros: With the highest quality 850 fill down, this bag packs down into a small pack size.
Cons: An average warmth, an average cut
5. ALPS Mountaineering Blue Springs

Material: 210T Nylon Ripstop, 210T Polyester
Insulation: MicroX+
Degree: 35 F
Weight: 2 lb 11 oz (Regular)
Shape: Mummy
As against super expensive sleeping bags that often fail to impress the buyer, the Mountaineering 35 Degree Blue Springs sleeping bag will not put a dent in your wallet, yet it will give you all the benefits of a high-end sleeping bags.
The Mountaineering Blue Springs sleeping bag is a special three-season bag which comes with offset baffles and a double-sided closure. This bag is made up of high-quality 210T nylon ripstop shell and comfortable 210T polyester lining that gives you bed-like comfort. It has terrific MicroX+ insulation and comes with a mummy cut design which keeps your body in the center of the bag even when you are tossing and turning at night.
The bag comes with an included stuff and compression sack and in this configuration, you'll be able to compress the sack down to about 10 inches tall by about 10 inches in diameter. It weighs about 3 pounds and for synthetic fill, it's not too bad.
If you're a big guy who likes to sleep on the side, this bag works really well. It's got a large foot-box which also accommodates side sleeping. At the very bottom, there is a couple of loops for hanging the bag up and drying out after your trip.
Pros: Warmth, packs down small, velcro allows you to configure it to your own personal comfort
Cons: The zipper sometimes snags but not a big deal.
See the ALPS Mountaineering Blue Springs
6. Klymit KSB 20 Degree Down

Material: 20D Nylon Ripstop, DWR coating
Insulation: 650-fill duck down
Degree: 20 F
Weight: 2 lb 12 oz (Regular)
Shape: Mummy
Klymit is a well-known brand when it comes to the manufacturing of outdoor products, and people trust this brand. Like their other products, the KSB 20 Down sleeping bag comes with a lot of state-of-the-art features that make it stand out and compete against other products.
The best thing about this sleeping bag is the presence of adjustable length locks which can be used to reduce the length of the bag up to 15 inches; therefore, it's suitable for both tall and short people.
It contains flexible stretch baffles which keep the down close to the body and stretches with the movement of your body. The full-length zipper comes with a guard and has two-way sliders, thus making it easy to be unzipped from top to bottom, making ventilation easy, while the full-length zipper comes in handy to seal out the drafts. This bag also has stash pockets to store small items. This bag is also very compact and can be easily carried everywhere.
This is an award-winning sleeping bag which can be used in every season. Customers who bought it love it because the stretch baffles of the bag allow them to sit up, freely move and cross legs and stretch without having to unzip the bag.
Pros: The stretch baffles make a huge difference for comfort because it allows your feet to move around.
Cons: Can feel the string in the hood when it is synched.
See the Klymit KSB 20 Degree Down
7. Marmot Never Winter

Material: 30D Nylon, DWR treatment
Insulation: 650-fill duck down, Down Defender
Degree: 30 F
Weight: 1 lb 14 oz (Regular)
Shape: Mummy
The Marmot Never Winter sleeping bag is a good choice for all those out there who want to go backpacking in summers. Whether it's a mountainous hike or river trips, this water-repellent bag will not get wet and its durability will leave you as a very satisfied customer.
It has a fold-down second zipper that facilitates extra ventilation and easy access. The main zipper is equipped with an anti-snag slide that prevents snagging. The foot-box has a wraparound design which increases warmth by giving more insulation and you will have plenty of room to move your feet freely inside the bag. In fact, this bag's 650 fill power down feature will give you the feeling of sleeping on your bed. It is EN tested and has a nautilus multi-baffle hood. This sleeping bag also has an internal stash pocket to keep small items.
The bag also has ground-level side seems which make it study. It comes with a stuff and storage stack in which the bag fits effortlessly. It's lightweight and compact, so can be easily fit in your bag. Customers love it because of the warmth and comfort it provides, as well as for its water-resistant feature which keeps it dry even after rain.
Pros: Great bag, stuffs small, packs light
Cons: The fit is slightly tight in the shoulders, could have used a deeper pocket to store stuff
8. ALPS Mountaineering Crescent Lake

Material: Nylon
Insulation: Techloft+
Degree: 20 F
Weight: 3 lb 12 oz (Regular)
Shape: Mummy
Like other Alps products, the Mountaineering Crescent Lake sleeping bag comes provides maximum comfort to the sleeper through its tech loft and insulation feature. It has a double layer construction which not only makes this sleeping bag extremely durable but also provided added warmth. This bag has an insulated chest and comes with zipper baffles.
The bag is warm and will keep you warm in 28 degree nights. Getting in and out of the bag is easy, and the zippers are insulated well. It has two drawstrings in the hood, one for the hood and one for a draft collar around the neck. This draft collar is excellent for keeping the rest of the body warm.
The design and materials of the bag are excellent. It has one of the best hood designs available in the market. If you pull the drawstrings the hood will totally surround your head and will trap in the precious body heat. The outer shell and inner liner are made of polyester taffeta which is very comfortable. The material of the bag will not retain any water because it is very hydrophobic. The bag also has a full-length zipper.
Although it is not a high-end backpacking sleeping bag but is it not so heavy or bulky. You can use it for backpacking purposes.
Pros: Well-designed, comfortable, generous fit, high loft
Cons: Could be a little roomier in the shoulder area for easy zipping.
See the ALPS Mountaineering Crescent Lake
9. Mountainsmith Antero

Material: 75D Ripstop Polyester
Insulation: MountainLoft
Degree: 35 F
Weight: 2 lb 14 oz (Regular)
Shape: Relaxed Mummy
The Mountainsmith Antero Sleeping Bag is on our list because it is the best 35-degree bag that one can get within this price range. In fact, customers who purchased it consider it a steal for the price because of the quality of this sleeping bag.
Available in a beautiful cactus green color, this sleeping bag is made up of 75D ripstop polyester for added comfort as well as sturdiness. It's a long-term investment and your bag will service several years of usage even when you use it in harsh weather conditions.
The MountainLoft insulation provides added warmth to this bag and its mummy-cut design offers added comfort and relaxation to the sleeper. It has a half-length zipper and the maximum user height is 193 cm. Although it's not very lightweight, the top-notch quality, ample sizing and a large storage bag that comes with it makes this an instant winner.
Overall, It is a relaxed shape bag with lofty insulation that keeps you comfortable for your laid-back weekend.
Pros: Comfortable, top-notch quality, comes with a large size bag
Cons: The zipper sometimes snags.
10. Mountain Hardwear Ratio

Material: 33D nylon dobby, 30D nylon taffeta
Insulation: 650-fill Q.Shield down
Degree: 32 F
Weight: 1 lb 13 oz (regular)
Shape: Comfort mummy
The Mountain Headwear Ratio sleeping bag is made up of synthetic material and comes with a Qshied 650-fill down. The high-quality down provides added insulation and keeps the bag warm at night by preventing the escape of heat, thanks to its incredibly unique thermo trap baffle locks which keep the down thoroughly distributed into small chambers and reduces down migration. Its special design also repels moisture and keeps maximum loft even when the weather is damp.
It has a mummy cut which maximizes warmth while lessening weight without causing any kind of constriction. The face gasket is also filled with down and it comfortably blocks the drafts at the opening of the hood.
This sleeping bag offers a cozy, inviting and soft lining inside the bag which makes customers instantly fall in love with this sleeping bag.
Mountain Hardwear is a great sleeping bag to grab as a first down fill backpacking bag. It has comfort features and smart construction that will keep you cozy during your nights outdoors. With a weight of about one pound for the regular size, this is definitely a bag worth taking on backpacking trips.
Pros: Lightweight, comes with stuff and storage bag, quality construction, spacious for mummy
Cons: Probably more like a +25 degree bag
See the Mountain Hardwear Ratio
Best Lightweight Sleeping Bags for Backpacking: Comparison table
Tips to Purchase the Best Lightweight Sleeping Bags for Backpacking
Now that you have the list of the best available sleeping bags that you can purchase online. It's time to decide which one would be the most suitable purchase for you. If you are confused because all of them come with so many good qualities, then keep in mind the following tips which will help you make up your mind and speed up your purchase.
Warmth and Insulation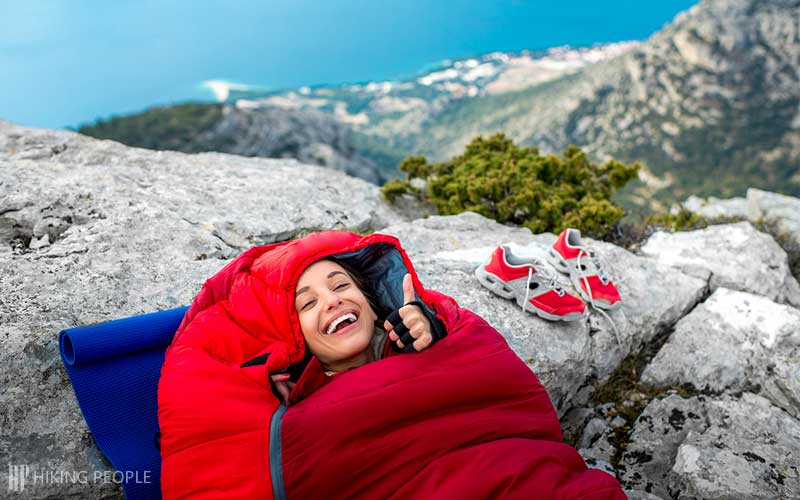 The amount of warmth a sleeping bag can give you is an important decision-influencing factor because if a bag cannot keep you warm at night, then your body will be stiff and tired the next morning, so bear that in mind when choosing the bag.
Weight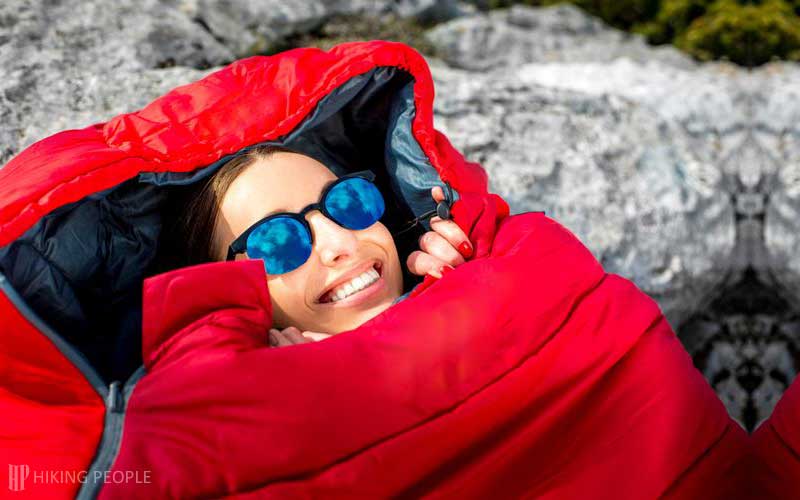 Everyone wants to have a lightweight sleeping bag these days so that they don't have to burden their shoulders. However, if you are going camping and have access to your car then you can look for other qualities even if the bag is slightly heavier as compared to other sleeping bags.
Water Resistance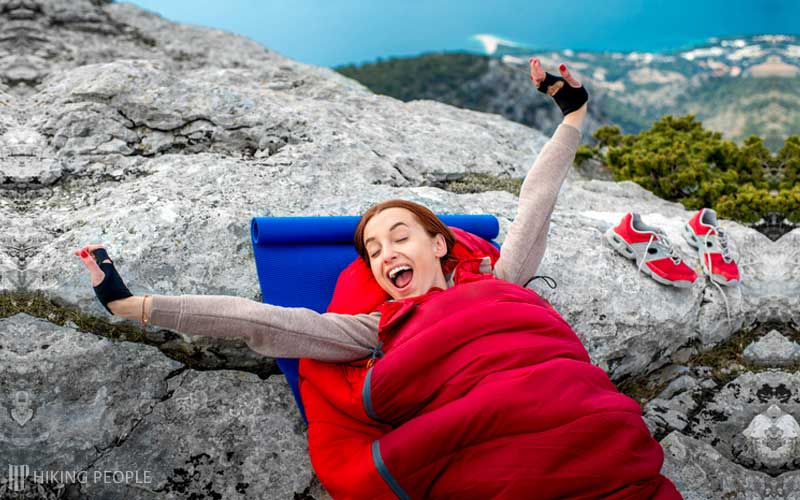 Nothing can be worse than getting your sleeping bag wet because of rain or other water contacts. Look for a sleeping bag that has a water-repellent material so that you can stay dry all the time.
Length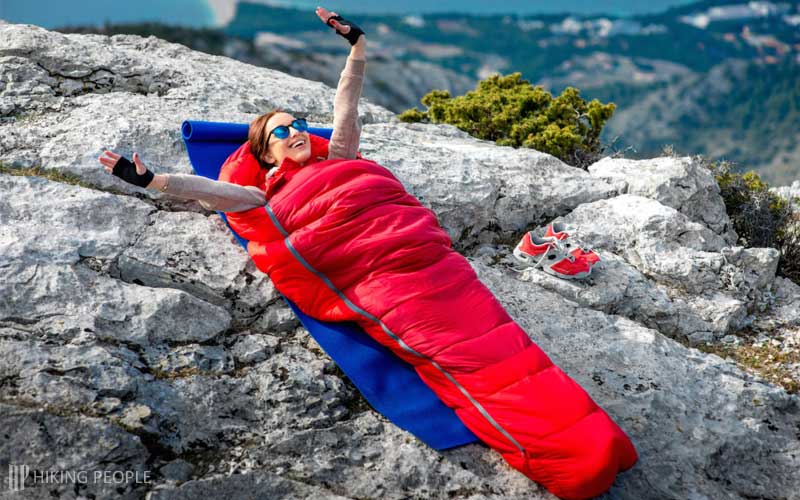 If you are very tall, then you might want to check out a bag which can easily fit you. When making your purchase, keep in mind the length of the bag.
Sturdiness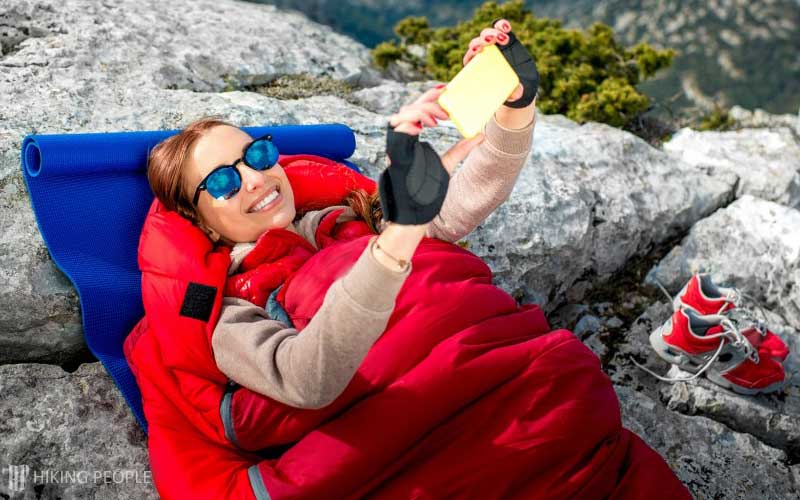 You would definitely want to buy a bag which would last a long time. Especially if you regularly go camping or on other outdoor activities. Therefore, when buying your favorite sleeping bag online, look for the one which is sturdy to make your investment worth it.