We use affiliate links and may receive a small commission on purchases.
Learn more
Most trail runners wear shoes when they run and the type of shoes you choose can help protect you from the forces of running. Now, if you have higher arches in general, your feet are more stable and more rigid. A rigid foot type generally translates to higher peak forces when you run. Cushioning type trail runners can help protect your feet from the pounding forces of running. If you have high arches, your feet are prone to problems like shin splints, plantar fasciitis, or even stress fractures.
So these are the top trail running shoes with good arch support.
1. Altra Lone Peak 4.5

Category: All-around
Weight (Pair): 1 lb. 5 oz.
Cushioning: Moderate/maximum
Drop: 0mm
It's Altra's signature off-road running shoe and it becomes a mainstay in trail running community over the last ten years. It also happens to be one of my all-time favorites. As you find with any Altra shoes, the Lone Peak employs a FootShape design that provides ample room for your toes. This cuts down on issues bunions and plantar fasciitis but it also just enhances the overall comfort. If your feet are wide at just before the toes, this bit of extra room is a blessing, especially during long outings.
The other standard feature of Altra shoes is their zero-drop platforms. This means that the stack height of the heel and the forefoot are identical. So your feet aren't pushed forward or positioned unnaturally. This is intended to promote better alignment.
The shoe's mesh upper offers great breathability and dries quickly if it gets wet. The lacing is streamlined and lets you make easy adjustments. The moderately cushioned midsole is constructed of a dual-layer of EVA foam, which helps to reduce fatigue and deliver all-day comfort. There's also an integrated stone guard that lessens the underfoot impact of rocks and roots. It uses a lightweight design to deliver this protection without adding any access weight or bulk.
Anticipating varied terrain and conditions, the shoes MaxTrac rubber outsole uses a multi-directional lug pattern to guarantee traction and keep you upright regardless of the weather.
Pros: Comfortable, traction when needed, breathable
Cons: Heel cup may be too tight for some
2. Hoka One One Speedgoat 4

Category: Rugged-Trail
Weight (Pair): 1 lb. 5.6 oz.
Cushioning: Maximum
Drop: 4mm
Anyone who knows trail running and anyone who knows Hoka One One knows about the Speedgoat trail shoe. It is the flag-bearer for the brand and for 2020, the brand's biggest shoe gets an update. So starting with the outsole, they have repositioned some of the lugs for better traction ascending and descending. They are now fully multi-directional lugs within the Vibram MegaGrip rubberized outsole. For added structure and traction, the lugs have a stepped pattern to them.
There's a new mesh upper with 3D welded overlays that are designed to help tie down that midfoot a little bit more securely. The midsole is designed to be more responsive. It also features a new outsole design with a little bit bigger stepped lugs. Topping it all off with a new gusseted thinner tongue all combining to really differentiate the Speedgoat 4 from the Speedgoat 3.
The tongue that they were using in the Speedgoat 3 was a bit more padded, thicker, and heavier. In Speedgoat 4, you're going to get a bit more volume in the shoe instead of the tongue, which does help with fitment across the mid-foot and it allows the laces to be felt a bit more across the top of the foot. As long as you're not cranking down the laces too much, that thinner tongue actually is a pretty nice addition.
Pros: Highly cushioned, standout comfort and traction, lightweight
Cons: Thick midsole minimizes trail feel in technical sections, average stability, and flexibility
3. Merrell Bare Access XTR

Category: Easy trails
Weight (Pair): 1 lb.
Cushioning: Light
Drop: 0mm
Merrell Bare Access XTR is a great option for those who are on a budget. In addition to its low price tag, they are zero-drop, have a low to the ground, sensitive, and snug ride. While these shoes may not be ideal for long distances, they offer a good ride on trails that don't require a lot of foot protection.
For trail runners who enjoy a zero drop shoe, the Bare Access XTR lets your feet land flat while still offering the benefit of more cushioning. This makes it a perfect shoe for distance runners or those who are new to the barefoot running gang. Although this is built as a road shoe, it can be used in gyms as well as for cross-training.
The cushy EVA midsole provides an incredibly comfortable ride even when pushing through to marathon distances. The newly improved mesh is highly breathable, a welcome improvement. Though the heel cup is a little loose and the midfoot a bit tight, a few runs will get you comfortable with the fit.
The Vibram outsole provides great grip on the road or in the gym and is even vegan friendly. You can easily wash them in cold water and they air dry quite quickly. If you've got a high arch and love the natural ride barefoot feeling but need some cushioning for your races or long runs, I think you'll really like the Bare Access XTR.
Pros: Affordable, stable, zero drop, low to the ground
Cons: Light duty tread, less cushioning, narrow fit
4. Salomon Sense Ride 3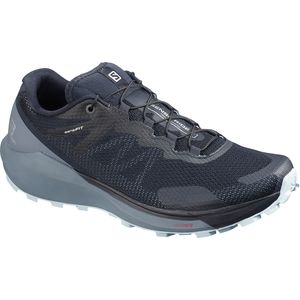 Category: Easy trails/all-around
Weight (Pair): 1 lb. 0.6 oz.
Cushioning: Moderate
Drop: 8mm
The women's Sense Ride trail running shoe is for everyone. They're built with three key objectives; excellent comfort, ride, and grip on mixed trails. They have enough cushions to be your daily training shoe and they'll go the distance on race day too. They are moderately stable but you can still feel the trail through the soul. The grip ensures you have a proper footing in wet conditions. The stack height is 27 millimeters in the heel to 19 millimeters in the forefoot so you have an 8-millimeter drop and plenty of cushioning. The midsole has a mixture of technical materials that are specifically designed to reduce the harmful vibrations that enter your body over long distances.
Vibe technology has a high rebound so the energy you put in bounces back. This mixture is durable too and will not break down over long distances. Underfoot, they feel squishy and comfortable but stable. They're built with a natural rockered profile to ensure good toe-off. There is a layer in the sole called Profeel film that supports your foot and links the rear part of the shoe to the forefoot to provide stability through the middle of the shoe. To top it off, you get the Ortholite sock liner with comfortable foam and an EVA heel cup. The foam promotes a cooler and drier environment inside the shoe.
The outsole gives confidence on technical terrain. Salomon has its own line of Contagrip rubber outsole, which they adapt slightly for their different styles of footwear. This one is their premium wet traction outsole and it gives traction over creek crossings and sticks to rocks on rainy days.
The upper is all about fit. You have durable Quick Laces that don't stretch. The route through the friction-free eyelets to tighten easily and then tuck away in the mesh pocket. The sense of fit design pulls these overlays around your foot to cradle and support. There is a closed hugging fit to cut down on hotspots. The 3D stretchy air mesh rounds out the different materials in the upper and makes everything work together for an almost customized fit to the unique shape of your foot.
Pros: The sock liner and mesh upper give all-around comfort, lightweight, and feels noticeably energetic on the trail.
Cons: Stability and cushioning feel a bit short.
View at REI View at Backcountry View at Amazon
5. Altra Olympus 3.5

Category: Rugged trails
Weight (Pair): 1 lb. 5.4 oz.
Cushioning: Maximum
Drop: 0mm
The Altra women's Olympus has been iconic and max cushion trail shoes for years. These are the 3.5 model and they're ready for you to hit the trail. Therefore, the runner or fast-packer who needs a lot of cushioning underfoot to support them over many miles. The stack height is 36 millimeters that remain the same from the heel to the forefoot, which means your heel is not elevated. This promotes better alignment and a more natural posture while running. Each step adds up quickly over a long day of running so the zero drop platforms lessen the impact of each step. The midsole is made of two layers of ultralight EVA. They are l a lot lighter than they look.
is made with Vibram Megagrip rubber for even more traction. I've been wearing Altras for a few years now and what attracted me to them was the FootShape toe box. I like to have a lot of room for my toes to move and I haven't seen another brand with this much room for your toes display naturally. This design lets your big toe remain in a straight position and the broader cut reduces the risk of developing painful foot problems like bunions, hammertoes, and plantar fasciitis.
The upper is breathable but durable. The toe cap in the front protects your toes from kicked rocks and protects the shoe. You have a flexible heel counter in the back with a GAITERTRAP down at the bottom. You attach the front of the gaiter hook to the loop at the end of the laces Underfoot the removable foot-bed offers 5 millimeters of extra cushioning and they sandwiched their stone guard rock protection right next to the foot so you're protected from stone bruising.
Pros: Can be used for hiking and road running, excellent traction, wide toe box
Cons: Heavy, looks bulky, and expensive
View at REI View at Backcountry View at Amazon
6. Salomon Women's XR Mission

Category: Easy trails
Weight (Pair): 1 lb. 3.4 oz.
Cushioning: Moderate
Drop: 11mm
The XR Mission is great if you're an avid hiker, jogger or if you're just looking for a high-quality and durable shoe. When you're out on the trail, your feet will stay dry and well-ventilated because of the mesh upper. Also, the TPU overlay at the front will keep your feet safe from any kind of accidental bumps. On the side, you have Salomon's SensiFLEX technology, which adapts to your foot. It will expand when your foot is at its widest and then retract when your foot returns to normal. The XR Mission has a lightweight molded EVA midsole that provides support but doesn't weigh down the shoe. It keeps it very light.
The outsole is their innovative Contagrip, which will keep you on your feet and safe in any condition imaginable. Salomon integrated SensiFit into this shoe that matches the natural rolling of your foot to support your instep. Salomon has a Quick Lace System that is easy to use if you're in a rush to get your shoes on and get out in the trail. All you do is pull the adjuster down to your comfort level and then there's a pocket inside of the tongue that you can stash your laces in so they don't get in the way of your running. On the inside, the XR Mission has a cushioned insole specifically designed to reduce friction and support high arches.
Pros: Good traction, durable, breathable, not too heavy
Cons: Not the most recent model, not very budget-friendly
7. Arc'teryx Norvan LD 2

Category: Rugged trails
Weight (Pair): 1 lb. 2.4 oz.
Cushioning: Moderate
Drop: 9mm
They're named for North Vancouver, the home of Arc'teryx, and a great jumping-off point for the excellent trails of British Columbia and the Pacific Northwest. Not surprisingly, they're built to tackle that terrain and just about anything else you throw at them. As with all Arc'teryx products, attention to detail and craftsmanship is top-notch. Balancing weight and durability, the shoes deliver responsiveness and cushioning for long days on the run an extended block of high mileage training. They have streamlined and highly breathable uppers that help lock in your heel and mid-foot without feeling restrictive.
Compressed EVA and polyolefin midsoles keep weight to a minimum but still deliver adequate cushioning for ultra-racing or long trail runs. Molded inserts enhance cushioning, provide arch support, and overall fit. The outsoles of the shoes are stellar. They utilize Vibram's light-based technology to save weight by reducing the standard thickness of the rubber without compromising traction or long-term durability. This equips the shoes with high traction tread patterns and grippy contact surfaces at a fraction of the weight and bulk of traditional outsoles.
Pros: The outsole provides exceptional grip over the unpredictable terrains.
Cons: The midfoot of the upper sections is a little snug, expensive
View at REI View at Backcountry View at Amazon
8. Salomon Speedcross 5

Category: All-around/rugged trails
Weight (Pair): 1 lb. 6.6 oz.
Cushioning: Moderate
Drop: 10mm
With rugged technical construction and superior grip, this shoe is excellent for swift movement along muddy terrain. For me, the standout feature on this shoe is the aggressive chevron lug pattern. The deep lugs keep you stable on loose wet terrain. Confidence in your footing is essential for a good experience in the backcountry and the outsole Salomon uses here is a great balance of durability and adhesion. Salomon employs a midsole compound called EnergyCell, which provides ample cushioning and energy return. This is good news for runners looking to get the most out of their training session or race time.
This shoe is constructed with Solomon's SensiFit, which cradles the mid-foot for a stable and secure ride. Welded seams create a streamline and durable structure of overlays that work in conjunction with the anti-debris mesh upper material. The inside of the shoes features a molded OrthoLite sock liner for added cushioning and durability. The Speedcross 5 take advantage of Salomon's QuickLace System. It eliminates the need to constantly stop and reach high your shoes and reduces bulk on top of the foot.
An integrated lace pocket stores the end of the QuickLace System so it stays out of the way. Ideal for those looking to put in tough miles over challenging terrain, this shoe takes all of the boxes for your next muddy trail run or race day goal.
Pros: Grippy traction on all terrain, comfortable right out of the box
Cons: Doesn't breathe or drain water super well.
9. Salomon S-Lab Ultra 2

Category: All-around/rugged trails
Weight (Pair): 1 lb. 5.2 oz.
Cushioning: Moderate
Drop: 8mm
This shoe is designed with ultra-runners in mind but it doesn't cut out cushion. These are incredibly lightweight and have trimmed down the excess to bring a shoe that feels great under the foot and performs well in tough terrain. The upper of the shoe is sleek but it has some advanced techniques used to build it. The synthetic upper is virtually seamless, which gives it a nice feel. The material is a synthetic mesh with TPU incorporated in key areas to give protection, structure, and durability. The shoe is built on the EndoFit design, which is an internal sleeve designed to mimic your foot shape and give better overall feel and performance.
This shoe is also built with Salomon SensiFit, which is a system that cradles the foot from the midsole to the lacing system and gives you a nearly customized fit. The lacing system is a QuickLace and there's a super low profile pouch in the tongue to stow the extra cord. The midsole has some unique property to it as well. This is Salomon's EnergyCell+ midsole. It's a high-quality foam that's designed to give rebound and shock absorption through the entire race. This is coupled with a molded EVA a sock liner, which mimics the shape of your foot to give some additional padding.
They also have a Profeel film in-between the midsole and the outsole, which gives you a bit more protection but also helps that energy transfer a bit better. The outsole is a ContaGrip rubber that's meant for any and all-terrain. You have a lower profile lug pattern, which grips loose trail but also has an excellent surface area on hardpack surfaces. The rubber compound is made so it can perform equally on wet or dry terrain.
Pros: The upper and the midsole are protective, sock-like fit, grippy traction, lightweight
Cons: Questionable durability
10. Altra Superior 4.0

Category: Rugged trails
Weight (Pair): 15.8 oz.
Cushioning: Light
Drop: 0mm
They are responsive so they give bouncy energy back on each step but they do so with a lightweight low profile. They provide traction on any surface and are great for training or on race day for anything from a 5k to ultra-marathons. They've been my go-to trail shoes for the past few years and I'm excited to dissect each of the features.
There are a couple of design elements that are consistent across Altras line and they're what initially drew me to the brand. They have a zero-drop platform, which means the height of the heel and the height of the forefoot are the same. The Superior's stack height is 21mm. Most running shoes have a higher heel than the forefoot but Altra feels strongly that zero-drop encourages a natural stride. It doesn't elevate your heel or manipulate foot position. This is meant to promote better alignment and posture while running, which lessens the impact of each step. If you've never worn zero drop running shoes, be sure to slowly add these into your routine to get used to them.
The FootShap toe box is also different than the aggressive taper of most running shoes on the market. The extra room allows your toes to splay naturally and it means your big toe is not pinched towards the front of the shoe. This broader cut reduces the risks of bunions, hammertoes, and plantar fasciitis. For me, it's just more comfortable especially after many miles on the trail. The upper is breathable so it vents and dries quickly. A single panel of fabric covers both the instep and the tongue. It's a seamless transition that reduces the number of seams so there's less of a chance of hot spots and blisters. Durable overlays give support to cradle your foot and the gaiter trap integrates with Altra's gaiters (sold separately).
Altra's Quantic midsole gives moderate cushioning and a responsive bounce. The stone guard reduces stone bruising so keep it in to protect your feet when running on rocky terrain. But if the conditions don't call for it remove it to save weight. The MaxTrac's sticky rubber outsole is durable and designed for all types of terrain and the trail claw lugs dig into dirt and mud for confident traction. For me, these are the perfect trail shoes because I like comfortable cushioning underfoot but I prefer lighter and minimal shoes. They strike a balance for me and they fit true to size.
Pros: Stylish, lightweight, burrito wrap tongue comfortable
Cons: Less protective, very long laces, foam breaks down quickly
Best Trail Runners for High Arches: Comparison Table
Conclusion
Shoes with a lot of cushioning or those that don't have so much structural integrity or stability built into them but they have a lot of cushioning and that's what you need when you have high arches particularly if you are a heel striker. Now, if you're a forefoot or a mid-foot striker, it doesn't matter as much because you naturally absorb more forces through the motion called pronation. Also, talk to somebody as an expert and just make sure you get the right kind of shoes that will help protect you from those jarring forces when you're out on a run.