We use affiliate links and may receive a small commission on purchases.
Learn more
Camping or backpacking in the heavy rain isn't everyone's idea of a great time in the wilderness. It' going to be wet, cold and visibility will be greatly reduced. If you're not properly prepared, backpacking in the rain can be all-out miserable. But if you're ready for it, it can be a lot of fun. Be prepared for bad weather because it is very tough to predict especially around mountains and a high elevation. Always carry rain gear and be prepared for showers. Being caught in a rainstorm without the proper equipment can be uncomfortable and very dangerous.
So here is the list of the best heavy rain tents that will keep you safe and protected in a downpour.
1. ALPS Mountaineering Lynx 2

Floor area: 37 sq. ft.
Peak height: 46 in
Trail weight: 5 lbs. 4 oz.
Packed size: 6 x 20 in
Capacities: 1P, 2P
ALPS Mountaineering Lynx is a small and compact tent that keeps you dry in heavy rains. The polyester material acts as a double wall which also holds heat. This tent has very little mesh as compared to other average 3-season tents. Because of the lack of mesh, this tent is very hot.
For the price, this tent is worth it as long as you're going to use it in the right situation. The value for the money is excellent. Stitching, seam sealing, and zippers are high-quality. When it comes to being waterproof, it has no issues. The setup is very simple. You can set this thing up in 5 minutes.
The fly goes all the way to the ground. If you're blocking wind and trying to hold some heat, that's a good thing. In the summertime, if you're trying to allow air in, it's a bad thing so, depending upon your use that could be a pro or con.
The velcro straps (which attach to the fly to the pole) are not very good. They're way too long and they give the fly too much range of motion to move around in strong winds. They do need to be much smaller and hold the fly tighter to the pole to prevent it from moving around.
The tent comes with four guylines. In truth, you need five – two for the front – two for the back and one for the backside of the tent. So, this tent does need five guylines.
Pros: Waterproof seams, ample room in the vestibule for gear, easy to set up and takedown
Cons: Must be staked out throughout for high winds, heavy for backpacking
See the ALPS Mountaineering Lynx 2 See the ALPS Mountaineering Lynx 1
2. Big Agnes Fly Creek HV UL2

Floor area: 28 sq. ft.
Peak height: 40 in
Trail weight: 1 lb. 15 oz.
Packed size: 4 x 19 in
Capacities: 1P, 2P, 3P
Fly Creek HV UL employs a unique pole structure that maximizes the interior volume without adding weight to the system. DAC Angle SF Hubs are unique to the Fly Creek HV tents and result in steeper wall angles and higher interior volume. Even with more livable interior space, the packed weight of this tent (2P) is just around 2 pounds and five ounces.
The tent is free-standing but you do need to stake out the foot corners to maximize the interior space. A full-coverage rainfly protects in rough weather and an eight square foot vestibule keeps your gear dry. It packs down small in its stuff sack with measurements around 4 x 19 inches.
The Fly Creek utilizes super lightweight materials. The floor of the tent is a silicone treated nylon ripstop and it is fully waterproof. The seams are taped with waterproof PU solvent-free tapes. So you get enhanced waterproof protection in the bathtub style floor. With the ultralight fabric of the floor of this tent, we do suggest purchasing a custom-fit footprint separately. It adds a lot of durability to that fabric and a little bit of extra protection from groundwater.
You can also have a dry pitch design. If you're backpacking during the day and you don't want to set up the tent if it's raining, you can stake out the footprint and use the poles and the rainfly to create a canopy and then go in and set up your tent body. The other way you can leave the tent body at home and just use the rainfly, the footprint, and the poles for an ultralight set up.
Pros: Already attached guylines, small packed size, very lightweight
Cons: Collapses in high winds, delicate materials, difficult to set up
3. MSR Hubba Hubba NX

Floor area: 29 sq. ft.
Peak height: 39 in
Trail weight: 3 lbs. 8 oz.
Packed size: 6 x 18 in
Capacities: 2P
With a trail weight of just over 3 pounds, its small size makes it easy to stow away in your backpack and the durable nylon ripstop is perfect for car camping. MSR was incredibly thoughtful in the design process. It's spacious with room for two people and gear.
There are loops for hanging and mesh pockets to store clothing and various small essentials. The two-door system makes it easy to get in and out of and the vestibules offer plenty of real estate for your pack and dirty shoes.
Worried about your pack getting soaked when it's raining? Don't worry. The rainfly has kickstand vents that reduce the build-up of condensation. On top of that, MSR has fortified the floor of the tent much like a bathtub to prevent any water from getting in.
When it's not raining, you can remove the rainfly which allows for increased breathability. It keeps you cool and extremely comfortable. Additionally, it provides great visibility to check out the night sky while you're inside the tent. It is the combination of these factors that makes this tent perfect for any condition.
Pros: The material is weather-resistant, lots of space at peak height, more durable than it looks
Cons: Expensive, small fly doors, setting up the rainfly can be challenging
4. Coleman Sundome 4

Floor area: 63 sq. ft.
Peak height: 59 in
Trail weight: 10 lbs. 7.52 oz.
Packed size: 4.5 x 23.8 in
Capacities: 2P 3P, 4P, 6P
Coleman Sundome is an ideal tent for weekend trips and touring camping. It is quick and easy to pitch. It comes with a detachable rainfly, 3 pole and 10 stakes for securing things down.
The tent has mesh panels all over. The top of the left and right side walls are open mesh while the front and rear can be opened by unzipping the solid panel. There's also an open mesh section at the bottom of the back wall which is protected by the rain flap on the outside.
As for the other features, there are convenient pockets for storing your small belongings and if you need to hang things like a shoe or a lantern, there's a ring on the ceiling for just that.
There're other conveniences as loops for securing the front and rear panels, plus a small zippered opening for inserting things like an extension cord, cell phone, or a pocket knife.
Combining a generously proportional sleeping area with a peaked porch, the tent provides comfortable accommodation for couples or small groups on the campsite. Its portable construction features durable yet lightweight fiberglass poles that ensure an optimum balance of strength and stability with a low weight.
The tent's proven dome structure combined with fully adjustable and reflective guylines also ensures that it will stand strong in windy conditions. Once set up, it offers a generous headroom for increased comfort.
For extra protection from heavy rain, the Sundome incorporates a protective flysheet with a 600mm Hydrostatic Head. The tough and durable polyethylene groundsheet has welded seams to ensure a dry and bug-free interior.
Pros: Great ventilation, a bargain-basement price
Cons: Questionable build quality and partial rainfly limit waterproofing.
5. Big Agnes Copper Spur HV UL2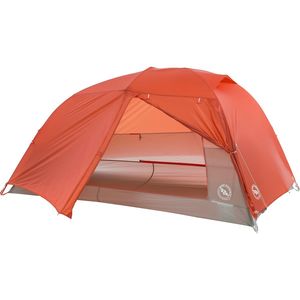 Floor area: 29 sq. ft.
Peak height: 40 in
Trail weight: 2 lbs. 11 oz.
Packed size: 6 x 19.5 in
Capacities: 1P, 2P 3P, 4P
The Copper Spur has been a longtime favorite amongst backpackers due to its excellent space-to-weight ratio. It has a modified and high-volume pole structure that adds an impressive-feeling of livability. Let's take a closer look at its award-winning design.
There is a large door on either side of the tent and 9 square feet of protected vestibule space in front of each of those doors. Increasing livability, you've got mesh interior pockets that let you store up off the floor and out of the way. There is also an interior hanging loop so you can utilize the Big Agnes triangle gear loft (sold separately) for additional storage.
The pole system gives the tent HV or high-volume distinction. There's pre-bent construction on the pole and broad brow pole section. Together, that greatly increases the verticality of side walls which interior space and creates of elbow room. It also gives the tent free-standing structure and Big Agnes includes aluminum J-stakes for a secure and taut pitch.
Balancing weight and performance, the tent utilizes extensively polyester mesh and silicone treated nylon ripstop. The floor and the rainfly also have a 1200mm PU coating to ensure heavy-rain protection and all of the tent seams are taped sealed.
With its unique architecture and its ultralight construction, the Big Agnes Copper Spur HV UL is an excellent balance of space and weight making it an ideal option for 3-season backpacking.
Pros: Good headroom, large double doors, excellent balance of space and weight
Cons: Delicate fabrics require special treatment, expensive
View at REI View at Backcountry View at Amazon
6. Marmot Tungsten 2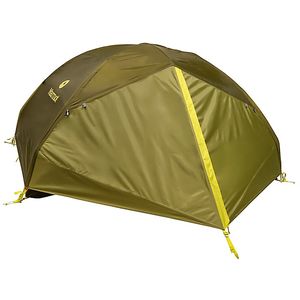 Floor area: 32 sq. ft.
Peak height: 42 in
Trail weight: 4 lbs. 13 oz.
Packed size: 7 x 21 in
Capacities: 1P, 2P, 3P, 4P
Marmot Tungsten is designed for camping and backpacking when you need a reliable and high-quality tent that won't break the bank. It is light and packable enough for backpacking if you split the weight with others. The materials are durable without being too heavy so it's going to last a long time and give you confidence in bad weather. It is a breeze to set up. It comes with some extra features that make it a great value, like an included custom-fit footprint.
Although it is a free-standing tent, always stake it out with the footprint. The poles go onto the tent easily with clips and grommets and the entire thing is color-coded for your convenience. The pre-bent construction on the pole makes the sidewalls of the tent a little bit more vertical. It gives a more usable space near the floor. Marmot calls it "sleeping zone" and you do get more interior space while you're lying down. The extra space becomes important for taller folks especially in a 3P version that you might be sharing with others.
The bathtub style floor is completely waterproof and you get extra protection with the included footprint. The canopy above that is all mesh so that keeps the weight down and gives plenty of ventilation. The rainfly is polyester and it's completely rainproof. They used the material that has a perfect balance of durability and weight.
This tent is ready-made for any adventure. Take it a family or car camping, take it on a climbing trip or even a weekend backpacking trip. Whatever you can throw at it, this tent is going to keep you protected.
Pros: Affordable, roomy and comparatively lightweight
Cons: Asymmetrical fly with small vestibule, difficult to tension fly properly, cheaper-feeling materials
7. Kelty Salida 4

Floor area: 55 sq. ft.
Peak height: 56 in
Trail weight: 6 lbs. 10 oz.
Packed size: 13 x 17 in
Capacities: 1P, 2P, 4P
Kelty Salida is a perfect option for campers who are on a budget. It is a 3-season tent and it offers plenty of features that balance price, weight, and performance. The tent has a one D-shape door and a single vestibule for storage. It also comes with a full-coverage rainfly that is seam taped and waterproof.
Most of the body is made from a dark no-see-um mesh netting. The tent offers fantastic breathability. It offers plenty of breathabilities to prevent some moisture and condensation build-up in cooler temperatures.
The floor is a seam-sealed waterproof floor. The material used on the floor is a little bit more durable than what is used on the upper of the tent. So you get a little bit more durability and complete waterproofness on the floor.
Inside the tent (4P version), there is enough room for four standard sleeping pads. If you're used to using a wider sleeping pad, this 4P version might be perfect for three persons. There're two side pockets in the corner, just enough room for a headlamp or a cell phone. Kelty also includes gear loft with this tent. It ties into some webbing points in the corners. It gives you an option for stowing extra items in the tent and gives you a little bit more space inside.
Pros: Easy to set up, inexpensive
Cons: Heavy, large packed size
8. Marmot Limelight 2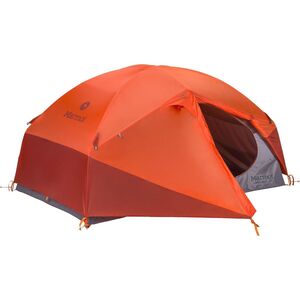 Floor area: 33 sq. ft.
Peak height: 43 in
Trail weight: 5 lbs. 2 oz.
Packed size: 7 x 18 in
Capacities: 2P, 3P 4P
The Limelight series of tents has been in Marmot's line for a long time. They've also made improvements along the way. The tent is roomy and livable backpacking tent that has all the features you're looking for. It comes in a relatively low weight so you can certainly take into the backcountry.
There're DAC Press-Fit aluminum poles that make sidewalls of the tent a lot more vertical, giving you more livable space inside the "sleeping zone". The tent has breathable mesh over the whole canopy that cuts down on condensation within the tent in warmer days.
Below that, you have a bathtub style waterproof floor. It is seam taped and completely waterproof. In addition to that, you also have an included custom-fit footprint and it clips to all four corners and it also makes the tent that fastpitch or the dry pitch design. So you can use the poles, the footprint, and the rainfly by itself for a lightweight construction or you can use it for the dry pitch design.
There's a full-coverage rainfly that covers all corners so you'll be completely protected in rainy windy weather. There're two vestibules, one in the front and one out the back.
Overall, this is an extremely livable and durable backpacking and camping tent that's going to give lots of comfort to two backpackers or campers who are looking for a tent they can take into the backcountry and something that's going to last a long time and you can be confident that's going to keep you dry and safe in the backcountry.
Pros: Feels roomier than its dimensions, includes footprint, huge doors, affordable
Cons: A little heavy, lower-quality materials
View at REI View at Backcountry
9. Eureka Copper Canyon 4

Floor area: 64 sq. ft.
Peak height: 84 in
Trail weight: 18 lbs. 10 oz.
Packed size: 7 x 26 in
Capacities: 4P, 6P, 8P, 12P
Eureka Copper Canyon is a single wall tent but it comes with a rainfly that covers the mesh roof completely. This allows it to breathe wonderfully. The tent does not perform well in heavy winds due to its vertical wall design but it handles rain perfectly.
Copper Canyon has a box shape and it allows you to stand throughout the tent. The tent also allows you and your fellow tent-goers to circulate without bumping into each other. There're nice windows which allow the tent to breathe on hot days. It is more comfortable than the Coleman because its roof is all mesh and it stands up better without being staked down.
There's an electrical port zipper on the side so you can bring your electronics inside the tent with you. The tent has a big divider that goes through the middle of the tent, as well as two doors.
Eureka Copper Canyon Tent takes about 15 minutes to set up at first. It is a little confusing but once you understand the concept, it makes a lot more sense. It takes about 10 minutes to take it down and put it away. The tent packs down very small. It is not too big and it leaves enough room in the car for the rest of your camping essentials.
If you're looking for a car camping tent that's easy to set up and pack down small, Eureka Copper Canyon could be a good option.
Pros: Good ventilation, spacious, tall, lots of pockets, free-standing, removable divider
Cons: The design is not suitable for heavy winds, no vestibule, small tent stakes, pole joints get stuck in sleeves
10. Hyke & Byke Zion 2

Floor area: 34.4 sq. ft.
Peak height: 42 in
Trail weight: 5 lbs. 7.84 oz.
Packed size: 6.3 x 17.75 in
Capacities: 1P, 2P
Hyke & Byke Zion Tent is designed to enjoy both backpacking and camping adventures. It comes with all the accessories you need such as aluminum stakes, a footprint, a removable gear loft pocket, a proprietary stake presser, etc. The package also includes two-vestibule, a one-pole, two-door design so you and your hiking buddy can set up the tent fast and have plenty of room and easy access.
For the price, the built quality of this tent is impressive. It is a perfect tent for casual campers because for the casual camper, weight isn't a huge deal. The tent is easy to set up but it's not super fast. No need to fumble to feed tent poles through a sleeve, just extend the single pole and then clip the tent on. The rainfly also goes on extremely easily and covers the tent perfectly. Although the poles are of high-quality, they do pick up a fair amount of dirt.
For the price point, if you aren't worried about the extra weight, or maybe you aren't planning on using very often and don't want to spend the extra money, Hyke & Byke Zion can be a great option for you.
Pros: Rainfly clips rather than stakes out, a fair amount of space in the vestibule, easy zipper doors
Cons: The material is very thin and does not have a high-quality feel, not recommended for serious backpacking
Best Tents for Heavy Rain: Comparison Table
| Tent | Floor area | Peak height | Trail weight | Packed size | Capacities |
| --- | --- | --- | --- | --- | --- |
| Lynx 2 | 37 sq. ft. | 46 in | 5 lbs. 4 oz. | 6 x 20 in | 1P, 2P |
| Fly Creek HV UL2 | 28 sq. ft. | 40 in | 1 lb. 15 oz. | 4 x 19 in | 1P, 2P, 3P |
| Hubba Hubba NX | 29 sq. ft. | 39 in | 3 lbs. 8 oz. | 6 x 18 in | 2P |
| Sundome 4 | 63 sq. ft. | 59 in | 10 lbs. 7.52 oz. | 4.5 x 23.8 in | 2P 3P, 4P, 6P |
| Copper Spur HV UL2 | 29 sq. ft. | 40 in | 2 lbs. 11 oz. | 6 x 19.5 in | 1P, 2P 3P, 4P |
| Tungsten 2 | 32 sq. ft. | 42 in | 4 lbs. 13 oz. | 7 x 21 in | 1P, 2P, 3P, 4P |
| Salida 4 | 55 sq. ft. | 56 in | 6 lbs. 10 oz. | 13 x 17 in | 1P, 2P, 4P |
| Limelight 2 | 33 sq. ft. | 43 in | 5 lbs. 2 oz. | 7 x 18 in | 2P, 3P 4P |
| Copper Canyon 4 | 64 sq. ft. | 84 in | 18 lbs. 10 oz. | 7 x 26 in | 4P, 6P, 8P, 12P |
| Zion 2 | 34.4 sq. ft. | 42 in | 5 lbs. 7.84 oz. | 6.3 x 17.75 in | 1P, 2P |
Learn to Enjoy Backpacking in the Heavy Rain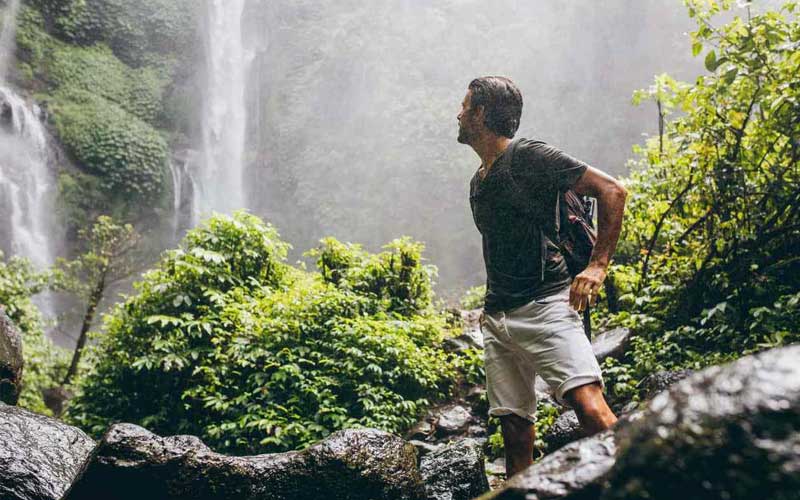 When conditions are wet, you'll be able to avoid the crowds. You'll probably see more wildlife and you'll be able to experience wilderness areas in a completely different way. It's a good idea to practice with short trips close to home so you can hone your skills before you head out on a more extreme trip.
One of the most important factors for having a good time while you're on a rainy camping trip is having a positive attitude. If you're mentally prepared to be wet and still have fun, you'll probably have a great time.
One of the concepts that are tough for beginners to accept, is that if it rains for an extended period on your trip you're going to wet and there's no avoiding it. Waterproof gear will keep the water out but it also forms a barrier that holds your body heat in which is going to increased perspiration and condensation. Even the most expensive and breathable rain gear won't keep your body completely dry if you're hiking in extended periods of rain. Rather than spending a lot of time trying to prevent getting wet, it's better to just accept that you're going to wet and learn how to best adapt to it.
Know the weather forecast
With the right skills, you can stay warm and comfortable and have completely dry evenings even days of non-stop rain. For starters, always know the weather forecast for the area that you're going to be backpacking in. It can be tough to pinpoint the exact wilderness area that you going to be hiking in. You can usually get a good idea by looking at weather reports for small cities around the area. Even if the weather forecast looks promising, always be prepared for bad weather.
Pitch your tent
When you set up your tent, keep the inside of your tent dry by leaving all of your wet items outside. Don't bring your backpack, jacket or even the wet clothing. That way you'll be able to separate wet items from dry ones and you'll be able to keep items dry for much longer.
Pro tip: Whether it's supposed to rain or not, never set your tent up in a dry riverbed. Rain could happen miles away or could start during the middle of the night and you could easily find your tent pitched in the middle of a flowing river.
Test your tent in the rain before you take it on the trail and make sure you set it up in an area with good water drainage. If you have some time to spare and you think a rainstorm might be short, you could always put your tent during the day and wait out the storm.
Avoid hiking during heavy rain
Flash flooding can occur in heavy rains and river crossings can become very dangerous. Heavy rains can increase erosion and can cause mudslides and rock slides. You'll also want to avoid hiking in any slot canyons during heavy rains.
Protect your gear
When it first starts to rain or if it looks like it's going to rain, take five minutes and make sure that your backpack is properly packed for showers. Don't assume that your backpack is waterproof, even if it claims to be. Even light rain can penetrate your backpack through seams in the stitching. One big beginner mistake is to continue backpacking in light rain without checking to make sure that your gear isn't getting wet in your bag. If your gear gets wet, it could be days before it has a chance to dry out again. The best to ensure that the gear in your bag is going to stay dry is by lining the inside of your backpack with a waterproof bag. Trash bags work great for lining the inside of your backpack. You can also use stuff sacks and food storage bags for added protection.
Choose clothes wisely
For clothing, choose synthetic layers that will dry quickly and keep you warm even when they're wet. Avoid all cotton and denim clothing which will be heavy and cold when wet. You don't need an expensive jacket to protect yourself against the rain. Just something that will repel water and allow you to control your interior body temperature. Rain pants won't ventilate your body heat very well but they're good to have especially on cold trips. For footwear, choose lightweight running shoes that won't retain water and will dry very quickly. Remember, you're feet are probably going to wet even if you have waterproof shoes on. A hat with a bill is a good thing to have in the rain as well. It'll keep water off your face and will provide warmth for your head.
Manage your body temperature
Managing your body temperature is very important. It's usually easy to keep warm if you stay moving but it's very important not to sweat too much. Sweating too much will soak the base layer of clothing next to your skin and will make it a lot harder for your body to keep warm. Use clothing layers and ventilation so you don't overheat and regulate your pace so you don't sweat too much while you hike.
It's very important to stay well-hydrated and well-fed when you're hiking in the rain. Your body needs fuel and water to stay warm and regulate your body temperature.
Know the signs of hypothermia
Know the signs of hypothermia and know how to treat it. If you or your hiking partner starts showing signs of hypothermia, stop immediately, pitch your tent and get dry and warm as quickly as possible. Pay close attention to your surroundings and make smart choices.