We use affiliate links and may receive a small commission on purchases.
Learn more
A lot of the weight savings from your sleeping system is just going to come from choosing the right type of sleeping bag for the climate that you generally hike in. For example, for years I carried a 15°F sleeping bag that was rated for really cold temperatures but I took it out on trips during the spring, summer and fall seasons when temperatures rarely got to freezing. I was always carrying a bag that was too heavy and I was always way too hot at night.
3-season backpackers generally choose sleeping bags with a rating between 20°F to 30°F depending on how hot or cold they sleep. If you get a lightweight bag and you're concerned about having a few cold trips, you can always increase your warmth by either bringing a lightweight liner that can add a few degrees of warmth or wearing a jacket or long johns while you sleep. You can even wear your mittens and hats while you sleep if it gets really cold.
1. Marmot Hydrogen

Temperature rating: 30°F
Weight: 1 lb. 7.3 oz.
Fill: 800-fill goose down
Recommended use: UL backpacking
Marmot Hydrogen is a perfect option for backpacking in mild to chilly temperatures. It strikes a great balance between high-quality features, comfort features and it's going to appeal ounce-counting backpackers.
First thing is to point out is the premium down. You have 800+ fill power down and it's treated with Marmot's Down Defender. Every plume of down has a hydrophobic finish so if you're in a humid environment if you're in wet weather, and if the bag is subject to moisture, it's going to resist that moisture a lot better than traditional down. If the bag does become wet, it's going to dry faster than regular down and ultimately it's going to keep you warmer, drier, and safer in those wet conditions.
This is a mummy-style bag with a well-baffled hood. The thermal efficient properties of down mixed with the mummy cut give you a great combination. If you're getting close to that lower limit temperature rating, you can batten everything down to hold in your heat. You have a cinch cord towards the top. They also give you plenty of shoulder room to move but it does taper in towards your legs.
In addition to that down, the baffles are constructed in a way that doesn't let the down to shift around in the bag. They're slightly curved baffles that provide even heat distribution and even the chambers of baffles down the bag make the down stay in chambers so you don't have the unwanted shifting of down and cold spots.
Pros: Super high-quality bag for the price, the second short zipper is great for venting and getting into the bag, super lightweight
Cons: Average warmth, average cut
2. Western Mountaineering Alpinlite

Temperature rating: 20°F
Weight: 1 lb. 15 oz.
Fill: 850-fill down
Recommended use: Backpacking
WM Alpinlite is a perfect option for those weight-conscious backpackers and climbers who want a lightweight and comfortable 3-season sleeping bag. The bag is rated for 20°F but it feels a bit conservative. In near-freezing temperatures, it is cozy without the draft collar or hood cinched down. The bag can be unzipped a little bit for a more comfortable sleep in warmer sub-alpine terrain.
You may found this bag to be roomy if you're a narrow-shouldered person but it is comfortable thanks to the extra space around the upper area. It allows a better fit for bigger people to move freely and layer up for colder late season conditions. If you're a skinnier user, you'll appreciate the extra room to layer more clothing for those chilly nights in the fall.
In terms of comfort, Alpinlite has five inches of loft and enough down to keep you warm at high mountain campsites. The continuous horizontal baffles on the Alpinlite make for an easy to use a thermostat and allow you to shift down around to make warmer nights more comfortable.
Alpinlite can be your single go-to bag for adventures during most of the year in a variety of environments. It is a perfect option for those people who are looking for a do-it-all sleeping bag. The bag is light enough to be the part of your backpacking kit and comfortable enough for long trips.
Pros: No catch zipper, excellent loft, warm, comfortable, lightweight
Cons: Very warm for mid-summer, weak velcro closure for the draft collar, expensive
See the Western Mountaineering Alpinlite
3. Nemo Disco

Temperature rating: 20°F
Weight: 2 lbs. 4 oz.
Fill: 650 fill down
Recommended use: Backpacking
This is a premium 3-season backpacking bag designed for the side sleepers. It's made of high-quality materials and construction that brings a lot of innovation and comfort. Backpackers and even ounce-counters will appreciate the performance that this thing brings.
Mummy-style sleeping bags are effective in terms of insulation but not many people sleep like mummies. The classic Spoon shape allows you to get into a more comfortable position by allowing more shoulder and hip room. This caters to side sleepers which are a lot of us. This bag will let you roll around and change positions during the night without getting tangled up and restricted like most mummy bags.
The bag is insulated with 650 FP Down. This stuff is incredible when it comes to warmth to weight ratio. It packs down small and rebounds nicely to provide the loft and warmth that you'll need on those cooler nights. If you end up finding the bag gets too warm, you can open up the Thermo Gills. This is a unique feature that splits the down insulation and opens up these pockets to let some warm air escape the bag more easily. It doesn't fully expose you to the cold air outside which is a big plus.
At the top opening, there's Blanket Fold draft collar. You can tuck that in to get sealed up the warmth or you can throw it out to dump some extra heat. Also at the top, there's a pillow pocket. You can shove a puffy jacket in here or some clothes to give yourself a pillow. If you have a camp pillow, you can stow that right in here so it stays put all night.
Pros: Great for tummy and side sleepers, spacious interior dimensions, reasonable price
Cons: Slightly larger-than-average packed volume
4. Kelty Cosmic

Temperature rating: 20°F
Weight: 2 lbs. 12.8 oz.
Fill: 600-fill DriDown
Recommended use: Camping
Kelty Cosmic is a budget-friendly sleeping bag that is packed with features and is a great value for the price. This bag is filled with 600 fill power DriDown. It's a traditional down which is coated with a hydrophobic coating. It holds up better in wet conditions than traditional down, it dries out faster, and ultimately keeps you warmer in damp or wet conditions. So you have all of that packability, the loft of down but it has that extra added feature.
This bag has a very simple hood design. It has an insulated baffle collar around the top of the hood and you also have one across the bottom as well, that comes across the top of the chest. One of the great things about this hood is if you open the drawcord up all the way, you can lay the hood out fairly flat. So if it's a warmer night, you can leave that open.
The Cosmic 20 has a three quarter length zipper. It runs down the bag and behind that zipper, there's a full-length insulated draft tube. At the bottom of that zipper, you have a 2-way zipper so you can open it and get some ventilation if it's a bit warmer or you want to get some cool air into your feet. The bottom third of the bag, there's no zipper access but you have a nice well-built foot-box there. On the outside, there are storage loops at the bottom that allow you to hang the bag when it's not in use.
Pros: Warm, inexpensive, roomy fit, lightweight, compact and easy to use
Cons: No storage sack, no compression sack, not very weather-resistant
5. Marmot Trestles

Temperature rating: 30°F
Weight: 3 lbs. 1 oz.
Fill: SpiraFil LT polyester fibers
Recommended use: Camping
The Marmot Trestles 30 is a perfect balance of price and performance. This bag offers technical features that make it great to take into the backcountry. The insulation Marmot is using is their propriety SpiraFil synthetic, which is meant to mimic the structure of down. Synthetic materials are great because they hold up well in wet or damp conditions. If you're in a humid area, the bag is going to take on a little bit of moisture and synthetic materials resist that moisture. If they do become wet, they dry out quickly.
The bag has a full-length zipper on one side. That is a double zipper so you can unzip it from the bottom to vent at night. There's also a halfway zipper on the other side. If you're going to be in a different condition, you can vent this sleeping bag well. The top of this bag folds down almost like a blanket. If you're a side sleeper and you like to pull the blanket or the sleeping bag around you that makes it nice for that. It feels more like a blanket at home. It is a small detail but it makes a big difference.
There're draft tubes behind zippers so you're not going to have unwanted cold air coming in. There's even a little bit of a more durable material sewn behind that zipper to prevent on snags. There's a little stash pocket on the inside. It is a small zippered pocket for small items that you want to get your hands on at night.
The shoulder girth is pretty wide for a mummy-style sleeping bag. So you do have some pretty good sprawling room. You're not going to feel super claustrophobic in this bag. The bag is a little bit looser compared to other mummy-style sleeping bags.
Pros: Great venting options with the accessory zipper, lots of insulation, durable construction
Cons: Not very compressible, heavy, stiff lining fabric
6. Marmot Ironwood

Temperature rating: 20°F
Weight: 2 lbs. 6.7 oz.
Fill: 650 fill power down
Recommended use: Backpacking
Marmot Ironwood is a lightweight 20°F mummy sleeping bag. The bag is reliable in unpredictable conditions and budget-friendly for 3-season camping, backpacking or other outdoor activities. The bag is filled with 650 fill power down with Down Defender that improves water resistance in damp or wet conditions and ultimately keeps you warm. As we know, traditional down loses its efficiency when it gets wet but Down Defender adds a moisture-resistant treatment that prevents clumping, preserves loft, and maximizes your comfort.
The bag has ground-level side seams that wrap around your body and gives you maximum warmth. These side seams are more thermally efficient. The stretch tricot baffles keep the insulation in place and limit cold spots. Ironwood 20 features an anatomically shaped foot-box for more wiggle room and less heat buildup. The nautilus multi baffle hood design limits heat loss from your head.
There's an internal stash pocket that keeps your small belongings organized. The bag also comes with a stuff sack makes it easy to stay organized when setting up camp or packing up to head home.
Pros: Snag-free zipper, a good draft tube, and a nice fluffy hood for your head
Cons: If you toss and turn inside your bag at night, this bag may not be for you.
7. Kelty Tuck

Temperature rating: 22°F
Weight: 3 lbs.
Fill: ThermaPro Synthetic
Recommended use: Camping
Kelty Tuck is a budget-friendly option for 3-season backpacking or camping. The bag offers comfort with a neat zipper and a design that allows for easy temperature regulation. It has Kelty's ThermaPro Synthetic Insulation. This is designed as a lightweight and compressible synthetic insulation that is going to be able to pack down a little smaller than some other blends out on the market. It also rebounds nicely so it will maintain loft and its insulating properties for a long time.
In terms of features, the bag has a nice offset quilt construction in the baffles. There's also a two-way locking zipper so it can zip from the front, the top or the bottom. A good thing about that zipper is that it cuts off right before the feet. That's where the name "Tuck" is coming from. This allows you to unzip the bottom and you can stick your feet out. It allows you to regulate the temperature in the foot-box area. Under that zipper, there's an anti-snag draft tube. This insulated tube provides good insulation throughout the length of the zipper without snagging or pulling.
Up at the top, you do have drawcords that will cinch down the top and bottom of the hood. You also have a draft collar on the inside of the hood. That's a lightly insulated collar that is going to allow some warmth retention. On the inside just below the zipper, there's a Kelty media pocket. You can store your cellphone there. Finally, Kelty does include a stuff sack with this bag. It's a nylon stuff sack that allows you to compress that down. You can put it into a compression sack and get a little bit more compressibility out.
Pros: Crossover zipper is great for ventilation or just letting your feet hang out, affordable
Cons: Not super compressible, not very warm for its temperature rating, heavy
8. Nemo Kyan

Temperature rating: 35°F
Weight: 1 lb. 12 oz.
Fill: PrimaLoft Silver synthetic
Recommended use: UL backpacking
Kyan 35°F sleeping bag is designed for warm-weather adventures. This full-featured bag offers highly compressible synthetic fill, a unique venting system, and a thermally efficient shape making it a lightweight option for ounce-counting summer backpackers. This bag uses a highly compressible Primaloft Silver Synthetic Fill. In wet conditions, synthetic fibers are preferable to down because of their superior moisture resistance.
This bag has a thermally efficient shape to keep you warm because your body uses energy to heat the air inside a bag with you. Less air space inside means less energy wastage. The shape of this bag minimizes extra space. The outer shell fabric is a 20D ripstop nylon with a DWR coating to protect the bag from moisture. Inside, a 30D nylon taffeta lining provides comfort.
The bag has a full-length two-way snag-free zipper which you can close up when it's cool or open up when it's warm. A draft tube that extends into the hood helps prevent warm air from escaping through the zipper or the hood opening. When the temperatures rise, you can also vent using the two zippered Gills on the front. These easy-to-reach vents are strategically positioned to release heat efficiently.
Pros: Very compressible, the excellent warmth-to-weight ratio for the price, nice compression sack included, tons of venting options
Cons: The 35°F model is not warm enough for the colder nights of spring and fall. You will still love it for warmer nights, but if you want a full 3-season warmth, check out the 20°F version of the Kyan or a loftier down bag.
9. Sierra Designs Backcountry Bed 700

Temperature rating: 20°F
Weight: 2 lbs. 10 oz.
Fill: 800-fill duck DriDown
Recommended use: Backpacking
Some people feel a bit confined in a mummy bag and that's the idea that the Backcountry Bed is built on. This bag combines the best aspects of a mummy bag without making you feel confined inside. It's great for backpackers who need performance and warmth but a bed and blanket feel.
The opening on the front is large and has a blanket like a comforter ceiling. There's an elastic cord at chest level that will keep this comforter from moving around as you toss and turn at night. The more loft the more warmth and this bag achieves a 20°F rating based on the amount of down inside. On warmer nights, you can fold the comforter to vent heat. Tucking yourself in with the comforter will keep you warm up to the 20°F rating. The comforter has been wider near your neck so it can wrap around you.
The foot-box has a zipper-less self-sealing vent that allows you to stick your feet out of the bottom. This is great for venting excess heat. The warmth if the Backcountry Bag is provided by 700-fill DriDown. This 700-fill power down is compressible and lightweight. This bag weighs only 2 pounds and 8 ounces in its regular size. DriDown means that the down has been treated to resist water. Sierra Designs has made the 20D face fabric water-resistant as another means of protection.
Pros: No zipper to get stuck, spacious fit, luxurious comforter-like closure
Cons: Requires a sleeping pad, a little low warmth-to-weight ratio, limited leg vent
See the Sierra Designs Backcountry Bed 700
10. Therm-a-Rest Saros

Temperature rating: 20°F
Weight: 3 lbs. 8 oz.
Fill: 800-fill duck DriDown
Recommended use: Car camping
Therm-a-Rest Saros is your synthetic go-to three-season camping or backpacking bag. The bag is reliable in unpredictable conditions and it contains 39 ounces of synthetic eraLoft insulation. This is a true mummy-style sleeping bag so you do have a well-baffled hood. This hood cinches down from one side and you can hold in that heat.
You have plenty of shoulder room and it tapers down through the legs. For a lot of thermal efficiencies, Therm-a-Rest cut out some areas that might have dead spots. The great thing about the synthetic bag is that when you're taking it into the backcountry and if the bag is going to be subject to moisture at all, it's going to resist that moisture and keep its loft even it's wet.
There're SynergyLink sleeping pad straps which is a great comfort feature. They stretch over your sleeping pad. It helps you stay situated on top of your sleeping pad so you're not rolling off of it and you're not sliding off of your sleeping pad at night.
There's a full-length zipper and you can unzip from the bottom if you start to heat up. With that mummy shape, you can zip everything up and batten everything down.
The bag packs down to be nice and small for the temperature rating and a synthetic bag. You can pack it down into included stuff sack and they also give you an included storage sack so you can store it uncompressed at home. Overall, this is a reliable sleeping bag to take into the backcountry in unreliable conditions that synthetic eraLoft insulation is going to keep you comfortable and safe.
Pros: Excellent build quality, super comfortable, foot warmer pocket
Cons: Heavy and bulky
Best 3-Season Sleeping Bags: Comparison Table
How to Choose a 3-Season Sleeping Bag?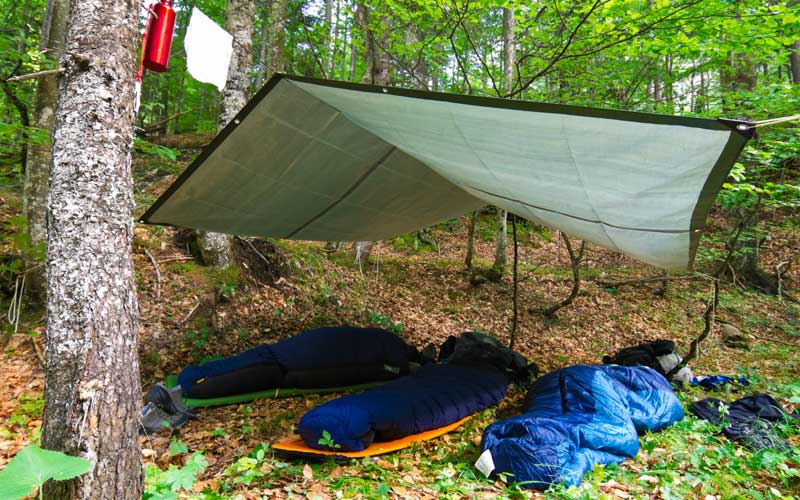 You need a proper sleeping bag to enjoy a blissful night's slumber in the woods. That starts with selecting the right sleeping bag.
When deciding on a sleeping bag for backpacking, consider these key factors:
Temperature Rating
The temperature rating for your sleeping bag is a major consideration for staying warm and having a restful night's sleep. Keep in mind that you are the source of heat in your sleeping bag. Along with temperature rating, you need to make sure your bag fits well.
Most sleeping bags will have a temperature rating. Some will just have a flat 20°F or 30°F rating. Some sleeping bags will have a European norm (EN) rating and that gives you an upper limit of comfort and a lower limit rating or a risk rating. You should stay away from that lower limit because you're going to be cold at that point.
The next thing to consider is metabolism. Some people sleep colder and some warmer than others. If you pick a 20°F bag and you're a cold sleeper, you might want to go down 10 or 15 degrees just to get that comfort rating up a little bit more. Just, as well, if you're a warm sleeper, you can get away with the lower limit that a sleeping bag is rated.
Type of Insulation
There're many different types of fill but I have it narrowed down to three main types:
Synthetic
Down
Treated Down
Synthetic
Synthetic fill is made to mimic the structure of down. It is a man-made material that uses thicker strands that provide a framework for very thin strands to trap in your heat. There're many different types of synthetic fill on the market and with rapidly growing technologies, there are new names out there all the time.
One of the biggest benefits to synthetics is that they have a water-resistant property that continues to provide insulation even when damp or wet. When it does get wet, it dries quickly because the moisture just gets trapped in between the fibers rather than getting absorbed into the fibers itself.
Another pro is synthetics are man-made, so they should be completely hypoallergenic. They are relatively easy to care for as they are usually machine washable in a front-loading washer.
There're some downsides to synthetic bags. They tend to be bulkier, heavier, and not as compact as their down counterparts. They're heavier because there's not as much as of warmth to weight ratio that you do get with a down bag.
Down
Down keeps you warm by trapping in an abundance of body heat in its tiny clusters. There's no other material that is as thermally efficient for its weight than down. Compared to synthetic, down is more thermal efficient ounce per ounce.
Down comes in a variety of fill power, anywhere from 500 to 900. For example, if you have a 20°F bag that is filled with 550 fill down and if you have a 20°F bag that has 900 fill down in it, both of them are going to be equally as warm but the 900 fill bag is going to be lighter.
Down loses its insulating properties when it gets wet or damp and it is slow to dry. It requires maintenance when it does get wet. Down may contain all contain allergens. It's not completely hypoallergenic. While the down may not cause an allergic reaction by itself, lower quality down does. If you're prone to allergies, it might be wise to invest in a better quality down bag.
Treated Down
Treated down is essentially a microscopic hydrophobic finish that is applied to each plume of down. This is a permanent treatment so it is not going to wear off and it is not going to wash off. It makes the down plumes function more like a synthetic material because it sheds water. This allows you to take down into damp or wet conditions.
If you're on a long trip where the bag might absorb water day after day, the bag is going to stay drier longer and it is going to dry out faster than traditional down and it is ultimately going to keep you warmer. Treated down is a great option for anyone that wants something very packable, lightweight but also wants to shed that water.
Shapes and Sizes
The shape and size of your sleeping bag is a big consideration for getting that comfortable and restful night's sleep. There are three main types:
Mummy
Semi-rectangular
Rectangular
Mummy
A lot of backpackers and lightweight enthusiasts are going to be familiar with this type of bag. They usually have a hood and it tapers in at the top. It broads around your shoulder and that tapers into the feet. The idea behind the mummy bag is that it is taking out all the extra fabric, all of the extra fill that would be in a rectangular bag and it hugging your body so that it is more thermally efficient.
Semi-rectangular
Somewhere in between the rectangular style and the mummy-style is a semi-rectangular bag. Usually, it does taper in a little bit at the feet for more thermal efficiency and it does not have a hoot so the top of the bag is completely flat. You can use this style as more of a blanket style if you're traveling, staying in hostels, that sort of thing.
Rectangular
It's a roll-up, tie-down type of bag and most of us are familiar with this style. This is great for family camping, car camping, someone who wants a lot of room to spread out and be just comfortable in a sleeping bag.
The downside to these is they tend to be heavier because there's lots of material. They tend to be not as compressible and not as packable.
Sleeping Bag-Pad Combination
With a traditional sleeping bag, you're sleeping right on top of your sleeping pad and your weight compresses the insulation in the bottom of your bag and so with a sleeping bag-pad combination, you're able to either slide a sleeping pad right into a sleeve or connect it some other way. This provides a very secure foundation so you can roll or twist during the night without ever rolling off of your pad.
Quick Care Tips
These are some of the quick care tips for your bag after you have chosen the right one. Caring for your sleeping bag is going to make it last a lot longer, so be sure to follow the specific instructions attached to your bag exactly.
Washing them and drying than in a way that isn't instructed may compromise the life and the integrity of your bag. Each bag will have specific washing instructions. If you want to cut that off, save it or just keep it on your pack. It doesn't have a lot of extra weight.
As much as possible, store your bag in an uncompressed state. A lot of bags come with an included storage sack. You just stuff your bag in there and store it in a dry area.