We use affiliate links and may receive a small commission on purchases.
Learn more
A good sleeping bag is essential for any adventure. There is a wide variety of options available so choose the one that's right for you depending on where you'll be using it and how often. When it comes to car camping, rectangular bags are a good option. These bags are often roomy and can be used as a blanket when unzipped. Two single bags can also be connected to make one double bag if they are compatible. If you go camping too often and may face extreme weather, you can also consider a mummy-style bag. They are relatively light and warm and usually include a hood. You can use a mummy bag in a variety of conditions and even for backpacking.
So these are the top sleeping bags that can be used for car camping.
1. The North Face Eco Trail Bed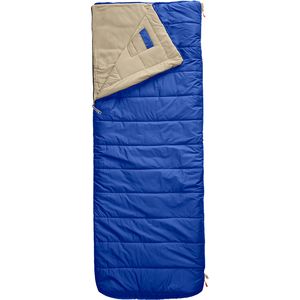 Temperature rating: 20°F
Weight: 4 lbs. 8 oz.
Fill: Recycled polyester
Shape: Rectangular
The North Face Eco Trail Bed is a rectangular sleeping bag that offers a better sleeping experience than most mummy bags. The bag is roomy, high-quality, and perfect for 3-season car camping in a variety of conditions. It is rated to 20 degrees and if you're looking for a comfortable bag, Eco Trail Bed has a premium feel. This bag features a full-length zipper, which opens and the bag can be used as a blanket. Keep in mind that this bag is designed primarily for camping and it isn't a backpacking option. Also, the bag doesn't pack down nearly as small, so the Eco Trail Bed isn't intended for traveling.
The bag is made of 50-denier recycled ripstop polyester material and has 50-denier polyester taffeta lining. It weighs around 4 pounds and 8 ounces for regular. The wraparound foot box zipper allows the bag to lie flat and the side zipper at the collar allows you to sit up comfortably. There is a small internal pocket that can be used to store your small essentials like your phone or wallet. This bag comes in two versions i.e. single and double. So if you are camping with a partner, check out the North Face Eco Trail Bed Double.
Pros: Great built quality at a good price, solid comfort and warmth
Cons: Doesn't pack away small.
View at REI View at Backcountry
2. Coleman Green Valley

Temperature rating: 30°F
Weight: 4 lbs. 12 oz.
Fill: Synthetic
Shape: Rectangular
Coleman Green Valley is a budget camping sleeping bag that is comfortable in warm weather. The bag is relatively heavy with slick nylon outer and flannel-like liner that could be softer. We have included this bag on the list because of the budget-friendly price and it gets the job done for car camping. When it comes to insulation, Green Valley bag is rated to keep you warm from 30- to 50°F. In cold conditions, you may need long underwear to keep the lower end warm. This also means that this bag is less warm than The North Face Eco Trail Bed above. In addition to the insulation, the built quality and materials are basic and you shouldn't expect a premium feel.
Coleman Green Valley bag offers a FireLock construction, which prevents insulation from shifting and it also extends the life of your bag. The zipper is snag-free and No-Snag patented so you're not going to catch or snag the material. The Quick Cord System allows you to fasten the cinch without tying after the bag has been rolled. The bag also offers a ThermoLock System, which reduces heat loss through the zippers. Overall, Coleman Green Valley is an ideal choice for camping where the temperature range is between 30 and 50°F. It is durable enough with soft and cozy cotton-flannel lining.
Pros: A great price, reasonably comfortable
Cons: Cheap materials, doesn't include a stuff sack
3. Exped MegaSleep

Temperature rating: 25°F
Weight: 2 lbs. 6 oz.
Fill: Polyester
Shape: Rectangular
Exped MegaSleep is a roomy, cool weather hoodless bag with the innovative ability to open up and lie flat like a quilt. It measures 31 inches wide and comfortably fits sleepers up to 6 feet tall. The lateral baffles of this bag are insulated with synthetic polyester microfiber. Synthetic feels like this one insulates well even in wet or humid conditions a feat that down can't match. A 40 denier ripstop nylon exterior shell further protects the insulation from the elements. Drawstrings with dual cord locks at the head of the bag help you seal out cold air. A draft tube backs the full-length zipper keeping warm air inside with you. Full-length zipper means more than usual for this bag.
The 2-way No-Snag zipper extends halfway around the bag allowing you to open it into a single layer quilt. This bag can be zipped together with another MegaSleep 25 or a 40 to form a double bag. Loops are included for storing or drying your bag. Each sleeping bag includes a convenient duffel style storage bag. This bag works to keep you warm as a traditional sleeping bag in cool weather but gives you the freedom of a quilt when the temperatures rise. Zip it together with another and you've got space for two.
Pros: Dual temperature ratings, lightweight and could be used for backpacking
Cons: Lacking overall warmth, a little gimmicky, almost too basic
See the Exped MegaSleep See the Exped MegaSleep Duo
4. Big Agnes Lost Dog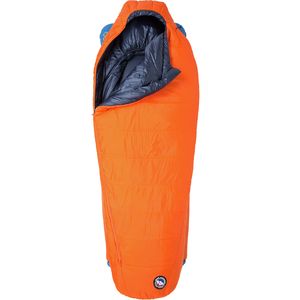 Temperature rating: 15°F
Weight: 3 lbs. 3 oz.
Fill: FireLine ECO synthetic fibers
Shape: Semi-rectangular
Big Agnes Lost Dog 15 is designed with 3-season car camping in mind. It offers recycled synthetic insulation, a way to trap errant sleeping pads and convenient barns for pillows and zippers. The bag's FireLine ECO synthetic insulation has superior performance in wet conditions. It provides warmth even when wet, unlike down. This synthetic insulation is created from 100% post-consumer recycled polyester. Outside, the ripstop nylon shell fabric has a water-repellent surface coating to keep moisture away. External loops allow you to hang the bag for storage or for drying. Inside, a soft polyester lining provides next to skin comfort. In the roomy insulated free-range hood, you have a barn to keep a pillow in place and a drawcord to cinch down the opening. There's also room at the other end with a free-range foot box offering room to wiggle your toes.
The bag offers a draft collar in addition to the draft tube located behind the anti-snag zipper. In addition to low-profile cord lock on the hood, the zipper garage will keep bothersome bits of metal or plastic out of your face. There are some small internal loops. These are helpful if you choose to use a liner, which increases the life of your bag. This bag is lightly insulated on the bottom. Big Agnes can do this without sacrificing performance because the insulation underneath you often gets compressed as you sleep. That means that it traps less air and doesn't work as well and keeping you warm.
Big Agnes saves weight and bulk on this bag by requiring the use of a sleeping pad. To help you with that, the bag has a flex pad sleeve on the bottom to accommodate pads of varying lengths, widths, and thicknesses. This design pretty much demands that to get optimum performance from the bag, you'll need to use a pad compatible with the bag temperature rating and the weather. These bags are designed to mate together, left zipper to right zipper. Don't miss this opportunity to tell your partner that you both need to get into bags. Each bag comes with a stuff sack and a mesh storage sack. It offers you an insulated hood, a warm foot box, and draft blockers for cool weather camping. Synthetic insulation will keep you warm in wet conditions and the sleeping pad sleeve will keep your pad where it belongs in any weather.
Pros: Very warm yet still plenty of room for you to move around.
Cons: Heavy for a crossover bag.
View at REI View at Backcountry
5. Marmot Trestles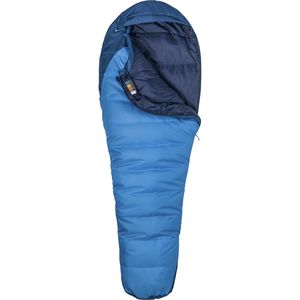 Temperature rating: 15°F
Weight: 3 lbs. 6.1 oz.
Fill: SpiraFil LT polyester fibers
Shape: Mummy
Marmot Trestles is a warm and hefty sleeping bag that gives you solid performance despite its attractive price. It's got a simple but effective synthetic insulation and a nice relaxed mummy shape to enhance your camp comfort. Now, this isn't going to be a bag that you'll want to consider to go backpacking with, it's big, it's bulky and it's relatively heavy for those purposes. This is a bag for ideal for car camping or somebody who's looking to go out a few times a year who wants a good warm bag that won't empty their whole wallet.
The Trestles 15 is capable of 3-season performance. It's got an EN rating of 16 degrees at the lower limit so that 15/16 degrees is the lowest temperature the bag is meant to perform at. The comfort rating for this bag or the optimum temperature rating is right around 27 degrees. That's still a pretty warm sleeping bag. Everybody's body runs a little differently so some folks may need to layer up inside the bag other folks may prefer to shed those layers. Regardless of your preference, the bag is built with durable polyester material. The shell material has a water-repellent property and it also wicks moisture on the inside and dries out quickly.
To enhance the water resistance, the bag is loaded with a SpiraFil LT synthetic insulation. Synthetic insulations have an advantage in some situations in damp or wet conditions. They can get you better performance than a traditional down-filled sleeping bag. Synthetics stay drier longer, dry out faster, and stay warm even when it gets wet. This is perfect for muggy areas or high humidity situations. It'll also help out when you experience the inevitable tent condensation.
The baffled construction on this bag eliminates cold spots and stabilizes those sheets of insulation. You've got the features that you would find on most backpacking sleeping bags like an insulated draft tube along that full-length zipper. You've got zipper guards for snag-free opening and closing and an anatomical foot box to enhance that comfort and warmth around your toes. There's also a stash pocket up at the top shoulder area of the bag. I usually keep small things in there like ChapStick, my phone, or a headlamp if I need quick access to it. Again, this bag is pretty big and bulky but it does come with a stuff sack. It is a compression style stuff sack so you will be able to get it a little smaller than your typical synthetic bag.
Pros: Excellent ventilation, two zippers gives mated bags
Cons: The zipper catches the inner material, less versatile
View at Backcountry View at Amazon
6. Big Agnes Dream Island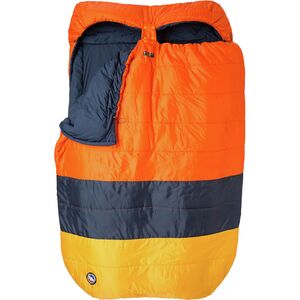 Temperature rating: 15°F
Weight: 9 lbs. 7 oz.
Fill: Thermolite polyester fibers
Shape: Semi-rectangular
This big bag offers room for two sleepers to sprawl while delivering warmth worthy of 3-seasons. There's an adjustable hood, a flexible pad sleeve and synthetic insulation round out the features of this bag. The bag is insulated with FireLine Max synthetic insulation. This sustainably produced synthetic fill is made from 50 percent post-consumer recycled polyester. Outside, the bags ripstop nylon shell has a DWR treatment to protect you and the insulation from moisture.
This bag is lightly insulated on the bottom. Big Agnes can do this because the insulation underneath you often gets compressed by your body weight. This prevents the insulation from trapping air and keeping you warm. Big Agnes reduces the weight of the bag by leaving out that bottom insulation. Now, that means that picking the proper sleeping pad is fundamentally important to maximizing the bag of warmth. To help you with that, the bag features a flex pad sleeve on the bottom. This stretchy sleeve can accommodate pads of varying sizes and it keeps the pad from wandering away during the night. The sleeve works with pads up to 78 inches in length.
Inside, a cotton and polyester lining offers excellent next to skin comfort for you and your partner. There are interior fabric loops for sleeping bag liners. To keep the warmth inside and the cold drafts out, this bag features dual full-length draft tubes and a draft collar. The 2-way No-Snag zippers can be parked in garages to keep them from snagging hair or clothes. You can unzip for venting and use the hand pockets on the draft collar to pull the top layer of the bag around you like a quilt. The insulated ergonomic hood has two barns that corral your pillows. Dual drawcords and low-profile cord locks give both sleepers a secure cozy fit.
To further snug things down, you can button the hood. At the other end, a free-range foot box provides warmth and wiggle room for your feet. This bag fits sleepers up to 6 foot 6. Also, located at the foot of the bag, are hang loops for storing or drying. It includes both a stuff sack and a mesh storage sack. This bag lets you snuggle with your fellow sleeper without zipping two bags together. It offers weather-resistant recycled insulation, plenty of room, as well as an adjustable hood and a flexible pad sleeve.
Pros: Plenty of room for two sleepers, individual hoods keep heads warm all night.
Cons: Little insulation so not ideal for super cold weather.
View at REI View at Backcountry
7. Marmot Sawtooth

Temperature rating: 15°F
Weight: 2 lbs. 8 oz.
Fill: 650-fill-power duck down
Shape: Mummy
Marmot Sawtooth offers a good balance of price and performance with lightweight materials and warm lofty down insulation. The bag is constructed with a 30D nylon material throughout. It is very lightweight and packable still abrasion-resistance. The fill is a 650 fill down insulation and it is treated with marmots down defender technology. Traditional down sleeping bags will lose their insulation when they get wet and they'll take a long time to dry out. With that down defender treatment, the down stays dry or longer, it dries out faster and it retains its loft and insulating properties when it's wet.
This bag is rated to around 15 degrees but that is the lower limit ratings. The comfort rating for the bag is closer to about 27 degrees Fahrenheit. Some of the features included in the bag include sewn-through baffles to minimize that shifting of down fill. The baffles are sewn completely through so you get even distribution of down fill throughout and the heat stays the same throughout the bag. Up in the hood portion of the bag, it is a fully insulated hood and there are drawcords on the outside to cinch that down if you needed to. On the inside of the bag, there is an insulated collar to seal out those drafts.
Pros: Super warm, comfortable hood, can be used for backpacking
Cons: Not very compressible so large pack size.
View at REI View at Backcountry
8. Exped MegaSleep Duo

Temperature rating: 25°F
Weight: 4 lbs. 6 oz.
Fill: Polyester
Shape: Rectangular
This versatile bag can be a double-wide sleeping bag for two, two quilts, or two independent single person bags. This roomy bag measures 63 inches wide and comfortable fits sleepers up to 6 feet tall. The rectangular shape perfectly fits on the Exped MegaMat. This bag is insulated with synthetic polyester microfiber. Synthetic fills are well regarded for their ability to insulate in wet or humid conditions, a situation in which down functions poorly. Inside, behind the anti-snag full-length zipper is a draft tube to keep cold air out and warm air in. Outside, a 40D ripstop nylon exterior shell further protects you and the insulation from moisture.
This bag is two insulated layers that made it together. The layers are different in terms of their insulation, which offers you some handy options. When you have the less insulated layer on top, you and your partner can sleep comfortably in 40-degree temperatures. If the temperature drops, you can use this double-wide bag by flipping the more insulated layer to the top. That will keep you and your partner comfy to lows around 25 degrees. Either of these options, of course, requires sleeping pads.
But that's not the end of the options with this bag. You can also separate the two layers of the 2-person bag giving you two separate quilts. And if that's not enough versatility for you, try this; each of the quilts can be zipped up to create a single person sleeping bag. That gives you one 40-degree bag and one 25-degree bag complete with a draft tube for warmth and zippers for venting.
Pros: A double bag that can transform into two singles.
Cons: Lacking overall warmth, a little gimmicky
9. Kelty Tru.Comfort Doublewide

Temperature rating: 20°F
Weight: 9 lbs. 8 oz.
Fill: Synthetic fibers
Shape: Rectangular
Kelty Tru.Comfort Doublewide features a unique design that includes two built-in blankets. Add to that, a spacious hood capable of holding the most sumptuous pillows, and the result is a versatile sleeping solution for two. The bag uses Kelty's CloudLoft insulation. Synthetic insulation has long been an effective alternative to down for its affordability and its insulating effectiveness in wet conditions. Both the shell and the lining are made from 75 denier polyester taffeta. The oversized insulated hood offers plenty of room for real pillows while still keeping your head warm. At the other end, the two-way zipper allows you to open the bottom of the bag for venting.
On warm nights, you can remove the top layer completely to keep cool. Inside, you'll find the built-in blankets. This innovative layered design is a standout feature of this bag. This extra insulation gives you additional warmth when temperatures dip. You can also use the blankets as a sole layer in warmer conditions by unzipping and opening the bag. The bag has loops on the bottom to secure a sleeping pad. Hang loops provide opportunities to hang your bag or store it. Each bag includes a stuff sack. Lofty, waterproof insulation, a big hood, and roomy 2-person build offer comfort while two blankets and dual 2-way zippers give you and your partner the flexibility to use this bag in a wide range of temperatures.
Pros: Packs up easily, better than two bags, customizable warmth levels
Cons: Extra blanket feature isn't for everyone.
See the Kelty Tru.Comfort Doublewide
10. NEMO Jazz Duo

Temperature rating: 20°F
Weight: 7 lbs. 9 oz.
Fill: Stratofiber synthetic fibers
Shape: Rectangular
NEMO Jazz has two temperature regulating zippers and an integrated sheet for a bed like feel. You can truly have a home away from home with this system. I've been using the Jazz Duo for a few months now on my car camping adventures and I'll never go back to a traditional sleeping bag. It's gone with me on a 10-day road trip and has become a spare bed in our family's cabin. You sleep comfortably because of the spacious interior. So no more feeling claustrophobic! It's 6 feet 4 inches tall, 33 inches wide for sprawling. There's a full-length zipper on each side so you can decide how much to vent. On warmer nights, I'd open it up completely and use just the integrated sheets. On colder nights, I'd zip up everything tight.
The hood is large enough for a full-sized pillow and the blanket fold at the top feels like your bed at home. The underside of the sleeping bag has a pillow top for extra comfort between you and your sleeping mat. There's a sleeve underneath to pair with the sleeping mat so you don't roll off at night. It'll take a 25-inch wide pad. Those are sold separately so you can choose which one is best for you.
The storage bag is a duffel style. It's a bit oversized so you can leave the deflated sleeping pad inside the sleeve and roll them up together in the storage bag. That was super convenient for me on my road trip where I was camping in a new spot every few days. It saved me a lot of time. The fabric inside and out is super soft and cozy and the synthetic fill means it'll combat moisture in humid climates. It keeps its warmth for a cozy night's sleep. If you're tired of stuffy claustrophobic sleeping bags and are ready for a true home away from home, check out the NEMO Jazz Duo.
Pros: Very roomy and comfortable for two.
Cons: The snaps on the sheet come undone easily
Best Car Camping Sleeping Bags: Comparison Table
How to Choose a Car Camping Sleeping Bag?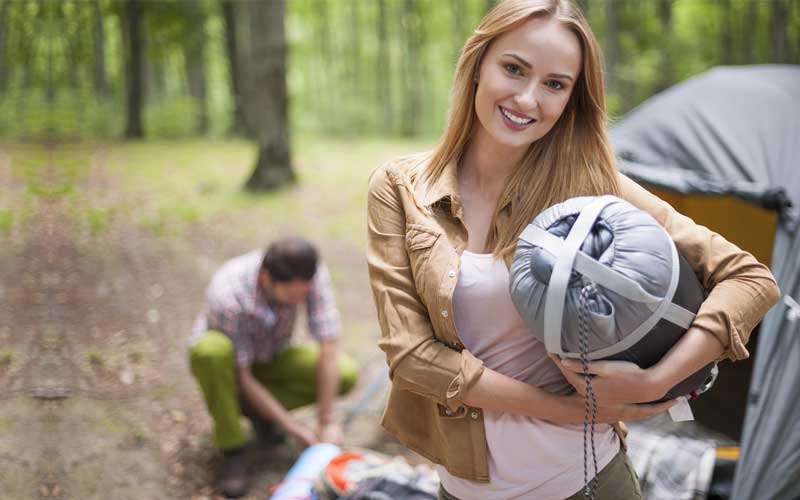 With a lot of options available out there, it can be challenging to find the right one for you. Also, car camping sleeping bags can be very expensive and your bag sometimes is the most expensive piece of gear for camping. So there are a few things that you should keep in mind when choosing a bag so that you make a good choice.
Temperature Rating
Sleeping bags come with a temperature rating and that rating indicates the lowest temperature at which the bag was to keep the average sleeper warm. Women, in general, tend to sleep colder so these temperature ratings are not set in stones and you have to think through how you sleep.
Weight
If you are going to use your bag solely for car camping, weight, therefore, is not critical. If you planning to take your bag for backpacking, you should consider a lightweight option because the sleeping bag will probably be one of the bigger and bulkier items in your backpack. You can also consider a single mummy bag because they are often lighter and packable than rectangular bags.
Type of Insulation
The last thing to consider is the type of insulation. There are down and synthetic insulations. A downs sleeping bag is more compressible, lighter, and tends to be more durable than synthetic sleeping bags. But not all down is the same. The quality of down is important and to gauge the quality of down, you have something called a fill power, which is sometimes called an insulation spec. The higher the number the higher the down lofts and the warmer the sleeping bag will be for its weight. The main downside of the down bags is that they do not insulate when they're wet.
The synthetic sleeping bags are a lot cheaper than down bags and they do insulate when they're wet. So they're a good choice for humid damp climates. The downside is that they don't compress as well as down and they tend to be a little bit heavier.