We use affiliate links and may receive a small commission on purchases.
Learn more
Car camping mattresses are comfortable, plush, and warm. When it comes to double mattresses for couples, there're several advantages of sharing a sleeping mat as opposed to individual mats. For example, one mat is easier to carry, inflate and store than two. Having a shared mat will give you a sliver of the comforts of home while in the backcountry. Your body heat is more easily shared on the mat. Some people may argue this is a disadvantage, but my wife vehemently believes it is an advantage. One disadvantage is that you bump into each other more than when sleeping on individual mats.
So these are the top car camping mattresses for outdoor-loving couples.
1. Exped MegaMat Duo 10

Thickness: 4 in.
Weight: 9 lbs. 14.4 oz.
Dimensions: 77.6 x 52 in.
Type: Self-inflating
The comfort you'll get with this sleeping mat may even be better than the bed you use at home. Couples will appreciate this, you'll get a great night's sleep and it will be a lot less likely to be grumpy next day while you're out adventuring.
What makes the pad so special? Well, it's got 10 cm of thick open-cell foam. This gives you just about 4 inches of thickness, which is substantial. The shell material on the top is a stretch tricot that has a nice brushed feel to it. It gives great next-to-skin comfort. The bottom material is a bit more heavy-duty to hold up against abrasion.
It is a self-inflating pad so all you have to do when you get to camp is to unroll it in the tent and open up those valves. First-time inflation is a bit different though so take a quick look at the included instructions to get the best performance from your pad.
The pad is huge and it even comes in different sizes. The medium is about 72 inches long and 41 inches wide. The long-wide is about 77.6 inches long and around 52 inches wide. The R-value is around 9.5 thanks to that thick foam. So this pad will help to keep you comfortable no matter what the conditions outside are. This mat also comes with an included stuff sack.
Pros: Warm and comfortable
Cons: Large pack size, takes a long time to inflate
2. SoundAsleep Camping Series

Thickness: 9 in.
Weight: 13 lbs. 11.2 oz.
Dimensions: 78 x 60 in.
Type: Airbed
SoundAsleep Camping Series is a full-on airbed that is great for couples, families or those who just like the extra space. This airbed is durable, easy to inflate with a rechargeable pump, comfortable and supportive at an affordable price. With a fully charged pump, it can be inflated to a rigid firmness. You need to wait for the mattress to stretch to become softer, and then add more air to adjust the desired firmness level. Make sure you have your pump charged with the car or wall chargers that are included. The mattress is also compatible with standard airbed pumps. So you still be able to use it with another pump that you have on hand.
The cover is very pleasant to look at and it feels kind of fuzzy like most airbeds do. The extra thick waterproof flocked top is comfortable and the multi-layer construction helps ensure durability. You can feel the added support you get from the classic I-Beam construction. The material is puncture-resistant and this is excellent considering that rocks, sticks, and other common outdoor debris will be lurking under your tent. The bottom of the mattress features the Sure-Grip bottom to prevent you from sliding around.
Pros: Airbed convenience along with a durable build, inexpensive
Cons: Poor insulator, constructed from PVC, bouncy, takes up a lot of space in your tent
3. Therm-a-Rest NeoAir Camper Duo

Thickness: 3 in.
Weight: 4 lbs. 2 oz.
Dimensions: 77 x 50 in.
Type: Air Pad
Therm-a-Rest NeoAir Camper Duo in an inflatable pad and it is designed to deliver camping comfort and ease of use. You get a stable and comfortable sleeping surface with a touch of heat-reflective warmth. It's even equipped with two independent chambers and valves, which make both inflation and deflation quick and easy.
The two independent chambers add extra comfort. When you roll or shift, your partner hardly notices and there is virtually no rolling into the middle, which is better than a single chamber air mattress. Also, I'd prefer this pad over a super-duper-deluxe queen-sized inflatable bed – not just for comfort, but for the convenience as well.
The pad's horizontal baffles provide excellent support, stability, and comfort. They also eliminate that bounciness that is so often associated with traditional inflatable pads. You get a full 3-inch thick cushion beneath you. You also have external side rails, which do a good job of keeping you comfortably positioned on the pad throughout the night. An internal heat-reflective layer gives the pad an R-value of 2.2. Well, that's not warm enough for year-round use, it does add a warmth that you simply can't or won't find in a non-insulated pad.
Overall, it is a comfortable, packable, and easy to use camping pad. It is a great option for couples and family camping.
Pros: Two independent air chambers make a huge difference, comfort, ample size
Cons: Does not fold in half to make single pad
4. Intex Classic Downy Airbed

Thickness: 8.75 in.
Weight: 9 lbs. 12 oz.
Dimensions: 75.2 x 53.9 in.
Type: Airbed
Intex Classic Downy is a great budget airbed for couples. It is made of thick vinyl material and has a very durable bottom. The mat features vertical tubes if air, which is pretty standard across most air mattresses. It is incredibly easy to use and affordable. It is a cheaper option and not super comfortable. So, if you're going to do a serious amount of sleeping in the outdoors, consider another camping mattress from our camping mattress review.
Inflating this mattress for the first time can be challenging and time-consuming. The vinyl needs to be stretched out to its full size. It is a long process of pumping and waiting. Once it's inflated to its full size, subsequent inflations are much more straightforward. Deflation is relatively easy. You can flatten this thing in a few minutes. It is also easy to fold down for storage and transportation.
This is a queen size airbed and it measures around 60 inches wide and 80 inches long. It will fit two persons easily if they don't sleep like starfish. Keep in mind that this mattress is quite bouncy and it lacks all the dampening effects that foam provides.
Pros: Super affordable, durable bottom
Cons: Takes a while to inflate, not the warmest or most comfortable
5. Exped SynMat Duo

Thickness: 2.8 in.
Weight: 4 lbs. 5.7 oz. (Long Wide)
Dimensions: 77.6 x 51.2 in.
Type: Air Pad
It's an insulated inflatable mattress that is cut to provide enough room for two campers to share. The pad's laminated polyester fabric is a nice balance of weight and durability. It's highly abrasion-resistant as well as UV-resistant. It also has a tacky surface that helps to keep you and your sleeping bag from slipping off during the night.
The pad has a series of vertical air baffles and each baffle has a top and bottom internal layer of laminated synthetic insulation. This design gives the pad an R-value of 4.8. That's certainly more than warm enough for 3-season use and it's suitable for all but the coldest of winter temperatures.
The pad is not self-inflating but the included schnozzle pump bag does most of the work with a little effort. It attaches directly to the pad's flat valve and gets more air into the pad at one shot than you can do by mouth. Using the pump bag also avoids introducing moisture into the interior of the pad, which can harm the lamination over time. The schnozzle pump bag can also be used as a waterproof stuff sack for other gear.
Pros: Feels very sturdy, even light enough for short backpacking trips
Cons: The carrying case is very small and leaves no room for error when packing up.
6. Lightspeed Outdoors Deluxe

Thickness: 7 in.
Weight: 6 lbs.
Dimensions: 79 x 55 in.
Type: Airbed
Lightspeed Outdoors Deluxe is made of durable PVC-free thermoplastic polyurethane (TPU) that is temperature stable and rugged than most traditional PVC airbeds. It comes with a convenient battery-operated pump that inflates the mattress quickly and effortlessly. The air valve is customized and it doesn't allow air to escape so you don't have to rush to close the valve in fear of air escaping. Also, it is equipped with a Tuft Tech soft sleeper top, which is stretchable and stays in place all night so you don't slide all over the mattress.
This airbed is lightweight and easy to use. It gives much better support than a sleeping bag and perfect for traveling and car camping. It can also be folded up easily into overnight bags or backpacks. The mattress also comes lined with a soft fabric that is meant to prevent any slippage.
This mattress is a little smaller than a queen size. It inflates to about a size of 79 x 55 inches and sits 7 inches high. Although the mattress is designed for two sleepers, it may be a bit small for two full-grown people. If you tend to move around in your sleep, this could be an extra annoyance.
Pros: Easy to pump up with the pump provided, easy to carry and repack
Cons: The size is a bit smaller for a queen size, does not come with batteries
7. ALPS Mountaineering Velocity Air Bed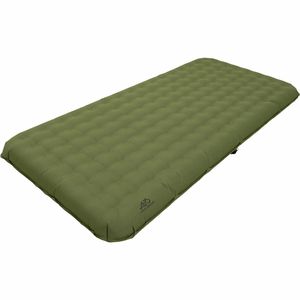 Thickness: 6 in.
Weight: 3 lbs. 10 oz.
Dimensions: 80 x 39 in.
Type: Air Bed
ALPS Mountaineering Velocity Air Bed is another car camping option for couples. It is made of a durable, lightweight, and completely PVC-free fabric. It has a coil system that makes a comfortable and solid sleeping surface for a great night's sleep. The mat is lightweight, easy to transport, and suitable for indoor and outdoor use.
There's an included pump that can be used for inflation and deflation. Unlike most other rechargeable pumps, this pump supports pass-through charging, which means the pump still operates while plugged into a power source (wall or car outlet).
This pad comes in two different sizes; queen and twin. It easily fits in most camping tents. The package also includes a repair kit and a carry bag or easy transport and storage. The pad weighs around 3.6 pounds and holds a weight of up to 500 pounds it inflated to a size of 39 x 80 x 6 inches and packs down to 15.5 x 7 inches (twin). Overall it is an excellent option for car camping and couples will appreciate it.
Pros: The pump supports versatile power options, lighter than the cheapest airbeds, stays inflated for a long time
Cons: The air valve is placed on the side, which makes it awkward for inflating or deflating.
8. Klymit Insulated Double V

Thickness: 3 in.
Weight: 3 lbs. 4.8 oz.
Dimensions: 74 x 47 in.
Type: Air Pad
Klymit Double V employs the same technology found in the classic Static V sleeping pads but doubles the width for couples in the backcountry. The body-mapped V chamber style helps to mitigate the air movement, which creates a much more stable surface, enhances insulation performance, and maximizes your comfort.
You can roll around without disturbing your partner quite as much as some other air baffled pads. It's sized to fit inside most 2-person tents but rugged enough to be out under the stars. It includes a stuff sack, which doubles as an air pump and inflates in just 8 to 10 pumps.
The pad features side rails that help to cradle the user inside the pad so you don't roll off or there's less of a chance that you roll off the pad during the night. A smart design feature that helps with insulation is the V chamber system. It creates pockets that will allow your sleeping pad to fill with their loft. Generally, if you're lying on a sleeping bag, it just compresses, and the bottom insulation is useless. With this design, that loft can fill some of these channels, and it will maintain a little bit more insulation than it would with some other pads.
The pad has very convenient flat valves for inflation and deflation that are clearly labeled as such. It comes with a convenient stuff sack that doubles as a pump sack. It's got a one-way valve at the bottom that integrates perfectly with that inflate valve and with that inflate valve there's a gasket so it won't leak air as you're trying to pump it up.
Pros: Packable, lightweight, great value
Cons: Not as comfortable as foam core camping mattresses
9. NEMO Cosmo Insulated 50L

Thickness: 3.5 in.
Weight: 3 lbs. 11 oz.
Dimensions: 76 x 50 in.
Type: Airbed
Nemo Cosmo insulated 50L gets its name because it is 50 inches wide so there's room for two. It's a comfortable, stable, and durable option for cold-weather campouts. A convenient integrated foot pump beats inflating the pad with your lungs. It is 3.5 inches thick so that means even the pickiest side sleepers will be comfortable all night.
The horizontal baffles create a stable surface as opposed to those long tube-like baffles found on some inflatable pads. It keeps the sides from curling up around your body when you lay down on it. That is super important for comfort especially because this pad is built for two. The baffle at the very top is oversized so your camp pillows are elevated for a little extra comfort.
It is 3.5 inches thick when fully inflated, so it'll cushion a stray rock or root under your tent. It'll support your hips and shoulders keeping you up off the ground even if you're a side sleeper. The soft material is quiet as you move around on the pad and the PrimaLoft synthetic insulation protects you from the cold ground. It is recommended for use down to 15°F.
Pros: Nice touches like a built-in pump and pillow.
Cons: Step down in durability and comfort compared with self-inflating options.
10. Kelty Tru.Comfort Camp Bed

Thickness: 4.75 in.
Weight: 7 lbs. 13 oz.
Dimensions: 78 x 57 in.
Type: Air mattress
Kelty Tru.Comfort is a super comfortable and stable sleeping pad that inflates quickly without the use of any failure-prone battery-powered pump. The Vortex inflation system is a unique feature that Kelty brings to the table with these pads. It's perfect for the car-camping couple who doesn't want to sacrifice comfort when they get out into the woods.
Starting with inflation, Kelty brings out the Vortex system with this pad. The stuff sack doubles as the pump sack and has a unique attachment to the pad itself. There's a wide-open port where the pump sack will integrate. Once you've got it stuck together, you can just open up the Vortex pump sack, give it a wiggle, quickly close it, and you've trapped tons of air to introduce to the pad. This is much easier than having to huff and puff to blow up your pad. There're reliable one-way gaskets built-in so the air won't escape as you're inflating. You do need to make sure to seal it off when you're done for the pad to stay inflated all night.
This pad features 4.75 inches of loft. You're going to get mattress-like comfort from this thing even if you don't have it fully inflated. It is 78 inches long and 57 inches wide so it's pretty huge. The pad brings a little more durability than some lighter or more traditional sleeping pads. The materials are lined with water-resistant antimicrobial TPU, which bolsters durability.
Pros: Plenty of room for two, super comfortable and easy to inflate using the bag, doesn't collapse so you can sleep right on the edge without rolling off
Cons: Requires only occasionally adding air to stay firm.
Best Car Camping Mattresses for Couples: Comparison Table
How to Choose a Perfect Car Camping Mattress for Couples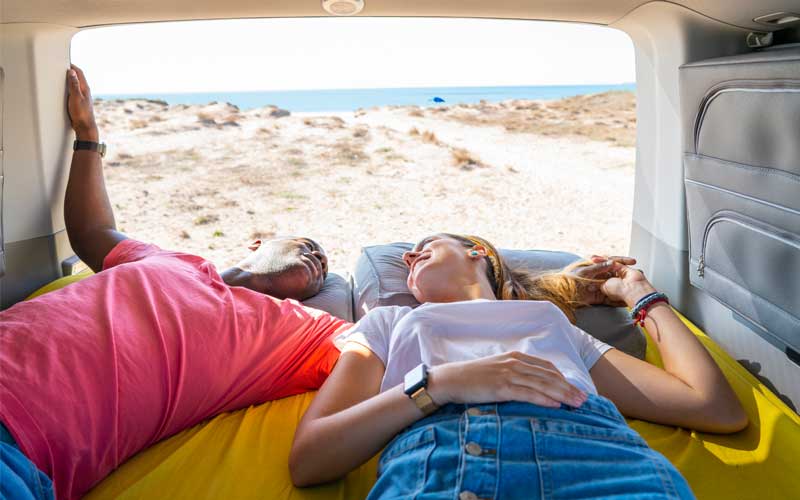 Sleeping mattresses suitable for car camping has made this activity more enjoyable. You don't need to sleep on a thin sleeping pad or shiver on a slow-leaking air mattress. Below are a few considerations to consider when choosing a mattress for your camping adventures.
Why Choose a Car Camping Mattress?
These types of mattresses are cushioned, comfortable and have a reasonably packed size. Sleeping on them can be more comfortable than your bed at home. Most camping mattresses are inflatable but they are different in weight, comfort or bulk. On the other hand, sleeping pads for backpacking are lightweight, low-bulk, and packable.
Types of Camping Mattresses
There are four main categories of camping mattresses: airbeds, self-inflating air mattresses, foam pads, and adaptable mattresses.
Airbeds: An airbed is something like a real mattress. They can be up to eight inches thick. Some of these beds are made of slightly elastic plastic called Thermoplastic Polyurethane or TPU for short. Most of these airbeds are double, which is great for couples. But one person can happily starfish on them as well.
Self-inflating Air Mattresses: These mats have an open-cell foam interior and fill with air when you open the valve (hence the name "self-inflating"). Compared to airbeds, they have a cushier feel thanks to the foam. But the downside is, they don't compress as small and are heavier. For car camping, when comfort is more important than weight and packed size, self-inflating mattresses can be a great option.
Foam Pads: These sleeping mats are made of closed-cell foam and they don't require any inflating to set up. You just unroll them and you're done. One advantage of these pads is there's no risk of getting a puncture but they're less comfortable. They're also thin and not suitable for side sleepers as well.
Adaptable Mattresses: These mattresses can be used for both car camping and backpacking. These are essentially backpacking pads combined with a slab of memory foam and a soft, protective cover. If you remove the cover, you can access the sleeping pad within for your backpacking trips. They are flexible and versatile, meaning you don't need multiple sleeping pads.
How Much Should you Spend?
In our reviews above, we have products for every budget. But if you're looking for a double mattress and money is no issue, go for Exped MegaMat Duo 10. This mat is awarded our top pick for couples. On the other hand, if you don't want to spend that much money, you're limited to the airbeds. The Klymit Insulated Double V is a lightweight and packable option for two. It is also light enough for short backpacking trips.
What Size Mat Do you Want?
If you're planning to buy a mattress that will fit you and your partner or if you always camp with your significant other, you should probably go for a double mattress. If a double mat is too big for you to travel with, there are many options available for one person. One advantage to single mattresses, even for a couple, is that each person can choose the mattress that they prefer. The disadvantage of separate sleeping pads is that they are not the same height, which will create an awkward ledge. They may be too wide to fit in the tent.
Mattress Insulation: R-Value
The mattress can insulate you from the ground and it is measure in R-value. A higher number indicates better insulation. Not all manufacturers provide R-values, but it's a helpful tool when available. In summer, you almost don't need insulation. A mat, for example, Therm-a-Rest NeoAir Camper Duo will get the job done. For 3-season camping, we recommend getting a pad with at least an R-value of 3. If you're concerned about some winter trips, get a mattress with a rating above 5.