We use affiliate links and may receive a small commission on purchases.
Learn more
Zero degree bags are insulated, waterproof, and have a warm bedding structure. These bags are essentially used when you're going out for winter camping or for any other outdoor activity which will last for a few days. Some of these bags are thick quilts that allow a person to get in and then cover himself with the help of zips and hooks. Understand the fact that resting your body after a tiring and thrilling adventure experience and if you are camping in the woods then it becomes really important to sleep well, else your body will act lethargic and restless. The choice of the bag becomes more important if you are planning to indulge in outdoor activity in winters and if you are women. Women need to rest and comfort as their bodies get exhausted fast due to their body types and other biological reasons.
So here is the list of best zero-degree sleeping bags that can be used in extremely cold weather.
1. Kelty Cosmic

Material: Ripstop polyester
Degree: 0°F
Weight: 4 lbs. 6 oz.
Shape: Mummy
Recommended use: Backpacking
Kelty Cosmic is specially designed for cold-weather conditions. It offers water-resistant down insulation, a long zipper, and a well-insulated hood. The bag is insulated with a 600 fill DriDown. As we know, down is nature's lightest and warmest insulated substance but it fails pretty miserably when it gets wet. This is not the case with treated feathers like DriDown. The synthetic hydrophobic polymer has been applied to the feathers making DriDown much more water-resistant.
PFC-free DriDown can retain its loft and insulating ability in wet conditions much longer than untreated down. You still have to take care of your bag because treated down will eventually get wet. When it does happen, however, it dries out quicker than untreated down.
The 20D nylon shell is coated with a protective durable water-resistant coating. Inside, this bag protects you from cold with a draft tube. A thick dual draft collar is likewise dedicated to keeping your warm air in and cold air out.
There're several small loops to secure a bag liner if you have one lying around. An adjusted hoot provides a warm place to lay your head. This bag also has loops suitable for sleeping pads and hanging.
Delivering an impressive set of high-quality features at a great price value, the Kelty Cosmic Zero Degree Sleeping Bag will appeal to those who want to stay warm and comfortable in the backcountry on the chilliest of nights.
Pros: Warm, inexpensive
Cons: Heavy, large packed size, not very weather-resistant
View at Backcountry View at Amazon
2. Nemo Sonic

Material: 20D ripstop nylon
Degree: 0°F
Weight: 3 lbs.
Shape: Mummy
Recommended use: Mountaineering
Nemo Sonic offers you a warm place to go after a day of cold-weather adventuring with lofty water-resistant down and a bunch of draft tubes to keep your heat inside where you want it. If the temperature rises, you can employ Nemo's integrated gill vents. The bag is insulated with PFC free responsible down standard certified 800 fill hydrophobic down. That's a bit of a mouthful. It means that the down feathers in this bag have been harvested ethically then treated with a PFC free process that makes them resistant to moisture. Treated down stays dry longer than untreated down in wet conditions but can fail if it gets wet enough. However, it dries faster when it does get wet.
The outer shell is 20D ripstop nylon treated with a DWR coating to protect you and the bag from moisture. To prevent warm air from exiting or cold air from creeping in, the bag has a draft collar with a Velcro closure and to draft tubes on the zipper. The contoured hood has a drawstring so you can cinch it down in cold weather, further conserving your body heat. Near the hood you'll find a little zippered pocket for keeping small items close at hand. If you find yourself too warm this bag features two zippered openings on the front. These vents are easy to reach and position to release heat effectively from your core.
Nemo includes stretch construction at the knee level of this bag. This allows side sleeping and will be a welcomed innovation to people who find mummy bags restrictive. The shell of the foot box is made from Nemo's OSMO waterproof breathable fabric. I like this feature since the foot box of my old down bag always gets damp when it rubs on the walls of my tent. The full-featured foot box also has a little extra insulation and is reinforced with 40D fabric. this bag includes a storage sack as well as a compression stuff sack to help you squeeze it down for better packing. Hang loops are available for drying or storing your bag. This bag offers an innovative venting system in addition to water-resistant down insulation and a warm place to put cold feet.
Pros: Very spacious, comfortable, lightweight
Cons: Zipper snags on draft tubes
View at NEMO Equipment View at Amazon
3. Marmot Lithium

Material: Nylon
Degree: 0°F
Weight: 2 lbs. 9.5 oz.
Shape: Mummy
Recommended use: Backpacking
Marmot Lithium is designed for the ounce-counting backpackers who are going into the backcountry in the chilliest of temperatures and want a winter sleeping bag that is packable, lightweight, and reliable.
The bag has 800+ fill power down and it's coated with down defender so it's a hydrophobic finish. If you're in humid or wet conditions, it's going to resist that moisture better than traditional down. It's also going to dry out faster and ultimately keep you warmer in the backcountry compared to traditional down.
The bag has 800+ fill power down and it's coated with down defender so it's a hydrophobic finish. If you're in humid or wet conditions, it's going to resist that moisture better than traditional down. It's also going to dry out faster and ultimately keep you warmer in the backcountry compared to traditional down.
In addition to the full-length zipper on the front, you do have a shorter zipper on the other side. This is a comfort feature that makes a big difference when you're out in the backcountry. This feature gives you the flexibility to use this bag in different ways. The shorter zipper doesn't add a lot of weight but it gives you just that extra comfort feature.
Pros: Comfortable hood, warm, waterproof-breathable shell material
Cons: Expensive, bad neck baffle
View at Backcountry View at Amazon
4. ALPS Mountaineering Blaze

Material: Polyester with added synthetic Nylon
Degree: 0°F
Weight: 5 lbs. 5 oz.
Shape: Mummy
Recommended use: Camping
Another mummy shaped sleeping bag which is known for providing warmth to its sleeper. With its two-layer offsets construction, this bag can withstand the cold at 0°F. This bag contains an insulated chest to provide good comfort. These bags are not waterproof and their warmth can be affected if there is a snowfall or rain is going on. Its mummy shape ensures that all body types can fit in it and a person sleeping inside gets full comfort. Its construction includes materials that are good insulators and with its great hold strings and zippers, it is quite comfortable to get inside and packed completely. Neck support ensures that a sleeper gets a comfortable sleep. It comes in two sizes, regular and extra-large.
ALPS Mountaineering Blaze can also be considered for mountaineering camping and outside night stays.
Pros: Trusted for lower temperatures, provide good warmth and comfortable sleeping, light weighted and can be rolled down easily
Cons: Not a waterproof bag so not to be taken for a rainy adventure or a riverside camping.
5. ALPS Mountaineering Crescent Lake

Material: Polyester
Degree: 0°F
Weight: 5 lbs. 4 oz.
Shape: Mummy
Recommended use: Camping
The ALPS Mountaineering Zero Degree Crescent Lake Sleeping bag is known for providing maximum comfort to the person sleeping in. Its tech loft and insulation feature ensure the warmth. Its insulated chest and zipper baffles are of good quality and make this bag a good choice for winters and cold seasons. The bag provides easy openings to get in and out of this bag and is waterproof. It has two drawstrings, one at the hood and another at the neck collar. This makes it easy for a person to stay warm. The bag is all suited for camping and hiking and is easy to roll back in the sack. This bag is durable and has been used by many professional hikers and backpackers and is known for its hydrophobic nature and brilliant designing which ensures a comfy sleep with complete warmth.
Pros: This sleeping bag is one of the best when it comes to providing warmth to its sleeper, excellent hood and drawstring feature helps in trapping the heat.
Cons: Its weight sometimes asks an extra effort to carry and there was the scope of wider area in shoulder regions for zipping.
6. Coleman North Rim

Material: Ripstop polyester
Degree: 0°F or 10°F
Weight: 5 lbs. 12.8 oz.
Shape: Mummy
Recommended use: Camping
North Rim is a comfortable sleeping bag that can easily accommodate all persons with a height of 6-6.5 feet and can be used in low temperatures of 0°F. With features like an insulated foot-box and thermo lock makes it easy for a person to stay comfortable. Shaped in mummy-style, this bag turns out as a good option and has a zip plow system to keep fabrics and threads away from the zip and hence does not cause a problem when opening and closing it. The bag is fully waterproof and can be washed in regular washing machines, though it is preferable to wash it at commercial washing machines.
North Rim is a good option for winter camping and it weighs around 5.8 pounds, can also be a good option for backpacking purposes.
Pros: Highly satisfactory for chilling winters and cold nights, have good space and insulation and can be used even in rains. Pillows can be adjusted as per one's comfort.
Cons: Essentially made for winters, this bag is not a good option for summers, internal stitching may get weak by the passage of time. It is quite a time consuming to roll back it in.
7. TETON Sports LEEF

Material: Microfiber and Brushed Poly-flannel
Degree: 0°F or 20°F
Weight: 4 lbs. 3.2 oz.
Shape: Mummy
Recommended use: Camping
With its three-sided hood pulls, this bag ensured that the person sleeping in gets full warmth and comfort. TETON Sports – LEEF is lightweight and warms with extra insulation at the foot side, to save your feet from getting cold in the chilling nights. This bag is a good option for winters as it contains layers of insulating material and can withstand a temperature of 0°F.
This bag has been appreciated for its rolling back property. It is easy to roll it and put it back in its sack. The bag contains internal pockets to keep your belongings like mobile and wallets safe. With its dimension of 87 x 34 x 3 inches, it ensures full comfort and helps one to have a good sleep. This bag comes in various options and is a good option for hiking, camping, and backpacking. This bag has offset stitching construction which makes no space for cold to get in.
Pros: Anti-snag zippers, layers of extra insulation and its easiness to roll back make it a good backpacking bag.
Cons: People have encountered problems with its zip quality and have felt cold in low temperatures.
8. TETON Sports ALTOS

Material: Synthetic spectrum material and Natural fibers
Degree: 0°F
Weight: 3 lbs. 8 oz.
Shape: Mummy
Recommended use: Camping
TETON Sports – ALTOS is a good choice for those who have broad shoulders and prefer more room for leg area. With its qualities like tear-resistant, soft linen lining and its spectrum S makes it durable and a good sleeping bag. The ALTOS unzips from both up and downside and can be opened and closed easily from both inside and outside. This bag can withstand the chilling temperatures of 0°F and comes with a durable stuff sack to roll it back when not in use, so just starts rolling it back from the bottom side. The extra room in this bag allows the person inside to move his legs and other body parts. This bag is suitable for all seasons and can be used for river sidetracking. It is waterproof but there were incidents when water gets in from parts.
Pros: Comes with extra shoulder and feet room, three-piece hood covers your head and provides good warmth.
Cons: Can feel an unpleasant odor and needs readjustments if feeling cold at night.
9. Hyke and Byke Eolus

Material: 400T Ripstop Nylon
Degree: 0°F or 15°F or 30°F
Weight: 2 lbs. 13.92 oz.
Shape: Mummy
Recommended use: Backpacking
Eolus comes with a lifetime warranty and has good insulating properties. With its natural fiber and synthetic inner linings, it provides good warmth and comfort to the person sleeping inside it. Being launched by a prestigious company that is dealing with outdoor gears for a long, this unisex bag is suitable to be used in temperatures like 0°F. Their durability and tough personality make it a good choice for hiking, camping, and random backpacking. With natural materials and other important inputs, this bag provides good and comfy bedding for families because it comes in a variety of sizes. It can be compressed back to 10" long and 7" in diameter. This bag is ideal for taller persons and provides good room when sleeping, zippers and clothes are of good quality.
Pros: Good compression sacks to roll it back, lightweight, provides good comfort and warmth
Cons: A foul odor as the feathers used are of mixed quality but not a big deal if its warmth is taken into consideration.
10. Hyke and Byke Snowmass

Material: 400T Ripstop Nylon Fabric with horizontally designed baffles
Degree: 0°F or 15°F
Weight: 3 lbs. 12 oz.
Shape: Mummy
Recommended use: Camping
Hyke and Byke – Snowmass is a choice for beginners and even for professional campers and backpackers. It provides good warmth and can be used at 0°F temperature. It comes in various sizes and has an insulating coating over the natural materials, making it sure to provide good comfort and comfy sleep. This down bag has a compressed size of 11 inches in length and 8 inches in width. The manufacturers guarantee a waterproof covering and the features like being lightweight and warm making it a good choice for all four seasons. This bag is highly recommended by people who have used it stating that it is worth buying sleeping for the prices it comes in.
Pros: Good Quality, zippers are strong and skip the danger of getting broke or so.
Cons: Re-stuffing this bag is a big task and may need extra inputs for waterproofing.
11. Slumberjack Borderland

Material: Synthetic
Degree: 0°F
Weight: 4 lbs. 8 oz.
Shape: Mummy
Recommended use: Camping
A zero degree F guaranteed mummy shaped sleeping bag which can be trusted for cold nights. This bag comes with an anti-snag zipper and its trapezoidal foot space makes sure that its sleeper gets complete comfort. This sleeping bag has countered flip over hood and draft tubes which resist heat to get out of it and provides complete warmth for the whole night. This bag comes with a nicely tuned draft tube which prevents cold air to get in the sleeping bag.
Pros: Good for cold nights and chilling temperatures. This sleeping bag can be used for all persons, have good room for feet.
Cons: Bit heavy as compared to other sleeping bags and not waterproof.
12. Browning Camping McKinley

Material: 210T Nylon Diamond Ripstop fabric paired with polyester linen
Degree: 0°F
Weight: 8 lbs. 12 oz.
Shape: Rectangle
Recommended use: Car camping
Browning Camping McKinley is known for providing warmth like any other mummy-shaped bag but with dimensions which are more likely of a rectangle. This sleeping bag has two layers of offset construction to provide insulation from cold spots. Being rectangle in shape, this bag ensures that the sleeper inside gets complete warmth even in lower temperatures along with enough room to make a human body comfortable. Its dimensions are 90 inches by 36 inches and it is most prefers for camping and hunting nights. It has an insulated chest and zipper baffle which make sure that no cold enters it and no warmth left it. It allows a sleeping person to stretch out inside it without facing any cold vibes.
Pros: Its inner material is more comfortable than other bags and can allow a person to stretch inside it. Bag contains enough room in its inside pocket for a flashlight or smartphone and can withstand cold temperatures.
Cons: Its size and weight can make it difficult to carry sometimes.
13. Wenzel Windy Pass

Material: 100% Polyester
Degree: 0°F
Weight: 4 lbs. 4 oz.
Shape: Mummy
Recommended use: Camping
This sleeping bag comes with a dimension of 84 x 33 in and has a filling of 56 oz of non-allergenic Omega II which makes it comfortable for people who have allergy with feathers. With its offset quilt construction, the inside warmth gets captured with no scope of leakage. This bag contains extra-warm features like the hooded top, tapered base and 2-way coil zipper which helps it to withstand lower temperatures and gives full comfort to his sleeper.
Pros: Opt for camping and sleeping in tents, provides great warmth and comfort.
Cons: Being a non-waterproof bag, it is not to be taken for riverside camping.
Best Zero Degree Sleeping Bags: Comparison Table
Tips to Purchase the Best Zero Degree Sleeping Bag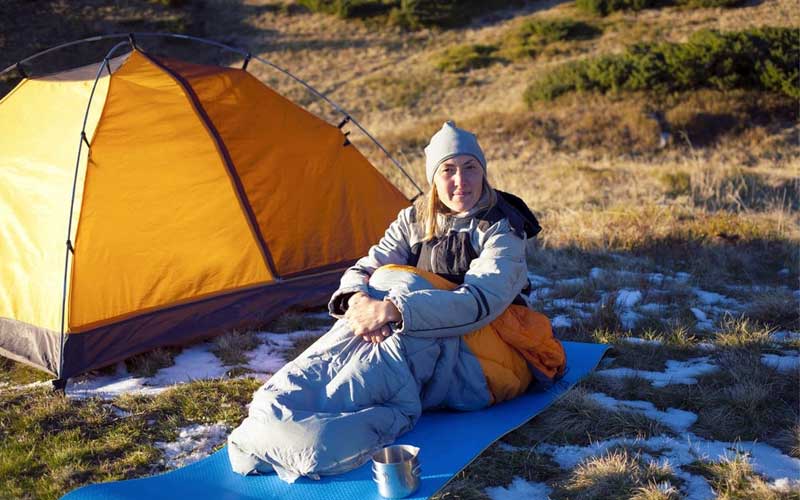 These are our top picks which should be considered for your next winter camping or hiking adventure. Sleeping bags are subject to one's comfort and should be bought after researching well, as investing your money in something which is not good enough or is not what you are looking for is not a good idea. One can buy, either from online stores or by the retail market. If you are confused and thinking which bag should be good then here are some tips for choosing the right bag for your needs.
Whether
The very first thing to take in your consideration before buying is the weather you are camping or hiking in. These bags come in different shapes and temperature ratings, each one of them opts for a particular season or weather like for example mummy shaped bags are good for the winter season, 3 season bags have varied temperature ranges. It is suggested to check the temperature tag before buying. If you are camping in winter or cold area then mummy-shaped bags that can withstand the temperature of 0°F and lower should get choose.
Warmth
This is the key attribute of a sleeping bag and should be checked smartly if a bag is not warm enough then it is not good to invest in it. If a person is not feeling comfortable and warm while sleeping in a bag then are high chances that the person will wake tired and dizzy. Warmth should be checked by the tags or user manuals that come with them or if possible try to take a demo in it. Sleeping bags come with different features to ensure complete warmness and a bag needs to be warm enough.
Insulation
Well, if a bag is ensured warmth then the second thing which you need to ask them is its insulation. Imagine you are tired from day time activities and now are heading for a comfortable sleep, you step in zipping your sleeping bag and after sometimes feels that the warmth inside it is getting exchanged with outside cold. There are two types of fills that a bag contains for insulation, synthetic fill and down fill. Both of them have different workings and different properties. Down insulations are good but can't be trusted in a wet environment whereas synthetic fills are reasonably dry and can be used for wet seasons. However, their frequency of insulation may vary according to their weight and size.
Weight
There are many sleeping bags available in the market which comes in different weights. Generally, people like to go for lightly weighted bags as they are easy to carry and provides less burden on a camping or hiking person. Well, looking for a lightweight bag is a great thing but one cannot choose the ultra-light without noticing its other features as a light bag will be of no use if it cannot provide enough warmth to its sleeper. So consider all other things then choose a bag. If you are camping and traveling by your car then going for a bit heavy sleeping bag with more qualities will not make a difference in your vehicle.
Waterproofing
Camping at the banks of a river or a waterfall site sounds amazing and is most opt places for doing so. Well, just make sure that your bag can restrict the entry of water when you sleep as if it will not then you may feel cold and surely you'll not able to sleep in a wet bag. Waterproof bags are mostly built of synthetic nylon with synthetic fill and are to choose if your camping site receives frequent rains. Also, they will keep you dry even if you spill your drinking bottle on it. Generally, synthetic bags are waterproof.
Size
It is another crucial aspect which should be checked before buying. These bags come in various sizes and shapes and one has to choose wisely as per his needs. For example, if a person is comfortable sleeping in a fixed position then mummy shaped bags are good whereas if someone, like to stretch his body at night or while sleeping then rectangular shaped sleeping bags, are the right choice for them. Also, if your camping team has a tall or extra tall person in it then make sure about the length and width should match their dimensions. Proper sleep ensures the next day to be spent with full energy.
Durability and Sturdiness
A good bag should be stable enough to be used again and again. Always go for durability and sturdiness, especially if you go for regular camping. If buying online make sure that you check about its sturdiness and durability. Many bags get lumped and tear when rolled and transported, this should not happen in your case so always choose a bag that guarantees good and long-lasting durability. Sleeping bags should contain qualities like withstanding rugged environments and can face weary and teary situations.
Other Aspects
These tips are sufficient to make you get in a good deal however, there are some other aspects which if taken care of while buying a sleeping bag are as follows:
Zipper: Make sure that your bag has good quality zippers that do not break and stuck in between.
Hold Strings: They should work like the way they supposed to when stretched they should close the bag.
Neck Collar: If your bag has a neck collar, make sure it is not too hard and should support your neck while sleeping.
Pocket: An inside pocket in your sleeping bag will be helpful or you to keep necessary belongings like a pill or mobile.