Are you preparing for a hiking trip and not sure where to start? Don't worry, we've rounded up a list of top 20 best hikes in the US where you can hike for a big adventure. In the United States, there are plenty of options available for hikes across the country. There are 59 national parks, 154 national forests, and more than 10,000 state parks. So, it's no problem to find a hike with views that are sure to score likes on your Instagram. Depending on where you go, you see waterfalls and lakes, canyons and gorges, animals and wildflowers of all varieties, or trees so tall they seem to scrape the sky.
So these are the top 20 best hikes in the US. Use them as inspiration for your next hiking trip.
1. South Kaibab Trail
Location: Grand Canyon National Park, AZ
Difficulty: Moderate to strenuous
Distance: 3.1 miles
When to go: March to November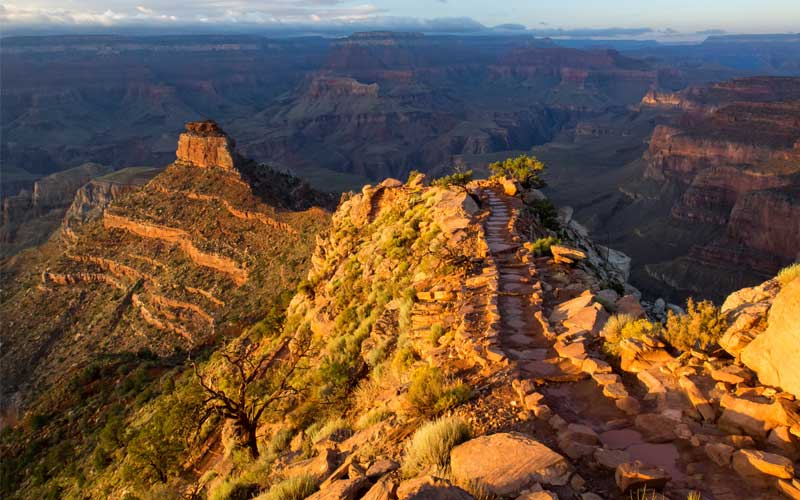 South Kaibab Trail to Cedar Ridge is a 3.1-mile challenging trail. The Trail begins south of Yaki Point on Yaki Point Road. Day hike to the mule hitching post at Cedar Ridge is 3.1 miles (round trip). The views are exceptional and the trail is very well managed. The trail isn't for the faint of heart: hikers are advised to bring at least two quarts of water along because it can get very hot and the trail offers no shade. We recommend you to hike down to Ooh Ah Point and then down to Cedar Ridge it'll take 20 minutes extra but worth every bit.
Do not underestimate the difficulty of this hike; remember there's no water on this trail so you must bring all you need. But if you plan for it and know your limitations, it will be a wonderful hike.
2.  Mist Trail
Location: Yosemite National Park, CA
Difficulty: Moderate to strenuous
Distance: 3 miles round trip to Vernal Fall and 7 miles round trip to Nevada Fall
When to go: April to July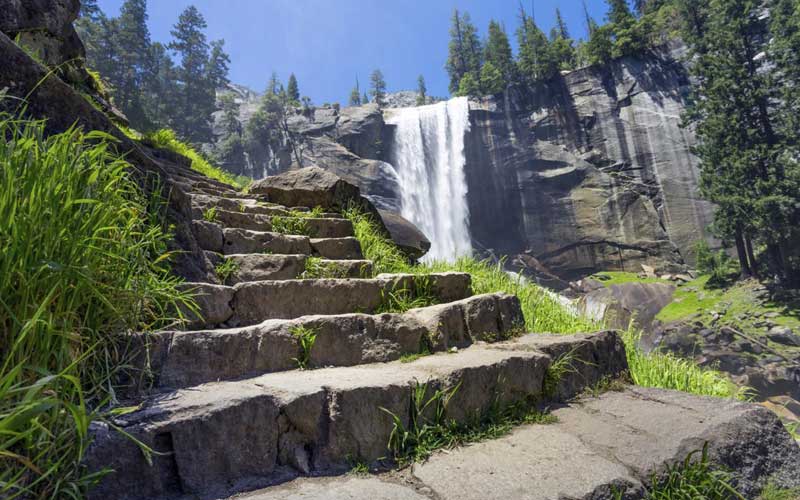 Mist Trail is a wonderful hike which offers spectacular waterfalls, looming peaks, awesome valleys, shady pine forests. Even in August, the falls are still running.
The route is fairly strenuous, there is quite a bit elevation and the trail is pretty natural, so a certain degree of fitness is required. If you're worried about coming back down due to the slope, there is an easier though longer route back on the John Muir Trail.
The Mist Trail features fantastic views across the park. The bottom half is pretty easy going, it starts to get difficult on the last 1 mile to the top of Nevada Falls.
If you're fairly fit, you can also hike to the top of Vernal Falls. It's somewhat challenging but pretty awesome. You'll it because it is strenuous and beautiful.
3.  Jenny Lake Trail
Location: Grand Tetons National Park, WY
Difficulty: Easy to moderate
Distance: 7.7 miles
When to go: June to October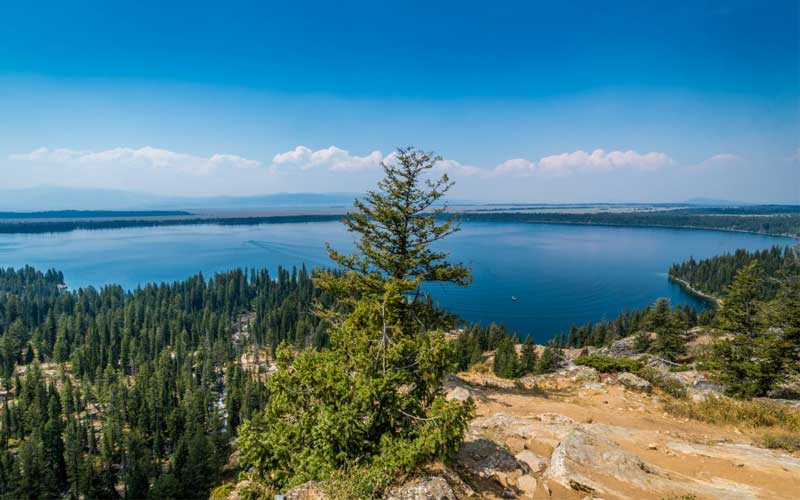 Jenny Lake is the heart of Grand Tetons National Park. It's the most beautiful and popular hike in the Grand Tetons National Park. It's an easy hike at the start along Jenny Lake then moderate. This hike is great for people who are looking for a little adventure without being too strenuous. There are some areas that gain and lose some elevation, some areas that are slightly exposed, but overall this hike can easily be done in a morning or afternoon in simple hiking boots. Nothing is really hard. Take the boat to the trail and back again to reduce miles hiked. The view is great for little effort and the boat ride is fun. The scenery and views of Jenny Lake are stunning. One cannot take their eyes off the lake and the mountains framing it in the background. Absolutely stunning! Do it! You will not regret it.
4. Canyon Overlook Trail
Location: Zion National Park, UT
Difficulty: Easy to moderate
Distance: 1-mile round trip
When to go: Year-round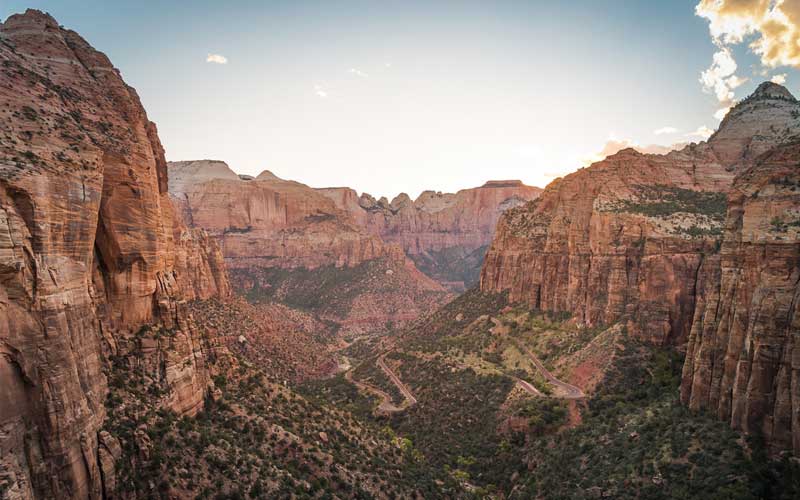 If you are looking for a high elevation viewpoint in Zion National Park but you don't want to tackle a strenuous and grueling trail like Observation Point, then the Canyon Overlook Trail is just what you are looking for. Canyon Overlook Trail is a rather short hike of length about one mile and requiring roughly an hour of hiking time. The trail starts from a parking lot just east of the Zion Park Tunnel. The trailhead is located behind the ranger traffic booth on the north side of the road. Beware if you are afraid of heights. The views along the trail and at the end are spectacular.
The hike starts with a climb up some fairly steep but well cut out stairs in the rock. The trail ends at an overlook that defies words. It actually rivals Observation Point somewhat even though you're looking at a different valley. Just beautiful!
5. Highline Trail
Location: Glacier National Park, MT
Difficulty: Hard
Distance: 28.4 miles
When to go: April to October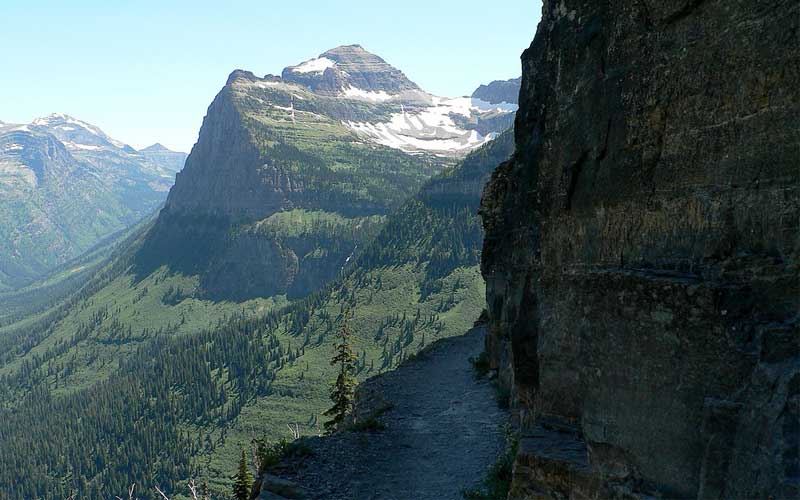 Highline Trail is the best trail in the Park for an average hiker. It starts from the north side of the Going-to-the-Sun Road at Logan Pass and stays pretty level at least to Granite Chalet. The best way to do this is to hike onto Haystack Butte; views of Lake McDonald Valley are brilliant. The hike is very popular. At every step and turn you'll see absolutely spectacular scenery as the Highline follows along the Continental Divide, also known as the Garden Wall in this area. There're exceptionally beautiful views and excellent opportunities for spotting wildlife. The great scenery, wildlife, and wildflowers all combine to make this a hike you'll remember the rest of your life.
If you're planning on visiting Glacier National Park, you should do this hike. You don't need to be a mountaineer to do it, just make sure you are in shape enough to walk 12 miles and you can do it! The reward is unparalleled!
6. Cascade Canyon Trail
Location: Grand Teton National Park, WY
Difficulty: Moderate
Distance: 9 miles
When to go: April to September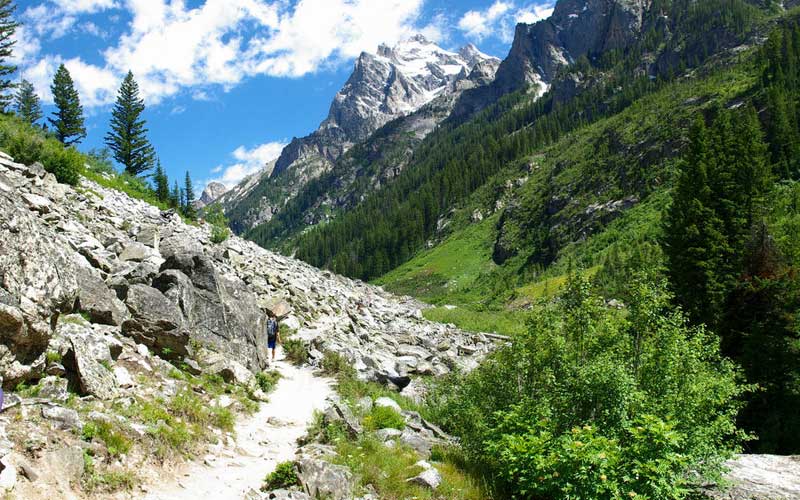 The beauty of the Cascade Canyon Trail is spectacular. From the very opening into the canyon to the forks, and back again, you'll enjoy the panoramic views all around you. Few places in the world can match the pristine wilderness beauty that is there. Majority of the trail is relatively flat once you reach the canyon but the beginning could be brutal for even an experienced hiker. This makes this trail a perfect way to experience the Teton Mountains for just about any level of hiker.
Jenny Lake Trailhead is the beginning to hike the Forks of Cascade Canyon. To reach the trailhead turn west off Teton Park Road at the South Jenny Lake Junction, located roughly 7.7 miles north of Moose Junction. From there, drive another half-mile to the boat dock parking area. You can either take the Jenny Lake Trail around the south end of Jenny Lake or the shuttle boat across the lake to the Cascade Canyon Trailhead.
7. Awa'awapuhi Trail
Location: Koke'e State Park, Kekaha, Kauai, HI
Difficulty: Moderate to strenuous
Distance: 6.7 miles
When to go: June to August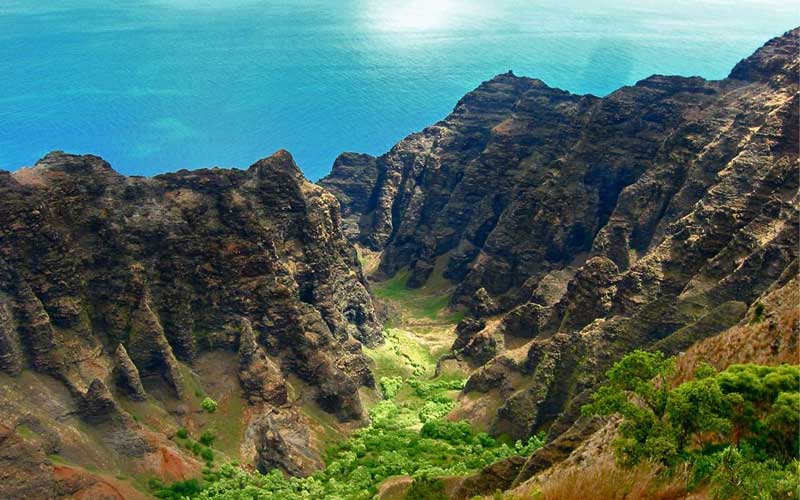 Awa'awapuhi Trail is 3.3 miles (one way) well-marked hike descends 1,200 feet to a truly amazing vista of the cathedrals of the Na Pali Coast. There are only a handful of views in the world that can hang with this place, it's truly mind-blowing how small you feel! We recommend you do this on a sunny day because if there's cloud cover there is absolutely no point in making it to the end. Aside from the final view, this hike doesn't offer much else.
Bring a lot of water and choose proper hiking boots. There is a parking lot at the trailhead and it's well-marked. The trail down to the lookout is reasonably easy-medium on the cardio, but walking back is tough on the body. There are lots of roots and rocks, so be careful to not roll an ankle. Bring a small lunch to soak up the views at the end for a while.
8. Mooney Falls Trail
Location: Grand Canyon National Park, AZ
Difficulty: Moderate
Distance: 21.6 miles
When to go: March to May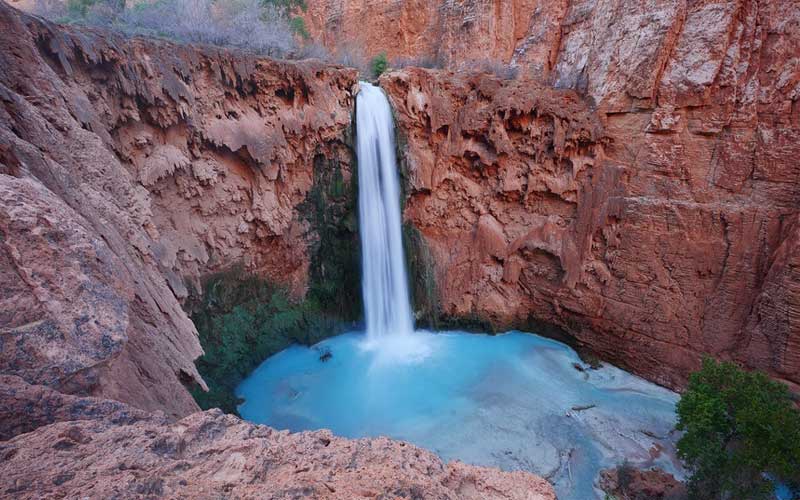 If you're looking for the most beautiful and amazing scenery, this trail is for you! Mooney Falls, in Havasupai Indian Reservation, which is found in the Grand Canyon, is the tallest of the five waterfalls of Havasupai Waterfalls. It's over 200 feet high, taller than Niagara and is very impressive to see! The color of water, the height, and the overall adventurous hike down will make it your favorite waterfall. There are some great pools and smaller waterfalls to explore, so don't forget to bring your water shoes with you!
The hiking down is not recommended for people who are afraid of height and for children, the hike down ladder is very scary and you should be strong, fairly flexible and not afraid of heights. Since you climb down chains and ladders that anyone can get severely injured if they fell. If hiking down, just take your time and be safe. It is a very long way to a hospital.
9. Precipice Trail
Location: Bar Harbor, Acadia National Park, ME
Difficulty: Hard
Distance: 1.4 miles
When to go: June to November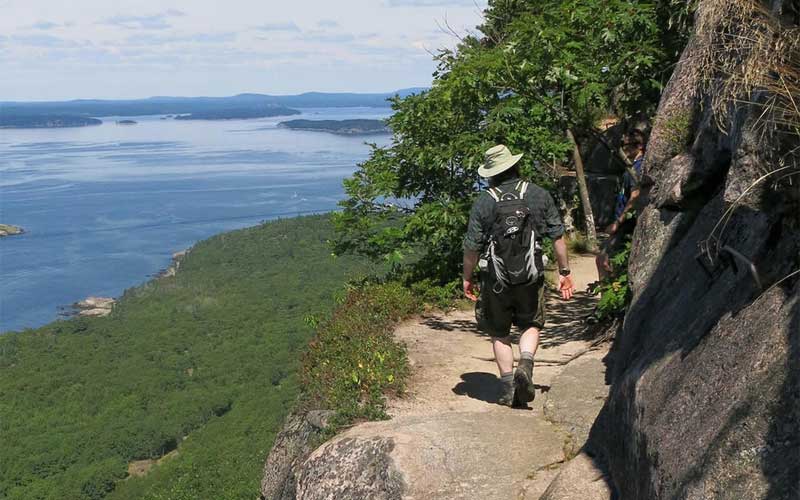 If you're not afraid of heights, this is the trail for you! But this should not be your first hike and if you are scared of heights then do not climb this trail. Try another simpler trail instead. We recommend you do your basic safety research before attempting this hike.
Precipice Trail could be the most dangerous hike of Acadia but is the worth view. It's more of a rock climb than a simple hike. Experienced hikers will say it's something you need to experience yourself because views of the ocean from the mountains of the Northeast are special, and you get some really nice views of the lake and sea. It's a rather short hike, but there's a bit of a rock scramble in the beginning so be prepared for that. You'll enjoy this hike if you're an experienced and love climbing. Precipice is a thrilling hike, obviously not for the faint heart. Hike smart, be safe and enjoy!
10. Harding Icefield Trail
Location: Kenai Fjords National Park, AK
Difficulty: Moderate to strenuous
Distance: 9.7 miles
When to go: August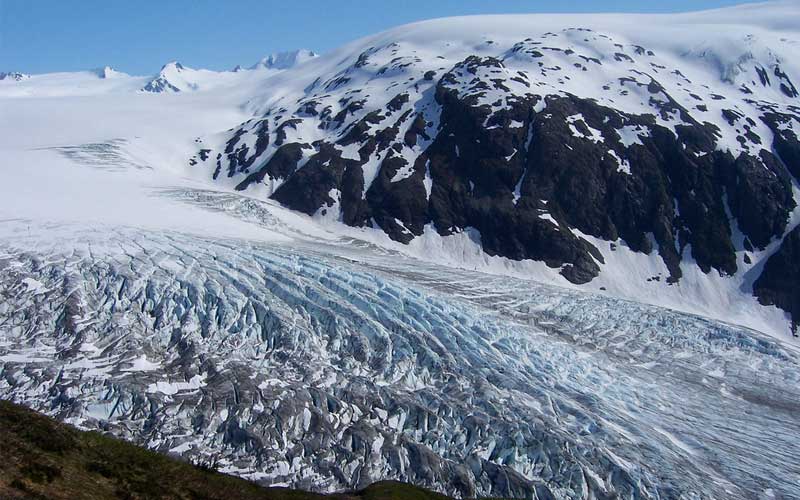 Harding Icefield is a strenuous but rewarding hike; the view is breathtaking and a very popular trail in the area. The hike is almost 10 miles round trip and 3400 feet elevation gain. You gain about 1000 feet with every mile until you reach the ice field. If you are a good hiker and fairly fit, then you must do this hike. It's one of the most spectacular hikes, but you do have to work for the view. Best view at the top, keep the momentum going as you climb higher and higher! There is quite a lot of ascent, but even if you don't get right to the top (which you should it's worth it) there are fine views all the way up.
The hike is not very technical and not particularly dangerous but we recommend clothing in layers and bringing a few water bottles and trekking poles as these will be your friend as you go up and down the steep slopes. There're plenty of places to stop and look for bears and marmots!
11. Eagle Falls Trail
Location: Cumberland Falls State Park, McCreary County, KY
Difficulty: Moderate
Distance: 1.9 miles
When to go: September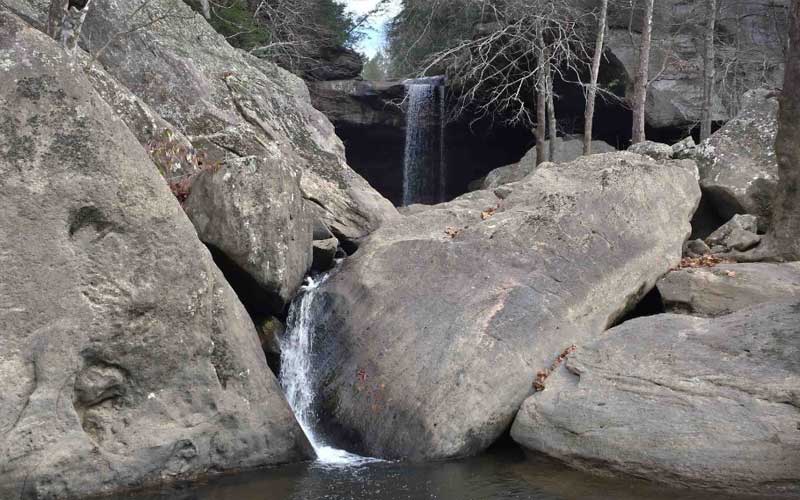 Eagle Falls is a relatively short hike with great views. You see rock formation, creeks, views of the Cumberland River, and it leads to Eagle Falls – a lovely waterfall in a quiet area next to the river. But to get the best views, you have to climb over large rocks but it's worth it.
There are great photo ops along the whole trail and if you're trying to photograph the falls at night, turn your camera flash off because it doesn't help your photo at all, and really ruins it for those trying to use higher-quality equipment that requires long shutter openings.
The trailhead parking size is not enough, not many cars fit there on a busy weekend.
Overall, Eagle Falls is a nice, well-marked and maintained trail to go hiking and we do recommend this trail if you're looking for a quiet place to get away for a short time and enjoy nature.
12.  John Muir Trail
Location: Yosemite + Central Sierra, CA
Difficulty: Moderate
Distance: 211 miles
When to go: Early July to mid-September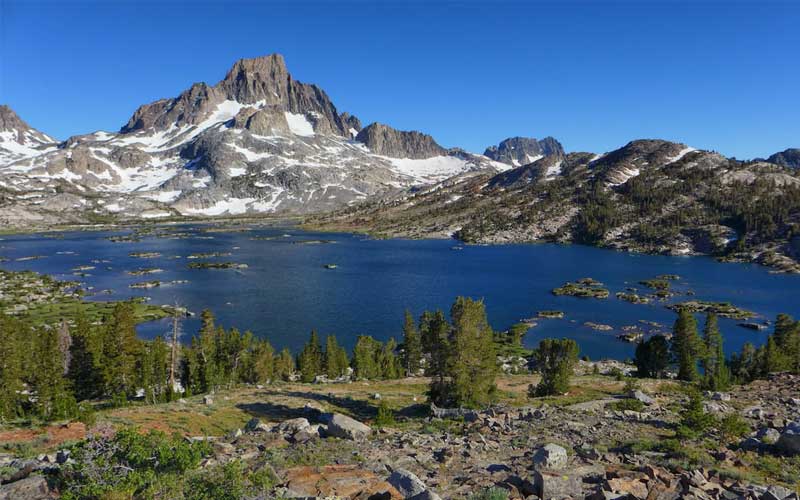 John Muir Trail is a long hiking trail in the Sierra Nevada Mountains that extends from Yosemite. The trail requires a significant amount of planning and training. It'll take about three to four weeks to cover the entire thru-hike. Hiking the JMT requires a permit, assuming you start at the north end; they need to be requested exactly six months prior to your start date.
The John Muir Trail features some of the great mountains in the world, from stunning, glacier-chiseled Yosemite, to the jagged spires of the Minarets, to the highest mountain peak in the contiguous United States.
If you're a beginner hiker, don't make this hike your first backpack trip. Get your footwear, backpack and sleep system (like sleeping pads and sleeping bags) figured out well before you go.
Thank God for your time in this very special place. Inhale all the beauty you encounter. Try to share what you've learned when you return to civilization.
13. Rose River Trail
Location: Shenandoah National Park, VA
Difficulty: Easy to moderate
Distance: 3.7 miles loop
When to go: Spring, summer, and fall weekends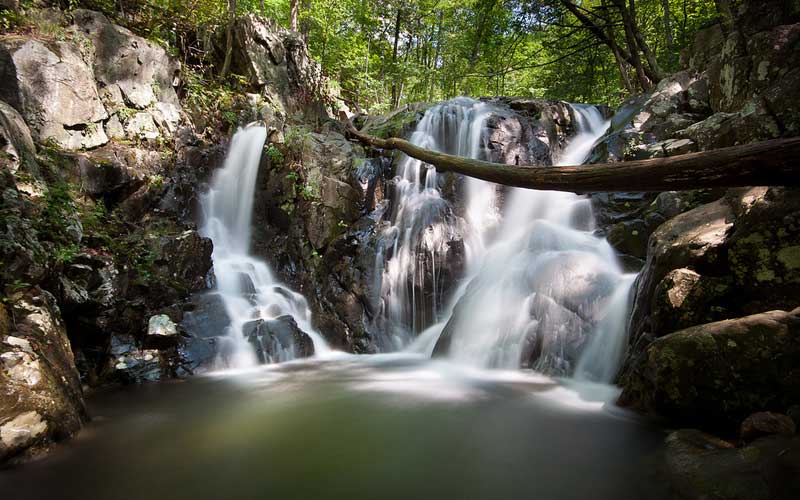 Rose River is the most beautiful hike in the Shenandoah National Park for streams and waterfalls. You'll mostly hike along the Rose River, the Hog Camp Branch, and finally up the Rose River fire road.
Rose River Trail features two main waterfalls i.e. the smaller Rose River Falls and the tall multi-tiered Dark Hollow Falls. The true highlight of the hike is the portion of the trail that runs between the two falls along Hog Camp Branch.
It has awesome views of running water throughout the trail. Rose River Falls itself is very beautiful and you can even swim in the pool below the falls on a hot day, and remember to bring lots of water to drink also, especially in warmer months. Take your time and enjoy the falls as the uphill hike will challenge you.
Rose River Trail is a very popular hike. You'll probably encounter a number of hikers. To avoid the crowd, I'd encourage you to go early or late in the day during spring, summer, or fall weekends, or come on a weekday or winter.
14. Quechee Gorge Dewey Pond Trail
Location: Quechee State Park, VT
Difficulty: Easy
Distance: 1.4 miles
When to go: April to November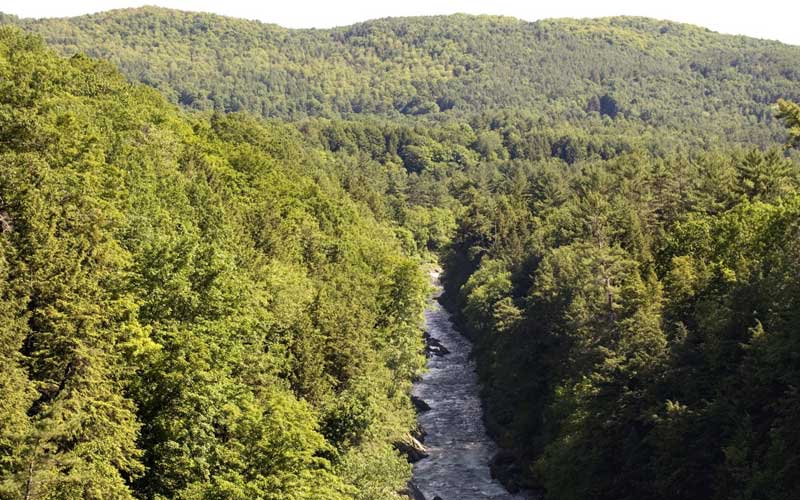 Quechee Gorge Dewey Pond Trail is also known as "Vermont's Little Grand Canyon", very beautiful, great views and easy to reach. It's a beginner's lever hike that's well suited for families, pet owners, and photography. The closeness to traffic is a bit scary, so beware of the busy road as you want to see either side of the bridge looking down on the Gorge. If you're not a hiker or fit very well, you can see the Gorge from the bridge which goes across it. There is also a Gift Shop and it has a big car park. You can also get sandwiches, salad, and burgers form the Gift Shop.
Quechee Gorge Dewey Pond Trail is the main attraction of Quechee State Park. Hundreds of thousands of visitors stop each year to take in the breath-taking views, negotiating hiking trails along both sides of the gorge.
15. Tall Trees Grove Trail
Location: Redwood National Park, CA
Difficulty: Easy
Distance: 3.3 miles
When to go: March to October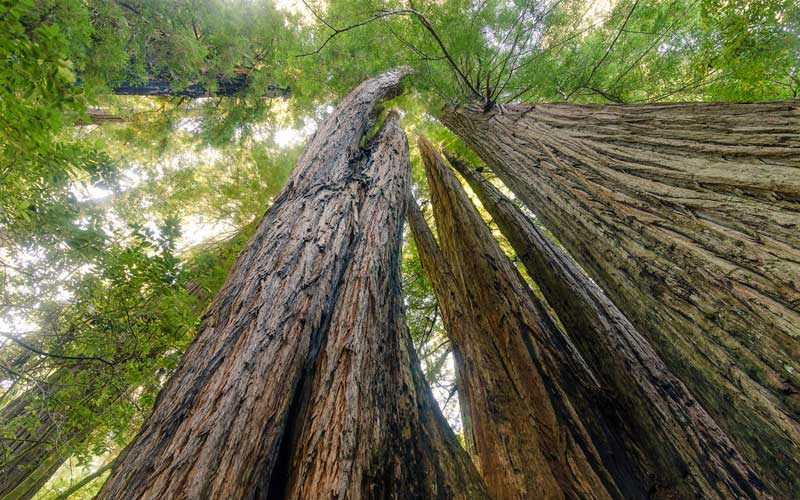 The hike to Tall Trees Grove Trail is one of the best and easy hikes in California. Coast Redwood, some of the tallest trees in the world, of the species Sequoia sempervirens, grows here. Many of the trees in this grove stand well over 350 feet and are so high you can't even see the top. The number and size of the redwoods are truly awesome. A tremendous variety of single trunks, multiple trees from burl sprouts, burned out hulks, deadfalls and hang-ups (safe to go under). Absolutely magical small groves throughout, but the riverbank grove is just magical. The trees are beyond huge and go up forever.
To protect the grove, limited numbers of cars are allowed per day, and permits must be obtained by one of the local National Park centers off US 101. You need a permit and lock code for the gate and road to the trailhead. The trail through the trees is about 3 and a half miles easy-to-moderate downs and ups (more down on the way out, more up on the way back. 800 to 1000 ft. total change. Nothing is really strenuous. A few wet spots and passage under and through some trees. Not paved, but generally very clear trails.
16. Ozette Triangle Trail
Location: Olympic National Park, WA
Difficulty: Moderate
Distance: 8.6 miles loop
When to go: Late July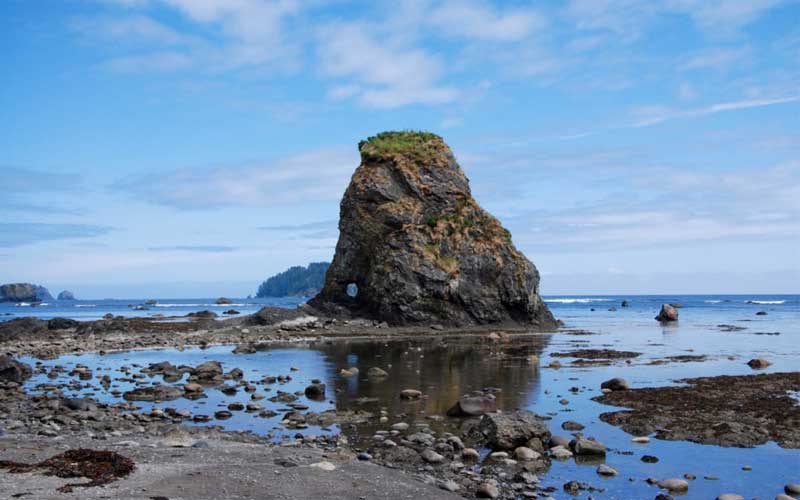 Ozette Triangle Trail also knows as "Ozette Loop Trail", and it's shaped like an equilateral triangle with the parking lot at its apex. Two sides of the triangle are trails through the woods out to the coast, and the third side where the campsites are is along the coast. If you don't prefer to complete the triangle, just hike 3 miles to the beach, and spend time enjoying the tide pools! They are the best of the west side of the Olympic Peninsula!
Ozette Triangle Trail is not a difficult hike. Be prepared to hike around a lot of large trees that have fallen onto the beach, the rocks are slippery and you have to pay attention to the tides.
If you are looking for an interesting and somewhat challenging beach hike, the Ozette Loop is a great experience for all ages and all levels of hiking experience.
17.  Cadillac Mountain North Ridge Trail
Location: Bar Harbor, Acadia National Park, ME
Difficulty: Moderate to strenuous
Distance: 4 miles
When to go: June to November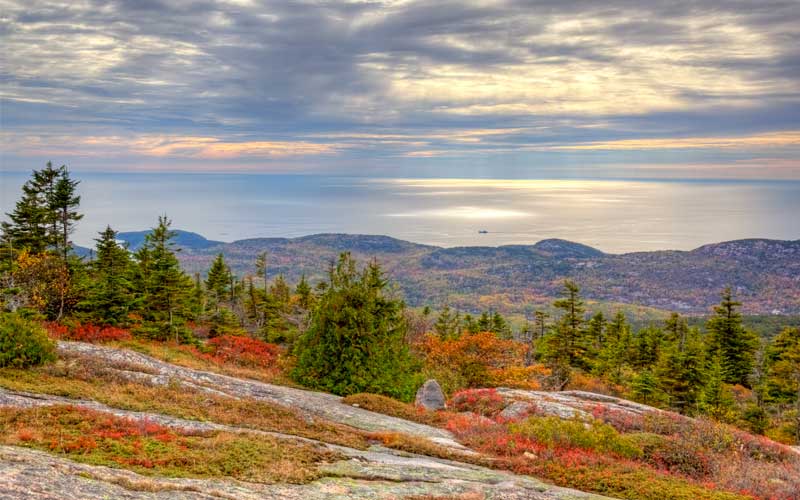 If you go to Acadia National Park and don't go to Cadillac Mountain, you've missed one of the great treasures of the continent. The view from the Mountain is breathtaking and absolutely stunning. Cadillac Mountain North Ridge Trail is moderately challenging with a gradual ascent. The trail is rocky in spots so be sure to wear appropriate footwear.
You can either hike to the summit or drive up. If you drive up to the summit of Cadillac Mountain, make sure you stop and walk the Cadillac Mountain Trail! This option is good for those who cannot walk long distances. The views are absolutely spectacular, and on a clear day, you can literally see for miles! One thing to be careful of, it gets really windy up there, so be careful with that. There is also a nice little gift shop and restroom facilities at the top. The parking at the trailhead is limited and fills up quick, but you can take the shuttle from the visitor center and the trail is the first stop.
18. Rubicon Trail
Location: D.L. Bliss and Emerald Bay State Parks, South Lake Tahoe, CA
Difficulty: Moderate
Distance: 11.9 miles
When to go: March to September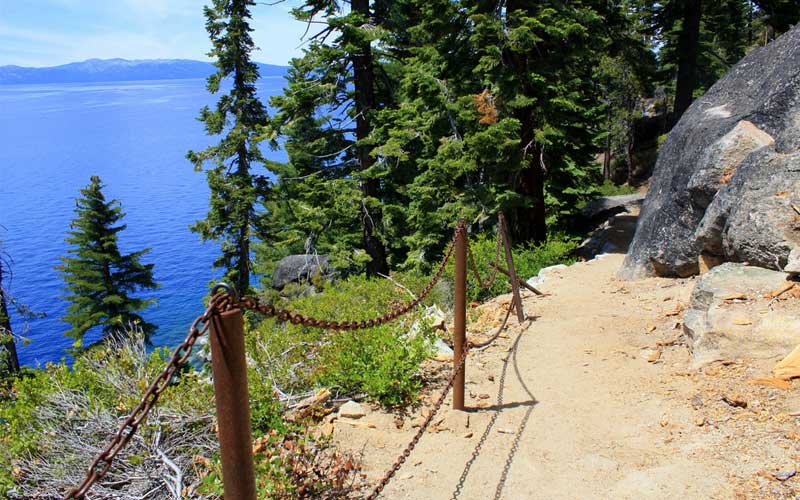 Rubicon Trail is a well-marked trail and the trail is pretty easy to follow except around the campground and near Vikingsholm. The views over the lake are amazing and attractive, although parts of the trail traverse wooded areas away from the shoreline. There're more elevation gain and loss than expected for a lakeshore route, and the entire in and out trip from the State Park to Lower Eagle Falls and back is nearly 11 miles. The miles walk up from Vikingsholm to the parking lot is a trudge up an access road, in full sun for the most part.
All in all, the Rubicon is a worthwhile hike and affords nice lake views and varied options if you don't wish to do the entire round trip. You just need to be aware of your options and plan accordingly.
19. Hoh River Trail
Location: Olympic National Park, WA
Difficulty: Easy to moderate
Distance: 32.8 miles
When to go: Mid-June to early September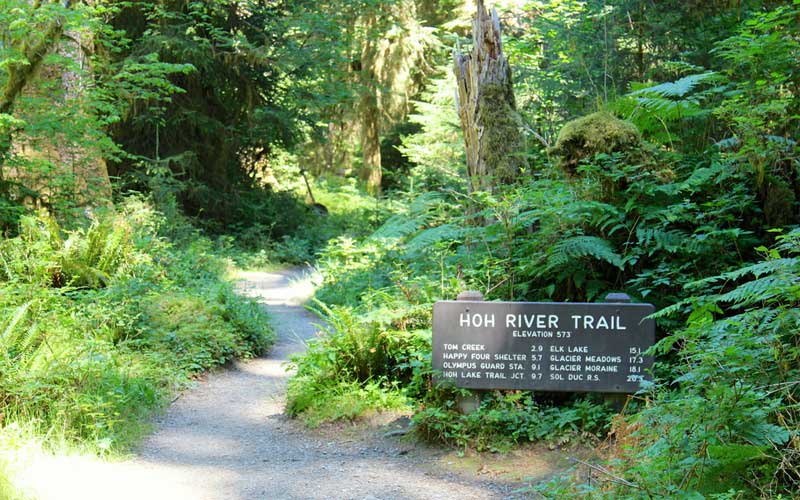 Hoh River Trail is situated on the western edge of the Olympic National Park. This trail is suitable for all levels of hikers and well maintained. There's little elevation gain in the first twelve miles it isn't the problem. There're an ample amount of opportunities to take great photos so keep your camera at the ready.
When you cross the Hoh River, the trail just goes and all the way to Glacier Meadows and it also becomes narrower as it continues. Before Glacier Meadows, there is a ravine and to cross it you will need to use a cable ladder going down and then climb up through rock field to the trail. On the other side, the trail is not well-marked but there is backpackers' "game trail" to follow. From there it's literally just a few minutes to Glacier Meadow. There's another short hike to the glacier's lateral moraine or terminal moraine. I think lateral moraine offers much better views but both were worth the hike.
20. Templeton Trail
Location: Coconino National Forest, AZ
Difficulty: Easy
Distance: 7.1 miles
When to go: June to August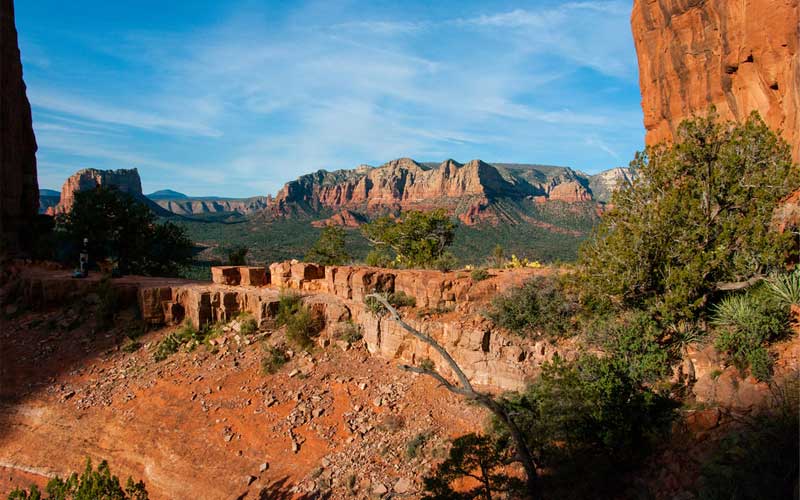 Templeton Trail at Cathedral Rock is an easy and relatively short trail which offers beautiful and stunning red rock scenery. Most hikers climb the challenging Cathedral Rock formation but the Templeton Trail remains a nice little hidden gem which sees very little foot traffic. The hike along the trail is a relaxing trek into nature, rather than stressful.
You can start your journey at journey at the Cathedral Rock trailhead, a slightly uphill 0.4 mile or so trek will take you up close to this majestic rock formation, which happens to be one of 4 vortex sites in Sedona.
Also, a short walk downhill will eventually lead you to a little hidden, calm section of Oak Creek. There are great photos ops so take a few great photos, relax, or dip your feet into the creek for the ultimate cool down on a hot summer's day. Enjoy the quiet time and peaceful red rock scenery without the hefty crowds!
So these are the top 20 best hikes in the US. We hope that you'll find these useful and will help your first hike memorable and enjoyable! Where will you go? Leave a comment to share your ideas; we'd love to hear them!