We use affiliate links and may receive a small commission on purchases.
Learn more
For beginners, overnight backpacking is a milestone to be achieved in their outdoor lives. Of course, staying a night away from your home in unfamiliar territory and facing the problems of that on your own is essential to be called an "outdoor adventurer" as a start.
Besides, overnight backpacking can be a great experience as it takes you away from the loud noises, the bright night lights and the polluted air of the city. It revitalizes your body through tough activities, exposes you fresh air and helps you regulate your sleep cycles; all being essential for your health. It can be frightening for beginners. The most common mistake beginners make is that they overpack. A heavyweight backpack is a killer for a good backpacking experience. The problem becomes even worse when they find out that even after all that weight, they have forgotten something useful.
So the first challenge that a first timer must face is that they must stay as lightweight as possible and still cover all they need i.e. carry only the essentials. So here is a checklist for an overnight backpacking trip.
1. Boots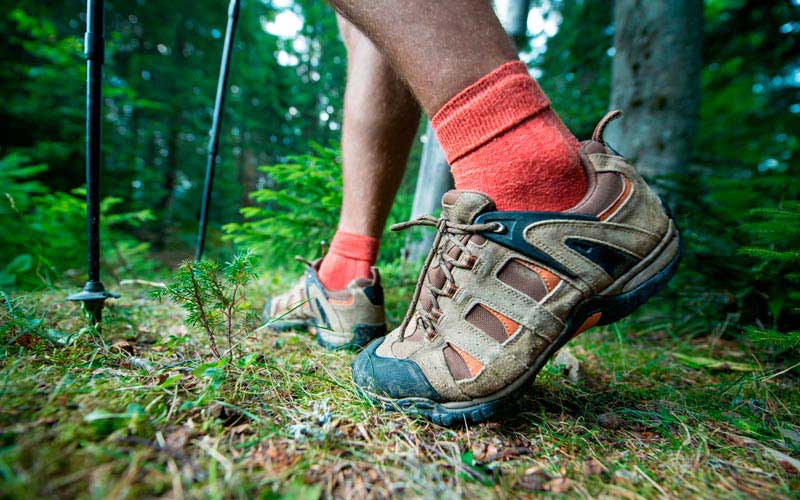 Boots are the foundations of your backpacking trip. Bad boots can ruin the whole trip. So choose carefully here. Choosing your boots depends on what kind of terrain you will be walking on and for how long.
For a simple trail, you can use La Sportiva Mid GTX Hiking Boots. But if you are going through some rough terrain, our recommendation would be Asolo Fugitive Gore-Tex Boots. They can handle almost anything they step on. If you have mountains to climb, then La Sportiva Spantik will do the job.
2. Backpack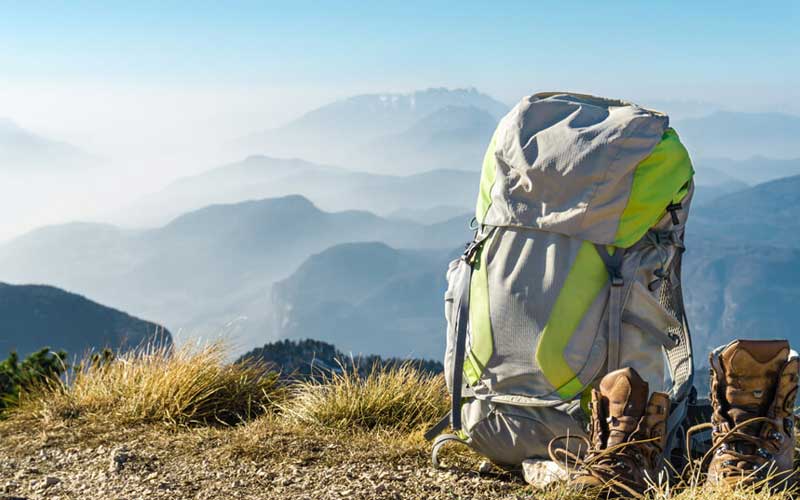 The size of your backpack depends on the time duration of your hike and also on how prepared you want to go; either you go fully prepared like heavy first aid kits or just pack the essentials. There are a lot of options on the market like Osprey, Gregory, Granite Gear, etc. Gregory Baltoro is a good option as it has enough capacity and a rigid frame while weighing just around 4lb. It is comfortable and can be used in all types of hikes.
3. Tent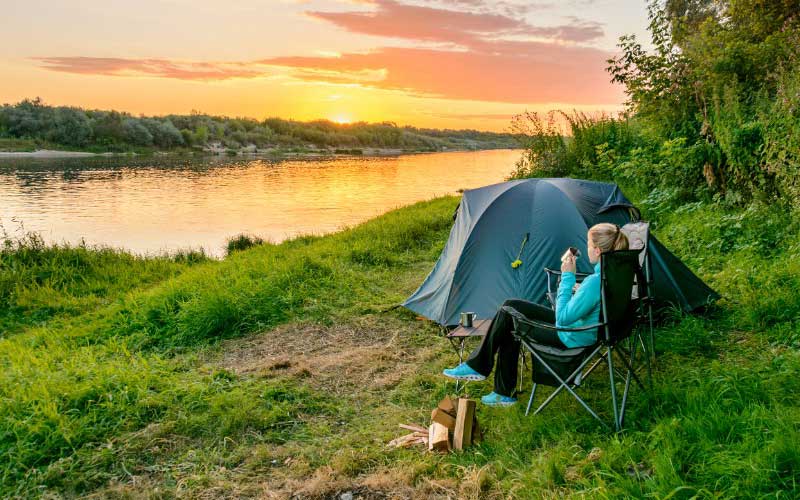 Camping tents are essential when going on an overnight trip. The type of tent depends on what kind of environment you will be going and what kind of weather you will be facing and space that you want for yourself. The weight of the tent also matters as you don't want to carry too much weight.
Nemo Hornet Ultralight Backpacking Tent is a great option as it is just around 2lb and provides adequate weather protection. However, if you are going for someplace with more rough weather like mountaintops, for example, then ALPS Mountaineering Lynx 2 is the option for you.
4. Sleeping Bags and Pads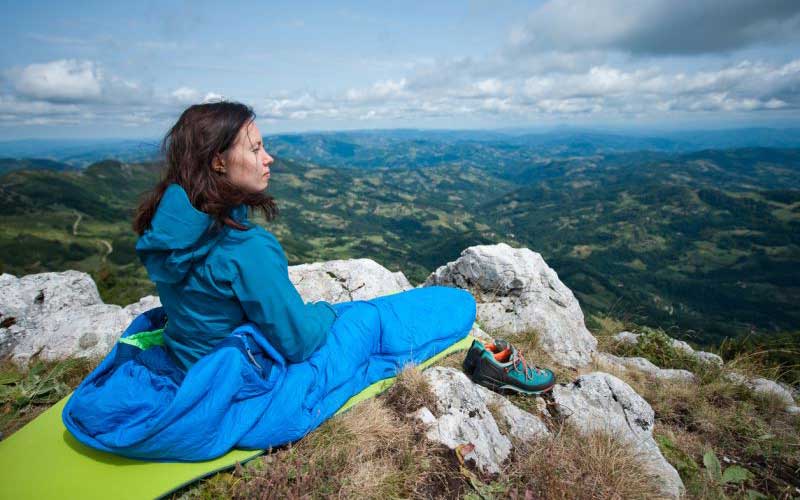 Sleeping bags are required to keep you warm through the night and ensure comfortable rest throughout the night. But sleeping bags alone are not enough to keep you insulated.
You would still need a sleeping pad to keep you properly insulated.
The higher the R-value of the two, the higher the insulation they provide. When choosing a pad and a bag, there are no recommendations as it really comes down to what kind of weather you are going to deal with, and so, you must choose the both with the right R-value, otherwise, you might too warm or might not be warm at all.
5. Socks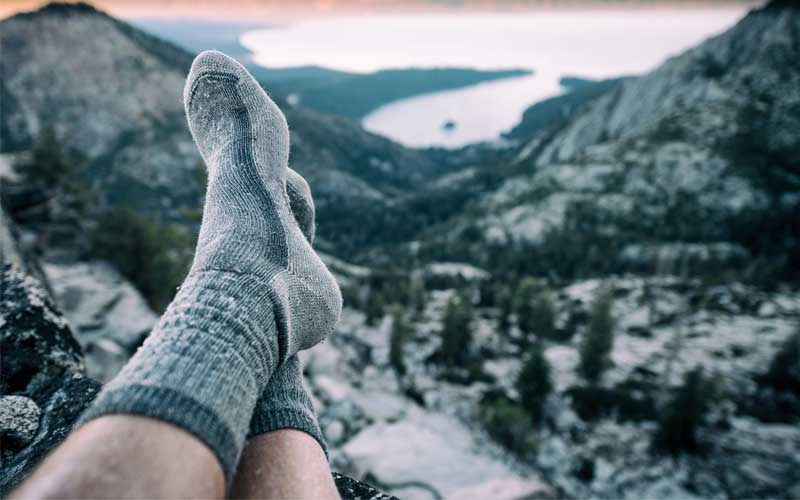 At first, hiking socks seem expensive. But they developed specifically for this purpose. The normal cotton socks that you wear to work just won't work in the rough terrain of the wilds. A lot of things matter while choosing your socks, e.g. height of socks, material and cushioning. Smartwool and Darn Tough are the recommended brands here which will provide you with adequate protection.
6. Water Bottles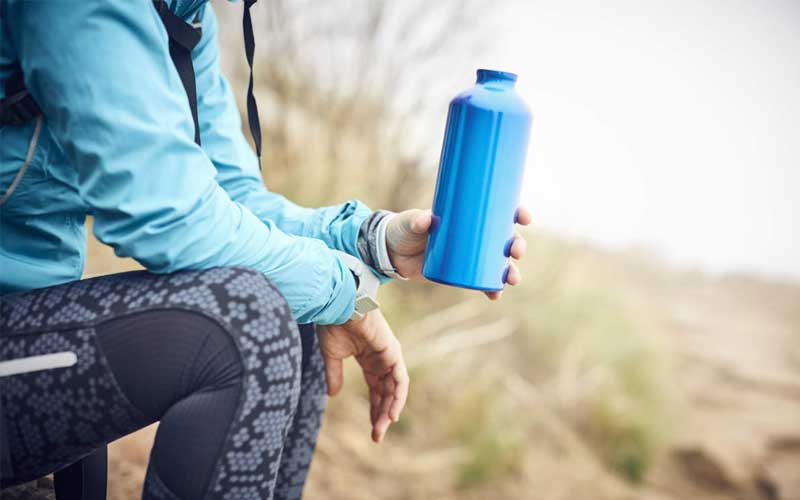 Staying hydrated throughout the hike is very important and so you must make proper arrangements to stay hydrated. The volume of water that you would need depends on the weather. But still, you should have ample water storage with you at all time.
We prefer water bladders over water bottles because they don't take a fixed amount of space. And they can hold a large volume of water which is necessary during an overnight trip.
7. Clothing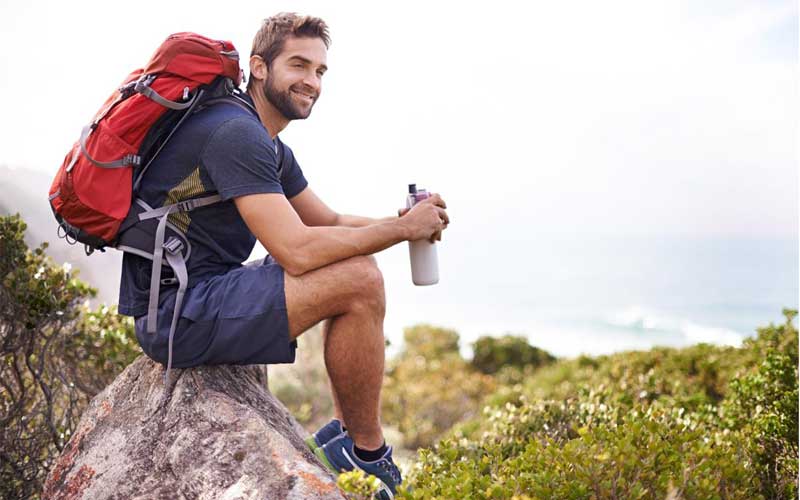 The clothing mainly depends on the weather. But it is recommended that you always keep spare clothing as there can be mishaps along the way like clothes getting a lot dirty or getting wet in which case you might catch a cold. So always keep spare clothing and keep separate warm clothes for the night because it gets cold no matter what the season.
You may want to get yourself some water-resistant and weather resistant pants and jacket like the Marmot Minimalist pants and jacket which are weather resistant and warm. Other than that, you should also keep a towel to keep you dry.
8. Food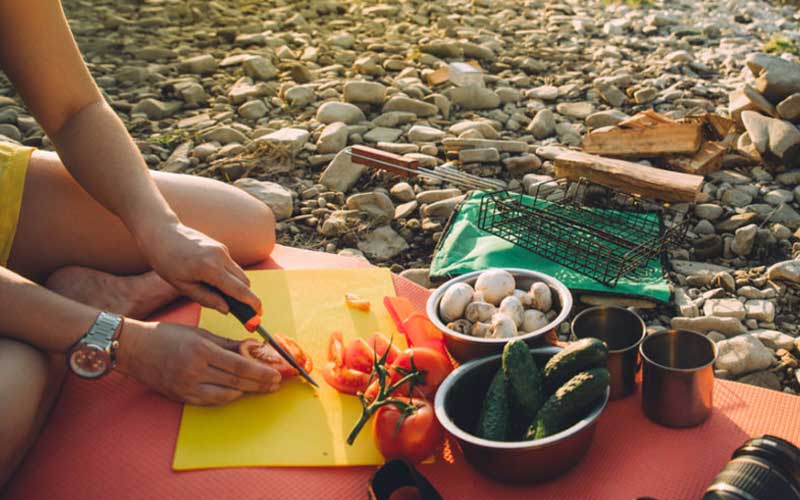 Food is an essential item during the hike (well duh!), but some people overdo it by packing too much food and then dragging that extra weight with them which can ruin their hiking experience. Each person requires 2500-4500 calories depending on height and weight.
Fresh food is better if you are going for a one night trip. Otherwise canned food is a better option if you are going for a longer trip.
You would also need a pocket-sized canister stove like an MSR MicroRocket Stove or a liquid stove if you are in cold weather like MSR Whisperlite. A Snow Peak cooking set would suffice with that.
9. Knives and Multi-Tools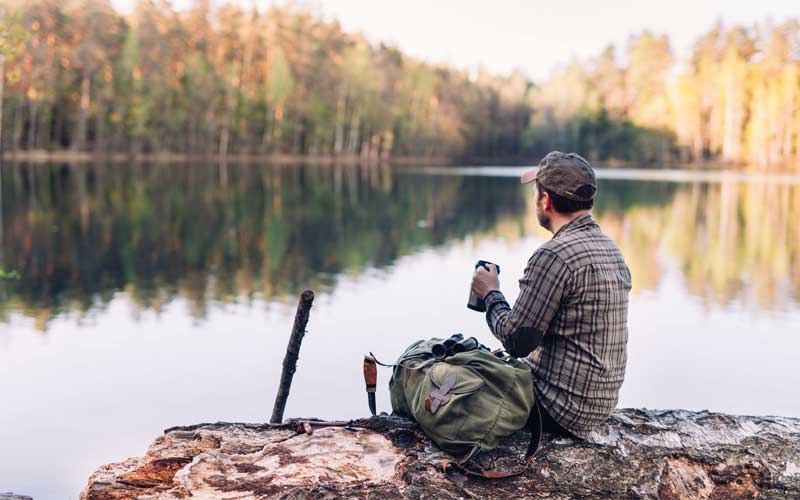 During an overnight hike, you would come across a lot of issues that would require tools to be solved. For that reason, you must have multi-tools and knives to help you with that. A Leatherman Multi-Tool is a good choice as it will everything you need depending on the number of tools you have.
You should also have a separate knife as the knife in the multi-tools is usually too small. Make sure you buy a fixed blade knife. A fixed blade is recommended over a foldable blade because of durability.
You can also consider a tomahawk if you are going for hunting or you think you might need it for wood works on the wild to make shelters for example. But all this depends on your enthusiasm and how adventurous you want to be. SOG is a good brand to pick a tomahawk.
10. Navigation
Now we all know that these days, technology has made life much easier. Our cell phones have everything we need today for navigation. But in the end, it is technology and unreliable nevertheless. The batteries can always die out or the phone can get damaged or you might not be to get proper service.
Always keep a paper copy of maps of the place you are going. Also, keep a compass with you as well. You never know when you might be lost in the jungle. Keeping a compass and a paper map will come in handy in case you have to find your way back home.
11. Waterproof Cases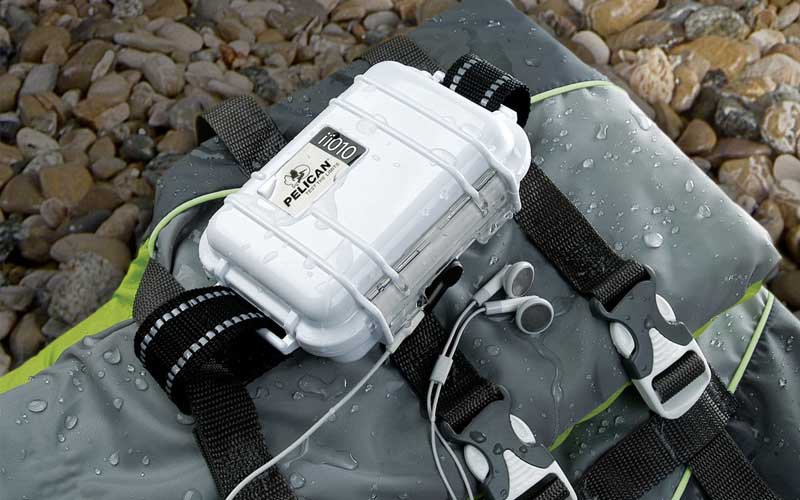 If your hike includes going through a narrow water stream or a waterfall, then bringing waterproof cases is always a good idea. Waterproof cases add extra protection to your sensitive gear like cameras, cell phones or your clothes, in case they are not waterproof.
Sometimes, unexpected rainfall might hit you, and you can be in a lot of trouble if you are not prepared then. Waterproof cases like the ones offered by Pelican and Seattle Sports are good for protecting your gear.
12. Medical Kit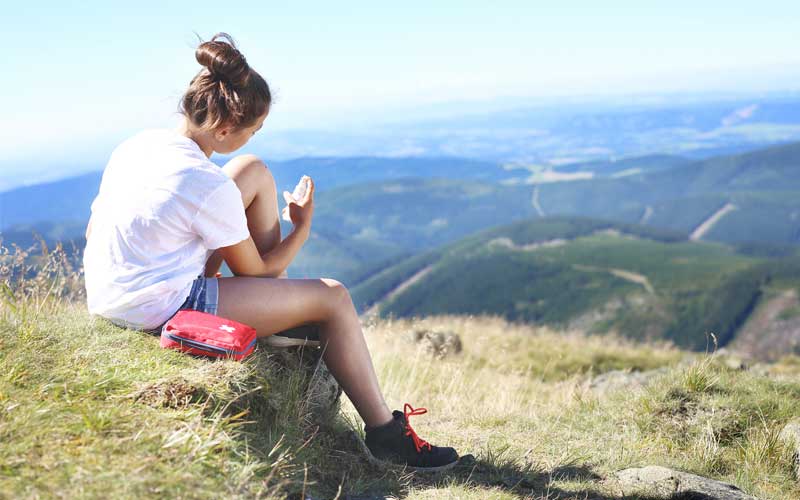 In the wild, there can be many things that can cause injury to you. Since you are away from your routine city facilities, any unlikely event can be a bigger problem than usual. Any physical injury can cause a lot of problems and will make it a lot harder for you in the wild to deal with such a problem. Furthermore, any cut or scratch, if not treated properly, can become infectious which is dangerous. Then there are insect stings that are another problem.
Having a medical or a first aid kit is essential for a hike. You might have to deal with any kind of injury. It is necessary to sterilize wounds or cuts that can potentially become infectious. It is also necessary to deal with allergic reactions. Medical kits can be made at home by putting together some aseptic cotton swabs and prescription medicines, anti-sting treatment or can be bought at the go. So it is really a personal preference.
13. Trekking Poles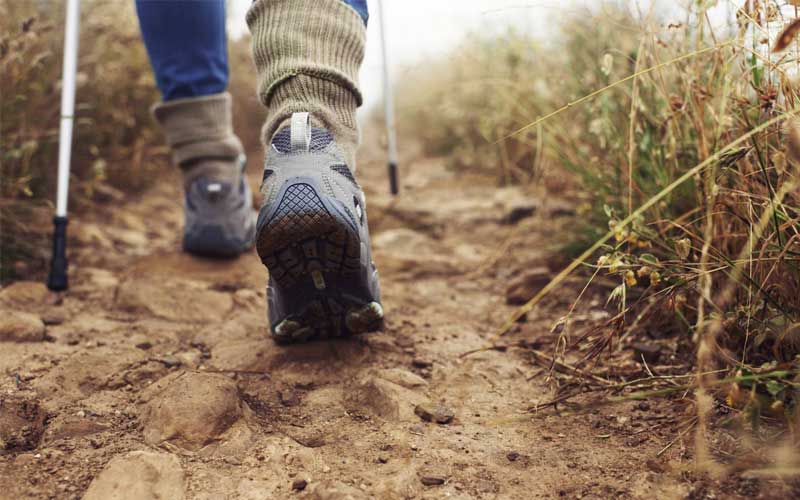 Trekking poles are another great equipment to bring with you on a hike. They support your back and knees as you walk and down hills preventing knee and ankle pain. Knee and back pain can be a huge problem due to jerks while moving downhill and can ruin all your hiking experience.
Trekking pole like Alpine Ergo from Black Diamond is a good pick. However, Vario 4 Carbon offered by Komperdell is a great all-rounder being lightweight and durable.
14. Water Purification System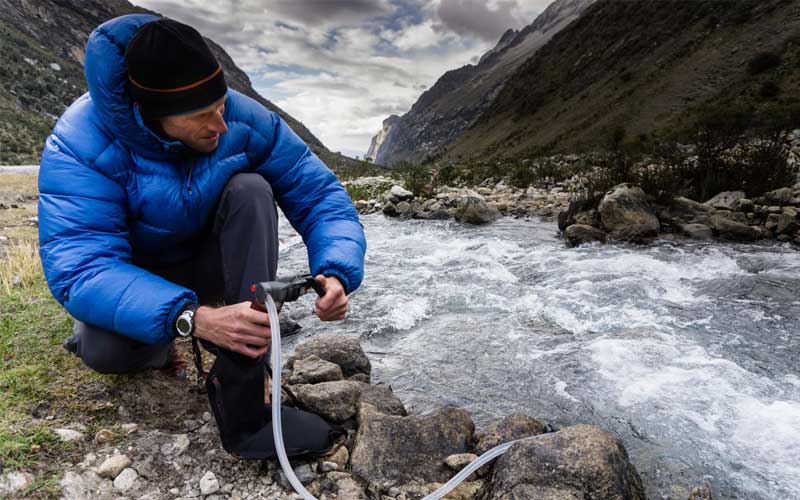 Let's be very clear when it comes to diarrhea, it is a nightmare for a hiker. It can prove to be fatal in the wild as you lose a significant amount of water and electrolytes. Plus other stomach infections. Most of these diseases come from water. Clean water is essential for hiking. Apart from having a water reservoir of your own, you might still need water along the way as your water reserves run out. It is necessary that in such cases, you must have a water filtering system. Water purification system consists of a water filter and further water treatment. You can choose either a pump filter or a gravity filter.
Pump filters require manual force but are cheap whereas gravity filters don't require any work but are expensive and can also be heavy. There are also ultralight filters to choose from but they are not as efficient.
Further water treatment is required of the water for killing small bacteria and viruses which the filters usually don't filter out.
Katadyn Micropur Tablets are the most famous water purifiers, easy to carry and a great backup. Further ways of treatments include UV light, boiling. The treatment makes sure the water is clean from microbes that passed through filters.
Further Tips for Overnight Backpacking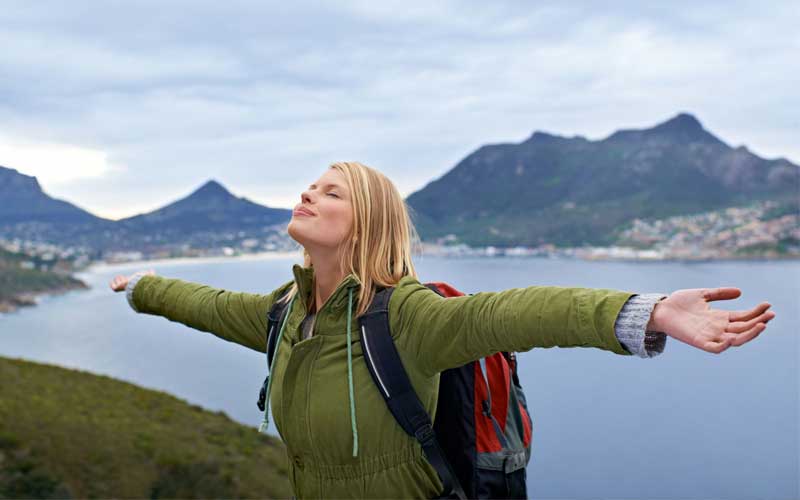 If you have covered all the above requirements, there are always small stuff you can do that can help you further smooth your backpacking experience.
Bring snacks with you on the hike. You need to keep a high energy level when on a hike and snacks do just that. They provide an instant dose of energy. Keep a bag of dry fruits with you to keep your hunger satisfied and your energy, full.
Always bring a torch with you on an overnight hike. It can be pitch black in the dark so you would need light to navigate. Maglite Torch is best for camping. Furthermore, keep a headlamp with you as holding a torch can be inconvenient at times when you are working on something.
Make sure that you bring extra batteries and a power bank with you to keep your equipment i.e. cell phones, cameras, light sources charged. You should also have plenty of energy along the way. Power banks will add to your weight so it's better to carry extra batteries.
Take extra clothing with you just to remain on the safe side. Your clothes might get dirty or wet and you would want to change them should such a situation occur. So always a good idea to carry extra clothing. Speaking of clothing, don't forget your towel. People think towels are insignificant while packing. But it is only during the hike that they realize its importance. But it is too late by that time.
Other small stuff includes a small shovel or trowel, which can be part of your toilet kits. Insect repellent, very important. There are lots of mosquitoes in the wild and other insects that sting. Apart from having a painful sting, these insects also serve as a vector for many dangerous and even fatal diseases.
Now, you are good to go. Happy hiking!