We use affiliate links and may receive a small commission on purchases.
Learn more
Choosing the right pair of hiking shoes that fit well is important. When it comes to wide feet, you need to find out the precise width of your foot so that you can find a comfortable pair. Most thru-hikers think that sizes are limited to their length and getting the right length shoe means it will fit perfectly. However, this is not always the case. If you choose a narrow pair and you wear them for longer periods, you end up with blisters and deformed toes.
Shoes available in the market are made to "fit every foot". Manufacturers assume that the general user has similar foot sizes. However, everyone has different foot sizes and shapes, and manufacturers do deviate from typical sizing so consumers with unusual foot shapes could also wear their shoes.
So here is the list of top wide hiking shoes for women.
1. Merrell Moab 2 Ventilator

Weight (Pair): 1 lb. 12 oz.
Waterproof: No
Upper: Suede leather/mesh
Best use: Day hikes
Merrell Moab 2 Ventilator is the ultimate choice for hikers with wide feet. These shoes are comfortable right out of the box and do not require a break-in period. You can take them straight from the box to the trail. The shoe provides good breathability without a waterproof membrane but wets out quickly in soggy conditions. It also provides solid traction on most trails, and overall, it is an affordable option for easy to moderate hiking needs. The upper of the shoe is thick and it is made of suede leather and mesh. The midsole is EVA with a nylon shank and the outsole is Vibram TC5+. The fit is a little looser and the toe box is spacious and your feet may slip around a bit inside.
Moab 2 Ventilator is a little on the heavier side but you won't feel the extra weight until you pound out a lot of mileage. It provides enough support for most of the light hiking needs. These shoes can be ideal for day hikes with a minimal pack but seasoned hikers can use these for an overnight adventure with medium packs. As far as traction goes, these shoes grip most surfaces well. They provide the same Vibram sole like other Merrell footwear. If you need a pair of hiking shoes that you can use right out of the box for easy trails, these are a great option.
Pros: Out-of-box comfort, good traction, breathable
Cons: Not waterproof, average support
2. Oboz Sawtooth II

Weight (Pair): 1 lb. 12.4 oz.
Waterproof: B-Dry
Upper: Nubuck leather
Best use: Hiking
Oboz Sawtooth II offers reliable traction along with durable waterproof materials, which makes it a good option for hikers and backpackers who need durable and trail-worthy performance. The upper of the shoe is made of durable nubuck leather and it wraps around the shoe. This leather is waterproof and breathable that will keep your feet dry and comfortable. There's a protective toe cap that is great for protection if you happen to kick up against any rocks. On the inside, the toe box is roomy and the width accommodates a very large bunion with no pressure points.
On the back of the shoe, there's a molded Oboz's heel counter and it is also a rubber-reinforced heel. When the leather starts to wear and loosen up, that heel will provide you hold throughout the life of the shoe. These shoes feature a B-Dry membrane throughout underneath the leather that is waterproof and breathable. With this membrane, you get a wicking lining inside. It lets sweat escape while keeping moisture out. The midsole is a dual-density EVA with a nylon shank. It provides good shock-absorption and overall comfort. Finally, the insoles are O FIT Insoles, which provide exceptional fit, feel, and performance.
Pros: Ideal choice for wide feet, require no break-in period, roomy toe box
Cons: A little heavy for backpacking.
3. Merrell Moab 2

Weight (Pair): 1 lb. 12 oz.
Waterproof: M Select Dry
Upper: Suede leather/mesh
Best use: Hiking
Merrell Moab 2 shoes are lightweight backpacking shoes that will your hiking experience more enjoyable. The shoes are made of high-quality materials and the construction is super solid. When you put them on, you could feel that they are a hiking shoe that would perform well and last a long time. The core of the shoe is rugged and provides lots of support and protection rock technical terrain. The upper is durable suede leather and mesh. You also have a substantial protective rubber toe cap for added protection. Something you won't necessarily find in cheaper shoes is the bellows. They are attached to a closed-cell foam tongue that's going to help keep out moisture and debris.
Merrell Moab 2 is a premium hiking shoe and it provides excellent waterproofing. It has Merrell's M Select Dry, which seals out water but lets moisture escapes so you stay dry when you're on the move. Moab 2 features a Vibram sole with a 5mm lug depth that gives them an excellent grip on a wide variety of terrain. All of this adds up to a shoe that weighs in at 14 ounces. Each of these features contributes to a very solid shoe that makes it very likely that this shoe will continue performing for many years to come.
Pros: Great traction, comfortable on most trails, durable
Cons: A little stiff, inflexible, and heavy
4. Hoka One One Sky Arkali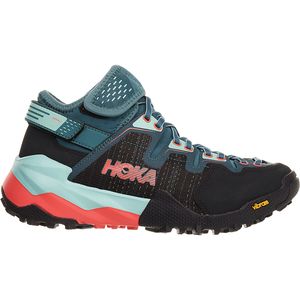 Weight (Pair): 1 lb. 10.5 oz.
Waterproof: No
Upper: MATRYX micro mesh
Best use: Hiking
Sky Arkali shoes take a note from three different breeds of shoes. From running shoes they get flexible comfortable cushioning in the midsole, they get excellent grip and traction needed in climbing shoes and they get the ruggedness and protection of backpacking boots. All wrapped into one trail beast. The upper is Hoka's matrix and it's the first thing that caught my eye. In addition to the multiple eyelets that stretch down the toe box, you have a wide stretchy band across the top of the collar and the heel strap to dial in the fit. These are all important when you're hiking fast and want as little movement as possible inside the shoe.
The large toe cap reminds me of climbing shoes with the durability against rocks. There's a high tensile synthetic fiber used across the mid-foot. When you cinch the laces, it cradles your feet. Underfoot, the ProFly EVA midsole has a soft heel and comfortable cushioning on the top layer while the bottom layer is denser and protects you from stone bruising. The softer foam directly underfoot cushions each step while the denser material below gives the support your feet need mile after mile. Hoka's ActiveFoot frame lets your feet sink into the midsole rather than just sitting up on top of it so you have a stable base under your feet.
You'll notice the sole has a steep curve towards the toe. This is called a rocker, which promotes an efficient rolling stride when you're hiking fast. The outsole is made of Vibram MegaGrip high traction rubber. It sticks to rock and digs into dirt and mud. The lugs are toothy to give confidence on any terrain. The shoes have an athletic fit, which is more similar to a running shoe than a hiking shoe. I would stick with your normal size knowing that they work well with lightweight socks and are meant to fit snug to cut down on movement and rubbing. If you're looking for a shoe that can do it all, check out the Hoka One One women's Sky Arkali trail shoes.
Pros: Above-average stability and support, tough upper (while still being breathable on top), protect against rock, brush, and stickers
Cons: Narrow heel and toe box and wide midfoot made for an awkward fit.
5. Adidas Terrex Fast GTX-Surround

Weight (Pair): 1 lb. 10 oz.
Waterproof: GTX-Surround
Upper: Textile with protective weldings
Best use: Hiking/short trail runs
The women's Terrex Fast GTX-Surround shoes are waterproof, breathable, and perfect for fast adventures in wet weather. The tread will keep you sure-footed on the trail and the Speed Lacing snugs your feet in tight for whatever you have in store. Day-hikers and fast-packers with wide feet will love these.
From the ground up, you have a deeply lugged continental rubber outsole. To me, this is where Adidas shoes really shine. You never want to feel unsteady especially when shouldering a pack and I found that a lot of lower cut shoes like these sometimes don't offer the rugged traction of backpacking boots. But this rubber sticks to the trail and is durable. You'll feel confident over wet rocks and rocky terrain. Above that, you have a well-cushioned midsole where you'll notice cutout channels, which works with the Gore-Tex-Surround to vent and cool your feet.
A lot of waterproof shoes have a liner that stitched into the shoes from one side to the other. They just cover the top of your foot but Gore-Tex-Surround is different. It surrounds your entire foot 360 degrees and pushes out warm air when you're working hard and allows cool air to circulate through. It keeps your feet dry inside and is effective at keeping water out.
The upper has clean aesthetics. A lot of overlays are welded instead of stitched, which to me means less potential for hot spots. The toe guard in the front protects against kicked rocks and the heel counter in the back keeps your heel supported over uneven terrain. You'll be able to suit up fast because the Speed Laces are a cinch to adjust and they pull the lightweight sidewalls of the shoe in to cradle your feet.
There's a molded OrthoLite sock liner on the inside for a little extra cushion underfoot and it can be removed if you have your own insoles. I typically wear size 8.5 just about every shoe and boot and I found the sizing here to be spot-on. They do want to give you a nice snug fit so plan to wear a lightweight pair of hiking socks with these. They want to cut down on hot spots so the upper part mimics the natural shape of the human foot.
Pros: Lightweight, less bulky, stylish, perfect for all-day wear
Cons: The toe box is not super comfortable but manageable
6. Salewa Lite Train K

Weight (Pair): 1 lb.
Waterproof: No
Upper: Knitted Fabric
Best use: Backpacking/trail running
Lite Train K shoes are a mix between a hiking shoe and a trail runner. Salewa classifies them as a mountain training shoe because they're durable enough for rugged trails but light enough to move fast. Starting at the bottom the outsole is made of Michelin rubber and the design takes a note from mountain bike tires. These are technical soles that are focused on the optimum grip in varying conditions. The lugs are deep and will dig into muddy trails but will give you confident traction that's needed on rocky slabs. There's a coating of Michelin's outdoor compound X on the outside to provide that extra bit of traction needed on wet and slippery surfaces. The midsole is well-cushioned while offering the stability and support needed to prevent stone bruising and fatigue.
The Y-shaped band on either side of the shoe is Salewa's famed three-function system, which gives the excellent fit, optimum flex, and the right amount of support. The laces are connected to this band at the top. It snugs your heel into the back of the shoe to cut down on the movement. This band also goes under your foot for rigid support but the top part of it flexes as you hike and run. The rest of the synthetic upper is made of breathable mesh to give breathability. There are a lightweight toe cap and a removable OrthoLite footbed.
As far as fit, I'd start with your usual size. I wear an 8.5 in almost all of my shoes and boots and this size fits me well. I wouldn't want them to be any bigger. Keep in mind the fit is a bit narrower compared to some other trail shoes in the US market. If you're not used to Salewa's fit, you may need a slightly different size than you're used to.
Pros: Provide great traction so you feel confident on the trail.
Cons: People with super wide feet may find it a little narrow.
7. Oboz Sapphire Low B-Dry

Weight (Pair): 1 lb. 8.6 oz.
Waterproof: B-Dry
Upper: Nubuck leather/textile
Best use: Hiking
Based out of Bozeman, Montana, the designers at Oboz were inspired by outdoorsy women everywhere, whose busy schedules take them from the office to the trail and into town all in a day's work. The stylish looks fit in downtown and the grippy sole and waterproofness give them some serious trail cred. Once you put them on in the morning you'll want to wear them all day because they're super comfortable with their women's specific fit.
I typically prefer wider shoes because I like to have a lot of room for my toes to splay. But the rest of my foot isn't wide. When I wear wide sizes my heel is sloppy. Regular sizes and most hiking shoes tend to be tight across the top of my foot. But the fit of the Sapphires is perfect for me. They are narrower at the heel, wider at the forefoot and the toe box. Size eight-and-a-half feels spot-on for me and that's what I usually wear.
Overall, these shoes are lightweight and do not feel bulky. You can lace them up tight for support but not feel constricted when you're moving forward. The B-Dry waterproof lining is perfect for rainy day hikes and they will keep your feet dry in the rain. They also feature a DWR coating on the nubuck leather to protect it from getting saturated with water. These are fin looking shoes with sneaky technical chops to tackle any trail there are the women's Sapphire Low B-Dry shoes by Oboz.
Pros: Comfortable right out of the box, plenty of toe room, excellent traction
Cons: Feel firm underfoot but this can be a pro because soft hikers make your feet tired.
8. Adidas Terrex Free Hiker GTX

Weight (Pair): 1 lb. 8 oz.
Waterproof: Gore-Tex
Upper: PrimeKnit textile
Best use: Hiking
They're a lightweight athletic style shoe that gives the waterproof protection and support needed for life on the trail without weighing you down. The stretch knit fabric is forgiving and the foam underfoot is comfortable while the sole is grippy and supportive for a long day hike or fast-packing. The first thing that struck me about the Free Hikers was the design of the upper and the collar because they're unlike other shoes I've seen. Bulkier hiking boots need a long break-in period so their rigid materials can soften. That's the most common reason for blisters but the Adidas seamless PrimeKnit upper solves that problem. It's stretchy, breathable, and dries quickly. There's no tongue so it fits snug around your foot and eliminates the hotspots that cause blisters.
There is comfy padding on the inside around the heel to minimize movement and the laces work together with the welded overlays to cradle your foot. They are waterproof with the Gore-Tex lining so bring on the rain. The toe cap protects from kicked rocks and the heel counter stabilizes the back of your foot when hiking over rocks. The boost foam cushions each step. This material has incredible energy return, which bounces back so your legs stay fresher longer. You can see the torsion bar from the outside. This gives stability to prevent your feet from flexing too much over a long day.
The outsole rubber is made by Continental that's known for superior performance in tires. This rubber is flexible, it sticks to any surface and the deep lugs provide maximum traction on uneven trails. The sole is super durable and lasts a long time. If you're a fast-packer, a thru-hiker, or general outdoor enthusiast who feels bogged down by traditional clunky hiking boots check out the Adidas Outdoor women's Terrex Free Hiker GTX shoes.
Pros: Provide ankle support with water protection, look very stylish
Cons: Although the shoe is waterproof, you do feel the moisture on the inside after walking in dew.
9. Salewa Wildfire GTX

Weight (Pair): 1 lb. 10.8 oz.
Waterproof: Gore-Tex
Upper: Mesh/Exa Shell over Injected 3D Cage
Best use: Climbing, hiking
The Wildfire GTX shoes are described as technical approach shoes, they're more than capable of being your go-to everyday hiker. The whole entire upper of the shoe is built with a sturdy ballistic mesh material. It's also got what Salewa calls the EXA-SHELL cage. This creates structure, durability, and maximizes stability without inhibiting breathability. Under those materials, you've got a Gore-Tex extended comfort lining. What I like about this combination is that with a large amount of open mesh, the Gore-Tex membrane is going to be able to breathe and release that warm air. With most waterproof leather shoes or shoes that aren't as open these, the outer shell materials are covering the waterproof membrane, which blocks a lot of that breathability.
Another thing that makes these shoes super valuable to me is the lacing system. Salewa built these thinking of climbing shoes. Climbers like to have the ability to lace all the way down to the toes to get a snug precise fit. With the ability to cinch down the shoe in just the right areas, it minimizes the chance of blisters. This will help you achieve a comfortable snug and secure fit every time you go out. With Salewa's footwear, you've also got increased heel stability. Salewa's 3F system creates an anatomical fit that works with the natural asymmetry of the foot more closely to fit and reduce the chance of blisters.
The Y-shaped webbing straps around the heel cinches on top of your foot and locked you in place to reduce movement even further. Under the foot, there's an EVA midsole, which is going to provide good shock absorption and cushioning. The shoe is not designed to handle heavy loads so keep that in mind. As climbers, we like to go as light and as fast on long approaches so that's definitely been considered with this shoe. The shoe does have Salewa multi-fit footbed on the inside, which is a pretty nifty piece. The midsole is a two-piece midsole that can be swapped out for a narrow or wide width.
On the bottom, you've got a Vibram tech approach EVO outsole with a MegaGrip compound. I like this design because you're getting a good variety. The variation of the circular lugs will give you a good grip on trail surfaces but with those smooth edges, you get excellent climbing for performance in those key areas. With the compound itself that MegaGrip, you're going to get an optimum balance of grip on any type of terrain across most weather conditions. You'll also get some increased grip because this compound is used in a lot of climbing-specific designs.
Pros: Require little to no break-in period, feel great right out of the box, best lacing system
Cons: Limited padding on the insoles.
10. Salomon Odyssey Triple Crown

Weight (Pair): 1 lb. 6 oz.
Waterproof: No
Upper: Mesh
Best use: Hiking/trail running
This is a trail shoe that is designed specifically for thru-hikers. This thing is lightweight but has several construction features that make it great for long-distance hikes. This has got a lot to help keep you going at a weight that won't slow you down. The upper of the Odyssey is great. It has an anti-debris mesh that is TPU injected to beef up the performance and durability. It is welded so there are no seams or pinch points. This is the SensiFit design that Salomon incorporates into a lot of their shoes. It gives a smooth glove-like fit.
The tongue of this shoe has some OrthoLite impressions foam, which eventually molds to the shape of your foot creating a customized fit. The tongue is gusseted and it fits nicely. The shoe has flat laces, which hold better together than round laces and are easier to maintain than the QuickLace System. There is a protective mudguard around the bottom of the shoe so moisture can't sneak in unless you're treading through some deeper streams or puddles. The shoe also has a protective toe cap.
The design of the shoe also allows for more space in the toe area due to the expectation that your feet need more space to spread out over those long grueling days on the trail. The midsole has a stability rocker, which helps with the transition from heel to toe while staying very stable and comfortable. This helps out with the added weight from your backpack. The midsole itself is an energy-saving polyurethane foam that's a bit denser but offers better longevity than some lighter weight foams. To add some extra cushion, there is an OrthoLite sock liner on the inside of the shoe.
The outsole is Contagrip FD this is a flatter lug pattern that's designed for durability. It can handle wet terrain pretty easily as well, which helps immensely. There are a lot of smaller lugs on this shoe, which gives great surface area and traction. This simple shoe is a great buy for thru-hikers. It's reasonably priced so it won't be as painful to replace and it's lightweight at just 344 grams on average. If you're planning to hit the AT, the PCT or the CDT, snag a pair of the Salomon Odyssey Triple Crown hiking shoes.
Pros: Comfortable for a new shoe, wide toe box, provide comfort for long distances.
Cons: The laces are thin, hard to tie, and feel flimsy.
Best Hiking Shoes for Wide Feet: Comparison Table
Conclusion
The fit of the shoe is the most important thing especially if you have wide feet. No shoe is ideal if it doesn't fit properly. They need to hold your foot securely in place and not let your heel rise as you step. At the same time, your toes must have a wiggle room so that they don't hit the front as you go downhill. When you are going downhill, your toes are pushed forward and you don't hit them in front of the shoe so a little room for your toes is a must. A good fit will avoid blisters and keep your feet happy, especially is the amount of gear you carry gets larger and when you go on longer hikes.